Offseason Tracker: Huskies Prepare For Next Season, Future Careers
With 12 seniors not returning to head coach Dave Flint's squad in the fall, the Huskies have work to do in preparation for the start of the season. WRBB Sports looks into transfer portal movement, now-departed seniors' plans, and roster updates. Check back in for edits as we continue to post updates about Husky-related happenings. 
June 23: Brooke Hobson is Heading to Sweden for 2022-23 
By Kayla Shiao and Emma Sullivan
Now former Husky defender Brooke Hobson became the second player from the 2022 Northeastern women's hockey graduates to sign a professional deal on Thursday. Hobson has agreed to terms with MoDo Hockey Dam of the Swedish Women's Hockey League. 
Hobson, who was named captain of the Northeastern squad before the 2020-21 season, played five years in the Husky uniform. In that span she recorded 21 goals and 66 assists in 168 games. She was a key member of the five straight Bertagna trophy winning teams and was captain of both Northeastern squads that made the Frozen Four. She is also a 2020 Beanpot champion.
MoDo, which plays their home games at Hägglunds Arena in Örnsköldsvik, Sweden, is a part of a 10 team women's league. They finished fifth in the regular season standings but lost to HV71 in the first round of the playoffs this past season. The SDHL is set to become the first women's league in the world to allow body checking starting in 2022-23.
Hobson becomes the second defender out of Hockey East to join the team, following Taylor Wabick, a UConn graduate. Forward Morgan Wabick, another UConn graduate and Taylor's twin sister, is also set to join the team.
Hobson will wear No. 19 when the season starts in Sweden. She has proven her leadership qualities over her five years on Huntington Ave. and has shown strong capabilities to captain a power play, making her a fantastic addition to the MoDo blue line. MoDo's first game is scheduled for Sept. 16, against Göteborg Hockey Club.
June 8: Skylar Fontaine Signs Professional Deal
Former Northeastern defender Skylar Fontaine became the first member of the 2022 graduating class to sign a professional deal on Wednesday. Fontaine, who spent five years with the Huskies, has agreed to a contract with the ZSC Lions Frauen in Zurich, Switzerland.
In 178 games played, Fontaine finished her NCAA career with 55 goals and 115 assists. Her 170 total points are the most for a defender in Northeastern history, and this past season her 41 assists were the most in the nation. She was named a top-10 finalist for the Patty Kazmaier award for both the 2020-21 and the 2021-22 seasons. Fontaine was the Hockey East Best Defenseman three times in her career, most recently this past year when she shared the honor with Northeastern transfer Maude Poulin-Labelle.
Fontaine, who turned 24 on Wednesday, has had a wide spread of highlights from her Northeastern career. She won five-straight Hockey East championships, the 2020 Beanpot title, and made two Frozen Four appearances. Most notably, her overtime goal in 2021 against Minnesota-Duluth sent the Huskies to their first national title game.
Forward Alina Müller, Fontaine's former teammate, played for the Lions in the Swiss Women's League before transitioning to the NCAA. Fontaine will look to make the lineup for the Lions first game when they take the ice in September.
May 16: Frankel, Philips to attend USA Hockey Goaltender Camp
Netminders Aerin Frankel and Gwyneth Philips are set to attend the 2022 National Goaltending Camp for USA Hockey Northeastern announced Monday.
Frankel, a native of Briarcliff, New York holds the records at Northeastern in wins (103), career save percentage (.949), and shutouts (39), among other accolades in her five year career. She was named National Goaltender of the Year both times it has been awarded, first for the 2020-21 season in which she was also the recipient of the Patty Kazmaier Memorial Award. She finished her Northeastern career this past spring with a Frozen Four appearance and a fifth-straight Bertagna trophy win for the Huskies. She was previously named to the USA Hockey roster for the 2021 IIHF Women's World Championships.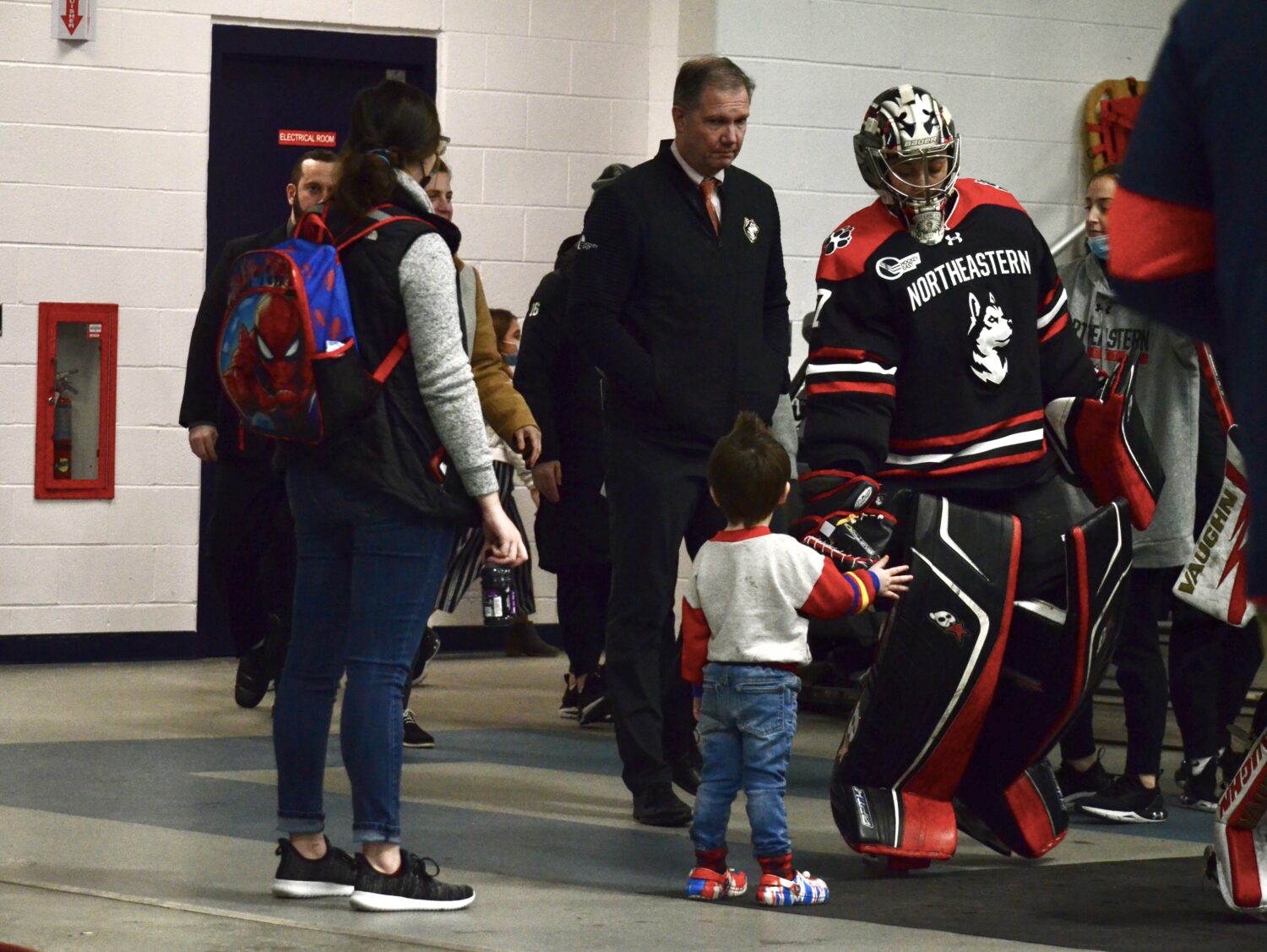 Philips has played 19 games in her three seasons at Northeastern, in which she posted a 13-1-0 record and .969 save percentage. She already has six shutouts during that stretch for Northeastern. Originally from Athens, Ohio, Philips is vying to take over the starting job for Northeastern during the upcoming 2022-23 season. She previously attended the Women's High Performance Goaltending camp run by USA Hockey in 2021.
Both players will report to the camp in Plymouth, Michigan from May 19-22 alongside nine other female goaltenders, including fellow Hockey East products Abbey Levy (BC) and Callie Shanahan (BU).
May 16: Vermont's Maude Poulin-Labelle to play fifth year at Northeastern
By Kayla Shiao
Northeastern announced its signing of former Vermont defender Maude Poulin-Labelle on Monday. The 5'6" blue-liner from Sherbrooke, Quebec will use her fifth and final year of eligibility as a graduate transfer.
"We are very excited Maude has chosen to use her fifth year of eligibility with us," said Dave Flint in a press release. "She is a very dynamic defenseman who is a strong defender but also creates a lot offensively. Maude will add veteran leadership to our D-corp after graduating five defensemen this year."
This season was nothing short of historic for Poulin-Labelle. With 13 goals and 22 assists, totaling 35 points, she broke multiple Vermont season records as a defender. The previous marks for goals and assists were both set by her in the 2019-20 season, where she had 12 goals and 29 points. She also broke the team's season assist record for a defender (formerly 18, set by Sini Karjalainen also in 2019-20). During Vermont's 9-0 win over Holy Cross Jan. 18, Poulin-Labelle set the single-game points record (formerly 4) with four goals and two assists for six points, also tying the school's record for goals in a game and setting it for defenders. She also holds UVM's record for career points by a defender, with 84.
Poulin-Labelle was named a Hockey East 2021-22 First Team All-Star, along with former teammate, forward Theresa Schafzahl, the first skaters at UVM to be honored. She was also named Hockey East Best Defenseman alongside now-graduated Skylar Fontaine, tallying the second-most points as a defender in the conference behind the aforementioned Fontaine. Poulin-Labelle was later also named a 2021-22 Second Team All-American.
A potential place for Poulin-Labelle in the Husky lineup will be a first defensive pairing role alongside rising senior Megan Carter. Carter, named an assistant captain May 5, played second pairing minutes alongside the now-departed Lauren MacInnis and provided strong shutdown play for the second Northeastern unit. Pairing Carter and Poulin-Labelle will provide Northeastern with not only a strong defensive unit to fill a gap formed by the departing graduates, but an offensive weapon as well with the former's defense and the latter's scoring ability.