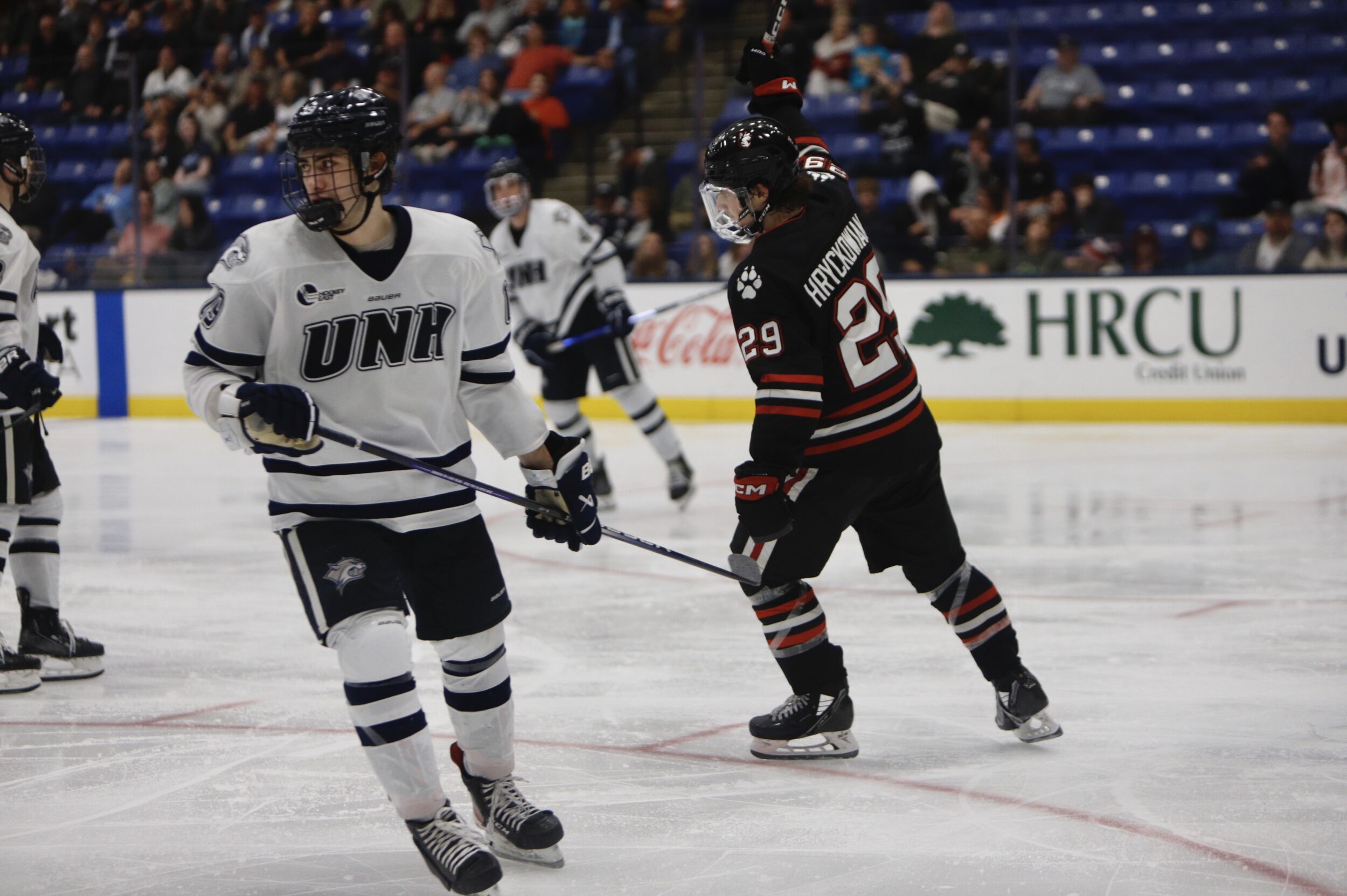 DURHAM, N.H. — It feels strange that Devon Levi has only played about one full season's worth of games in net for Northeastern.
The Huskies' stalwart goaltender missed his freshman season with an injury, missed time during his Richter Award campaign last year due to the Olympics, and has started nine games for the Huskies so far in his junior season.
And yet, Devon Levi is now Northeastern men's hockey's all-time shutouts leader.
Levi secured his 12th career shutout with a 3-0 win over the New Hampshire Wildcats at the Whittemore Center, moving him out of a tie with Chris Rawlings for the most in a Husky uniform. He stopped all 33 shots the Wildcats threw his way, including 12 in the third period as UNH chased a three goal deficit.
Levi's 12th shutout came in just his 41st career game for the Huskies. Rawlings took 123 games to reach 11, and no other Husky netminder ever hit double digits for their career.
While Levi will get the plaudits for setting a new record, it came in an important matchup for the Huskies — a win on the road to finish off Northeastern's first weekend sweep since the second weekend of October, giving them six points in the Hockey East standings.
"That was a gritty win for us tonight," Northeastern head coach Jerry Keefe said postgame. "We're down some bodies and it wasn't the prettiest game, but I thought we did a lot of little things really well tonight."
After a hat trick on Friday night, sophomore forward Justin Hryckowian added to his monster weekend with two more goals on Saturday, and junior forward Gunnarwolfe Fontaine also found the back of the net while adding an assist in his fourth multipoint game of the season.
Hryckowian, who has made the dirty areas right in front of the crease his home this year, potted a rebound Friday and scored twice on redirects Saturday. His team-leading eight goals through 10 games are already a new career high.
In the first period, he tipped a blue-line snap shot from Fontaine past UNH senior netminder David Fessenden to put the Huskies in the lead. Fontaine scored his own goal just under two minutes later, after freshman forward Jack Williams forced a turnover and found Fontaine alone in the slot for a one-timer.
Hryckowian added his second redirect in the third period, as he tipped a low shot from senior defenseman Jayden Struble past the right pad of Fessenden.
"He's so smart, and he's got a strong stick," Keefe said of Hryckowian. "He's not afraid to get in the dirty areas … He works at [redirects] though. If you come watch practice, he works at it. So it's not surprising that he scores those."
The third-period tally came at the perfect time for Northeastern. After a dominant first 20 minutes, the Huskies sat back a bit in the second period as the Wildcats built offensive-zone pressure. Hryckowian's second tally of the night gave Northeastern some much-needed breathing room early in the third.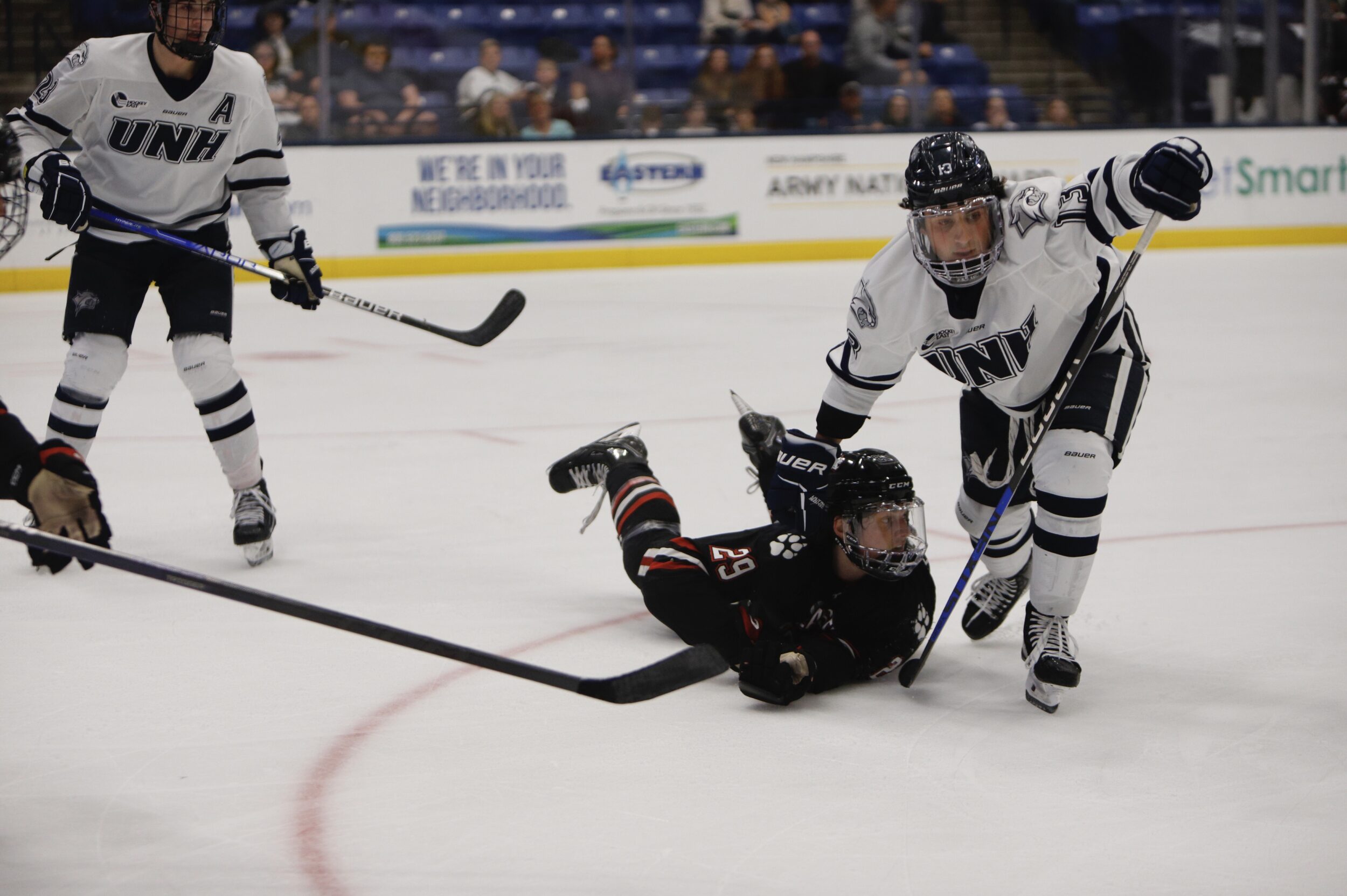 As the Wildcats clawed back into their offensive zone after the third goal, Levi stood on his head to preserve the record-breaking shutout. His most impressive stop of the night occurred with seven minutes to play — Wildcat junior defender Nikolai Jenson flung a shot on goal from just above the right faceoff circle, and though Levi was screened brilliantly by freshman forward Kristaps Skrastins, he still managed to track Jenson's shot and glove it.
The win pushed Northeastern into a tie for first place in Hockey East with 16 points, though UConn has a game in hand. After a stretch of four winless games in October, the Huskies have now rattled off three straight wins.
Northeastern will look to keep the good times rolling against local rival Boston College, with a home-and-home series with the Eagles beginning Friday night at Matthews Arena. WRBB has full coverage starting before the 7 p.m. puck drop from Matty Wasserman, Mike Puzzanghera, and Emma Sullivan.