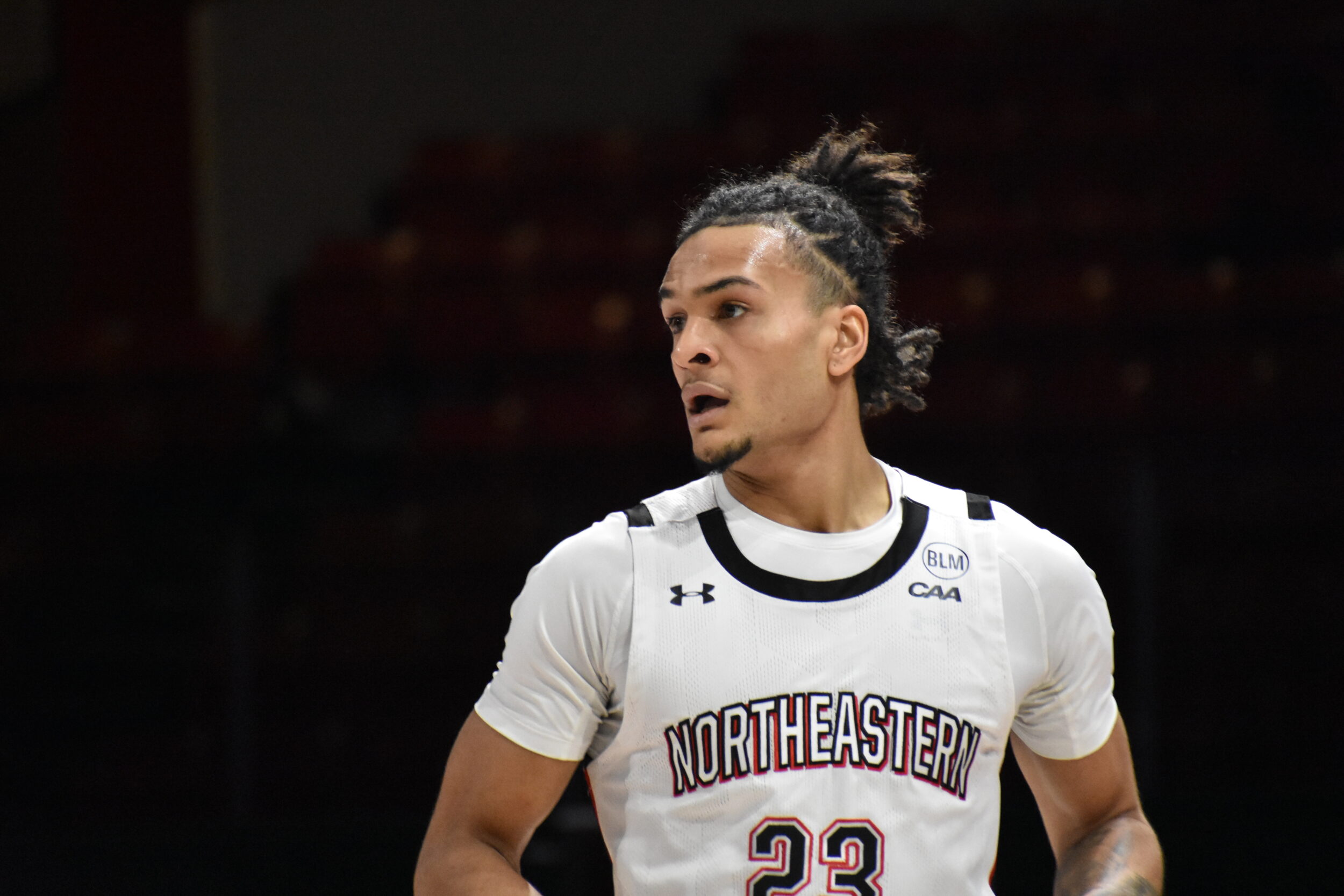 Northeastern took on the Hampton Pirates on Saturday at the HU Convocation Center in Hampton, Virginia, in the teams' first-ever meeting as CAA foes. Hampton is among the CAA's weakest teams this season, The Huskies were able to come away with a 79-63 victory thanks to a strong offensive showing.
Junior guard Jahmyl Telfort led the way for Northeastern, scoring a team-high 19 points on a 7-for-11 shooting clip and 3-for-6 from three-point range. Telfort also grabbed four rebounds and dished out an assist in 32 minutes of play. Junior forward Coleman Stucke also had a solid outing, scoring 14 points on 2-for-6 shooting from the field and 2-for-5 from beyond the arc. Stucke also contributed 11 rebounds, one assist, and one steal in 30 minutes on the court.
Freshman guard Masai Troutman was another key contributor for the Huskies, scoring 11 points on 4-for-7 shooting from the field and 3-for-4 from the free throw line. Off the bench, freshman forward Jared Turner provided a spark for the Huskies in his 19 minutes on the floor, scoring nine points, six of which coming from three-point range, the other three coming from the free throw line.
For Hampton's senior starters, guard Deuce Dean had a strong performance, leading the Pirates in scoring. His 17 points came from 6-for-20 shooting from the field and making five of his seven attempts at the free throw line. Dean also had three rebounds, four assists, and six steals in 39 minutes. Guard Marquis Godwin scored 16 points on 6-for-13 shooting from the field and 4-for-8 from 3-point range. Godwin also had one steal in 38 minutes. Guard Raymond Bethea scored eight points of his own on 4-for-8 shooting and grabbed four boards in 36 minutes.
Rounding out the starting unit for the Pirates, sophomore guard Jordan Nesbitt scored seven points on a .250 clip, making one out of his two attempts from three-point range in 30 minutes of action. Freshman forward Kyrese Mullen joined him with two points on 50% shooting, tallying two rebounds and one assist in 20 minutes.
Northeastern had a strong start to the game, with Telfort hitting two three-pointers within the first five minutes of action to give the Huskies an early 16-9 lead. Hampton could not muster up a response as the game seemed already out of reach, the Pirates never getting back within six. Telfort led both sides in first half scoring, with 12 points, while Stucke and Troutman each had eight. The trio's point scoring contributions alone tied Hampton's total in the first half and was pivotal in cementing their resounding 45-28 point lead.
In the second half, the Pirates tried to mount a comeback, managing to cut the deficit to 49-38 with a make from range from Godwin with 17:34 remaining in the second half. However, Northeastern swiftly responded with a 10-5 run to take a 59-43 lead with just under 12 minutes to go. The Pirates continued to fight, but the Huskies were able to maintain their double-digit lead for the remainder of the game and came away with a resounding 79-63 victory.
Overall, it was a strong performance by the Huskies, who shot 57.8% from the field and 44.4% from three-point range. They also outrebounded Hampton 39-22 and had a significant advantage in points in the paint, outscoring the Pirates 28-14 down low. Northeastern also had a solid outing from the free throw line, with a 61.3% clip.
On the other hand, Hampton struggled offensively, shooting just 38.1% from the field and 38.5% from distance. They also had trouble taking care of the ball, committing 11 turnovers. However, the Pirates did manage to get some second chance points, outscoring Northeastern 11-5 in that category. Ultimately, their attempts were not enough, as the Huskies were able to cruise to their double-digit win.
This win was a big one for Northeastern, as they improved to 6-9 on the season and 2-2 in the CAA. They will look to build on this momentum as they take on the Drexel Dragons on January 14th. As for Hampton, they fall to 3-13 on the season and still are looking for their first CAA win after four tries so far.
WRBB Sports will have live coverage of the Huskies' matchup with Drexel next Saturday at 12 p.m. Peyton Doyle, Jordan Walsh, and Eamonn Ryan will be on the call.