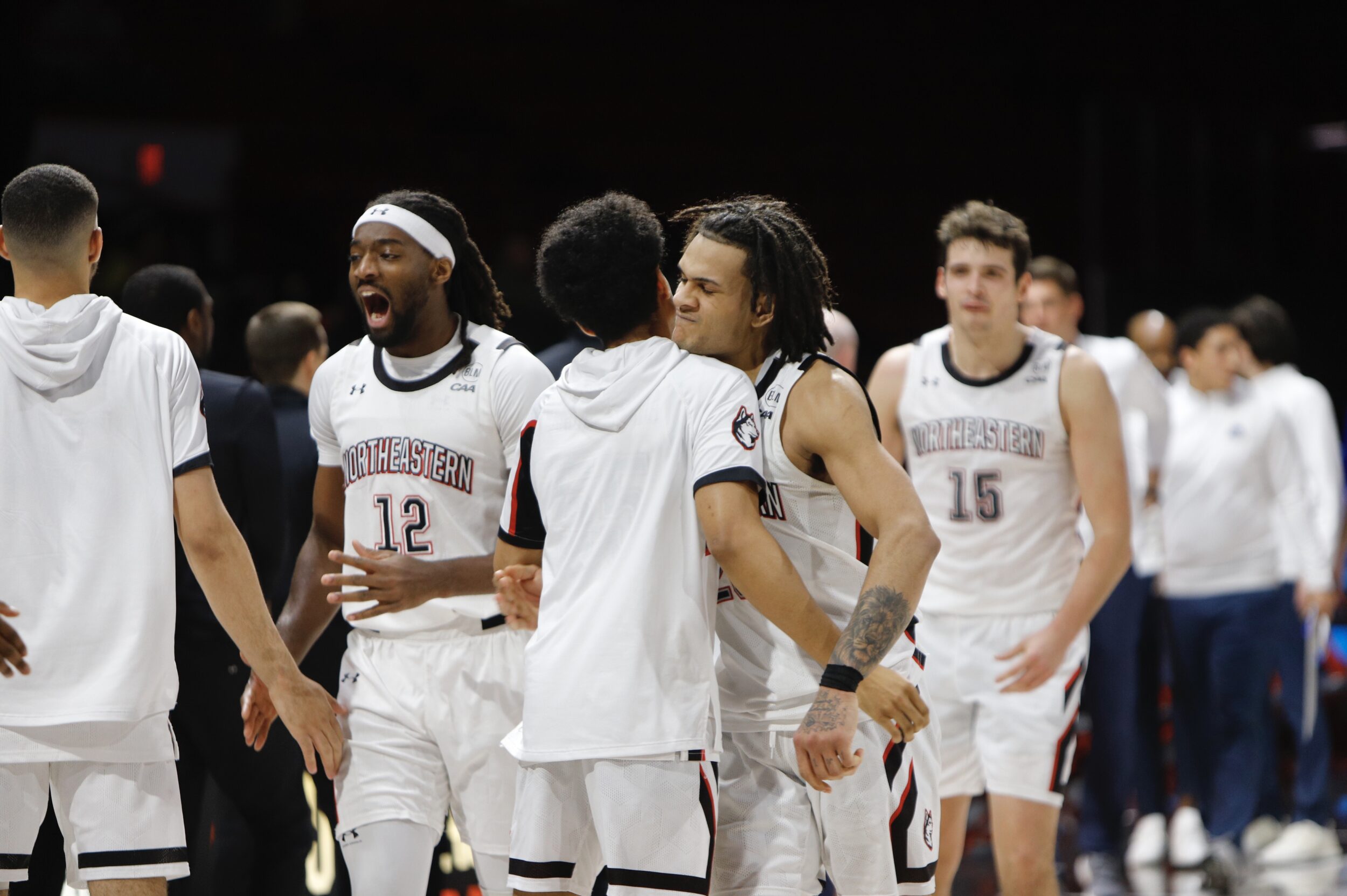 BOSTON — It was starting to feel like déjà vu for Northeastern on Monday night.
Two days after falling into a double-digit deficit midway through the first half against Drexel, the Huskies again found themselves in an early hole on Monday, this time trailing by as many as 16 points to a Delaware team that was without their star point guard, redshirt junior Jameel Nelson Jr. It seemed as if Northeastern was heading for another disappointing blowout loss against a team that, on paper, they should have been competitive with.
Instead, the Huskies found a way to rally back, buoyed by double-digit scoring performances from four players, including junior guard Jahmyl Telfort, who capped off the comeback with a clutch mid-range jumper in the final seconds.
The Blue Hens got out to their commanding lead through hot three-point shooting, going 4-for-5 from beyond the arc in the first 12 minutes of the contest — another parallel to Saturday's game which saw Drexel knock down seven of their first 10 attempts from deep. Northeastern, meanwhile, shot just 1-for-9 from three in the first half on Monday, and went into the halftime break trailing 34-22.
Turnovers were an issue for the Huskies throughout the half and the game, with seemingly countless passes thrown too strong or just unable to be corralled by the receiver. Towards the end of the first half, Northeastern committed four turnovers in a span of five possessions, and the Huskies finished the game with 22 giveaways, their most in five years.
In the second half, the Huskies were able to cut the deficit to single-digits via two three-pointers in a span of 30 seconds from junior forward Coleman Stucke.
Almost eight minutes later, Northeastern made it a one-possession affair off a three from Telfort, his first make from beyond the arc in the game.
In the final minute, Stucke hit his third three of the night, which was followed by a clutch trey by redshirt junior guard Joe Pridgen, who was in the starting lineup for the first time this season. Pridgen certainly took advantage of his elevated role, leading the team with 14 rebounds and three blocks in addition to his 14 points.
"We wouldn't have won it without [Pridgen] tonight," said Northeastern head coach Bill Coen. "I think he's been trending up in practice and he was ready for tonight. I was really happy to see him take full advantage and show everybody the type of player that he is."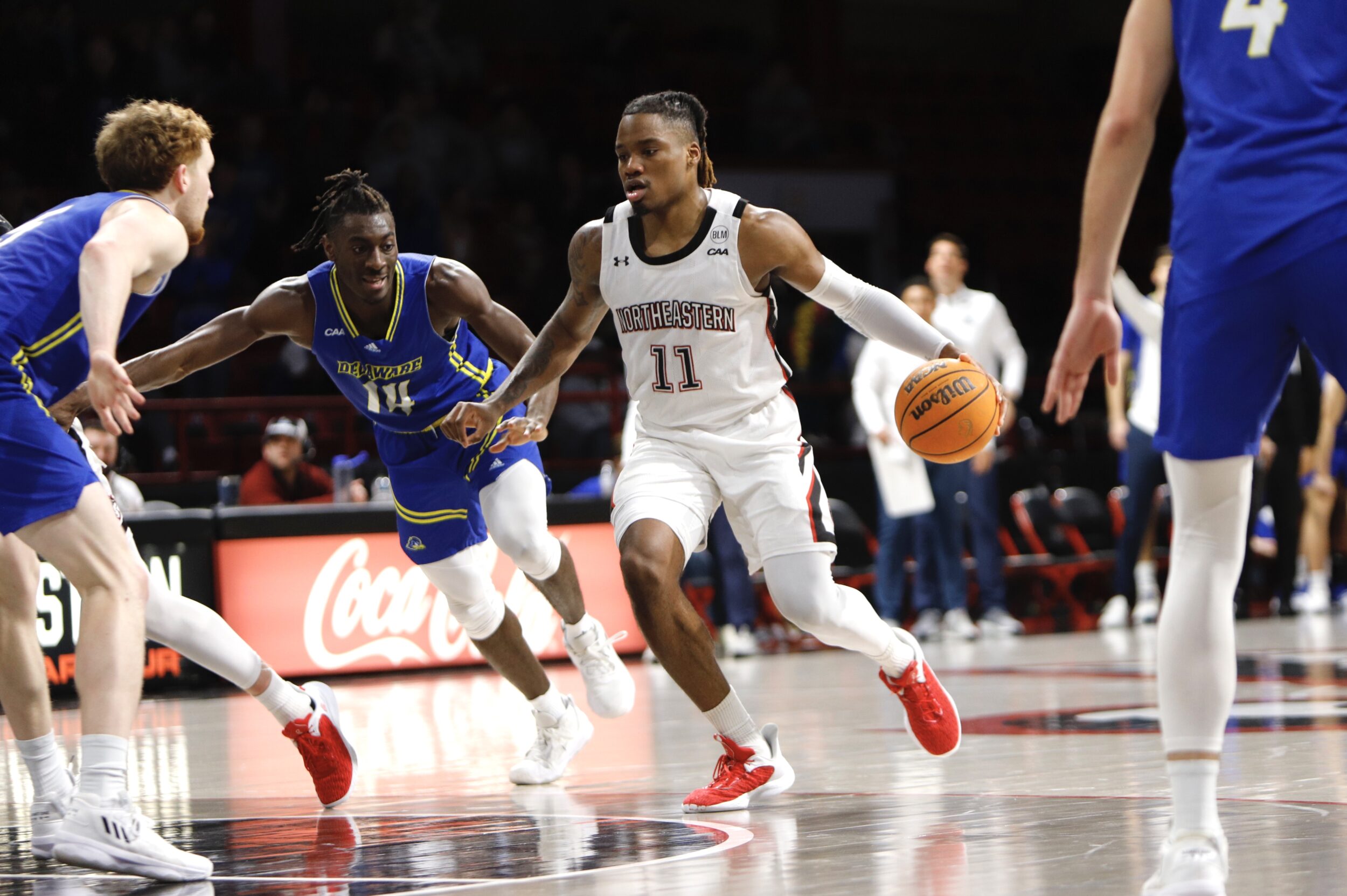 Those three-pointers, followed by a Delaware free throw miss on the front end of a one-and-one opportunity, set up Telfort's game-winner, which sent Matthews Arena into a frenzy that has not been heard in quite some time for a basketball game.
"Our best stuff is sometimes in transition," Coen said. "And Jah made a concerted effort to come back and get the ball and come down in transition. I think he had it in his mind that he was gonna go … he's one of our main guys. He's got the confidence in that situation. He stepped up and made a big shot for us."
Junior Glen McClintock started the game at point guard, but freshmen Rashad King and Chase Cormier played significant minutes at the position as well, with Cormier getting 19 minutes, his most playing time in nine games.
"He was a big part of what we did moving the ball and pushing the tempo. He's our best guard at getting us in transition," Coen said of Cormier. "And I thought he did a good job of that and we got some easy baskets because of that. I thought he did a decent job defensively. It's hard to work on their guards from their ball screen and he did a really admirable job and played smart."
Thrilling wins like this one have been rare for the Huskies over the past two seasons. Monday night's victory is Northeastern's third CAA win of the season, already eclipsing last year's 2-16 conference record.
"This is CAA play, right?" Coen said. "There are a ton of one possession games, one or two possession games, you've got to find a way to win, particularly when you're at home. And we did that. We're happy about that. But we've got to quickly shift gears to the tough weekend ahead. … I was glad to see us bounce back from a less than stellar effort on Saturday. So emotionally, we were here, we were present, fighting with and competing with Delaware. And then to be able to close the game out, those are all positives."
The Huskies head down to Long Island to face Stony Brook on Thursday night. WRBB's Jack Sinclair will have written coverage on our website.