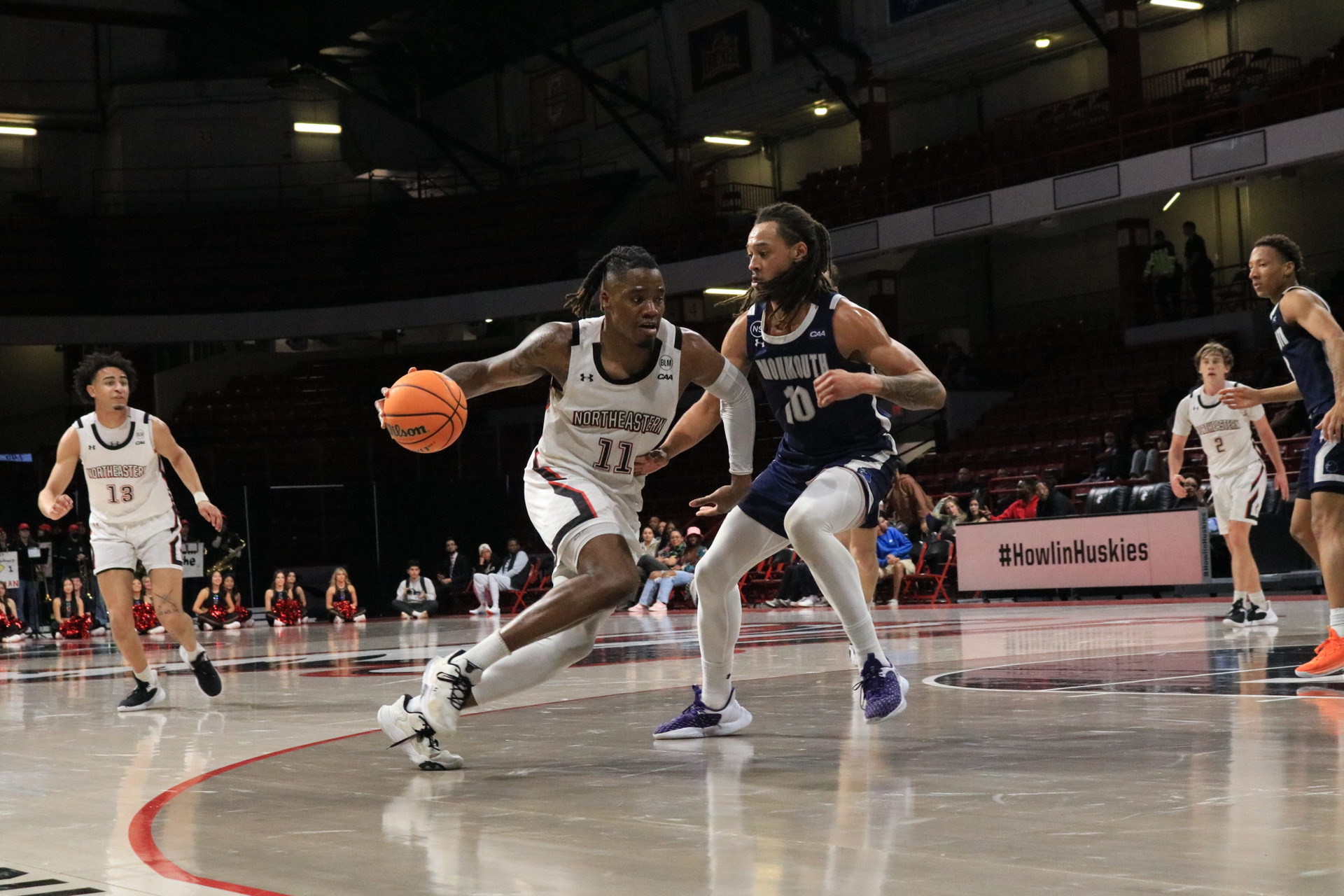 BOSTON — Coming off of a seven-game losing streak capped by Monday's 36-point defeat against Charleston, Northeastern picked up a badly-needed win on their home floor over Monmouth by a final score of 77-62.
After getting off to a 1-20 start on the season, the Hawks came into Thursday night's game having won five of their past six contests, sitting one game ahead of the Huskies in the CAA standings. Multiple players have stepped up for the Hawks during their hot stretch, including junior forward Klemen Vuga, who had a career-high 29 points in Monmouth's previous game.
Vuga scored five of the Hawks' first seven points Thursday, in a start that saw both teams struggle from the field, although in different ways. Northeastern looked to the three early on and missed their first eight attempts from deep, while Monmouth, which attempts the three at one of the lowest rates in the country, opted to attack the inside yet missed plenty of looks close to the basket. The Hawks could not find their form, going just 7-for-25 from two-point range in the first half, while Northeastern made their last three three-pointers to take a commanding 44-22 lead into halftime.
The Huskies turned the ball over just five times in the opening frame, and did a good job against a Monmouth team that is not afraid to trap and double-team. Northeastern also controlled the battle on the boards, out-rebounding the Hawks 25-17 in the first half. 10 of those 25 rebounds came from redshirt junior guard Joe Pridgen, who finished the night with a career-high 19 boards.
"Our goal going into the game was to match their energy as a team," said Northeastern head coach Bill Coen. "[Monmouth] generates a lot of offense off their defense. We want to make sure we match that energy, particularly on the glass. And I thought Joe Pridgen really kind of set the tone right from the start."
The Huskies' leading scorer in the first half was freshman forward Jared Turner, who went a perfect 3-for-3 from deep.
Freshman guard Rashad King added eight points in the first frame, after being inserted as the starting point guard for the first time in more than a month, replacing the 6-foot-2 junior Glen McClintock.
"We knew [Monmouth] was going to trap the ball, or at least we anticipated that they were going to have a lot of traps," Coen said. "And sometimes when you're a smaller guard, it's harder to pass the ball out of the traps. … [King] had moments in both those games [at UNCW and Charleston], like he was kind of hitting his stride a little bit and we just thought with the pressure, his size and length would give us an advantage at that position. But I thought Glen came in and did a nice job and settled us down at times. We did it by committee."
Early in the second half, the sore spot of foul trouble continued to plague Northeastern at the center position despite their large lead. After picking up a technical foul in an altercation with Monmouth sophomore guard Tahron Allen in the first half, redshirt senior forward Chris Doherty committed two fouls in a span of 30 seconds at the beginning of the second frame, forcing Coen to bench him with four fouls. This was followed by his substitute, junior forward Alexander Nwagha, picking up two fouls of his own, and Nwagha himself reached the four-foul mark less than halfway through the half.
Doherty, put back into the contest, promptly committed his second technical foul and was ejected from the game, though he would have fouled out even if there was only a common foul called. This is the second time in three contests Doherty has fouled out, after racking up five fouls in just 15 minutes against UNCW.
Nwagha also ended up fouling out with just under six minutes to go, and freshman center Collin Metcalf played the rest of the game as the only remaining option at the position.
"I think it's just [Monmouth's] style of play," Coen said. "They only took six three-pointers. So all their other 55 shots are in the paint and post-ups around the rim. And it's just kind of hard to stay out of foul trouble when a team plays like that."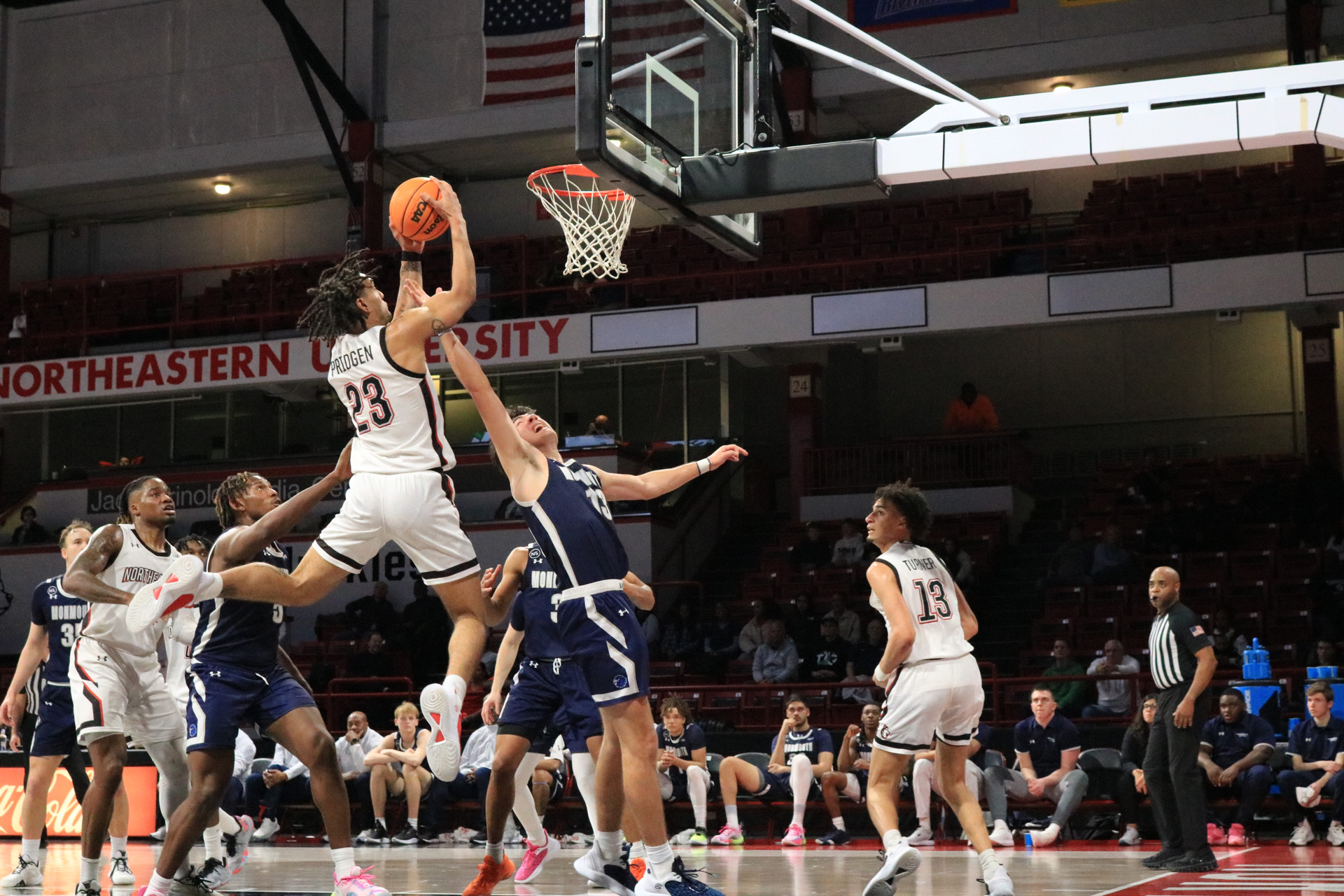 Despite the foul difficulties in addition to 10 second-half turnovers, the Huskies maintained their lead and expanded it to as much as a 27-point advantage before Monmouth closed the game on an 18-6 run to make the final score slightly more respectable. Freshman guard Chase Cormier appeared to make a buzzer-beating three after dribbling out the game clock, which would have appropriately gotten Northeastern to the 80-point mark for their "80's Night" theme game, but the shot was not reflected in the final box score.
The decisive victory was the Huskies' first blowout win of the calendar year at Matthews Arena, and they will look to continue this momentum as they head into the final three games of conference play in the regular season.
"Coming back home to Matthews was an opportunity for us to kind of reset the bar and get our sights set on what's ahead of us," Coen said. "Obviously great to get a win while we're at home and try to get some momentum into the tournament."
The Huskies are back in action on Saturday as they face William & Mary at 12 p.m. Daisy Roberts and Jordan Walsh will have the call on WRBB Sports+.