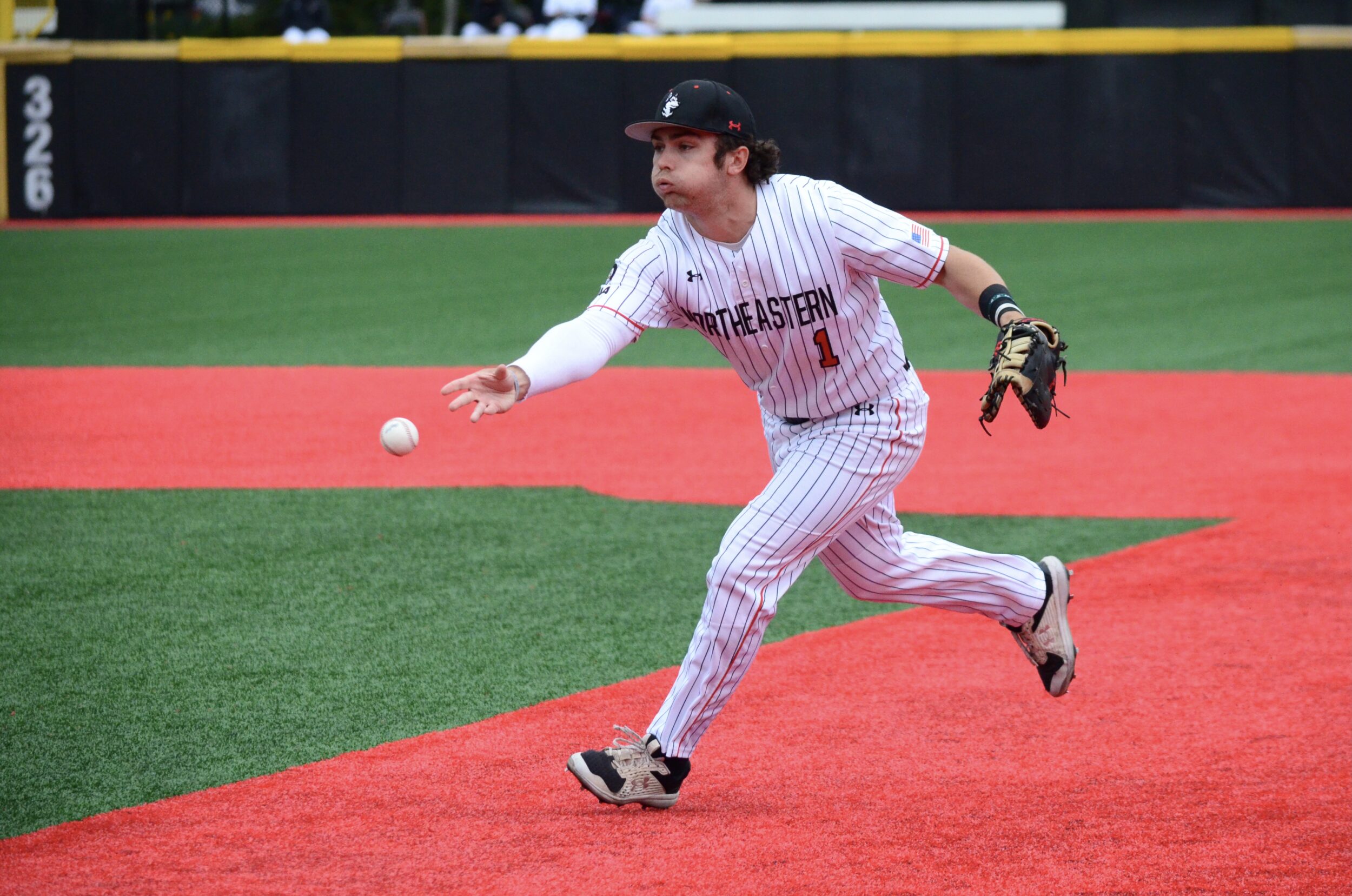 Story by Khalin Kapoor and Jack Sinclair
Battling 90-degree weather in Port Charlotte, Florida, Northeastern secured a three-game series sweep against Indiana State at Centennial Park.
In a Saturday doubleheader, the Huskies won game one 9-5 and game two 15-10, combining for nine homers across the both matchups. For context, they hit 27 home runs over the entirety of last season. One-third of last season's home run total, achieved in around six hours.
On Sunday, Northeastern gritted out a 8-7 win in extra innings, with graduate transfer Patrick Harrington notching a scoreless ninth, tenth, and eleventh innings with five strikeouts to secure the win. The sweep increases the Huskies' record to 5-1 heading into another difficult matchup against USF.
Here are four thoughts from the weekend sweep.
No. 1: Danny Crossen has returned to form
Last season, Crossen was hampered by a hand injury that led to him playing just 35 games and finishing with a .194 batting average in 125 at-bats. It was the worst season of his career, highlighted by a 3-for-28 stretch in the CAA tournament. However, It's easy to forget that the year before, he was 13th in the CAA with a .336 batting average and drove in two runs in the conference championship game.
Entering his redshirt senior season this year, Crossen has been on fire in Northeastern's first six games, batting .417 with an OPS of 1.420. In his 24 at-bats, he has already hit two home runs, identical to his total from last season.
On Sunday against Indiana State, Crossen hit a three-run bomb in the fifth inning to give the Huskies a 6-4 lead. He then blasted an RBI triple in the eleventh inning to drive in the eventual game-winning run. The day before, Crossen hit a solo homer in the fourth inning en route to a 15-10 Northeastern win.
Crossen's not just returning to his 2021 form: he's improved, compiling more extra base hits and driving in more runs than ever before. 50% of his hits this season have gone for extra bases, compared to 32% from 2021. Yes, it is a small sample size, but this torrid stretch for Crossen could be a sign of things to come.
No. 2: Alex Lane is going to be a problem
When the Huskies got Alex Lane out of the transfer portal from Bryant University before this season, it showed a commitment to fixing the power struggles that were prevalent last year.
In 2021 at Bryant, Lane led the team in home runs with 12 (almost half of Northeastern's 2021 total), RBI's with 48, and was second in extra base hits with 26.
Now as a senior with the Huskies, Lane is batting in the heart of the order and is tasked with bringing some pop back to the lineup. Against the Sycamores on Saturday, he hit homers in both games of the doubleheader, the first time a Northeastern batter has pulled that off since Jared Dupere in 2021.
Lane's home run in the second game of the doubleheader was a three-run shot in the ninth inning to Increase Northeastern's lead to 9-5. Having Lane, Mike Sirota, Crossen, and Tyler McGregor at the top of the lineup has led to Northeastern averaging 10 runs a game so far this season.
With his massive 6'5 frame and big swing, Lane has a chance to be one of the best right-handed power hitters Northeastern has seen in a long time.
No. 3: Northeastern is hitting home runs again
Last season, the Huskies struck 27 home runs. On Saturday, they hit nine. Leading the charge was last season's home run leader Mike Sirota. His three home runs on Saturday, followed by a fourth on Sunday, tied his home run total from last season. Also hitting homers on the weekend were Luke Beckstein, Spenser Smith, Alex Lane (2), Harrison Feinberg, Sean McGee, and Crossen.
Northeastern clearly has found their power stroke in the batter's box. While they did not manage any home runs against the Red Sox exhibition game on Feb. 24, the following games have seen an explosion in power for the Huskies.
"The guys were really grinding it out offensively — just going pitch to pitch and they fought it," said Northeastern head coach Mike Glavine. "They did a really good job on two strikes against a very good team. Things are going pretty good for us offensively, up and down the lineup."
No. 4: Pitching is an issue
Wyatt Scotti was given the start in the first game on Saturday, and as he has for much of his Northeastern career, he dazzled in the early innings. While the junior is a dependable and lights out pitcher, he does not go deep into games often. Scotti was able to hold the Sycamores scoreless through three innings, before he started to struggle in the fourth.
Indiana State's Mike Sears laced a two-run home run to deep left center field, and Seth Gergeley followed up with a second homer to left.
Scotti was pulled for reliever Charlie Walker, who pitched a solid 6th and 7th innings. The start of the 8th inning was where things began to fall apart for Walker. Two singles and a walk loaded up the bases with only one out. Walker managed to force Gergeley to strike out, but hit the next batter to force in a run.
Eric Yost took the mound to start game two and, like Scotti, opened the game strong. Five clean innings of pitching was only smudged by a lone wild pitch for a run, but unfortunately for Yost, the wheels fell off the wagon in the sixth inning. Yost allowed seven straight runs in the sixth, and he did not record an out in the frame before being pulled. His relief, Alven Cabral, also allowed an earned run.
In fact, no Huskies pitcher in game two would escape without allowing an earned run, as closer Jack Beauchesne coughed up an RBI single in the eighth and a home run in the ninth.
Sunday was not much better from the pitching perspective either. Starter Matt Downing only lasted two innings and labored the entire time, hitting two batters and throwing 44 pitches. Jake Gigliotti came in for the third and struggled as well, walking the first two batters he saw, giving up an RBI double, a sac fly, then an RBI single. He would only escape the nightmarish inning after throwing 35 pitches, and allowing four runs.
Nick Davis and Griffin Young each struggled in their relief appearances, allowing one and two runs earned respectively, highlighting the need for improvement up and down the lineup.
The only standout this weekend on the mound was Assumption transfer Patrick Harrington. His three innings of work in extra innings was essential in securing the game for the Huskies. In such a high pressure situation, Harrington demonstrated not only poise, but confidence. His pitching was controlled, but still had a lethal bite to it. He was excellent and pitched three innings of scoreless ball when it mattered most, which allowed the Northeastern offense to secure the victory and the series sweep.
The Huskies will continue their stint in Florida with a three game set against USF on deck for them March 3-5. There are no live broadcasts available from WRBB for any of the games, however written coverage can be found on our website after the weekend concludes.