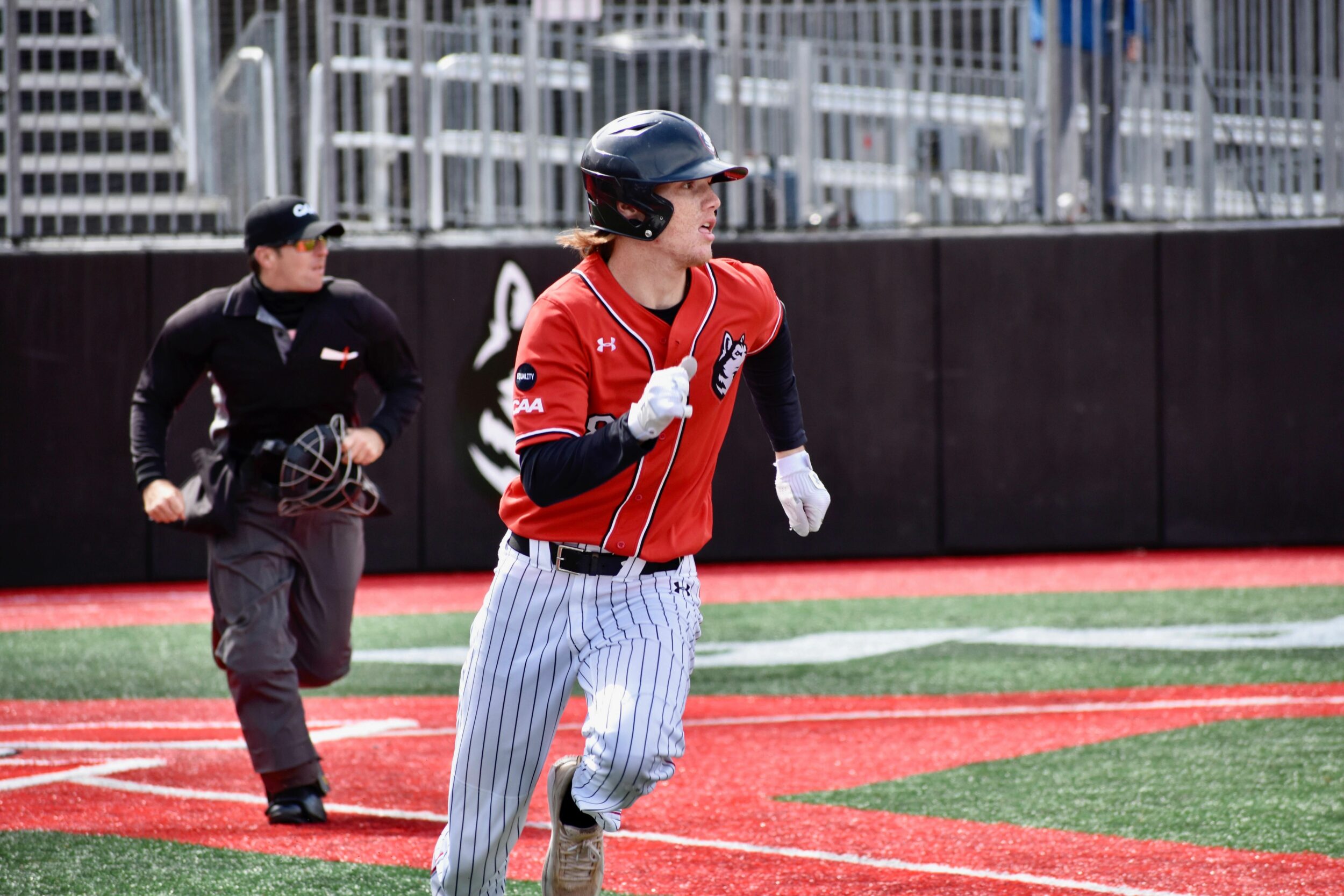 Mike Sirota won't let the pressure get to him this season.
The New York native and Northeastern sophomore outfielder was recently ranked No. 5 in Prospects Live's top-100 college prospects for the 2024 MLB Draft.
He was selected by the Los Angeles Dodgers in the 16th round of the 2021 MLB Draft before coming to Northeastern, but was unsigned due to his college commitment. As the 2024 draft approaches, Sirota is projected to be a top-three round pick, and his performance this season will have a major impact on his eventual draft position.
"I try not to put emphasis on those things, because it's stressful either way. If I do put some sort of expectations on myself, like 'do this or do that,' I feel like I'm putting a cap on what I can do," Sirota said. "And also if i'm not achieving what I want to do, it makes it 10 times more stressful for myself."
Sirota was slowed down by a knee injury in his freshman season that limited him to 37 of the team's 61 games, and forced him to miss the CAA tournament. Even with the missed time, he was named to the conference All-Rookie team after posting team-high marks in batting average (.326), OPS (.911), home runs (four), and slugging percentage (.511).
The crazy part? He's improved since then.
In six games played so far this year, Sirota has hit three home runs and has five total extra base hits. He's driven in nine runs already, and has been the key cog in Northeastern's recent power surge. He hit three home runs in two games in the Huskies' last series against Indiana State, and notched a double, triple, and four RBI in the season opener against UNC Greensboro.
"I'm just trying to play my own game and not do too much," Sirota said after the UNC Greensboro series. "I feel like the offense is clicking, we are capitalizing on all of our opportunities."
Much of Sirota's development came over the summer while playing in the Cape Cod Baseball League, the premiere summer destination for NCAA players. With the Hyannis Harbor Hawks, he had a .339 batting average, drove in 14 runs, and stole four bases. Playing against high-tier competition on the Cape also increased his confidence heading into this college season
"I feel like I'm a better player … facing those guys every day, seeing the difference in velocity and pitches," Sirota said. "It made me a better hitter, and it exposed me a bit at the start so I definitely had to adapt."
Northeastern head coach Mike Glavine has also noticed changes with Sirota's mindset and confidence entering this season.
"The way he takes batting practice has changed a little bit, he's really worked on letting the ball get deep and hitting the ball to the opposite field," Glavine said. "I think he really has a plan every day with that, and I think the confidence he brings in from last year to this year is night and day."
Sirota struggled in his initial CCBL stint this summer with the Brewster Whitecaps, batting just .250 with one RBI and no home runs. However, he got a second chance with Hyannis and saw immediate success with a re-tooled swing and approach at the plate.
"I'm definitely more rear legged now, which means I don't come as forward in my load. With keeping my head back and my weight back and staying on my rear leg, I can recognize spin better," he said, "I've noticed I get more loft on the balls I put in play, so I can hit the ball farther, especially the other way."
The CCBL is where the future stars of the MLB play in the summer. Players like Aaron Judge, Walker Buehler, Corbin Burnes, and Kyle Schwarber got their starts there. Sirota excelling down on the Cape is another step forward as he develops into a major league caliber player.
"When he goes down there and has the type of summer he had … I think you gain a ton of confidence and experience and 'Hey, I can play with anybody in the country,'" Glavine said. "That whole internal peace and that mental part of his life and where he's at is just in a much more comfortable and confident place."
Glavine has had a key role in Sirota's offensive development. His role isn't limited to coaching Sirota in the skills needed to succeed at the next level, but also guiding him through the draft process and how to deal with the attention that it brings.
"I've talked with him about the pressure that will come with [the draft] and the expectations," Glavine said. "He certainly has the right mindset right now. … He said he didn't want to talk about it and didn't want to hear it."
"He's not a kid that will necessarily open up and come to be with a lot of questions, I have to go to him and pull it out of him. … On the side say 'Ok, I know your expectations are high, there's gonna be some pressure and we're relying on you, but don't let it bother you.'"
Also on the Harbor Hawks with Sirota was current Northeastern relief pitcher Jordy Allard. Before games and during practices, Sirota would try and identify pitches out of Allard's hand, something he has struggled with in the past.
"Because [Allard] has a good splitter, and I have trouble recognizing splitters and changeups, I was like 'just throw it' so I can see the spin and difference in rotation," Sirota said. "The only difference is how much slower the seams are spinning, so you got to really wait it out. … My approach is different now, and I'm able to recognize those pitches and hit them."
Given the start Sirota has had to this season and the talent that Northeastern has added around him, there is a lot to like about this offense. In six games this year, the Huskies are averaging 10 runs scored per game, compared to their mark of 4.91 in 2022. Northeastern has started the season winning five of their first six games, and will remain on the road for their next seven contests before the home opener on March 14.
While Sirota's talents may take him to professional baseball come August, right now his focus is on bringing a championship back to Brookline.