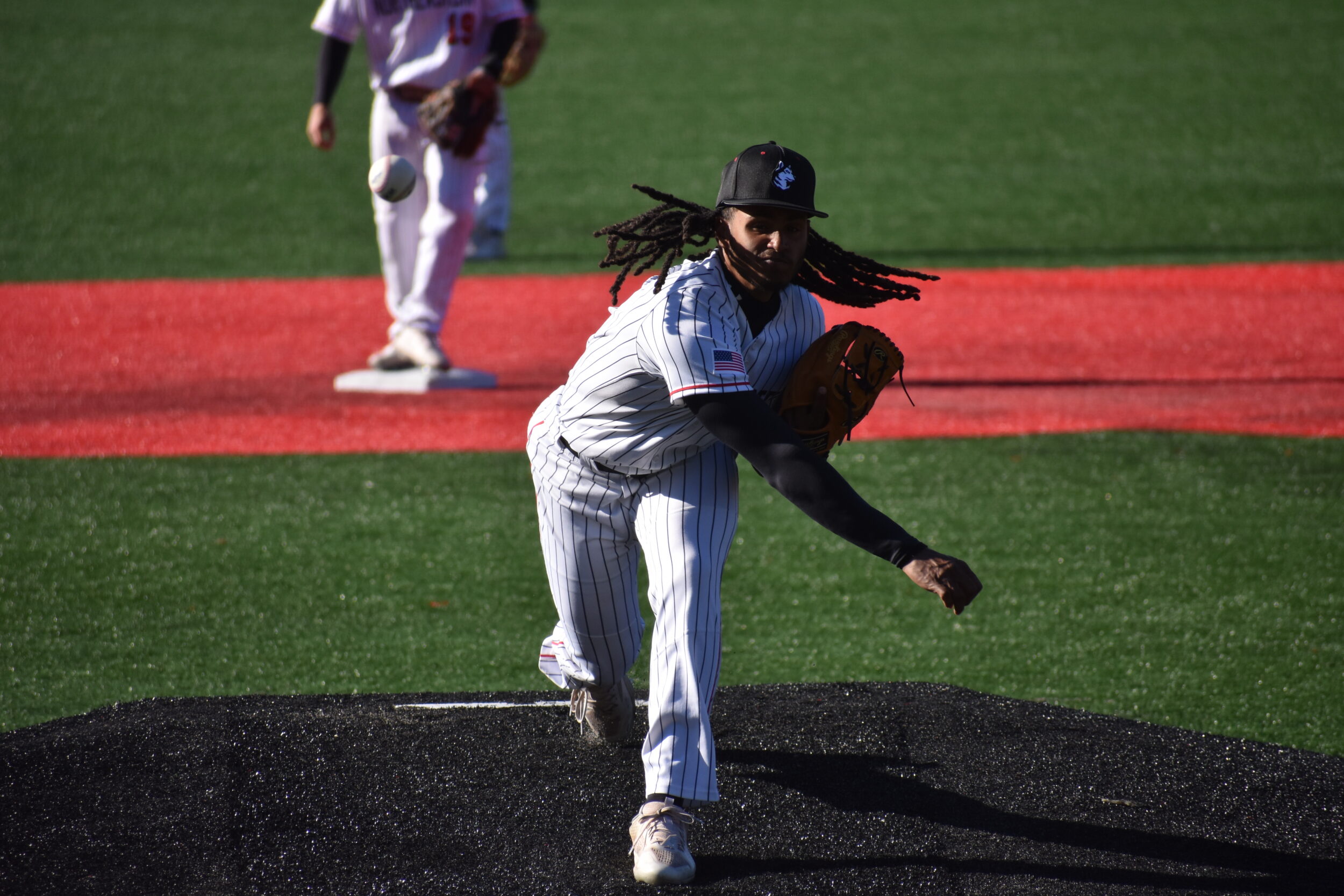 By Justin Diament and Jack Sinclair
CHARLESTON, S.C. — The first day of Northeastern's trip to Charleston for the CAA Tournament was a rousing success. Thanks to excellence from freshman Aiven Cabral on the mound and consistent offense, the third-seeded Huskies put together a convincing 6-0 win over No. 6 William & Mary to move on to the next round of the winner's bracket. 
"Probably our best game of the year. I really mean that," said Northeastern coach Mike Glavine. "We talked about that pregame — we're still getting better. And they proved it today."
Facing a strong Tribe squad that had taken two out of three games from the Huskies a month prior, Cabral began the game in command, forcing a double play off the bat of CAA Player of the Year Ben Williamson and earning a strikeout in the first inning. William & Mary's starter, Nate Knowles, also got off to a strong start, sending the Huskies down 1-2-3 in the opening frame. 
Things quickly turned Northeastern's way though, as Cabral received run support in the second. After loading the bases on a hit by pitch, walk, and single, Junior Luke Beckstein drove in the first run of the ballgame with a sacrifice fly to left field, and senior Spenser Smith delivered a timely single up the middle to bring Maldonado home, giving the Huskies a 2-0 lead they never relinquished.
On the other side of the ball, Cabral dazzled. He faced the minimum through three innings of work, helped in part by an incredible throw from right field by Maldonado to nail the Tribe's Cole Ragone at the plate in the third inning. Ragone, who reached third prior to that throw via a triple, would go on to be William & Mary's only hit of the entire contest.
The Northeastern offense struck again in the bottom of the fourth inning against new Tribe pitcher Tom Mayer, as Beckstein was brought home from third when sophomore Mike Sirota singled up the middle. Sirota, who was held hitless in two at bats against the starter Knowles, came alive after that to deliver a 3-5 performance.
"We just rely on him and he's so talented," said Glavine. "Everybody on the other team that we play knows that they don't want Sirota to beat them and he continues to put up big numbers. Kid's a special talent."
Cabral would continue to dominate until the fourth, where he began to lose a little bit of control, building his pitch count with two walks and long counts. After one out in the fifth, he was relieved by Jake Gigliotti. Cabral's final line was one hit, two walks, and three strikeouts — an incredible day at the yard for the Huskies' newly-minted ace, after starting the season without a guaranteed spot in the rotation.
Despite Cabral's exit, the Huskies would come alive in the bottom of the sixth. Smith reached first following a two-out throwing error by Williamson. The speedy shortstop would score when Sirota doubled to left center field. Graduate student Tyler MacGregor scored Sirota with another single up the middle, and he himself was brought home by an Alex Lane single to left. The Huskies exploded for three runs, doubling their lead and making it a 6-0 ballgame.
Gigliotti performed much like Cabral, pitching 3.2 innings, allowing no hits, two walks, and striking out three. He earned the save as the Huskies closed out the game on a diving catch by Sirota in center field.
Pitching Cabral and Gigliotti worked brilliantly for Northeastern, who completed the first one-hitter in the CAA tournament since 2007. However, it does use up two starters in one game for a Huskies team that has only two other usual starters (juniors Wyatt Scotti and Eric Yost), but needs to win at least three more games to win the CAA championship — possibly more. Coach Glavine commented on their availability on short rest for the rest of the tournament.
"I'm sure they'll both be available. Those two guys in particular have both been moved around all year long. [Gigliotti] finished a game at Stony Brook, beat UConn on Tuesday in a start, and then started that weekend because we had an emergency. Cabral keeps getting moved up. He was bullpen, he was Sunday, he was Saturday, he was Friday, he was Thursday, and now Wednesday. He's pretty much hit every day of the week. So I doubt that they will say they're not ready."
With the win, Northeastern advanced to the second round of the tournament to face second-seeded Elon on Thursday at 7 p.m. Jack Sinclair and Justin Diament will have the call from Charleston.