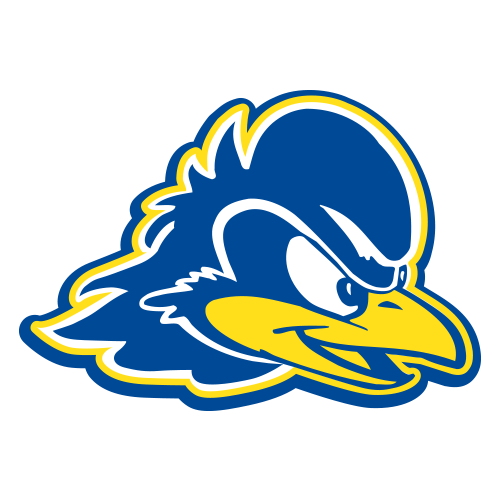 By: Milton Posner
Head Coach: Martin Inglesby (3rd season, 27-39)
Last Season: 14-19 (6-12, tied for 7th in CAA); lost to Northeastern in CAA quarterfinals
Projected Finish: 7th
Losses
Ryan Daly (transferred)
Anthony Mosley (graduated)
Skye Johnson (graduated)
Newcomers
Nate Darling (transferred from University of Alabama at Birmingham)
Ryan Johnson (transferred from Mercer University)
Justyn Mutts (transferred from High Point University)
Ithiel Horton (freshman)
Davis Long (freshman)
Aleks Novakovich (freshman)
Matt Veretto (freshman)
Last year's Delaware men's basketball team was a painful reminder how quickly a squad's fortunes can change. In mid-January the Blue Hens were 11-8 (4-2 in CAA play) before multiple injuries to top players keyed a 2-10 stretch that effectively sunk their season. Delaware stumbled into the CAA tournament as the 7th seed and was eliminated by Northeastern in a resounding 74-50 second-round loss.
In late March, now-junior guard Ryan Daly announced his intention to transfer. Two weeks later, he chose St. Joseph's University in his hometown of Philadelphia, where his father and grandfather both played and his grandfather coached. Daly earned CAA Rookie of the Year honors in 2016-17 and was named to the All-CAA Third Team in his freshman and sophomore seasons. In last year's campaign, he led the Blue Hens with 37.5 mpg and 17.5 ppg and was second in rebounds per game (6.2). Per NCAA transfer rules, Daly will redshirt during the 2018-19 season.
Delaware lost redshirt sophomore and St. Bonaventure transfer Derrick Woods in December. Woods was suspended indefinitely from the team for unspecified violations of team rules. His suspension came following an incident in practice in which teammate Jacob Cushing suffered a broken nose.
With Daly gone, Delaware will likely rely heavily on sophomore guards Ryan Allen and Kevin Anderson. Allen is coming off a terrific freshman season, averaging 15.3 ppg and shooting 38.9 percent from downtown en route to becoming Delaware's second consecutive CAA Rookie of the Year winner. Anderson was logging 13.7 ppg and 4.9 rpg before knee surgery ended his season after 11 games. His injury was arguably the single most important factor in turning the tide on Delaware's 2017-18 season, and they'll need him healthy and productive if they are to improve on last year's mark.
The departure of graduating guard Anthony Mosley (10.3 ppg and 4.3 rpg) deprives the Blue Hens of a consistently productive starter. Similarly productive big man Eric Carter (11.0 ppg and 9.1 rpg) might well have an increased role in the Hens' attack in his final college season.
The standouts from Delaware's newcomers are 6'5 guard Nate Darling and 6'7 forward Matt Veretto. Darling, a junior transfer from the University of Alabama at Birmingham, averaged 10.1 ppg last year while shooting 40.9% from three, 47.7% from the field and 83% from the line. Veretto was first team all-state last year at East Catholic High School in Connecticut, posting 19 ppg and 11 rpg.
Bottom Line: Even if Delaware's key players stay healthy and productive throughout the season, and even if newcomers Darling and Veretto make solid contributions, it's doubtful they'll make much noise in the CAA. Ryan Daly's exit deprives the Blue Hens of their best player and none of their newcomers come close to filling the hole. It's difficult to imagine them improving on last year's 7th-place finish in the conference standings or their second-round exit in the CAA Tournament.