In a battle between Hockey East's two Husky teams at the Hartford XL Center on Friday night, Northeastern's early-game dominance on both sides of the puck carried them to a 5–2 victory over UConn.
Within the team's first 30 seconds of play in 2020, Northeastern's Matt Filipe fired a shot into the back of the net on an assist from Ryan Shea.
After Filipe's goal, play swung back and forth until 10:40 into the period, when Zach Solow's unassisted goal gave Northeastern a 2–0 lead. Minutes later, Tyler Madden scored another goal, assisted by Aidan McDonough and Grant Jozefek.
UConn struggled through the entire first period and most of the second, turning over the puck frequently and giving Northeastern many scoring opportunities.
Nearly twelve minutes into the second period, Solow put in another goal, assisted by McDonough and Madden. Northeastern's score streak continued minutes later, their fifth goal courtesy of freshman Matt DeMelis, who put home a rebound from teammate Neil Shea.
UConn finally got on the board with a minute left in the second period, when Vladislav Firstov put home a rebound. Firstov's goal trimmed the Northeastern lead to 5–1 entering the third period.
Though the final period featured UConn's second goal (by Jonny Evans seven minutes in), it also brought increased aggression. With just under five minutes to play, McDonough was called for goalie interference. Simultaneously, freshman defender Mike Kesselring was hit with a five-minute major penalty (and a ten-minute game misconduct) for a violent cross-check, putting Northeastern at a disadvantage for the remainder of the game.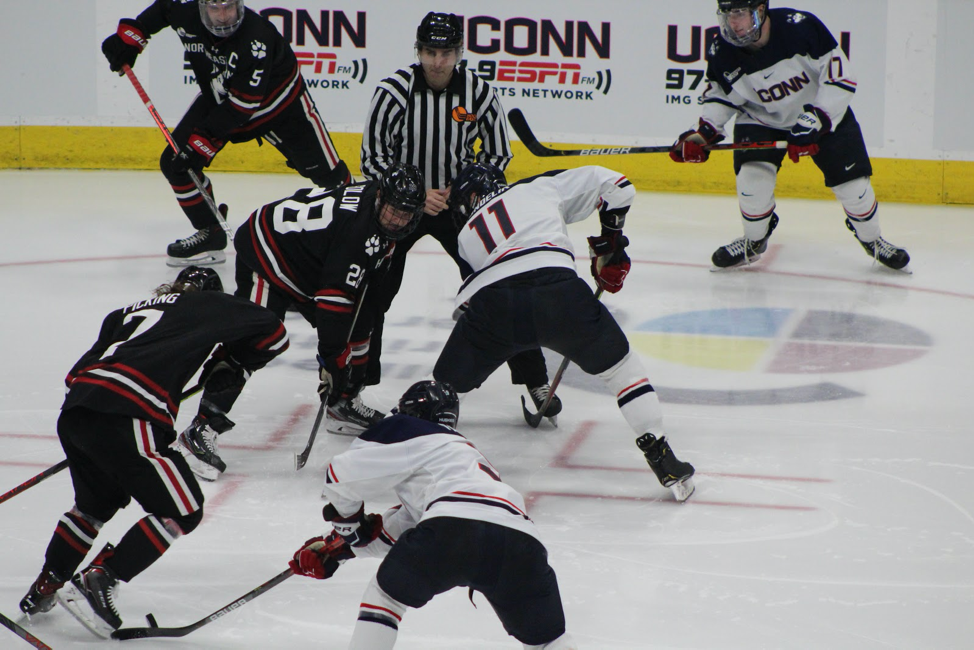 With nearly three minutes to go in the game, UConn pulled goalie Tomas Vomacka, leaving Northeastern in a three-on-five situation. Once McDonough's penalty was over, Northeastern defended the more manageable four-on-five penalty kill.
"We didn't play as cleanly as I would have liked in the third period," Madigan said, though he remarked that the "PK did a great job all night long."
Northeastern netminder Craig Pantano also played a solid game, making 24 saves for a .923 save percentage.
Northeastern will take on Bentley this Monday in Matthews Arena. Christian Skroce and Dale Desantis will call the game for WRBB, with coverage beginning at 6:45.