Northeastern Women's Hockey Bests BC to Kick Off Season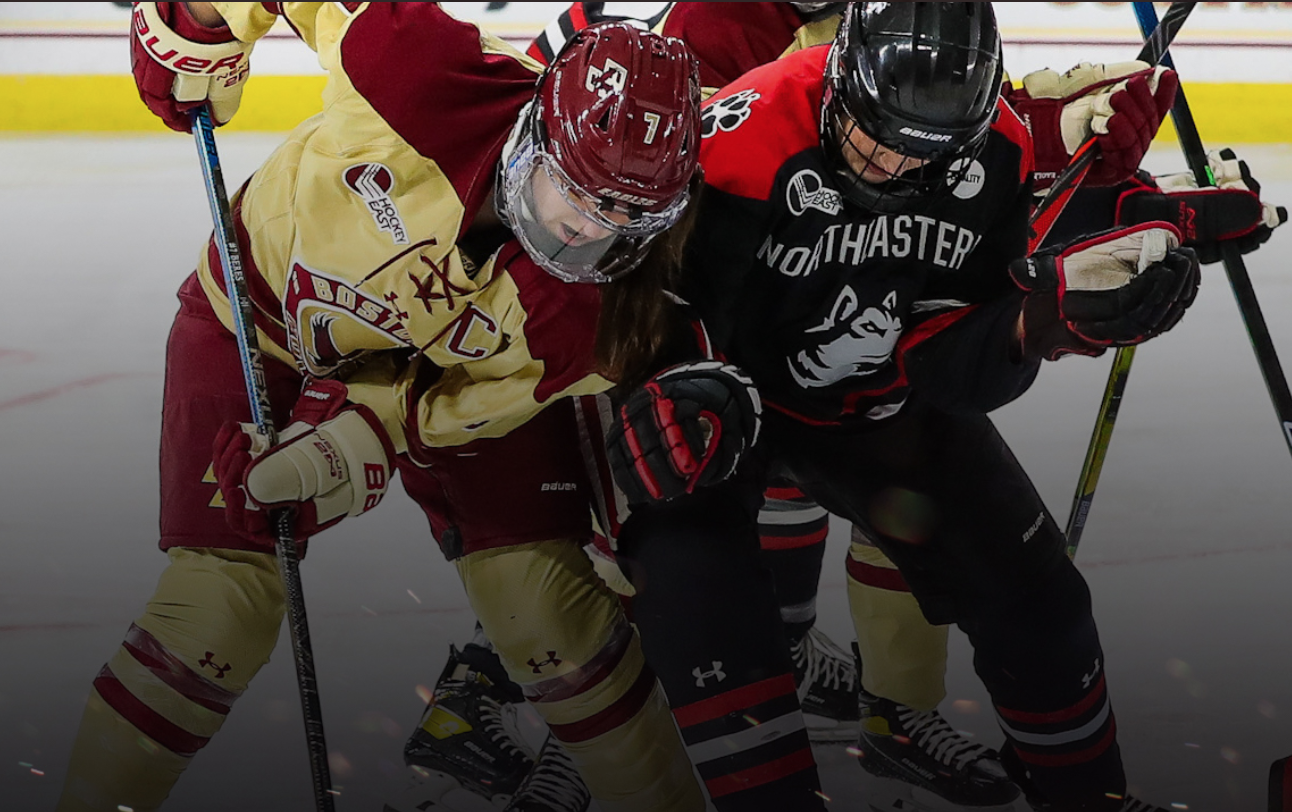 CHESTNUT HILL, MA — It took Northeastern about a period and a half to shake off the rust, but the Huskies are back and rolling as they scored three times in the third period to beat Boston College, 4–1.
Northeastern (1–0) faced the tough task of opening their season on the road against the ninth-ranked team in the country, the BC Eagles (4–3). With BC coming off a weekend sweep of UConn and playing some good hockey, Northeastern was thrown into the deep end in game one.
Things didn't start well for the Huskies — they made some sloppy passes in the opening frame and gifted BC some chances, which they eventually took advantage of. BC's Jillian Fey scored her third goal of the season 18 minutes in with a shot from the point. Off the replay, it looked like the shot deflected off NU captain Brooke Hobson in front of the net to beat Aerin Frankel in goal.
The Huskies got their goal in the second, though. After absorbing BC pressure in their own zone for almost five minutes, Northeastern hit back on the rush. Megan Carter grabbed a loose puck and fired a rocket of a pass to Katy Knoll to release the break. Knoll went forward down the left and played a pass across to Andrea Renner in between the circles. Renner, after missing a few chances early, didn't miss again, and went five-hole on BC goalie Maddy McArthur for her first goal in over a year.
Renner missed all of last season with an injury, and her goal highlighted a great all-around game in her return. It was her first goal since the Hockey East championship game in 2019, also against BC.
Northeastern started the third period on the kill, but maintained offensive pressure throughout BC's power play and added momentum through the period. They finally took their first lead of the season six minutes in, as Knoll scored a miraculous backhanded goal off a great feed from freshman Lily Yovetich. Yovetich found Knoll cutting in between the circles and the sophomore grabbed the puck and flicked it past McArthur for her second point of the game.
The fourth line added the Huskies' third goal, as they capped a great game as a unit with a goal from Kate Holmes. Micaela Sindoris and Katie Cipra won the puck behind McArthur's net, and Cipra managed to slide the puck out to Holmes, who was parked in front of the net. Holmes generated an insane amount of power from only a few feet out, leaving McArthur with no chance at a save and putting NU up 3–1.
A minute and a half later, the reigning Hockey East Player of the Year made her presence felt. Alina Mueller took a pass, beat two defenders, and sniped the bottom right corner of the net, beating McArthur glove-side (where she had made plenty of big saves all game) and capping the scoring for Northeastern.
"It feels great that we got on the ice and the girls got to play a game," Northeastern Head Coach Dave Flint said. "The victory was just the icing on the cake."
It was a strong all-around performance. Renner was incredible on offense, creating multiple chances with powerful shots to test McArthur and logging a goal to go cap it off (though she'll probably want a scuffed shot on a first-period power play back). Frankel made 25 saves in net, including some tough ones against reigning National Rookie of the Year Hannah Bilka. And Hobson was as sure-handed as ever captaining the side and leading the defensive unit. But Flint was quick to point out some errors the team made, particularly early on.
"There were too many turnovers, we weren't moving the puck quick enough," Flint said. "When you haven't played a game in that long, it's different than practice."
The Huskies will be at home next time out against the same BC unit, facing off at Matthews Arena on Sunday. Milton Posner and Catherine Morrison will broadcast that game, with coverage beginning at 4:45 PM Eastern.