By Jordan Baron, Justin Diament, and Milton Posner
BOSTON — In a fiery game that came down the wire, the Northeastern Huskies held off a frantic last-minute run from UMass to notch a 78–75 win, their first of the season.
In Friday's game, the crushing UMass press forced the Huskies into 15 first-half turnovers and wrecked any prospect of offensive rhythm. On Sunday, the composed ballhandling and passing of Tyson Walker, Jason Strong, and Shaquille Walters overcame the press, allowing the Husky offense to lay a harsh hand to the Minutemen.
"They press, and that's what they're known for, so we just had to keep our composure with that," Strong said. "Just slow down, take our time, and just get back to getting to our open spots."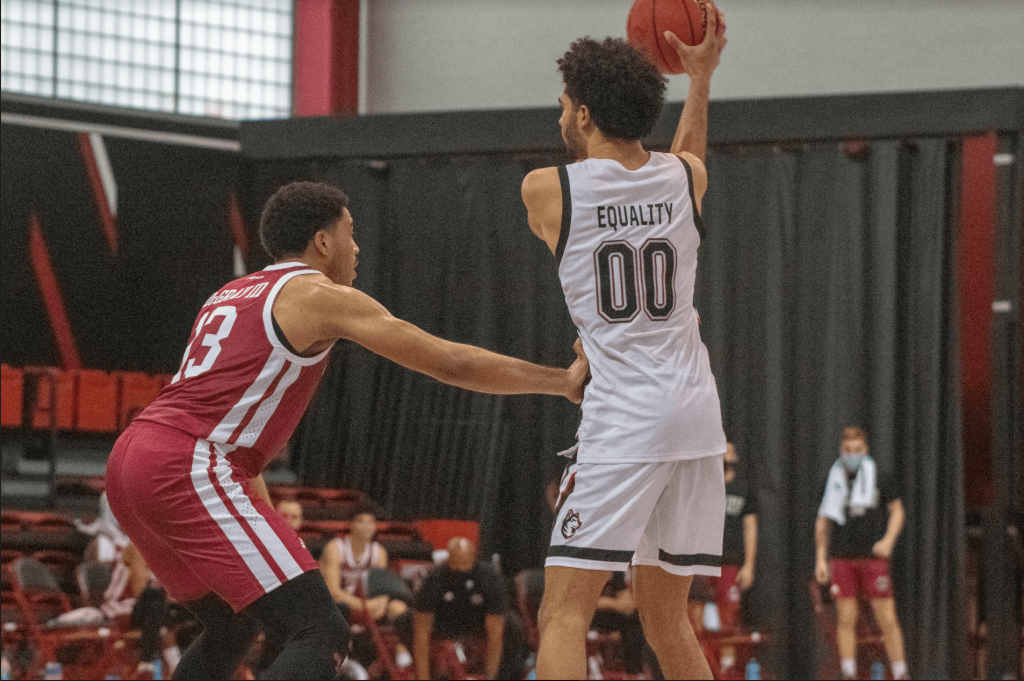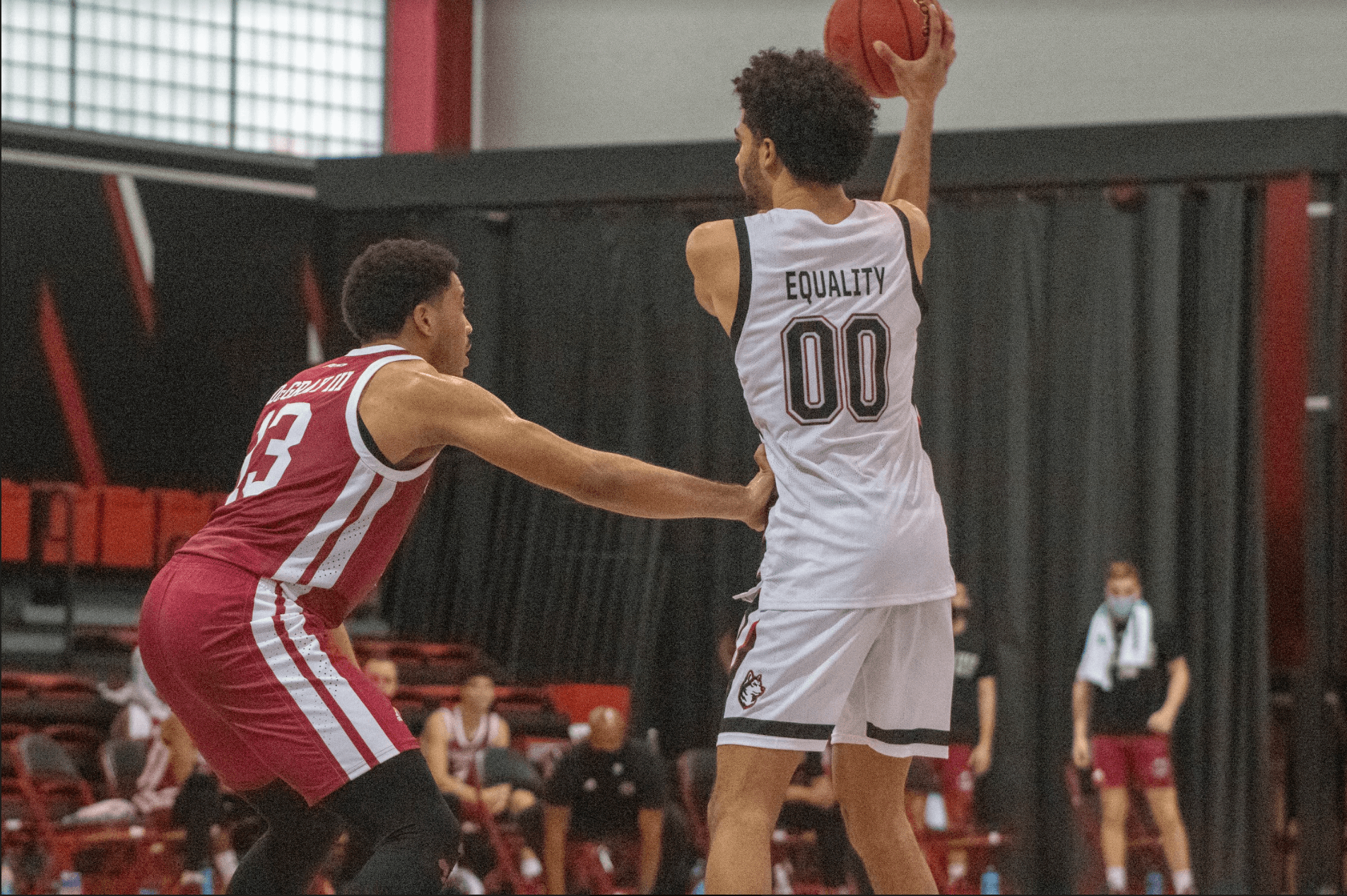 Northeastern paced the Minutemen throughout the first half, with the score staying tight until the halftime break. The Huskies minimized turnovers, repeatedly solving the UMass press with outlet passes to the wing. This gave Northeastern more time to run their offense, and they spread the scoring around early. Shaquille Walters stood out as an offensive leader, quickly eclipsing his four-point total from Friday's game and eventually logging 12 points and nine rebounds in a team-high 37 minutes.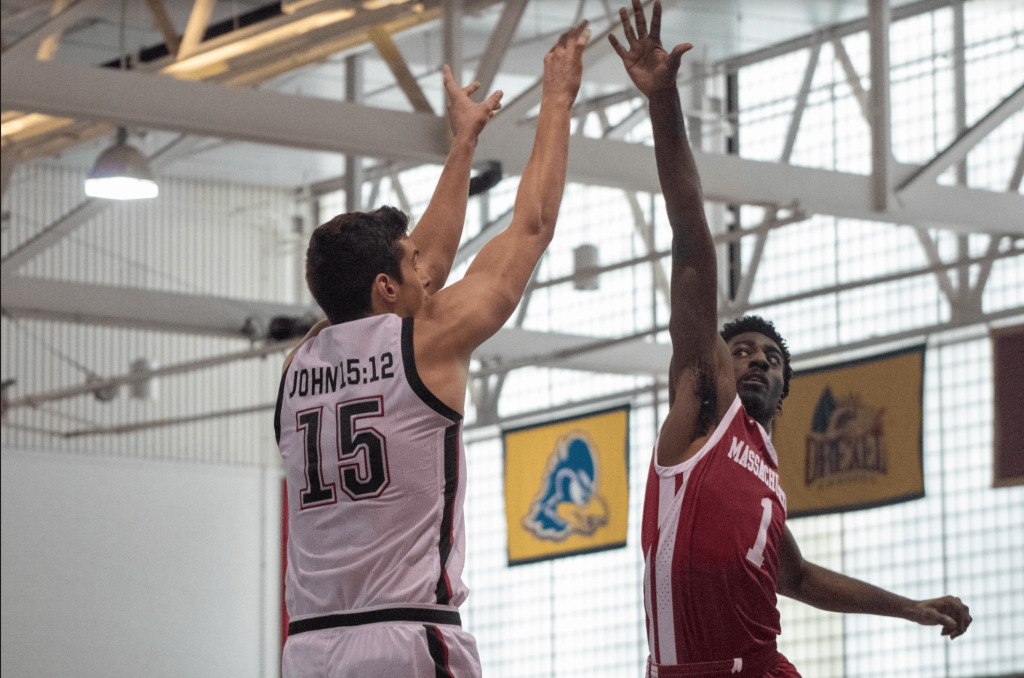 "We need him on the floor, he's an excellent defender, he's a really good secondary ball handler, he's an experienced guy who's got confidence and ability, but he's a tremendous rebounder at his position," Northeastern Head Coach Bill Coen said of Walters. "That makes us a little bit more dynamic. Having him available today and having him play at a high level helped us earn the victory."
Walters led the offense as Tyson Walker spent long stretches of the first half on the bench, pacing around the grid of socially distant seats.
"He picked up a couple of fouls, and then he went to the deck early," Coen said of Walker. "He had been on the floor quite a bit down in UMass, and then early on there was a play at half court and he landed on his hip again awkwardly. And so we took him out, but Vito came in and the game was going pretty good. We felt like we could steal a couple of minutes."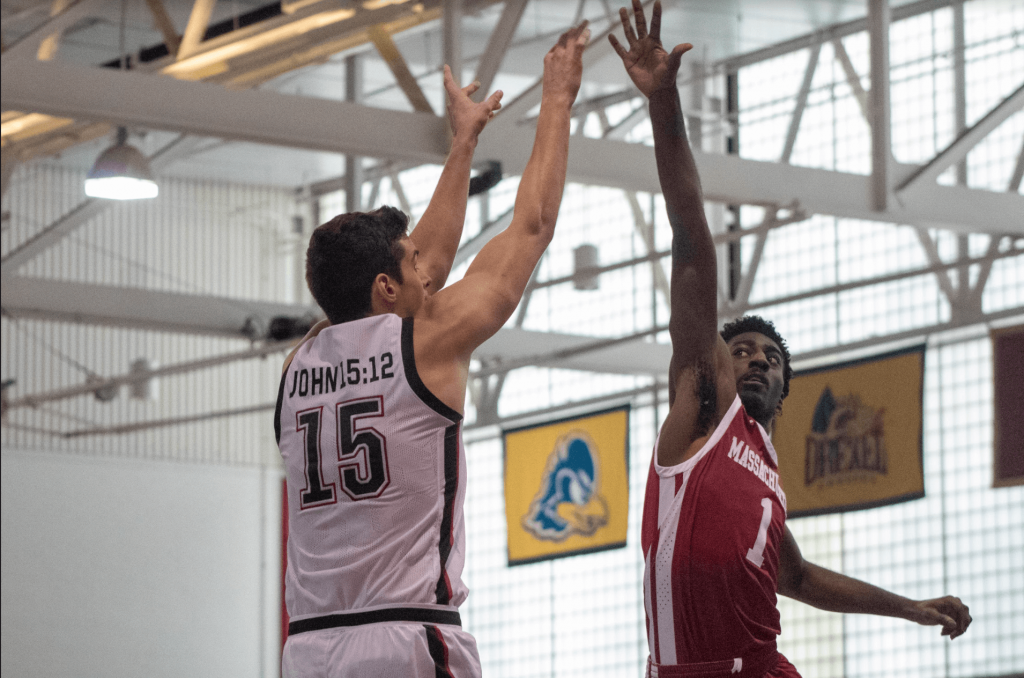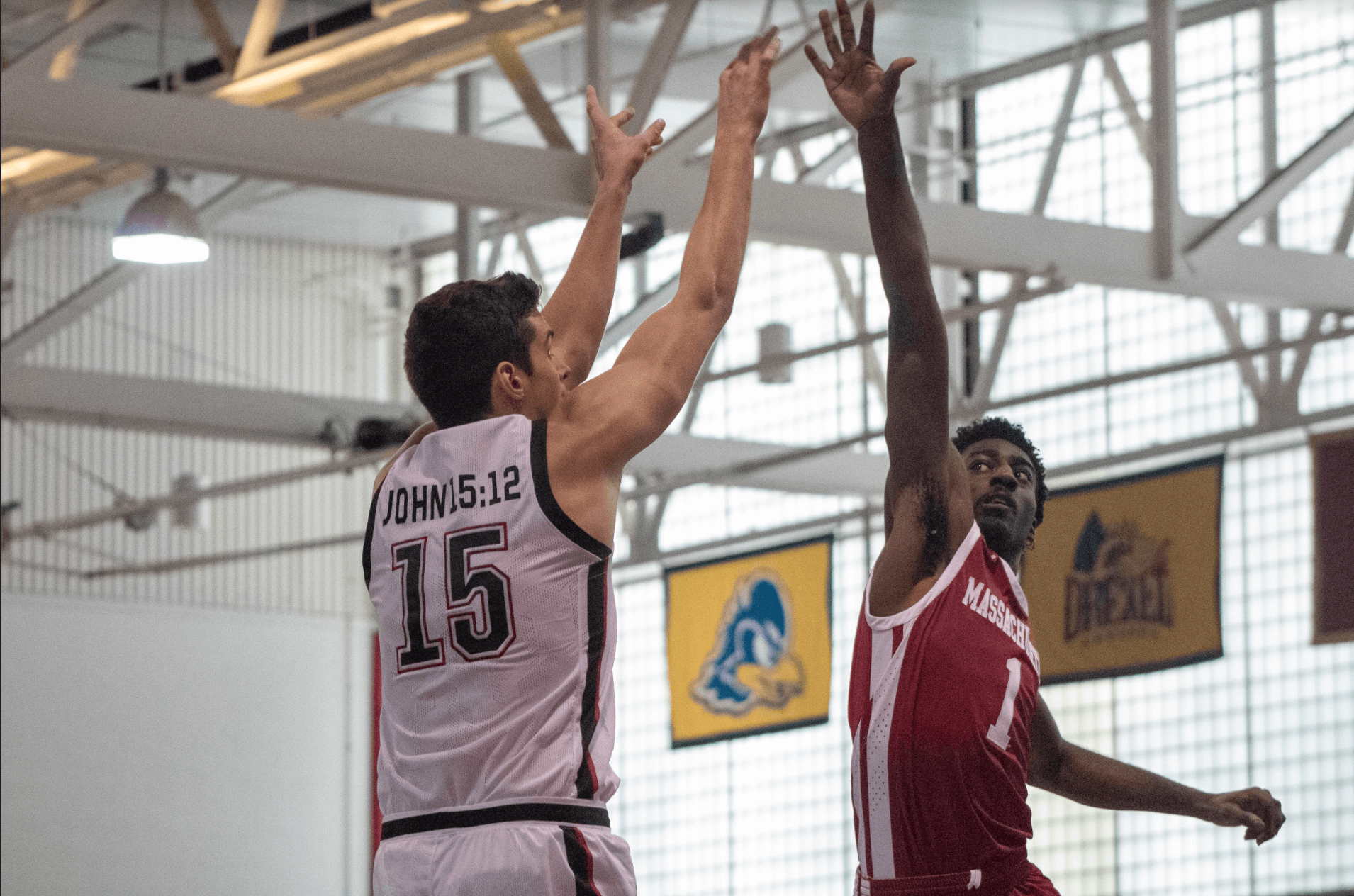 Coleman Stucke, who went a dismal zero-for-eight on Friday, added his first buckets as a Husky during Walker's absence, providing a bit of an early boost. But it was Jason Strong that Northeastern repeatedly returned to for an offensive spark throughout the game. The junior collected 16 points, including three energizing three-pointers, to go with five rebounds.
UMass also turned to some unexpected scorers in the first half, as Friday's stars were largely silent. Tre Mitchell didn't score his first points until the final five minutes of the half, while Javohn Garcia scored an early four, but didn't put in another bucket for the remainder of the period. Noah Fernandes, who spent a large portion of Friday's game on the bench due to a foul discrepancy, scored seven first-half points. Ronnie DeGray III, who contributed the least out of the Minutemen starters on Friday, added six points of his own.
The Huskies went into the halftime break with a one-point lead after answering many of the questions raised by the Friday loss. Then they hit another gear.
The second half started off with a turnover on Walters, but that was quickly squashed by a huge three from Strong. Walker followed it with a brilliant pass from the top of the key that landed right in the hands of a soaring Greg Eboigbodin for an alley-oop dunk, sending the Husky bench into cheers.
"The energy was great," Strong said. "There was a time I was sitting on the bench and someone made a great play, and everyone just started standing up and cheering, and it was just great energy on the bench throughout the whole game."
But just as the offensive exploits of Walker and Walters built an 11-point Husky lead, the team ran into a roadblock. Eboigbodin racked up his fourth foul of the game, and was subbed out. The loss risked the Huskies' containment of Mitchell, which had been superb.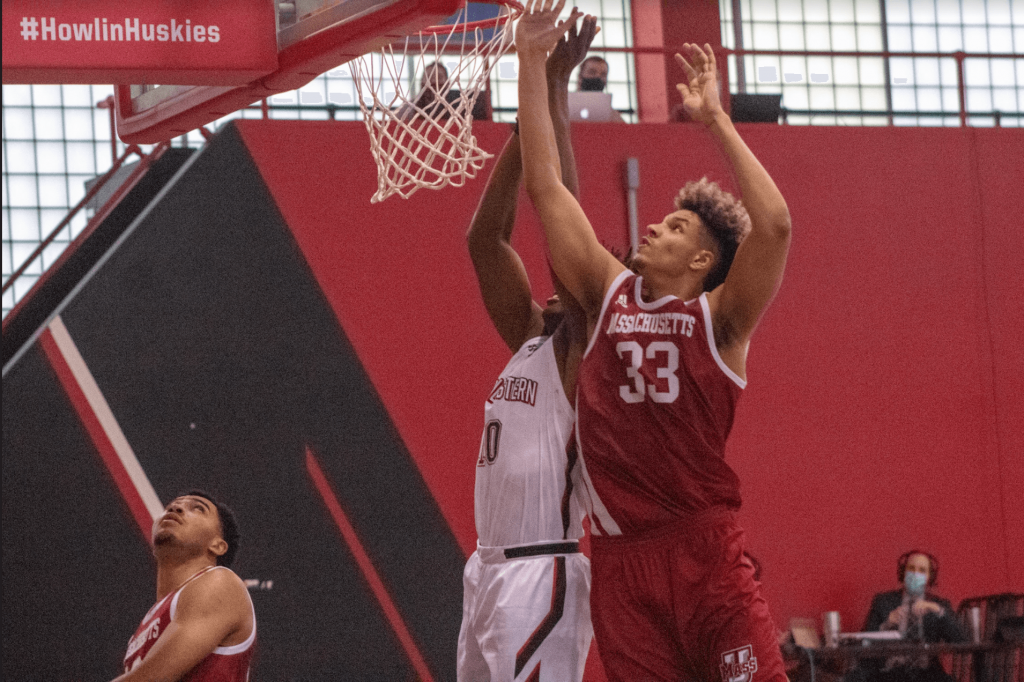 But the Huskies continued to pressure Mitchell, and although he was drawing fouls and sinking free throws, most of his field-goal attempts were merely attempts, as his signature jump hook kept dripping off the rim.
Northeastern maintained their lead until the final three minutes, when a series of quick steals and buckets slashed the lead from 12 to three. Shaq Walters missed a pair of free throws with 15 seconds left to leave the door open, but UMass captain Carl Pierre inexplicably went for a layup with five seconds remaining, and the Huskies shut off the lane to escape with a three-point win.
Walker led the Huskies with 20 points, with Strong, Walters, and Jahmyl Telfort contributing 16, 12, and 11 respectively.
Despite being the slightly smaller team, the Huskies equaled the Minutemen's rebounding total. In addition, they committed just 14 turnovers compared to 18 in Friday's game.
"Extremely proud of our group today," Coen said. "In a short turnaround, they were able to absorb adjustments in the scouting report, they came with great energy and focus, and we got back to Northeastern basketball."
Though neither team has announced a start time, the Huskies will face off against Syracuse on Wednesday in what will undoubtedly prove their toughest non-conference test. WRBB will call that game live, with coverage beginning 15 minutes before tip-off.