Story by Sarah Olender
Photos by Jordan Baron
BOSTON — In Merrimack's last series, which was nearly a month ago, they lost to Northeastern. Or, more accurately, Northeastern obliterated them, sweeping the series by a combined 14–5 score.
"They didn't believe me when I said it's not going to be a 6–3 or 8–3 game," Northeastern Head Coach Jim Madigan said of Saturday night's contest.
The Warriors hadn't played a game in nearly a month. The Huskies had established themselves as the dominant team and were even getting Sam Colangelo back from World Juniors, as the second-round NHL draftee had just won gold with Team USA.
The Huskies went in confident, but quickly realized that Madigan was right. Expecting Merrimack to be rusty, Northeastern came in sluggish, relaxed, lazy, and even sloppy. They missed passes, found themselves in the penalty box far too often, and created few offensive opportunities.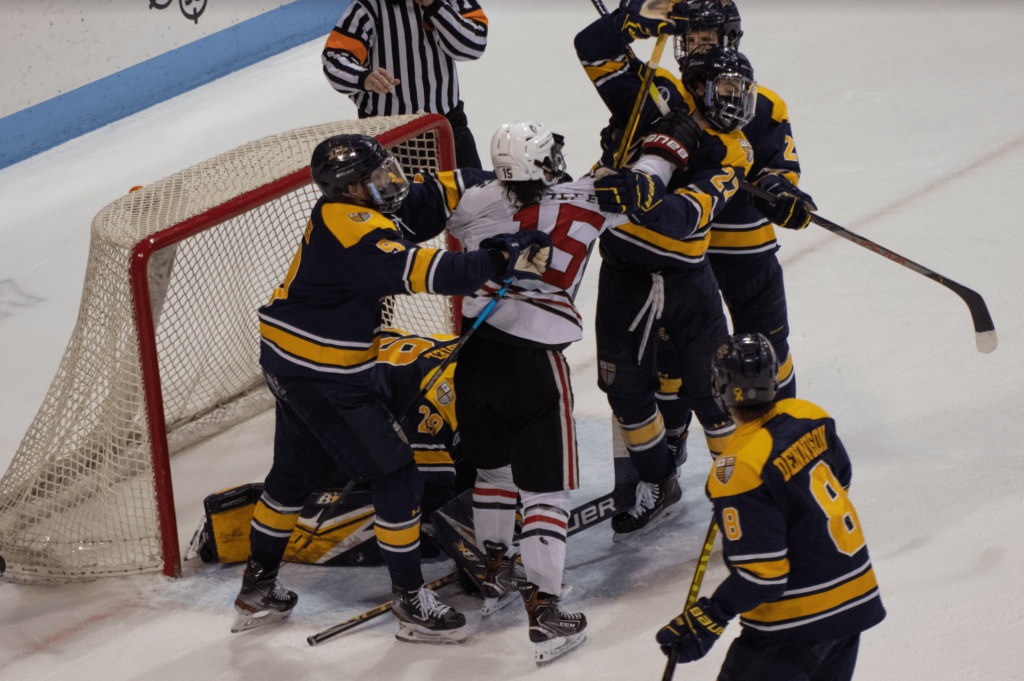 It wasn't long before Merrimack made them pay. Filip Forsmark caught a rebound that Northeastern goaltender Connor Murphy couldn't control. He knocked it into the net and Northeastern ended the first period down 1–0.
In the second period, Northeastern didn't improve their lackluster performance much. They remained slow, lazy, and they made, for lack of a better word, stupid plays. With their lack of presence on both sides of the ice, it took barely any effort for Merrimack to put another tally on the board. Chase Gresock tipped a pass from Mac Welsher right behind Murphy to double the lead.
The Huskies started the third period a little better, and responded well when Ty Jackson was given a penalty for goalie interference. On the penalty kill, Northeastern's Grant Jozefek rushed into the offensive zone on a break out; Patrick Holway caught up to him and slashed Jozefek's stick to prevent a goal. The slash cost Merrimack a penalty, and since Jozefek was on a prime scoring opportunity, he got a penalty shot. After 45 minutes of play, the Huskies finally made it onto the board.
"We were out of sync, Madigan said. "He gave us life there."
"When [Jozefek] got that breakaway and he had that penalty shot, we got a lot of momentum from that," said Dylan Jackson. "When someone scores, it just gives everyone energy on the bench."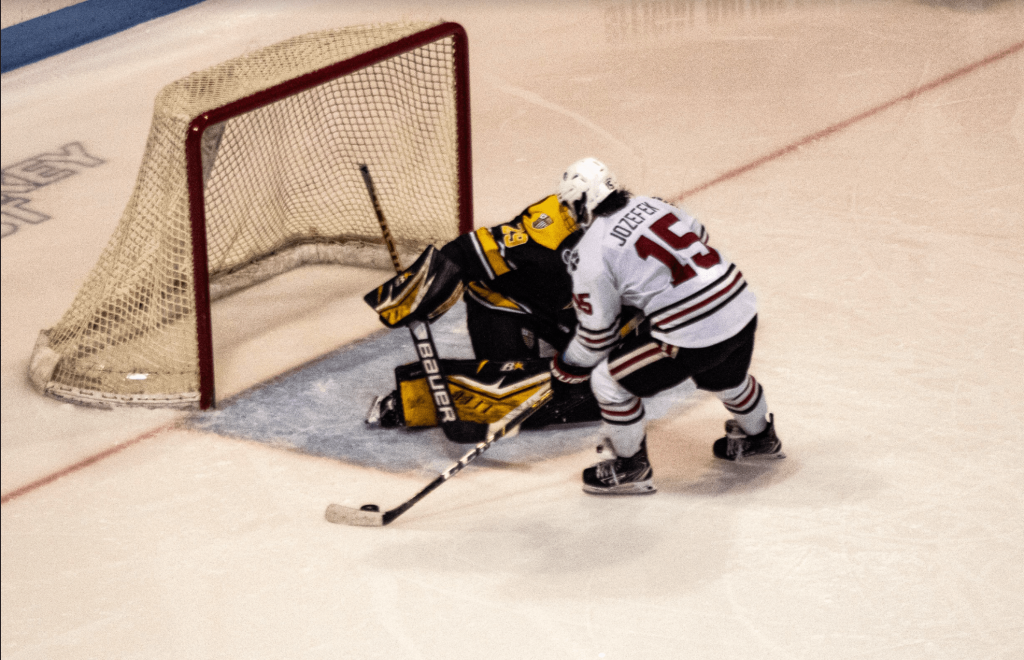 Soon after that, Madigan changed up the lines. His risky choice to pair Gunnarwolfe Fontaine with the Jackson twins paid off, as the Jacksons fed Fontaine a pass and he shot a bar down goal right behind Borgiel. At the end of the third, the game was tied 2–2.
"Once we started getting our legs, we started getting more chances, and you try to carry that," Dylan Jackson said.
Northeastern entered overtime with all the momentum, plus a power play after a Forsmark goalie interference penalty at the end of the third. Zach Solow, Aidan McDonough, Jordan Harris, and Fontaine generated some good opportunities but didn't capitalize. At this point, Merrimack had run out of steam and was barely making an offensive effort. They were in survival mode.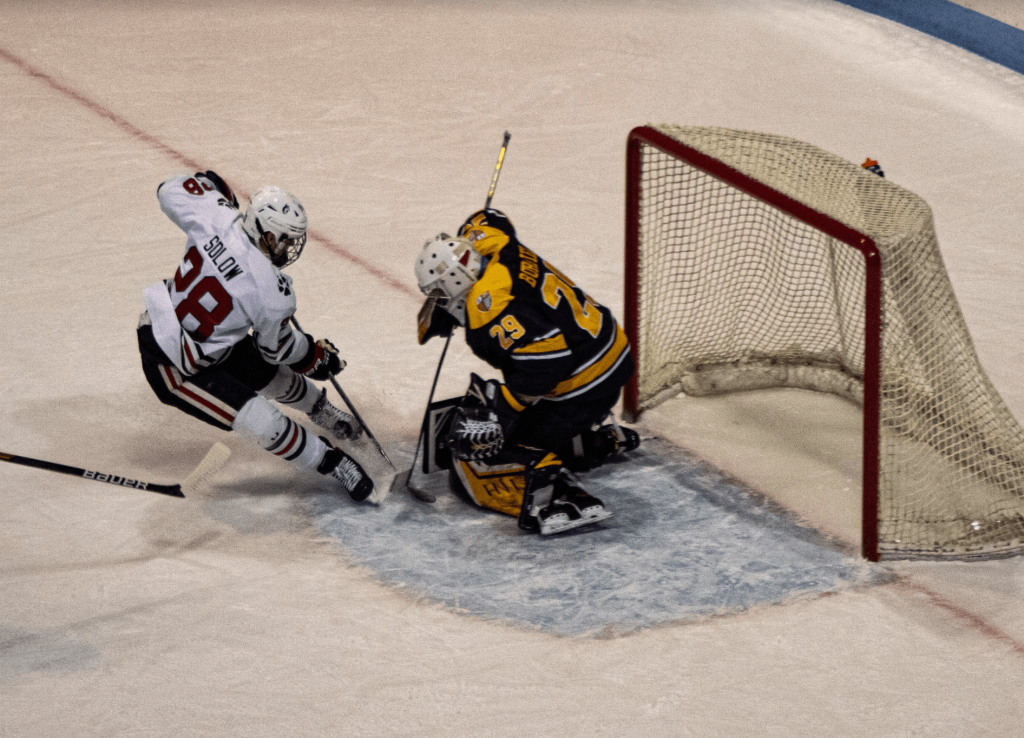 As the penalty expired and three-on-three hockey commenced, the Jackson twins took the ice with Jayden Struble. The twins broke out on a two-on-one, passed back and forth in front to knock Borgiel out of position, and ended the game when Dylan Jackson found the back of the net.
"We've been playing together for 15 years now so we have that chemistry," Jackson said. "We just kind of know where each other are going to be."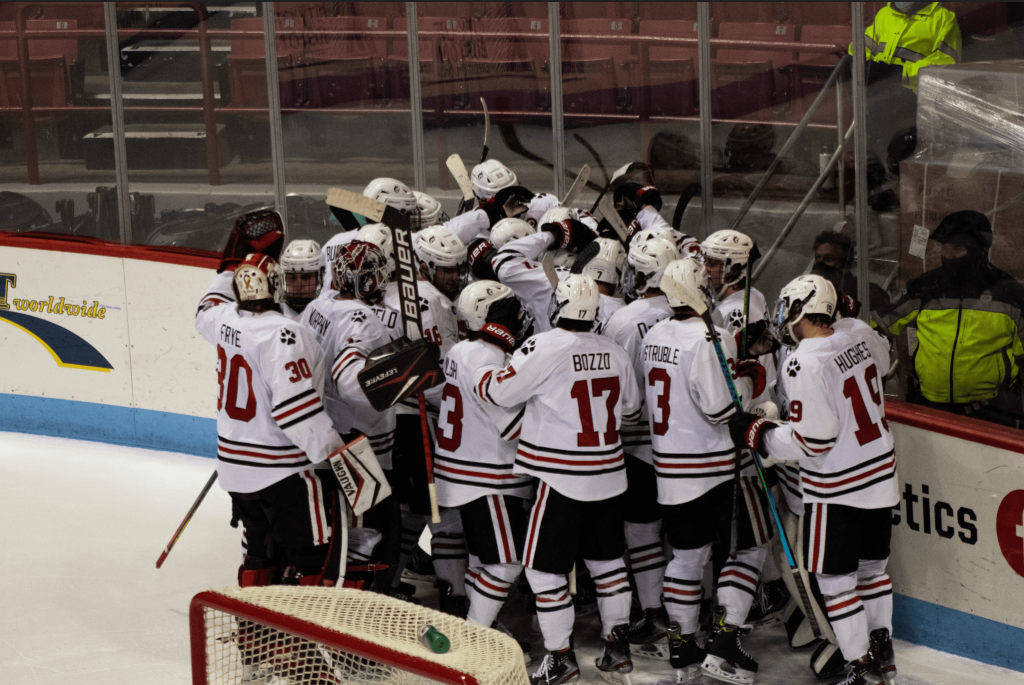 The Huskies will face Merrimack again Sunday at 3 PM in North Andover.