Story by Jack Sinclair
Photos by Sarah Olender
BOSTON — On one end a new face; on the other, a lot of empty seats.
On Sunday afternoon, the Northeastern and Maine women's hockey teams faced off for the third time this month. Maine came to the arena with a severely shortened bench, including just five defensemen and nine forwards.
Northeastern (6–1–1) had five more skaters on their bench than Maine (4–5–0). Among them was Maureen Murphy, who transferred to Northeastern after two years at Providence. After some post-transfer eligibility issues prohibited her from playing, Murphy was finally unleashed on Sunday. She took over at right wing on the top line with Alina Mueller and Chloé Aurard.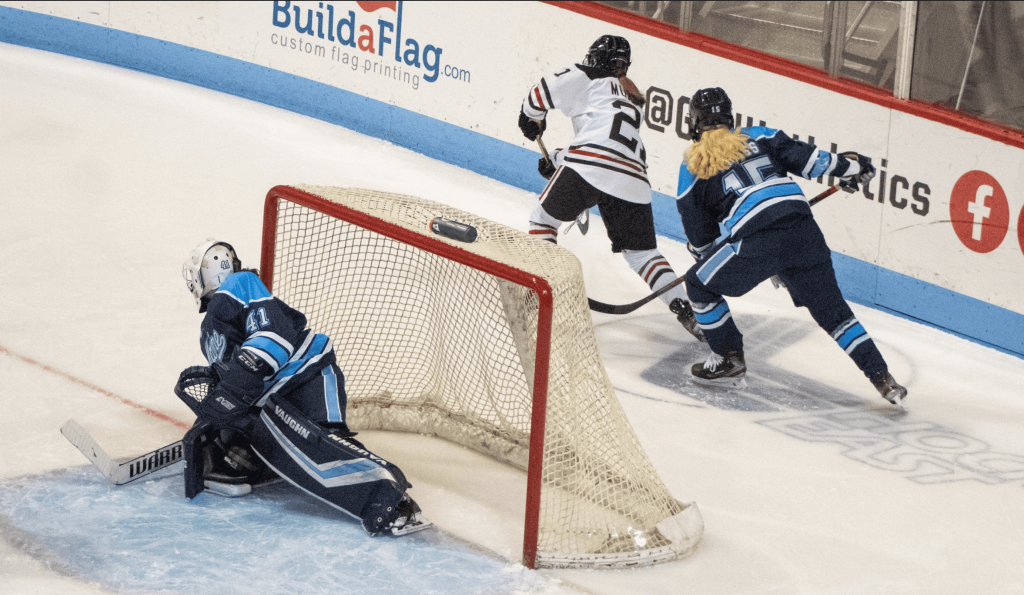 "It was great," Murphy said after the game, "I hadn't played a game in a long time, and my teammates were also very supportive. They welcomed me in with open arms."
All three would score a goal by the end of the day, and the line's chemistry was obvious.
"Obviously, Alina and Chloe are great people and great players," Murphy said. "We talked a lot before the game and between periods and last night, so a lot of communication."
In the past few games, it took 15 minutes for Northeastern to begin generating sustained offense. Tonight, they quickly established themselves in the offensive zone. It paid off, as two-and-a-half minutes after puck drop, Alina Mueller coolly netted her third goal of the season, assisted by Skylar Fontaine.
Maine goaltender Loryn Porter, coming off a two-week break from game action, had allowed a goal on the first shot she had faced. She was quick to remedy that, shutting out the Huskies for the rest of the period. Porter made some spectacular saves, including a dive across her crease to rob Murphy.
Maine, with their reduced bench, played conservatively. They allowed Northeastern to cycle the puck around the perimeter and simply parked the bus in front of Porter. Despite this, the Huskies created good looks at the net. Porter fought everything off, and her skaters blocked several shots as well.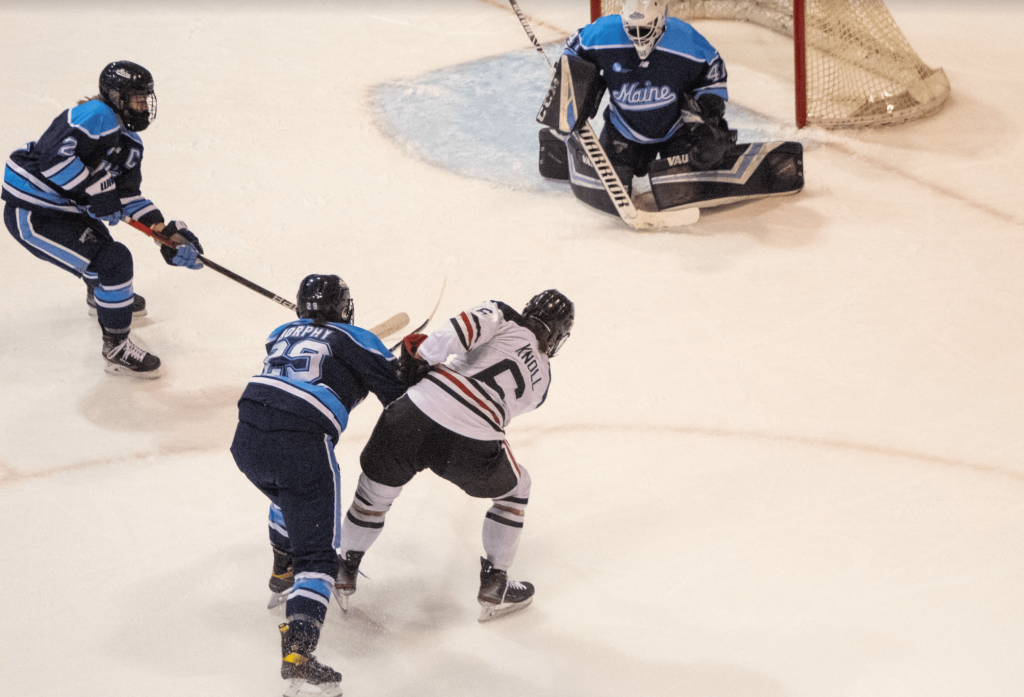 "I'm going to have nightmares about Porter," Northeastern associate head coach Nick Carpenito said.
Both teams returned to the ice for the second period with fresh legs. Maine tried to generate some offense, even forcing Husky netminder Gwyneth Phillips to make her first saves of the game early in the second. Northeastern didn't take too kindly to that, and upped the tempo of the game.
The Black Bears devoured ice, taking lengthy shifts in their defensive zone for almost two minutes at a time. Northeastern continued to pound shots at Porter and any skater who dared step into a shooting lane. Porter, who had saved 24 consecutive shots after the initial cough-up, was finally beaten again after a quick scrum in front of her. It was Murphy who knocked the loose puck in for her first goal as a Husky.
"We had a lot of momentum and a lot of possession throughout the entire game," Murphy noted. "Obviously, Maine's goalie played great. I don't know, I just ended up in front of the net. Even if I hadn't put it in, I knew Chloé was there too."
The Black Bears then went on the power play after Ani FitzGerald was called for tripping, but the Huskies' lethal penalty kill unit silenced it with ease. The Huskies started pressuring the Black Bears again, but got caught in a change. Maine's Ida Press recognized the error and quickly dished to Morgan Sadler on the wing. Sadler sniped the corner of the cage for Maine's first goal in Matthews Arena this season.
Maine continued their surge into the third period, forcing an offensive zone faceoff early. Ali Beltz won the puck back on the forecheck and fired a quick wraparound shot from the goal line. Phillips positioned her pad slightly above the ice, and the puck slid through the opening and into the net. Maine, despite their shortened bench, had tied the game.
Northeastern once again turned up the tempo and poured on the pressure. They smothered the Maine skaters, won every puck battle, and allowed Maine only the occasional look at Phillips' net. Loryn Porter was unfazed by it all, stopping every shot that came her way. Northeastern played superbly, but Porter was playing 4D chess while the Huskies were playing checkers.
End of regulation. Game tied 2–2.
The teams slowly felt each other out as the overtime began. Northeastern got the first few looks, but Porter was still too much to handle. However, Maine's Ally Johnson was whistled for body checking on Murphy, giving Northeastern a power play; though the Huskies couldn't capitalize, they firmly established themselves on Maine's side of the ice. In the last minute of overtime, Chloé Aurard took the zone, skated into the slot, shook off a defender, and finally beat Porter with a blistering, game-winning wrister.
"I was on my offhand, and I know Chloé has a great shot," Murphy explained. "I was yelling 'Shoot, shoot, shoot,' and she heard me, picked her spot, and scored it. It was a nice shot."
"I thought we were really, really, good," Carpenito said. "I thought we were executing well, I thought we had good presence up front. I thought defensively we were fantastic."
The Huskies' next scheduled game is Friday at 7 PM Eastern against #7 Providence, though this is subject to change given pandemic concerns. Check WRBB's schedule page for coverage information.