Story by Rae Deer and Milton Posner
Photos by Jordan Baron
BOSTON — The forecast for Sunday night's women's hockey game was straightforward.
New Hampshire was one of the few teams to meaningfully challenge the No. 2 Northeastern Huskies this season. They're strong. They're physical. They have a great goaltender. And they'll make the Huskies work hard for everything. And after one gritty, aggressive, competitive period, that's what it looked like was in store.
But the Huskies have a Hockey East Championship to defend, and a five-goal onslaught in the second period proved just how hard they'd fight to keep it. They flattened the Wildcats 7–0 and will face UConn in the semifinals on Wednesday night.
"We played fast from the drop of the puck and were relentless for the full 60 minutes," head coach Dave Flint said.
Both squads were quick on their feet from the beginning and favored using their bodies and sticks to get on the puck. After an aggressive last meeting between the teams, Sunday brought a new level of animosity and extracurricular hits. Players seemingly got into it after every other whistle, either jawing at each other or letting loose a few shoves.
"We talked about everybody keeping their composure," Flint said. "They're a physical team and they're trying to get us off our game. I told them, 'Don't let them do it. Don't fall into the trap. If they make you mad, do it on the scoreboard.' I think they were a little pissed off at some of the plays, but they kept their heads, played hard, and took care of it on the scoreboard."
Six minutes in, Veronika Pettey tried a backhand flip pass from behind the net to Katy Knoll out front. The connection might not have happened if not for a Wildcat skater's deflection, and Knoll redirected the loose puck to get the scoring going.
The Huskies didn't let up, and generated several near-chances in the offensive zone. But Wildcat netminder Ava Boutilier kept Northeastern at bay for the rest of the period.
"If you don't get in there and bang in rebounds and make things difficult for her, if you're perimeter, she's going to stop pucks all night." Flint said.
Thus, going into the second, the issue was finding ways to best Boutilier. It took seven minutes for the Huskies to figure it out, and when they did, the floodgates opened. Goals from Katie Cipra, Veronika Pettey, Skylar Fontaine, and Kate Holmes within a six-minute span effectively ended the game.
"We got stuck out there on an icing before that second goal," New Hampshire head coach Hilary Witt explained. "We didn't do a good enough job getting the puck deep to get a good change opportunity. We got a little fatigued and that's how things broke down on that second goal. After that, probably not a great decision on our pinch, giving them another odd-man situation. They're so talented that if you're going to give them opportunities like that, they're going to hurt you."
And with the clock ticking down at the end of the period, Mia Brown stole New Hampshire's cookies and ate them all by herself.
"We were like sharks around the net tonight and that's why we were successful," Flint remarked of the second-period run. "We were hunting pucks on the forecheck like I haven't seen us do this year. We were all over UNH. One went in and they got hungry for a second. The confidence built up and we just kept going and going."
Then the Wildcats got desperate. They were a lot more physical and took more penalties as they tried to keep up with the Huskies' offensive acceleration. Northeastern rebuffed the increased sticks and shoving by breaking up the Wildcats' setups in their offensive zone with ease. They denied any and every Wildcat scoring chance while setting up chances of their own. One such chance allowed Patty Kaz nominee, Hockey East all-star, and phenom first-liner Alina Mueller to get her piece and nail the coffin shut.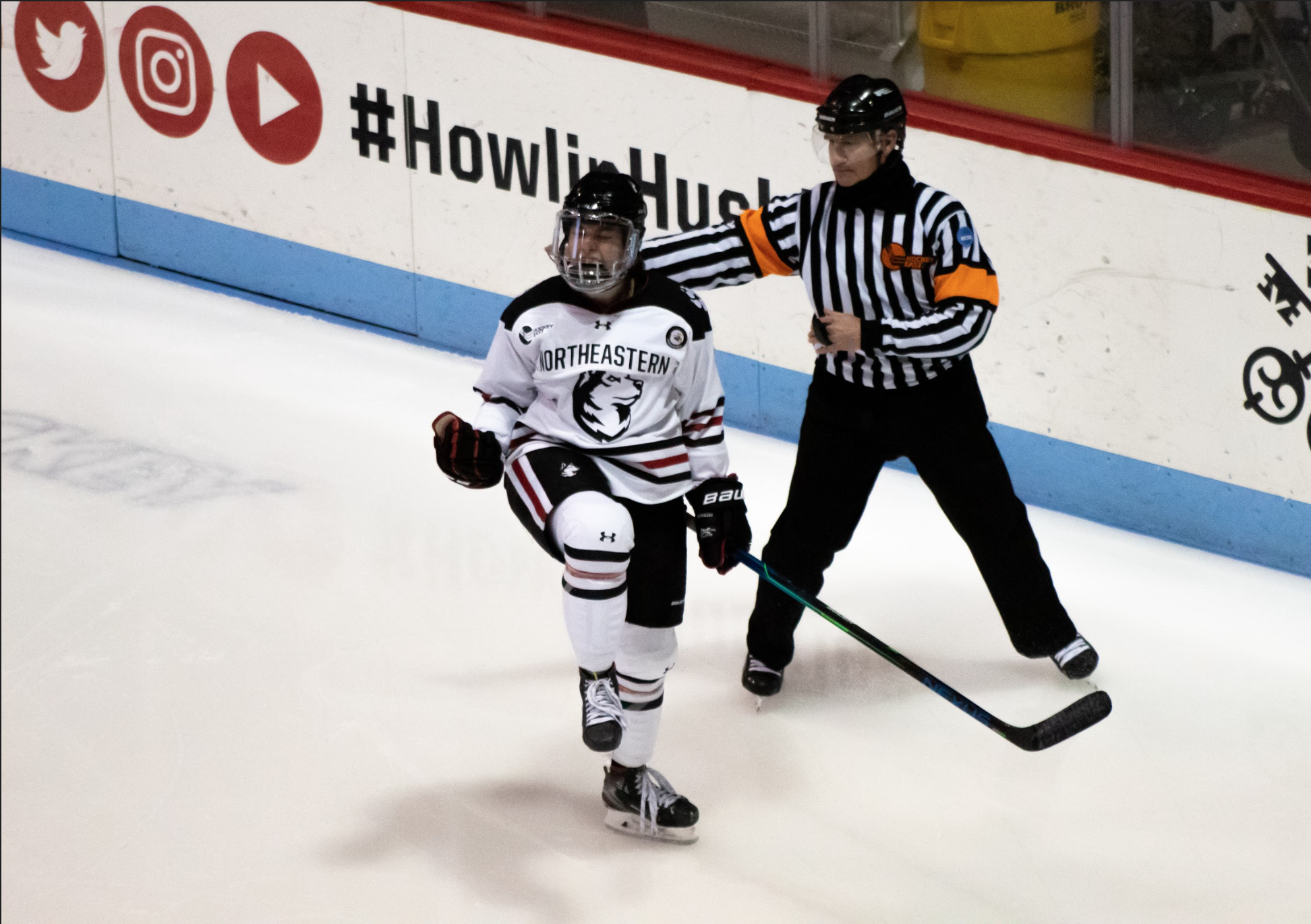 With seven goals by seven different skaters, this game, like many this season, showed just how deep the Huskies are.
"We run four lines, we play our extra skater too. That, for me, is reassuring knowing that we can run any of those lines out there." Coach Flint said about his skaters. "We've put our third and fourth lines against teams' first lines to get mismatches for our first line. It's nice to have that luxury."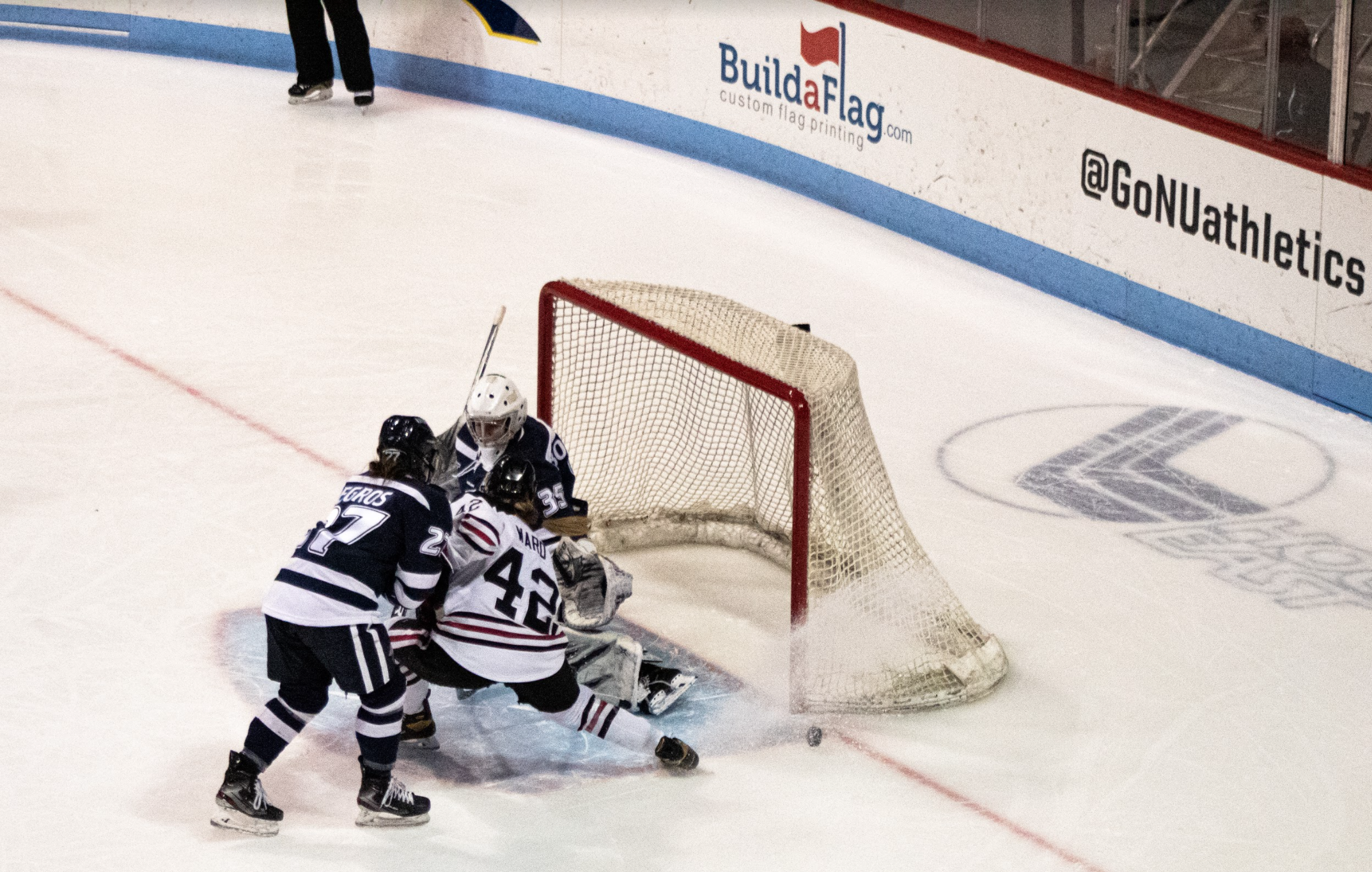 This is a team that has new tricks up their sleeve every time you play them, a team where each player contributes. They're exciting, cohesive, and clearly worthy of the accolades they've already received. They'll continue to chase another Wednesday night against UConn; WRBB will call that game live from Matthews Arena.