Story by Rae Deer
Photos by Sarah Olender
BOSTON — Coming off of one of their best seasons — if not their best season — to date, Northeastern women's hockey had set the stage for a historic achievement.
On Saturday night at Matthews Arena, they reached new heights after defeating Providence 6–2 to win their fourth straight Bertagna Trophy and cement themselves as the best team in the country.
Going into the championship game, Northeastern (20–1–1) knew they had to give it their all. They dominated from the drop of the puck, holding possession for long stretches in the first period. Providence (12–7–1) attempted to keep up by applying immense pressure, playing close man-to-man, and trying to deny Northeastern scoring chances. However, it was hard to stop the Huskies from making Providence goaltender Sandra Abstreiter work extra hard in her zone.
"I told them pregame 'Let's try to pop one in, first five minutes,'" Hockey East Coach of the Year Dave Flint said.
And just like that, Northeastern did. Katie Cipra skated a beautiful stretch from the blue line and backhanded the puck nicely over Abstreiter to open the scoring.
That seemed to flip a switch for the Friars, who upped the pressure for the second half of the period. Despite giving Northeastern a tougher time in the offensive zone, they still couldn't establish a rhythm of their own.
Going into the second, both teams had dominating shifts, but a mistake by Abstreiter gave the Huskies their next goal. She allowed a Tessa Ward missile from the blue line to clang off the post, then found herself tangled up as the puck caromed off her and across the line.
A goal like that can be hard on a team — especially in a game this important — so the Friars needed something quickly. They seemed to figure it out when first-line forward Caroline Peterson got them on the board midway through the period.
However, the Huskies answered with some sweet revenge. Providence had reportedly made things unnecessarily difficult when Maureen Murphy was transferring to Northeastern, and Murphy's absence from the teams' regular season tilts was suspect. Now, in her first game against her old squad, Murphy scored the third goal for Northeastern on the power play, prompting an eruption from her linemates and the bench.
"She's been one of my best friends all throughout high school and it was so exciting for me to hear that she made the decision to come to Northeastern." tournament MVP Aerin Frankel said. "It's amazing that we can have her, she's just a huge piece to the puzzle . . . Just seeing her get that rewarding goal, especially against a team that she just came from and has played on before, just speaks measures to her and her work ethic, and she left it all out there."
The Huskies' domination only amplified in the final period. Molly Griffin and Miceala Sindoris each notched a goal, bringing the game to 5–1 six minutes into the third.
At this point the Friars were trapped. They managed to score once more, with senior Giana Savastano getting her first collegiate goal.
"She's been tremendous." Providence coach Matt Kelly said. "She's been a D up until a week ago, then she went up to forward. She's a kid that just has a motor."
But then Northeastern shut the door. In a last-ditch attempt to narrow the score, Providence pulled Abstreiter with about three minutes left. But all that did was give the Huskies another scoring chance, as two-time Hockey East Best Defenseman Skylar Fontaine showed off her stellar pokecheck, accelerated down the ice to beat Friar Ariane Julien, and hooked the puck into the empty net while sliding down the ice.
That was all she wrote. Northeastern had their fourth straight championship. For the senior Huskies, this was an honorable moment.
"Some people go through their whole career and never win one championship, so winning a championship is pretty remarkable, but to win four in a row is usually unheard of," Flint noted. "For them to never have lost a Hockey East playoff game is a credit to them."
Now all that's left for the Huskies is the ultimate goal: a national championship. After being unable to take their talents all the way last season due to the pandemic, they'll finally get their shot on the biggest stage.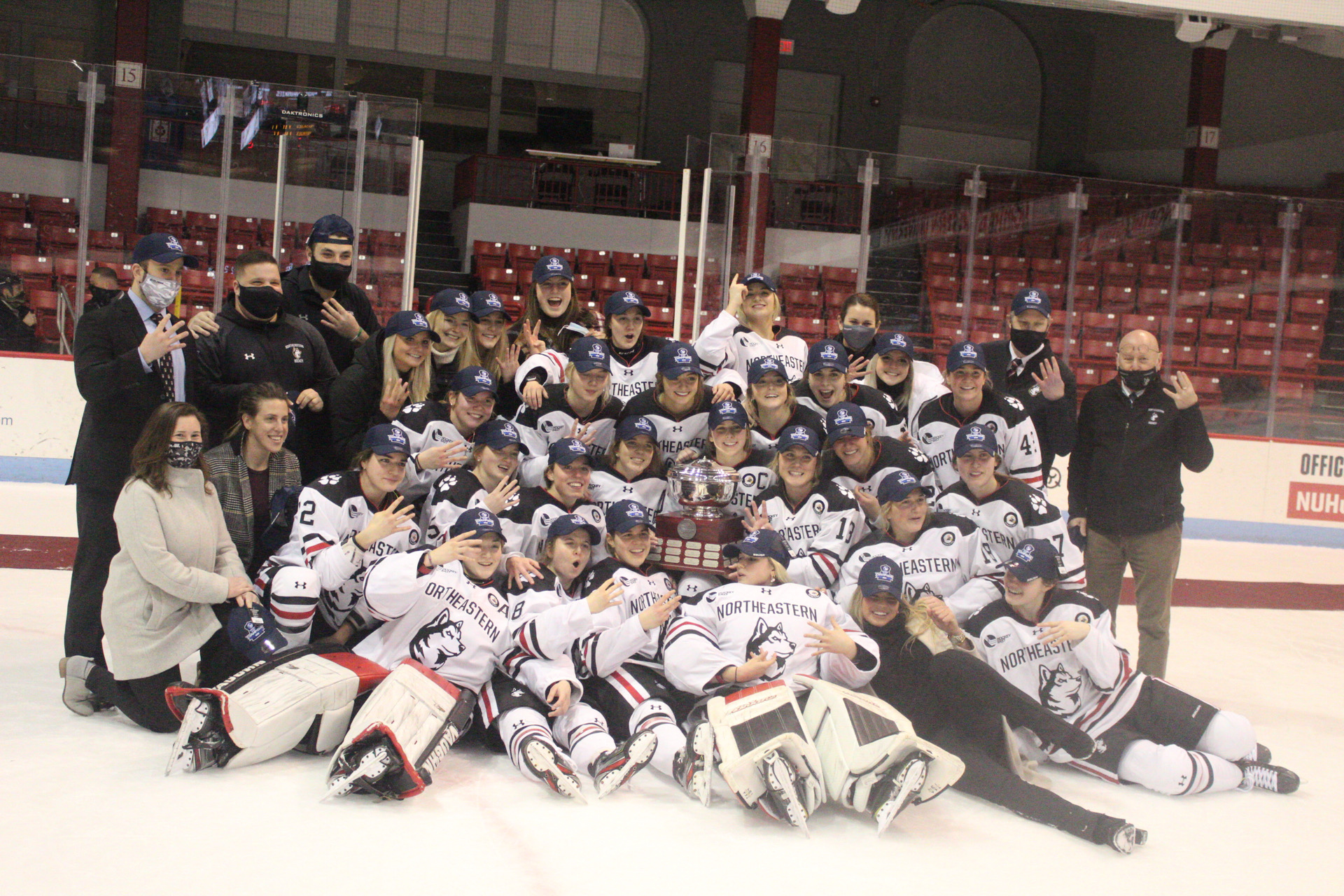 "We're all super motivated and fueled having that opportunity taken away from us," Frankel said of the team's cancelled NCAA Tournament game last season. "It's something that a lot of teams had to go through, so I think everyone has that competitive edge on their shoulder this year."
WRBB will cover those games when they're announced. Stay tuned on our social media for updates.