Story by Milton Posner
Photos by Sadie Parker
BROOKLINE, MA — Saturday's doubleheader was a showcase of just how many ways Northeastern can beat you.
In the first game it was about bunts, the running game, and elite pitching, as the Huskies eked out a 3–1 victory. In the second it was relentless and overwhelming downhill pressure — both from the mighty bat of Jared Dupere and the collective speed of the Huskies — that launched them to a 9–4 win.
The upshot? The Huskies moved to 19–6 on the season and 7–0 in conference play, and thus retained their status as the only undefeated team in either CAA division. The Delaware Blue Hens, who entered the weekend an even 4–4 in conference play, took a massive hit, as the Huskies smacked them around to the tune of four wins in 30 hours.
Northeastern head coach Mike Glavine noted that only consistent teamwide energy can earn that kind of sweep in such a condensed time frame.
"A lot of cheering and pushing for each other," he explained. "The bench has to help, the bullpen has to help, the coaches have to give some energy to the guys because clearly they were tired, and so was Delaware. We talk about being mentally engaged; mental toughness is a real thing, especially playing four games in two days. We feel like if we can win that, we're going to win games."
The first game's 3–1 score masks its true identity as a pitchers' duel. Northeastern's Cam Schlittler and Delaware's Wyatt Nelson fought valiantly, with Schlittler tossing seven frames and Nelson six, each of them allowing just one earned run. Schlittler's run came early, as Delaware left fielder Aidan Kane pulled a fastball into the right field seats in the second inning.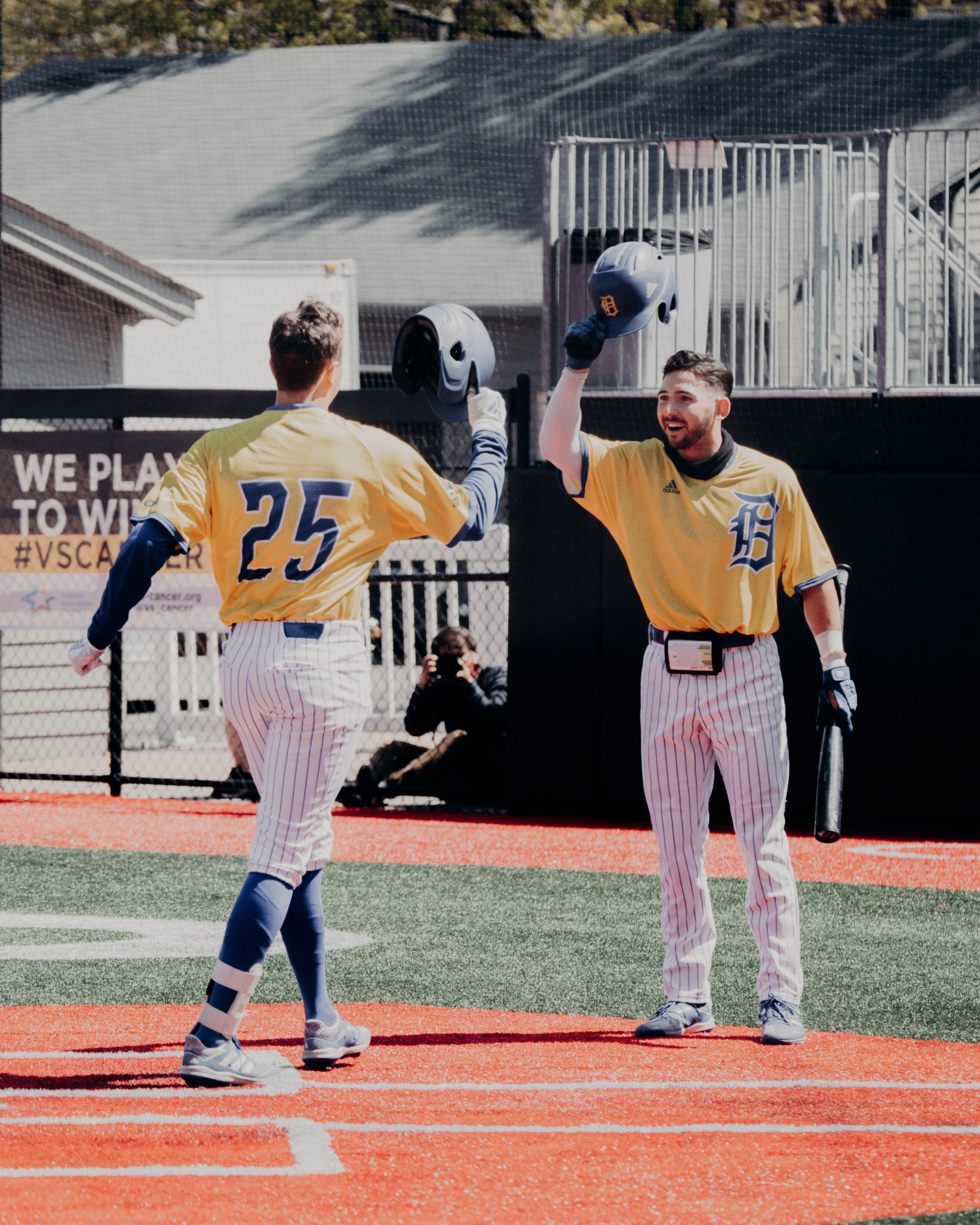 "Cam and Seb throw hard," Glavine said, also noting game two starter Sebastian Keane, "so they are susceptible to the home run ball because guys will try to smash fastballs off them."
Glavine also added that Schlittler and Keane hadn't pitched in two weeks, and that they were still trying to regain their rhythm and stamina. But Schlittler settled in nicely after the homer, retiring 11 batters in a row between the third and sixth innings to wrap up a gem.
Nelson fared brilliantly in the early going. He deliberately and consistently disrupted Northeastern's prodigious running game, holding the ball when necessary and firing countless competitive pickoff throws. And though it's hard to argue that Northeastern consistently got the better of him — only one of the three runs he allowed was earned — the Huskies' small ball started cooking in the middle innings.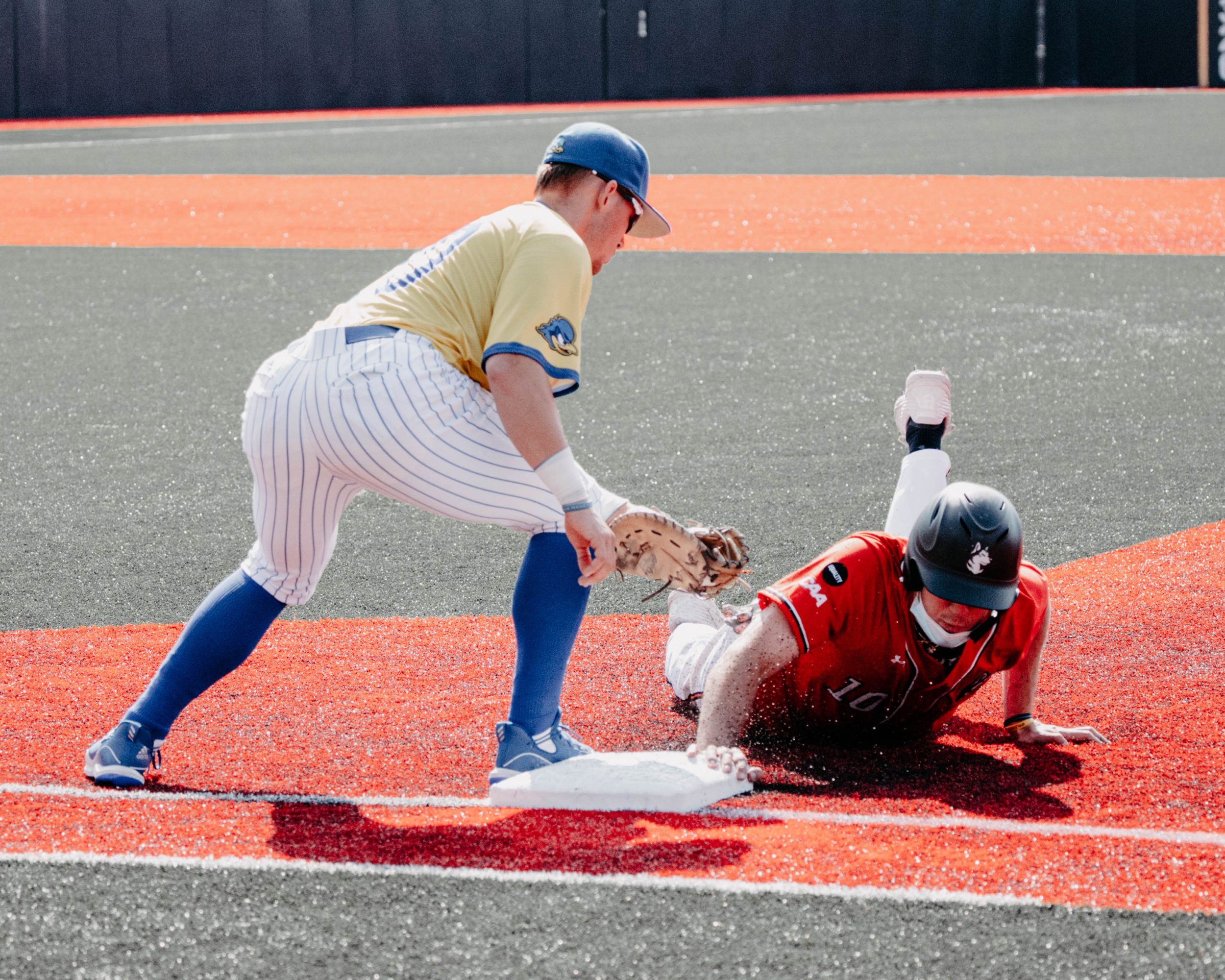 It began in the fourth inning, when a Jeff Costello bunt single, a passed ball, a groundout, and an Ian Fair single evened the game at one run apiece. It continued in the sixth, when a Danny Crossen walk, a wild pitch, an errant pickoff throw, and a Costello single gave the Huskies their first lead. And it concluded in the seventh, when a Teddy Beaudet single, a Spenser Smith bunt single, a Ben Malgeri bunt single, and a Dupere groundout plated an insurance run.
Taken together: three runs on six singles (three of which were bunts), two errant pitches, two groundouts, a walk, and an error. And as if that weren't enough proof of the Huskies' small-ball skill, Malgeri's seventh-inning bunt single came after another bunt single in the same at-bat, after which he was called back for stepping outside the batter's box. So he just hopped back in the box and did it again.
It only took about ten minutes for everyone to realize that the second game would be won by different means.
Dupere, who turned heads on Tuesday with a 479-foot bomb over the auxiliary press box in right-field, took a 3-2 pitch from Delaware starter Mike Biasiello and launched it into the Charles River.
Thing is, Delaware's non-conference schedule took place in two-game increments. For much of the year, they've gotten by with two effective starters and their bullpen. But with four-game conference series squished into three days (two in this case), they've had to deploy pitchers who aren't used to starting.
Biasiello, who made his first start Saturday afternoon after six appearances out of the pen, was such a pitcher, and it showed. After Dupere's two-run jack, Biasiello ceded another run, as Corey DiLoreto and Kyle Peterson each notched the first of their three hits on the day.
Biasiello's struggles only amplified in the second when he hit Scott Holzwasser with one out. Not exactly out of the ordinary, as Holzwasser holds the program career record for beanballs. But when he quickly swiped second, Biasiello increasingly lost his composure, and with it, his command.
Unfortunately, the next batter to stand in was Max Viera, who was playing his first game in more than a month after recovering from injury. Biasiello lost control of a slider, which evaded Viera's helmet, smashed into his left cheek, and forced him out of the game.
"It stinks," Glavine lamented. "He's been out for almost five weeks and gets a base hit in his first at-bat . . . He was cut, he's going to need stitches, but hopefully that's all it's going to be. I checked in with him; he wasn't concussed. I asked him how his teeth were and he said 'fine.'"
Biasiello, by this point rattled for a few different reasons, quickly fired in a wild pitch that allowed the runners to advance to second and third. After intentionally walking Dupere (fair enough), he allowed singles to Crossen, DiLoreto, and Peterson, with a Costello RBI sac fly mixed in. By the time Biasiello gave way to Winston Allen, the Huskies had piled on four runs in the second and led 7–0.
It was a display of just how many ways the Huskies could pressure opposing pitchers, with their running game chief among them.
"We try to get jumps," Glavine explained. "I know it looks like we're dancing a little bit. When pitchers are quick to the plate we've got to change what we do. We don't want to be one-dimensional. We're hopping back and forth, and if we get the hop we keep on going."
Dupere's power in the third spot was certainly another factor, and he made that fact eminently clear to anyone who happened to be in the bathroom in the first inning.
It was at that point that the fans in attendance began wondering if the baseballs had somehow wronged Dupere in a past life. Or what the neighbors thought of being constantly pelted.
The teams scored offsetting runs in the seventh to bring the score to a final 9–4. Combine that with six solid innings from the hard-throwing, quick-working Keane, and the four-game sweep was a reminder of the team's versatility and balance.
"You see that we can play tight games and win them, which is an incredible asset to have," Glavine said. "We can come from behind like we did in game two [on Friday]. We can have big innings like we did today — power, speed. And we can pitch it. I think we're an extremely talented team, I think we're mentally tough, and I think we're going to get on a roll here. Our best baseball is still ahead of us."