Story by Milton Posner
Photos by Sadie Parker
BROOKLINE, MA — Saturday's doubleheader featured a near-perfect eight-inning start, weather-related havoc, the end of a two-year-old streak, a go-ahead home run, a straw hat, a golden necklace, and, albeit to a lesser extent, a dog.
It also featured two wins by the Northeastern Huskies, who topped the Towson Tigers 2–1 and 7–4 to extend their winning streak to 12 games, the second-longest in program history. The Huskies moved to 22–6 on the season and 10–0 in conference play, and extended their division lead to six and a half games. The series will conclude with a 1 PM ET game tomorrow, which WRBB will broadcast live.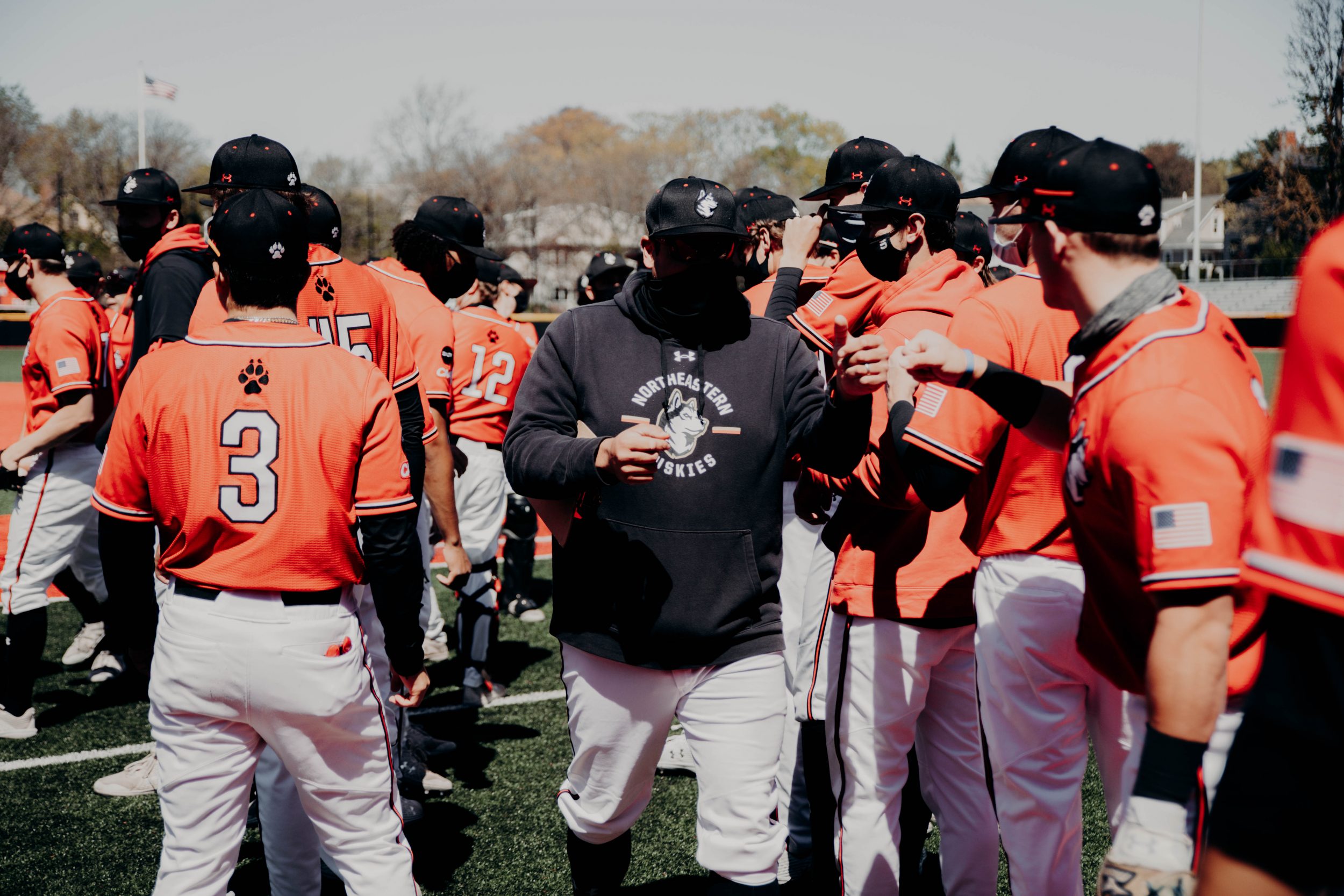 Let's take the opening bit piece by piece.
The Start
One day after Northeastern pitcher Cam Schlittler seized the title of second-best Husky start of the season, his teammate Kyle Murphy snagged it for himself. Across eight scoreless innings in the first game of the doubleheader, Murphy allowed just three baserunners — one on a single and two on hit-by-pitches. He was consistently and overwhelmingly aggressive, using a bevy of first-pitch strikes to get ahead on nearly every batter who stepped in against him, then leveraging the count advantages to the tune of 12 strikeouts, a career high.
"He was humming today," Northeastern head coach Mike Glavine said. "Last week I don't think he threw many first-pitch strikes. He was behind almost every hitter last week and he still pitched great. So he's done both. You've got to have the ability to do both."
"We know that their offense is trying to work the count, especially early," Glavine continued. "They want to see strike one a lot of the time, or at least see a pitch. So we wanted to get strike one on there this weekend, and Kyle did that today as good as I've ever seen anyone do it. He was awesome."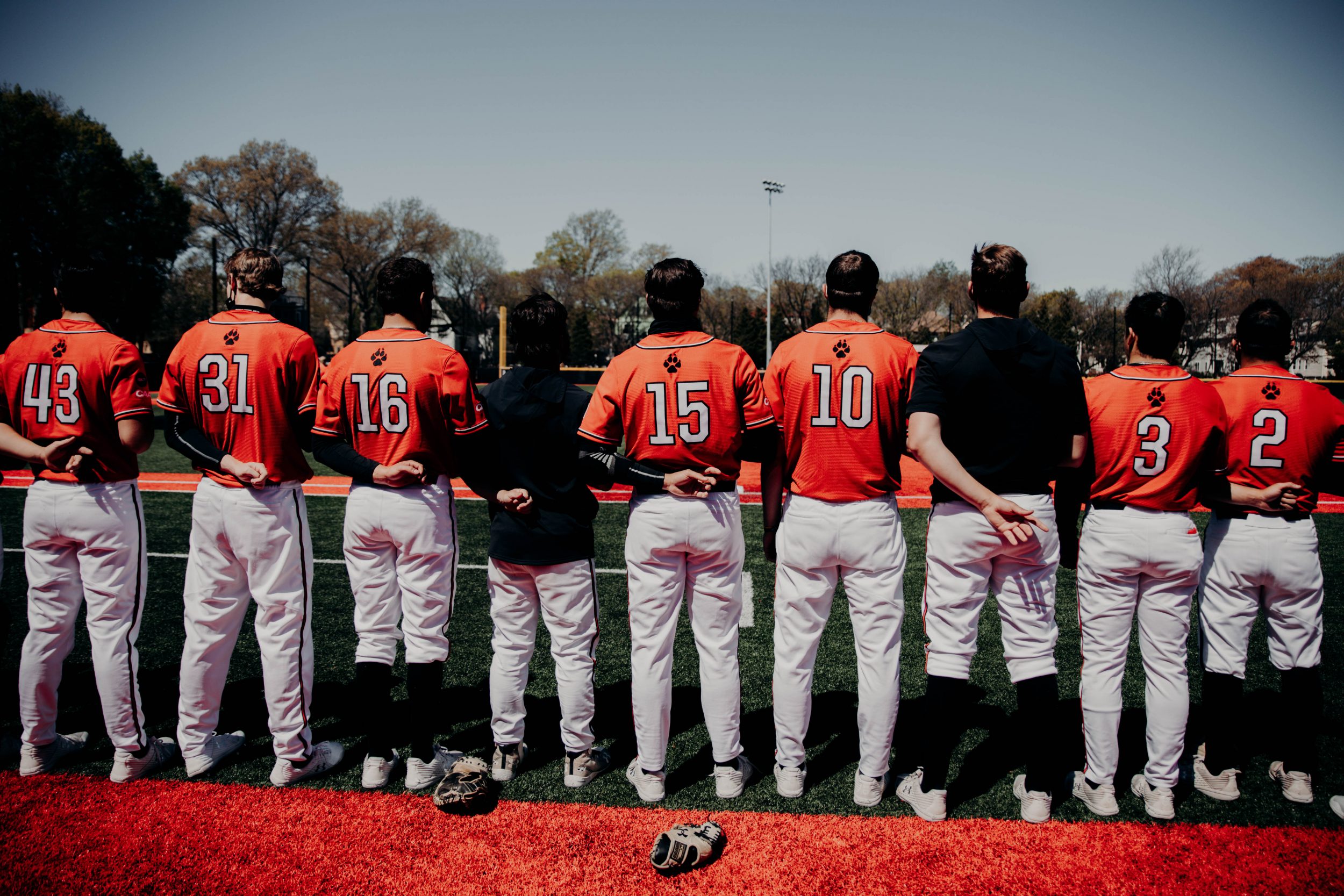 The day before, Glavine sent Schlittler back out for the eighth, only to quickly pull him when the pitcher hit the first two batters he faced. Glavine said after the game that he regretted his choice, but said he had no reservations about sending Murphy out for the eighth inning on Saturday.
"The difference is the person," Glavine explained. "Kyle's been here six years. Kyle will tell me if he's had enough, and that's a sign of maturity. The younger guys will probably always tell me they can go back out. So I need to learn from that. I trust Kyle and I know he's going to tell me the truth about how he feels, if he feels cooked or if he's got another inning in him . . . Kyle told me he had it and he went out. Simple as that."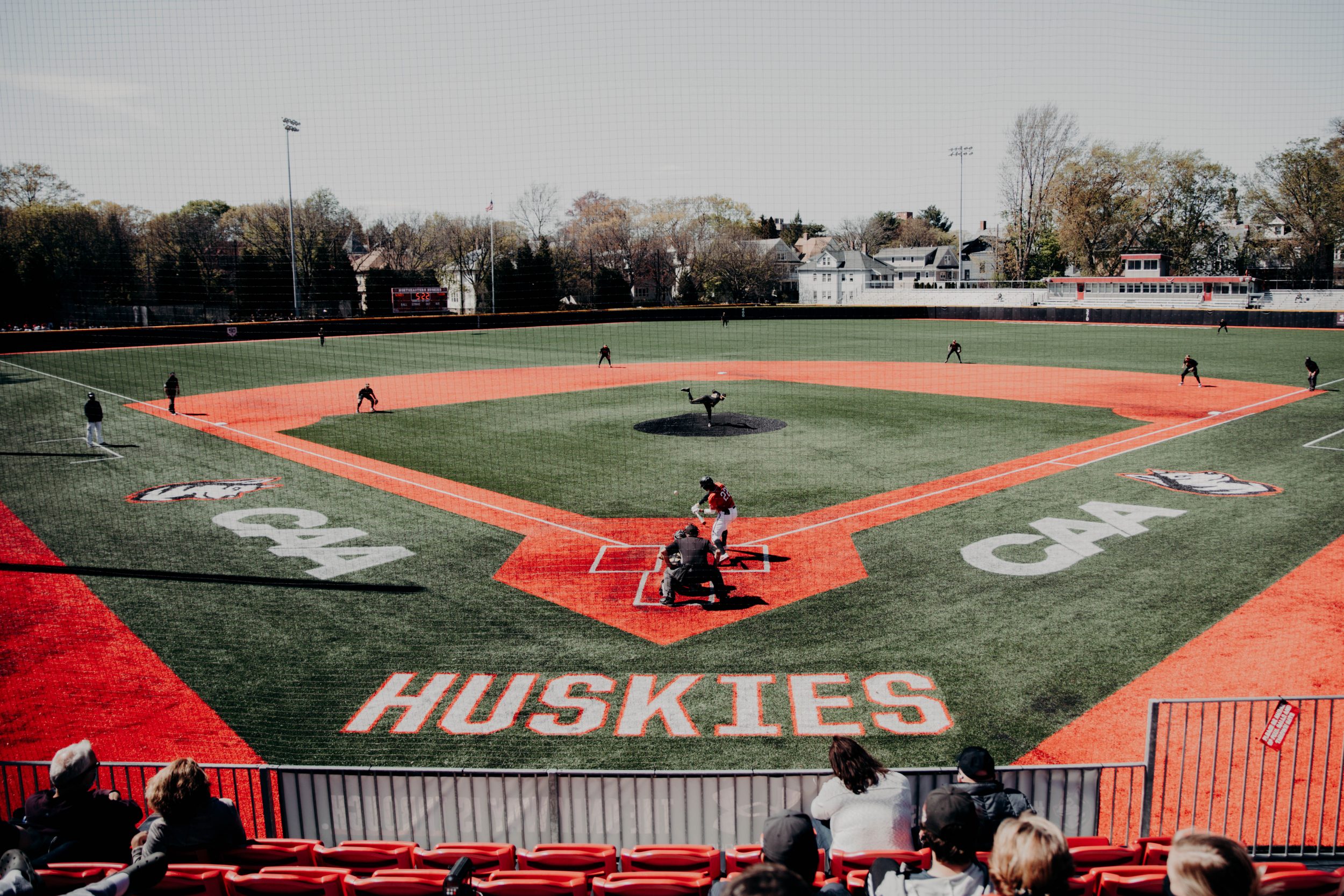 The Weather-Related Havoc
In the sixth inning, the Huskies led 1–0 courtesy of a second-inning walk, an error, and a scorched infield single. But their second and final run, produced via the first extra-base hits of the series for either side, would prove even stranger. The wind, as it was on Friday, was blowing hard throughout in the direction of the right-field line.
"You need to get the small ball going," Glavine said of his squad's response to the conditions. "You need to have that in the offensive package, stealing bases and things like that. And then you've got to hit as many line drives and ground balls as you can. You've got to try to get above the baseball. We've talked about it; it's easier said than done."
Right fielder Jared Dupere, who had a potential home run ball blown foul earlier — and then another squashed by the wind in center field on the next pitch — smacked what appeared to be a high flyout into center field. But so strong was the wind that the ball landed just a few feet behind the infield.
The TV camera was completely fooled, and Dupere, who was booking it out of the box, found himself at second base with two out. When Max Viera smacked a line drive that landed on the outer half of the left-field foul line, Dupere trotted home with what proved a valuable insurance run.
A Dog, a Birthday, and a Two-Year-Old Streak
On May 24, 2019, in a CAA Tournament game against the Charleston Cougars, Husky second baseman Scott Holzwasser collected two hits. Thus began a streak that continued through the abbreviated 2020 season and finally ended early Saturday afternoon, when an 0-for-4 day ended Holzwasser's on-base streak at a program-record 44 games.
But he wouldn't be down for long. In the second game, Holzwasser singled twice and scored twice, proving as key as anyone to the Husky win.
"A leader. Stud. Superstar. Great college baseball player. One of the best players we've ever had here," Glavine said. "He just does it all. You saw it in game two — big hits, big plays, double plays, diving catches. There's really nothing we can't do. He's mentally tough. We're not doing any of this without him. He's a pleasure to coach."
It was fitting that Holzwasser would take a central role, as his family's dog was in attendance on a rather special day.
Okay, let's be honest. Was that a ham-handed segue? Yes. Is this adorable dog really relevant to baseball coverage? No. But the Holzwassers' dog is objectively excellent, so I'm jumping at the opportunity. Ellie, happy birthday from all of us at WRBB.
A Go Ahead-Homer, a Straw Hat, and a Golden Necklace
Jared Dupere is the reigning CAA Player of the Week for a reason: he annihilates baseballs. Routinely. Spectacularly. As in, he's hit three baseballs out of Friedman Diamond during the team's ongoing homestand.
So when Towson strung together four two-out singles in the top of the seventh to pull ahead, 4–3, there was no one the Huskies would rather have had at the dish with a runner on. And Dupere didn't disappoint, pulling an Austin Weber pitch into the right-center field bleachers for a two-run jack that put the Huskies ahead to stay.
As Dupere crossed home plate and exuberantly shouted out to his teammates, they greeted him with a reception they repeated when catcher JP Olson homered the next inning. The victorious slugger was adorned in a straw hat and gold-colored necklace as his teammates surrounded him and hyped him up.
"As long as everybody's having fun and we're not disrespecting the other team, I want them to have fun and enjoy what they're doing," Glavine said. "I love seeing it. I got pretty excited on Jared's home run coaching third and I usually don't do that. But I love seeing the guys have fun; it's a close team, they're together."
Glavine also noted that the team recently changed the song they use to celebrate in the dugout after home runs. When asked the name of the song, Glavine simply replied, "I have no idea. I don't know. You guys are younger than me. I'm old. I have no idea."