Story by Mike Puzzanghera
Photo by Sarah Olender
573 days.
When all is said and done, that's how long Maddie Mills will have gone between collegiate hockey games. Between Cornell's loss to Princeton in the 2020 ECAC Championship game and Northeastern's 2021 opener at Holy Cross, Mills hasn't played in an official game. To make matters worse, she's been ready to go the whole time.
Cornell lost to Princeton on March 8, 2020, to conclude Mills' junior year. When the Ivy League cancelled all 2020-21 athletics seasons due to COVID-19, the Big Red were left with no games to play. Despite committing to transfer to Northeastern in the fall of 2020, before the Huskies began their season, Mills was stuck at Cornell, forced to sit and watch other teams across the country play out their seasons and, in Northeastern's case, fight for a national title.
"Watching them play knowing I was going there was a hard feeling," Mills, now a fifth-year at Northeastern, said. "They were just getting closer and closer as a team and I was just sitting in my room. It was challenging. I missed hockey and it's so good to be back on the ice."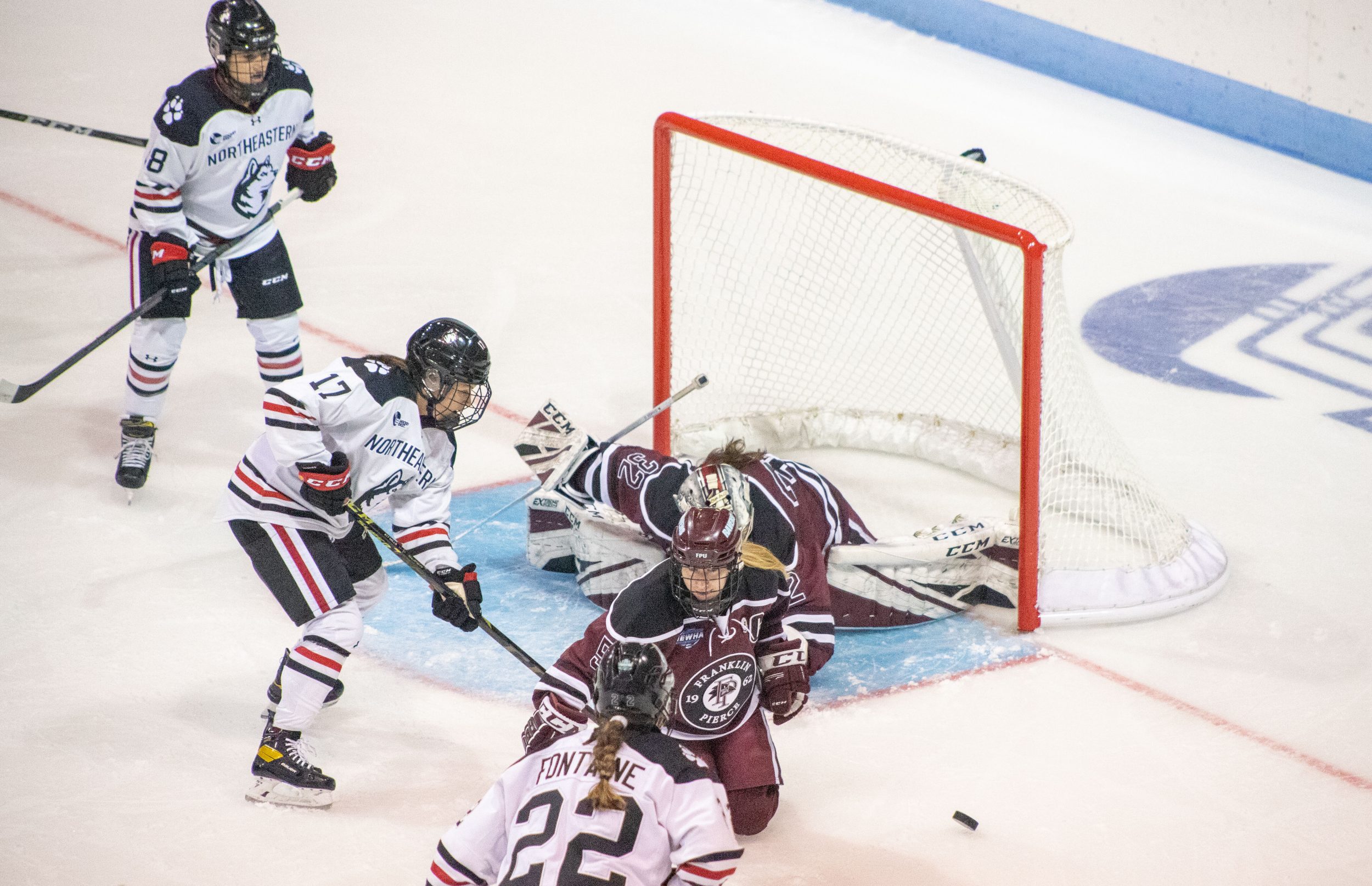 COVID restrictions were certainly felt at Northeastern all last year, but they also affected Mills' practice time at Cornell — not entirely in a bad way.
"We only had 10 people allowed on the ice at a time, which actually was really good for skill development," Mills said, adding that she "didn't get to skate all that much" last year. That part appears, for now, to be over: Mills has her #17 sweater here at Northeastern and the Huskies are back in practice.
Through three seasons at Cornell, Mills racked up a career 56-57–113 line in 102 games. 23 of those goals came on the power play, a mark that puts her second in Cornell's all-time record books, behind Chelsea Karpenko's 26 (over four years). The "electric" forward, as Northeastern head coach Dave Flint described her, finished as Cornell's second-leading scorer as a freshman, then led the team in points in both her sophomore and junior seasons.
"She's fast, she's skilled — she's a special player," Flint said.
Mills made a point to mention how much love and admiration she still has for Cornell. When she made the decision to transfer, it wasn't because she didn't love where she was. In fact, Mills consulted her coaching staff at Cornell for some guidance, asking them which programs they thought were respectable groups. They recommended Northeastern since, per Mills, there has always been a mutual respect between the two schools. For a player who aims to win a national championship, the allure of a team that has spent the last three years as a mainstay of the national top three was magnetic.
She even had some inside sources to consult about Northeastern — her former Shattuck St. Mary's teammates and longtime friends Aerin Frankel and Maureen Murphy. On top of the extra information about the program and the team, it gave Mills two immediately-friendly faces when she eventually got to campus.
"When she first told us that she was looking here, I didn't want to look too much into it just because I didn't want to get my hopes up," Murphy said. "One day she just called and was like 'Ope! I'm coming!' It was kind of a surreal moment."
"I can't say enough great things about Maddie," Frankel said. "I'm super excited, she's a great person and a great player … She's an easy person to like and she brings a lot to the table for us."
With two close friends on the team and plenty of insight about the program, the choice became clear for Mills.
"I really trust their opinion, and knowing that they both loved it here and they both love the team and the coaches, I felt very comfortable with the decision," Mills said.
But before committing to Northeastern, she had only been on campus once: Saturday, March 16, 2019, when Cornell beat Northeastern, 3-2, in the opening round of the NCAA Tournament.
"The memories I have here are kind of funny, but there's no animosity or anything like that," Mills said.
Mills said the game has come up a few times, but only in that context — that she hadn't seen Northeastern's campus, let alone Matthews Arena, any other time before committing.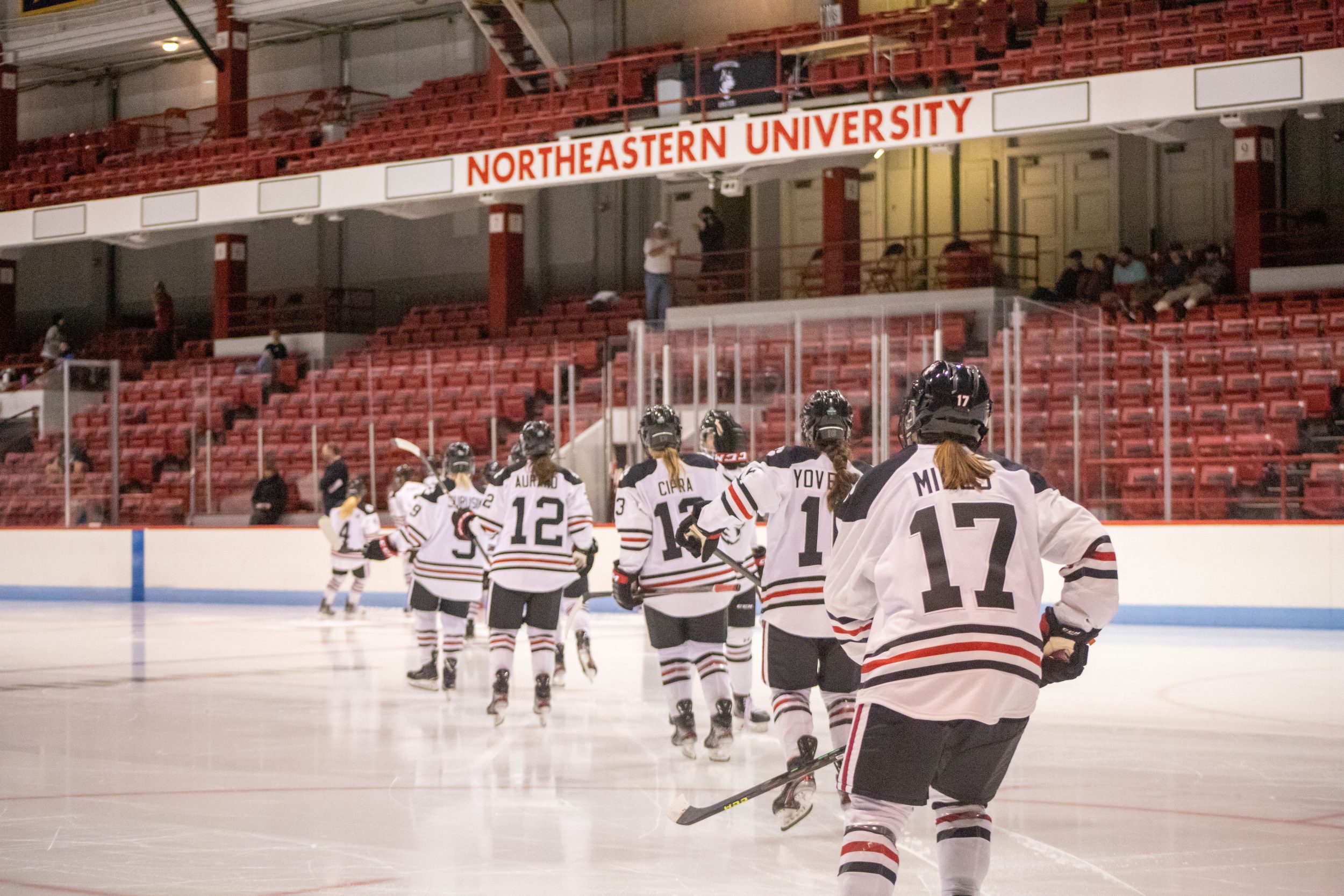 "I think she's happy to actually get to walk around the rink and be on the ice more than just that one time," Frankel said.
The transition between teams when transferring is significantly different than coming in as a freshman, both Mills and Murphy, who transferred to Northeastern from Providence last year, noted. But there are still a few similarities.
"I forgot what it's like to be a freshman and not know anything and need to ask like 100 questions about stupid things," Mills said.
But Mills emphasized the difference in terms of personal growth: how knowing who you are, being more confident in yourself, and not wavering from those beliefs when you join a new team is beneficial.
That confidence is strengthened by this new Northeastern team that's very easy to be yourself on, Mills added.
"I can just be who I want to be on this team," Mills said. "This group was really, really good about that. Everyone can just be who you want, and I think I'm more comfortable with that now that I'm a fifth-year."
The positive culture of this team reflects in its ambition. Bringing a national championship to Matthews Arena is the top goal this year and the only logical next step for the program. That ambition comes with a desire to never be complacent, as, for the second year in a row, the Huskies brought in a high-profile transfer to their forward group — first Murphy, now Mills.
"She's going to make our top six even stronger," Flint said of Mills. "Even if it's just for one year, we're lucky to have her."
573 days later, Mills is ready to take the ice again, this time as a Husky.
"I personally will do whatever the heck I need to do in order to achieve the team's goals," Mills said.