Story by Catherine Morrison
Photos by Sarah Olender
BOSTON – It doesn't matter if they're playing the best team in hockey or the worst, the Northeastern women's hockey team plays to win. This was never more evident than in their home opener against Holy Cross. Northeastern scored not one, not two, but three goals in the first period. They didn't let up against the Crusaders, playing aggressively and keeping the pressure on.
The siege started when Maureen Murphy took a big shot from the right hand faceoff circle. Holy Cross netminder Madison Beck made a great save, but Maddie Mills was there for the rebound to score her first goal as a Husky. Northeastern's Tessa Ward looked like she was going to add her name to the scoreboard when she got the rebound and the puck between Beck's legs, but the play was reviewed and scored no goal due to the puck bouncing off of Ward's skate.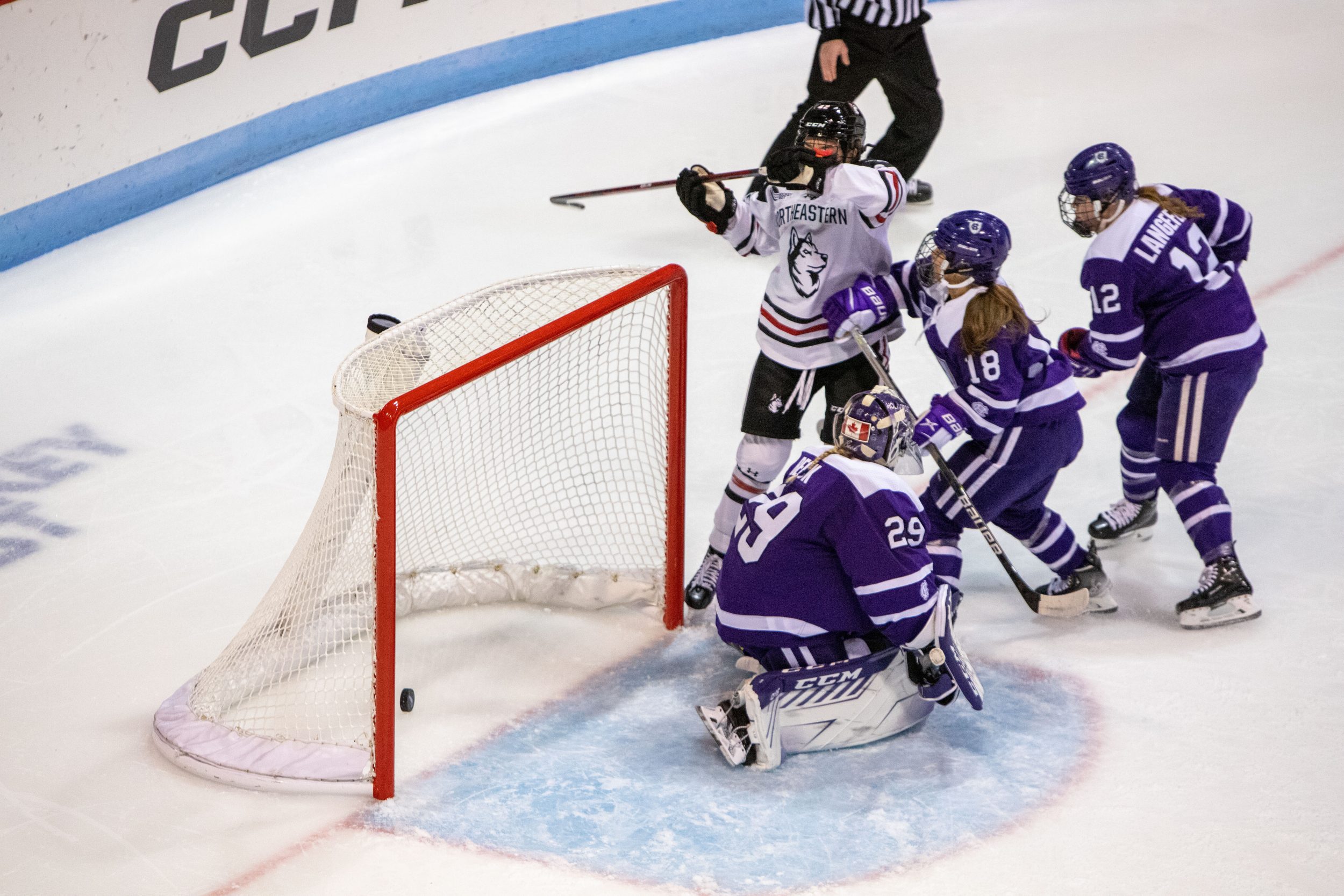 However, it wasn't long before Northeastern got their revenge. In her first two games, freshman Skylar Irving has already made a huge impact on the team, starting on the first line with established players Murphy and Mills. Mills passed to Irving right in front of the net and she tipped it in for her first goal of the year.
"It's definitely exciting but also super nerve-wracking at the same time, but everyday you just want to be better and push yourself," Irving said. "I think having those established players makes me want to work harder and do everything to put myself into a position to play."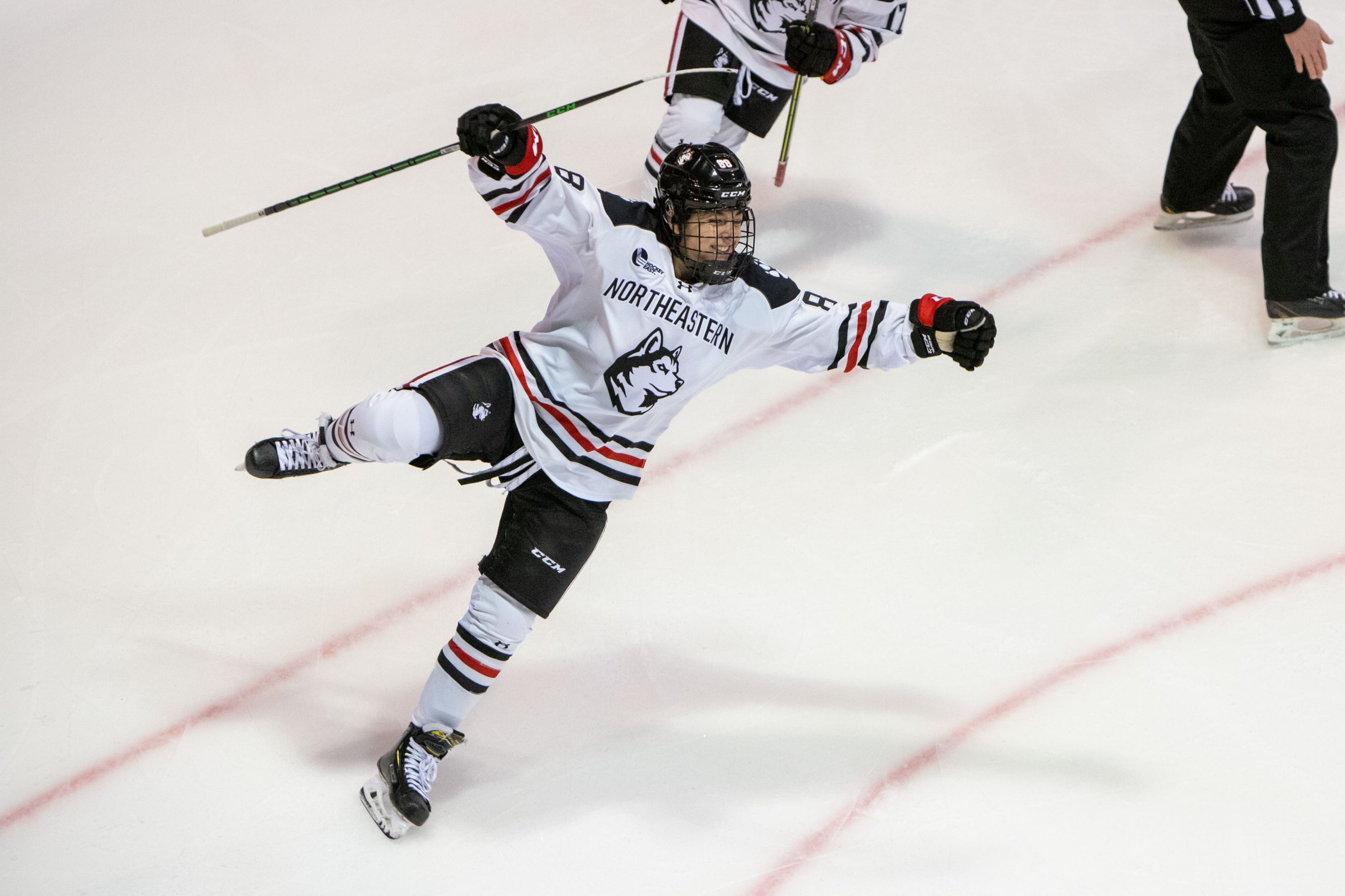 However, the newcomers couldn't get all the fun. Megan Carter slapped a shot wide, but Katie Cipra was there for the rebound. She shot once, blocked by Beck. She shot again and scored her first goal of the season. Northeastern head coach Dave Flint was proud of how his team played close in front of the net, and was able to time and time again get those rebounds. 
"If we're gonna score goals and we're gonna be successful, it's not a secret, we have to get into those dirty areas… we had some good rebounds… we were battling to the whistle," he said.
After the goal-filled first period, the second period started a little slow, with a lot of back and forth between the two teams, but not the same amount of aggression as in the first period. Although none of the first three goals were scored on the power play, both Northeastern and Holy Cross had been a man down, with two penalties for Holy Cross and one for Northeastern. However, the second period took some time to get going, but when things started heating up, they did so with a bang. A little over nine minutes in, Irving received a penalty for tripping, and the fun really got started. Northeastern's elite penalty kill unit came out and successfully beat the power play, but not even a minute after Irving was released from the penalty box she was sent right back in for high sticking, putting Northeastern back on the PK.
However, Northeastern isn't just known for its penalty kill unit, it's also known for its shorthanded goals, and Chloe Aurard did not disappoint. For the second night in a row, Aurard broke away and slammed a shot in for the fourth goal of the game.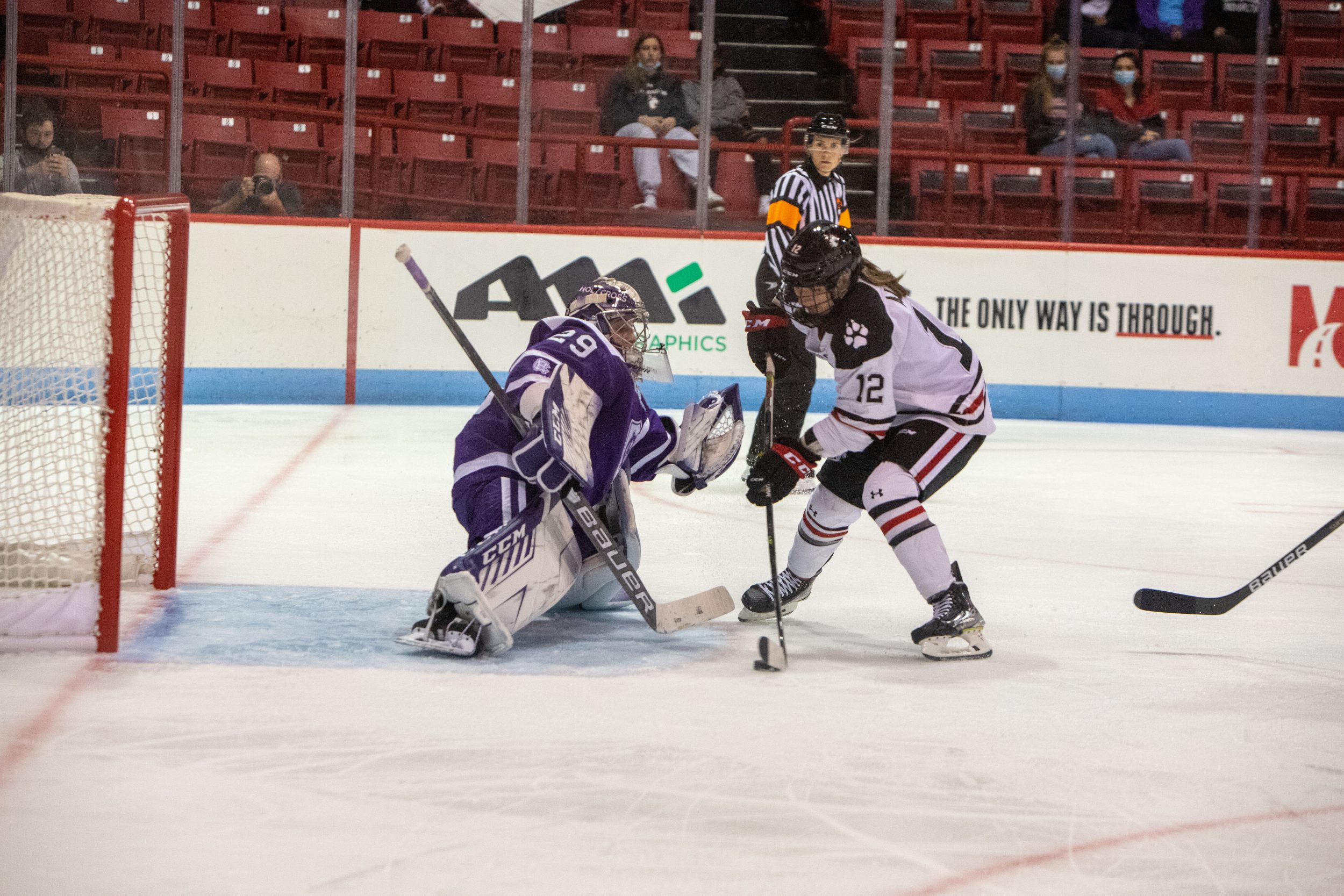 Aurard was nonchalant about her shorthanded goals, stating, "I've just been scoring shorties… Every time the puck is here, I just kind of take and stop thinking about what to do, I just take it and go."
Things got pretty heated between the Crusaders and the Huskies after this, with two penalties for Holy Cross and another one for Northeastern.
This momentum carried into the third period, when just over three minutes in, Crusader Darci Johal was put in the penalty box for slashing. Northeastern was ready for the power play this time, and took full advantage of it. Katy Knoll scored on a pass from Carter, making the game five-zero. Northeastern wasn't done yet, and neither was Knoll, who passed to Aurard on the post. Aurard was ready and scored her second goal of the game, ending the game with a score of 6-0.
Despite a valiant effort by the Crusaders and some excellent goaltending by Beck, they were no match for the No. 2 team in the country. Northeastern easily sailed to a 6-0 victory, which clearly got under the skin of some Holy Cross players, who ended the game with some light extracurriculars.
"Every single team is going to come 100% against us," Aurard said. "When they get physical we'll try to get physical, but we go about it in the right way and we respond by goals."
Flint was happy with how his team performed, but acknowledged that there's always room for improvement, stating that he wanted the Huskies to work on their power play offense, and even though the Huskies have one of the best penalty kills in the country, he'd rather not spend as much time on them.
Northeastern will face the Boston University Terriers next Friday Oct. 8, and WRBB's Sarah Olender, Khalin Kapoor, and Sam Kirshman will be on the call.