Story by Khalin Kapoor
Photos by Sarah Olender
BOSTON – Both teams looked energized right at the drop of the puck on Saturday night in Matthews Arena, but it was Northeastern (13-4-1) who prevailed against Providence College (12-7) with a score of 4-1. The Huskies were powered by two goals from freshman forward Jack Hughes along with yet another sensational game from netminder Devon Levi, who stopped 34 of 35 shots he faced. Forwards Gunnarwolfe Fontaine and Matt Demelis also scored in the game.
"We found a way to win," Northeastern coach Jerry Keefe said post-game. "It's another character win for our group."
Northeastern broke the ice late in the first courtesy of Fontaine, who took a nice feed from Jeremie Bucheler while on the breakout and buried it past Providence netminder Jaxson Stauber for his fourth of the season. For a Northeastern team that has struggled offensively in the past few weeks, getting the opening tally was crucial.
For someone as hungry to score as Fontaine, he has been disappointed with having only three goals on the season so far.
"The [goals] are gonna come," Keefe said. "He scored big goals in big games against some really good teams."
Going into the second period up 1-0, it was up to Providence to play with more ferocity and tilt the ice in their favor. They did just that, keeping the puck in the offensive zone for extended stretches and easily outshooting Northeastern 16-3. However, it was Northeastern who struck first in the second, with Demelis sniping a one-time feed from Matt Choupani to double the lead. Providence was able cut the deficit in half later in the second, with Garrett Devine putting in a rebound past Levi for his first collegiate point.
"We got yelled at a little bit after the second," Fontaine said. "That was the first period I think we lost against them this weekend."
The third period started the exact opposite the second did for Northeastern, with the Huskies retaining control of the puck and skating much faster than the Friars. A power play opportunity off of a high sticking call by Michael Callahan led to two quality scoring chances, but Northeastern was unable to put the puck in. Late in the third, it was Hughes who iced the game for the Huskies, going coast-to-coast off of a steal and rifling the puck in to make it 3-1. It was a massive insurance goal for Northeastern, and it was the first time since Nov. 6 that the Huskies scored more than two goals in a game.
"All of our guys appreciate Jack Hughes," Keefe said. "He is a heck of a player and a heck of a teammate."
Hughes later potted his second goal on an empty net, taking a pass from Jakov Novak and depositing it in for his second goal and third point of the game. Novak made a similar play in the first game against Providence, stealing the puck and then passing it to a teammate for then to score on an empty net.
"That is the epitome of this group right now," Keefe said, on Novak. "It's hard to find the words for it, but it's exactly what you want to see as a teammate and a coach."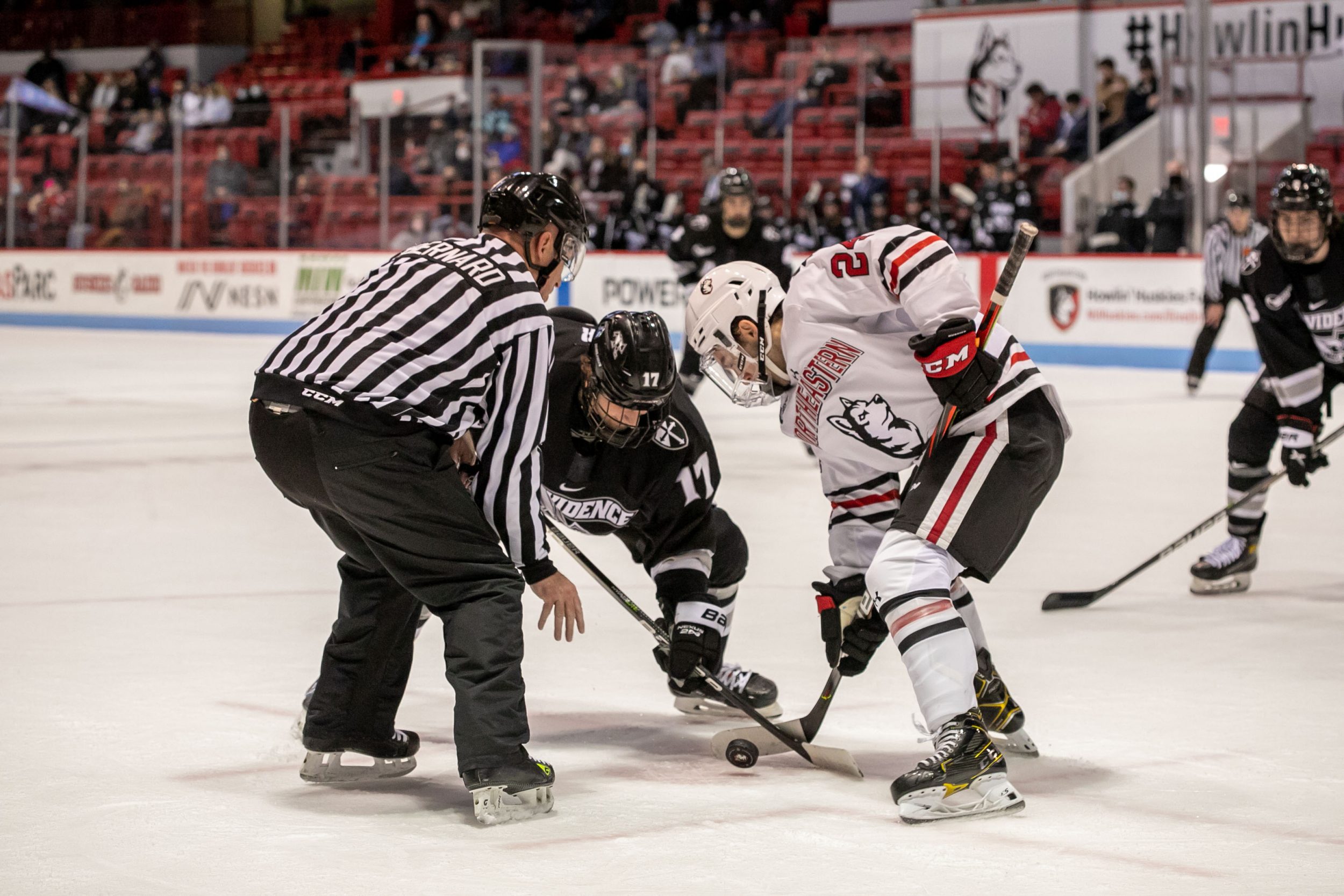 Northeastern tallied 19 blocks in front of Levi, with defenseman Tyler Spott leading the way with six. When asked about how his teammates laid out for pucks in this game, Levi remarked, "as a team, we're doing things for each other. … It gives me motivation to make saves for them." He added, "that's the best way to approach a game. … That's how you build a culture."
The Huskies came into this weekend series down multiple top forwards facing a top tier Providence squad who had just won six games straight. They promptly swept Providence and now own sole possession of the top spot in the Hockey East rankings. Northeastern is going into the break the hottest it has ever been, going 10-1-1 in the past 12 while allowing two or fewer goals in all of those games. This is a special team, there is no other way to put it.
Due to the cancellation of the University World Games tournament in Switzerland, the injury-riddled Huskies won't suit up in their uniforms for another month. When they return, WRBB will have the call.