Story by Peyton Doyle
Photos by Sarah Olender
After starting undefeated in their first four home games, the Northeastern Huskies men's basketball team (6-5) faced their first true juggernaut of the non-conference slate in Davidson College (7-2). The Wildcats came into this game shooting 42% from 3-point range, fourth best in the nation, and came off of a commanding win over William & Mary, a CAA opponent of Northeastern.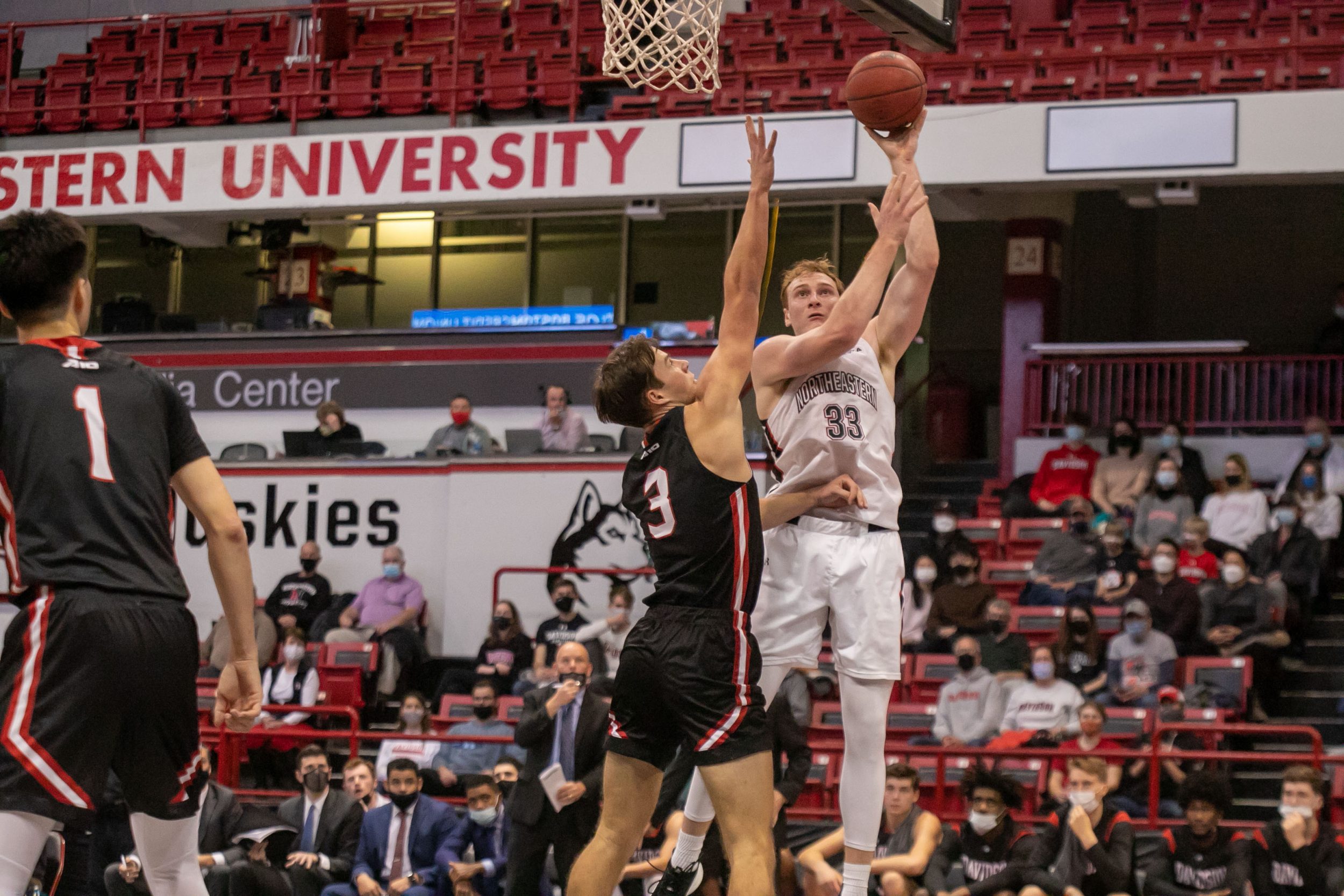 The hot shooting that Davidson has flexed this season came storming into Matthews Arena Sunday afternoon. The Wildcats finished the first half with eight triples on 40% shooting, five of which came from Foster Loyer, who lit up the Huskies all game long. Loyer scored 19 points in that first half and 35 total to lead his team to a 79-69 victory.
Loyer and fellow Wildcat star Hyunjung Lee were really all that Davidson needed, as the duo combined for all 58 of the team's 79 points. Defensively Northeastern struggled to keep up with the speedy, sharpshooting Loyer and at times had fits keeping up with Lee as well.
The Huskies looked outmatched early on after forfeiting a 16-1 run over six minutes early on in the game. Miscommunication and a lack of focus on both ends cost the team dearly and it wasn't until after an under 12 media timeout that Northeastern was able to get the offense going.
Out of the break, it was freshman guard To Randriasalama that sparked hope for the Huskies, hitting a triple for his first career points and then adding a layup to momentarily hold the team's high for points with five. While Ranrdiasalama did not score the rest of the game, his couple of buckets were enough to wake up the rest of his teammates.
After being held quiet for the majority of the first 10 minutes, Chris Doherty and Tyreek Scott-Grayson took charge on offense, with the red haired behemoth punishing switches and the electrifying TSG flying at the rim and using absurd acrobatics to finish layups.
Despite Scott-Grayson's best efforts however, the Huskies still found themselves down 38-27 at halftime. While TSG tied his season game-high with 12 first half points and Doherty added six of his own, the rest of the starting lineup combined for just four points, all of which came form Shaquille Walters.
Northeastern head coach Bill Coen talked about the effort on both ends for Scott-Grayson in this game, who finished with a season high, 20 points.
"Tyreek played outstanding today," Coen said. "He did a great job running multiple positions, giving us a scoring punch and making plays."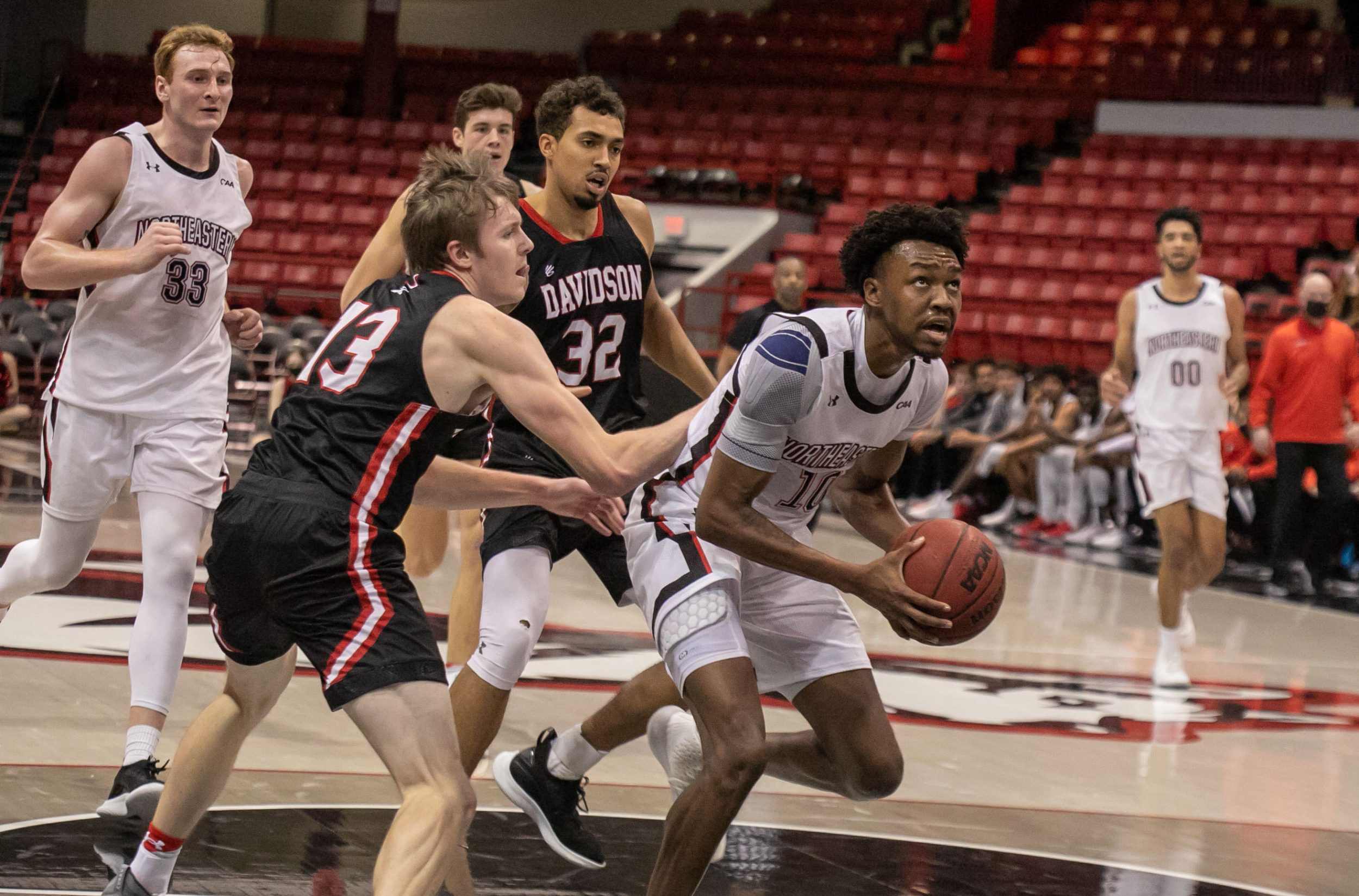 With limited first half minutes from Jahmyl Telfort and a deficit to conquer, the onus was on Nikola Djogo and Jason Strong to pick up some of the scoring slack coming out of the locker room. Djogo, the cannonball Canadian who had not taken a shot all first half, was happy to oblige for the Huskies.
After three straight Wildcat buckets, including two by Lee, Djogo was rearing to go once the ball entered his hands. With 17 minutes to go in the game the Hamilton Hammer let his first triple fly getting nothing but net to stem the bleeding. A minute later, another one hit the bottom of the basket, electrifying the crowd and bench.
After a stretch of back and forth play, with baskets being matched, Quirin Emanga made his presence known on both ends of the court for the Huskies. The ferocious forward first buried a triple then took consecutive offensive fouls against Lee, bringing an intensity on defense that Lee could only try and overcome with a charge.
The cunning plays by Emanga cut the deficit to single digits and a fastbreak dunk by Djogo a few minutes later had it down to just four points. However, Lee, Loyer and the Wildcats would not let this game fall out of their grasp so easily.
Following the Djogo dunk, Lee added a triple, then another Djogo three was countered by another deep make by Loyer. Including that three, Lee and Loyer outscored Northeastern over the final six and a half minutes 17-13 to put the game away.
Coen discussed the attempted comeback post game.
"We got off to a slow start, spotted them 15 points or so and we clawed our way back," Coen said. "I thought we had a chance, we needed to come up with an extra rebound and an extra stop, but unfortunately we just weren't able to do that but I'm still really proud of the guys' effort."
Despite the loss, Northeastern proved they could hang with a tough mid-major opponent who had easily handled two other CAA teams, beating the projected top seed, Delaware by 22 points and W&M by 24. The Huskies will have two more games left of con-conference play before their first CAA matchup against Elon on Dec. 29. They will face the University of Vermont next Sunday, who is consistently atop the America East, and then St. Bonaventure, who entered the season ranked in the national top 25. Both those games will be at home and will come prior to the break for Christmas.