Story by Rae Deer
Photos by Kayla Shiao and Sarah Olender
BOSTON – An unseemly loss in the women's Beanpot semifinals last Tuesday meant that the Northeastern women's hockey team needed to battle hard in order to escape last place in the tournament during the consolation match the following week. A 3-0 victory over crosstown rivals Boston University kept them from that fate, but it wasn't enough to lift the spirits of head coach Dave Flint.
"Happy that we got a 3-0 win, [but] still not really pleased with the way we're playing right now," Flint said during his opening statements. "The first period might've been the worst period of hockey we've played this year, and I let the team know that. We got some things to fix down the stretch."
Despite the somber tone of Flint, the game reminded us of two salient things about this Northeastern team. One, forward Maureen Murphy is a point princess. And two, this team runs deep in talent, from the forwards all the way to the netminders. Tuesday was a Gwyneth Philips start day, merry to all those who observed as WRBB did, and one thing about Philips is that she will put on a performance when the opportunity presents.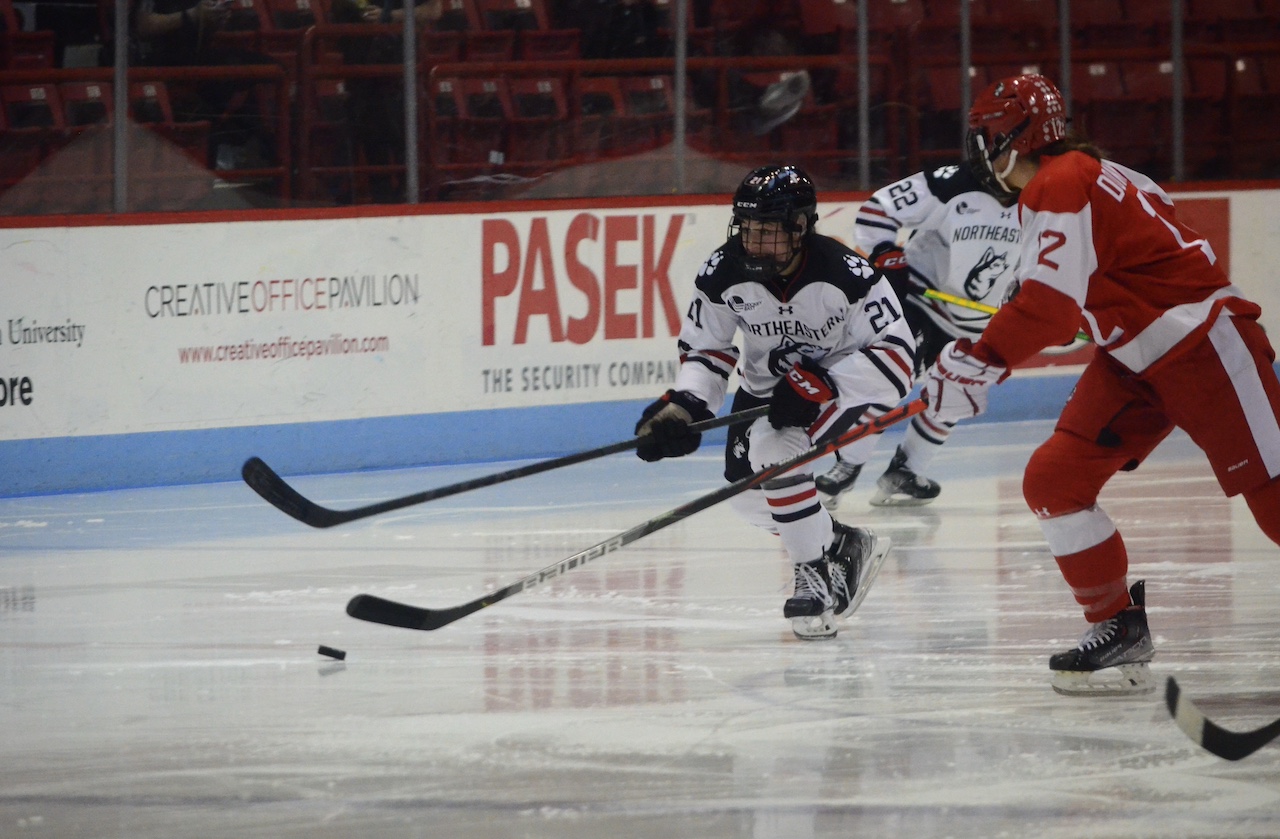 "I have the luxury of having two really good goalies, so we decided to go with Gywn to give Aerin a little rest going into the home stretch," Flint said. "She stepped up, especially in the first period she came up with some big saves and got a shutout. Played really well."
From puck drop, it was clear what kind of game it would be. BU has always been a tough competitor against Northeastern, and Tuesday was no different. Instant physicality and hard-fought puck battles were a consistent theme throughout. However, the first period was unusually slow for the Huskies with only four shots on goal, and they failed to get consistent offensive pressure at full strength. It took the first penalty of the night on first line BU forward Emma Wuthrich, for the Huskies to finally break free and strike first. A drop pass from forward Maddie Mills to defenseman Skylar Fontaine turned into a setup for arguably one of the easiest shots we've ever seen from Murphy.
They only had one shot on goal after Murphy's goal, and it was imperative for the Huskies to come out stronger in the remaining 40 minutes if they wanted to seal the deal. That was no issue to Northeastern, and they turned up the dial for the second period. The shots started to roll in, and the game naturally shifted to reflect the dominance that ensued. What kept the game at 1-0 for the next seven minutes was the persistence of BU's goaltender Nicole McGuigan, who had earned her first career start that afternoon and immediately proved why she deserved it. Despite the Terriers leaving with a loss, she posted a solid 34-save performance for them in net.
Solid aside, she just could not stop Murphy. In her defense, neither could three of BU's skaters as Murphy absolutely ran the puck from her zone into BU's and went backhand over McGuigan to make the game 2-0.
By now it was clear the game favored the Huskies, but McGuigan kept the Terriers in it for the rest of the second period. The same could not be said for the offense in front of her. According to the stats of the period, after Murphy's second goal, Philips did not need to make a single save for the rest of the period. If BU was going to make a push to catch the Huskies, they had a very limited window.
The antics of the third period did not make it any easier for them, as they entered on a Northeastern power play and BU defender Andi Calderone got called for another penalty in the middle of it. This gave the Huskies ample time to make another move and who better than the star of the night's show, Murphy. She skated in, found a spot in front of the net and there was nothing else to be said.
"Today I was still a little frustrated with the game last week," Murphy said. "[I] just wanted to come out here and make a statement even though it's a consolation game."
And it was quite the statement she made. With her hat trick, Murphy has officially scored or assisted in the last eight goals scored by Northeastern.
"We're missing [Alina] Müller, so we needed a lot of people to step up," Murphy said when asked about it. "I've had a part in those eight goals, but it wasn't just me. I couldn't have done it without [the team]."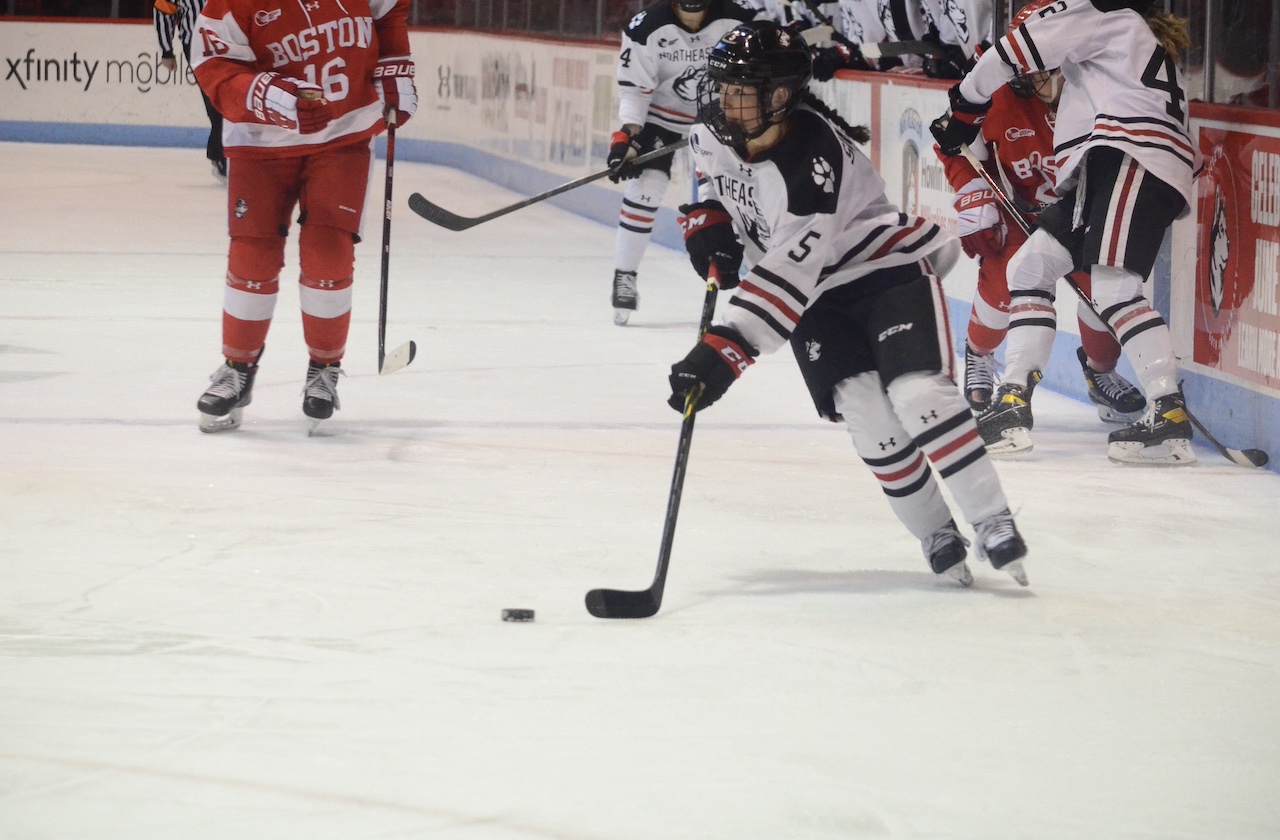 That third goal just about finalized the outcome. The Terriers attempted to turn up their aggressive play and try to outbattle the Huskies, but Northeastern matched them no problem with a strong forecheck and kept the game in their hands to close it out cleanly.
While no trophy to come from it this year, this Beanpot was solely a stepping stone for the much bigger goals this Northeastern team has, and they're on the right track. Closing out the season strong and vying for both Hockey East and National Championships are the next stops on this team's journey, and Flint has made sure they don't forget it.
"I told the team that every game right now is like a playoff game because Pairwise is so volatile. Where we are in the Pairwise [ranking] is critical; our goal is to get home ice in the NCAA [tournament]. If we don't come out ready to play and take care of business, we could put ourselves in a tough situation. Every game, playoff mentality from here on out. That's the way we need to approach it."
With only five scheduled games left, Northeastern has nearly secured their spot at the top of Hockey East. From here, the pressure only gets more intense, and for a team with such big aspirations as Northeastern, how they finish will set the tone for their playoff berth. The top of the mountain is looking clearer and clearer, and the Huskies are so close. For now, they just have to keep climbing.
The Northeastern women's hockey team has two back-to-back home games against the University of Maine Black Bears this weekend. Matty Wasserman, Emma Sullivan, and Catherine Morrison are on Friday evening's game, while Jack Sinclair, Khalin Kapoor, and Emma Sullivan are on Saturday evening. Keep a close eye on WRBB Sports' social media for more info.