Story by Jordan Walsh
Photos by Kayla Shiao
BOSTON – It won't show in the standings, but the Northeastern Huskies (12-9) gave the conference-leading Delaware Fightin' Blue Hens (17-5) all they could handle Friday night at the Cabot Center.
The Blue Hens came into the contest on a six-game win streak and boasted a 10-1 record in CAA play, good for first in the conference standings. Delaware senior guard and forward Jasmine Dickey entered the matchup ranked second nationwide in scoring, averaging 25.6 points per game and having collected 52 points just a week prior against the College of Charleston.
However, in a surprisingly uncharacteristic performance, Dickey finished with just 14 points, her lowest total in almost a month. She also ended the game on the bench, racking up four fouls in the fourth quarter and fouling out with just under three minutes remaining.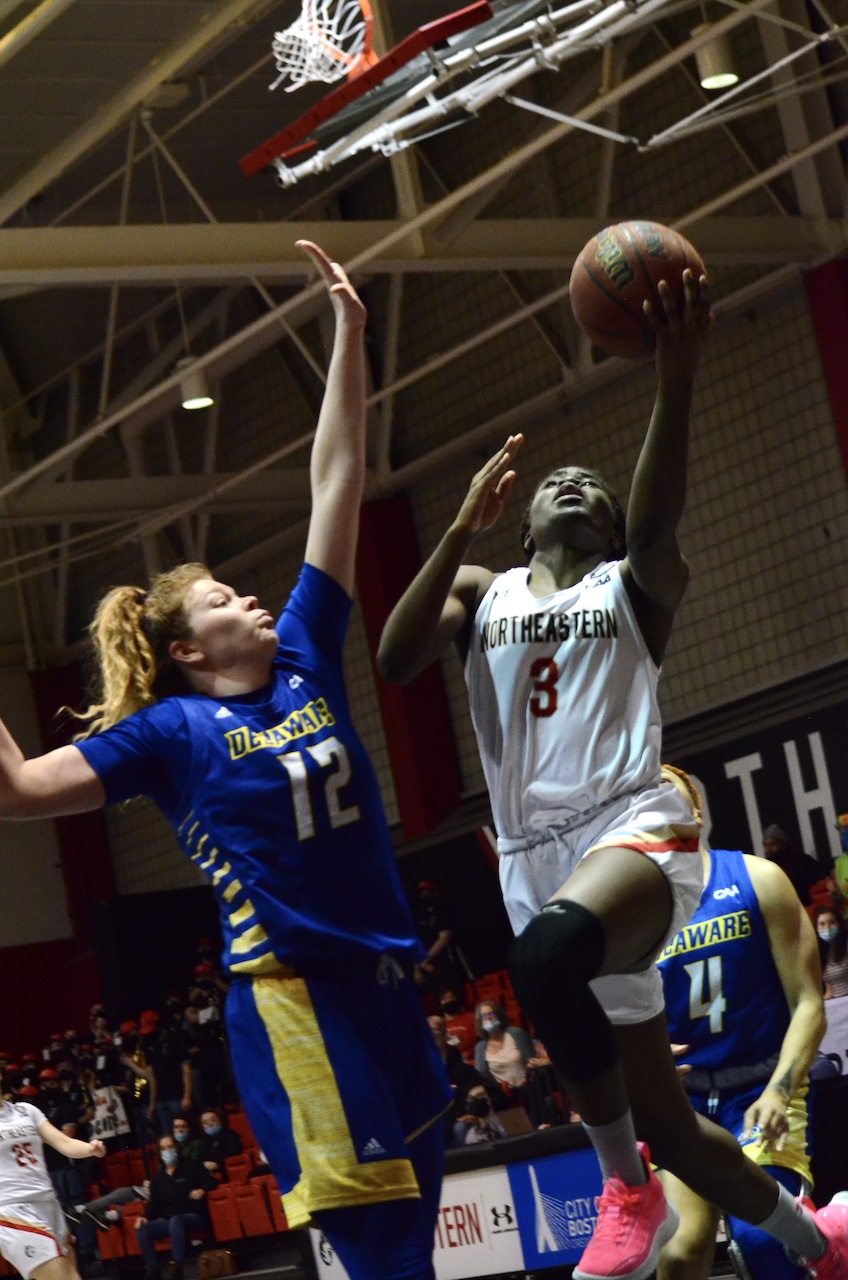 Outside of their star, the Blue Hens have an extremely deep roster scoring-wise, with sophomore guard Tyi Skinner and redshirt senior forward Ty Battle both averaging double figures. But it was sophomore guard Tara Cousins who stole the show coming off the bench, dropping a career-high 19 points, including a clutch mid-range jumper that put her team up by three in the final seconds.
For the Huskies, both halves featured two different players with inspired performances. As she did in their previous game against Hofstra, senior guard Kendall Currence carried her team on the offensive end to start, scoring 14 of Northeastern's 29 first-half points.
Unlike that game on Long Island, however, her teammates still contributed. Sophomore guard Donna Ntambue, who played just five minutes in the loss to Hofstra after missing two months with an injury, grabbed a team-leading five rebounds in the first half, and her characteristic energy and hustle on the court was infectious. After going 0-for-4 from beyond the arc last game, senior guard Katie May broke her drought with a three in the final minute of the second quarter.
In addition, freshman guard Claudia Soriano dished out four assists in the half, and graduate student forward Emily Calabrese netted three field goals as she evaded defenders down low. The Huskies went into halftime tied 29-29, with Dickey going just 3-for-13 from the field in the first 20 minutes.
Delaware head coach Natasha Adair and the Blue Hens play an up-tempo style, always looking to push the pace on offense, and this game was no different. It seemed that after every defensive rebound, Delaware was in their frontcourt almost immediately. The Huskies, who generally prefer to play at a slower speed, were able to stick with the Blue Hens for the entire game, and even pursued some fast breaks of their own.
Delaware kept up their pace in the second half, but the third quarter started with an offensive burst by Soriano. The freshman worked her way into the paint and scored eight points in the first 2:30, working the Huskies lead up to five, which would end up being their largest advantage of the game.
Unlike in the Hofstra game, Currence did not go cold after the break, chipping in 10 points in the second half.
After Soriano's outburst, the Blue Hens went on a 17-2 run to stretch their lead to 10. The Huskies were able to respond and keep the Delaware margin from growing any larger, but the Blue Hens held a nine-point lead with as little as five minutes remaining in the fourth quarter. Northeastern then rattled off eight unanswered points, including threes from Currence and Soriano, to cut their deficit to one with just under three minutes remaining. The Huskies capped off their push with a driving layup from Ntambue, giving them the lead and causing the home crowd to erupt.
Delaware responded with two made free throws from Skinner, who had nine points in the fourth, and the Blue Hens scored the final basket of the game off of Cousins' stepback.
The Huskies had the ball and a chance to tie the game with a three, but Currence's shot from the corner was blocked by Delaware fifth year guard Tee Johnson.
Senior guard Paris McBride could not corral the rebound for the Blue Hens, giving Northeastern another chance, but another Currence try from nearly the same spot was off the mark. Delaware survived the comeback attempt by the home team, prevailing by a final score of 66-63.
Speaking postgame, Northeastern head coach Bridgette Mitchell commended her squad's performance against the top team in the CAA despite the loss.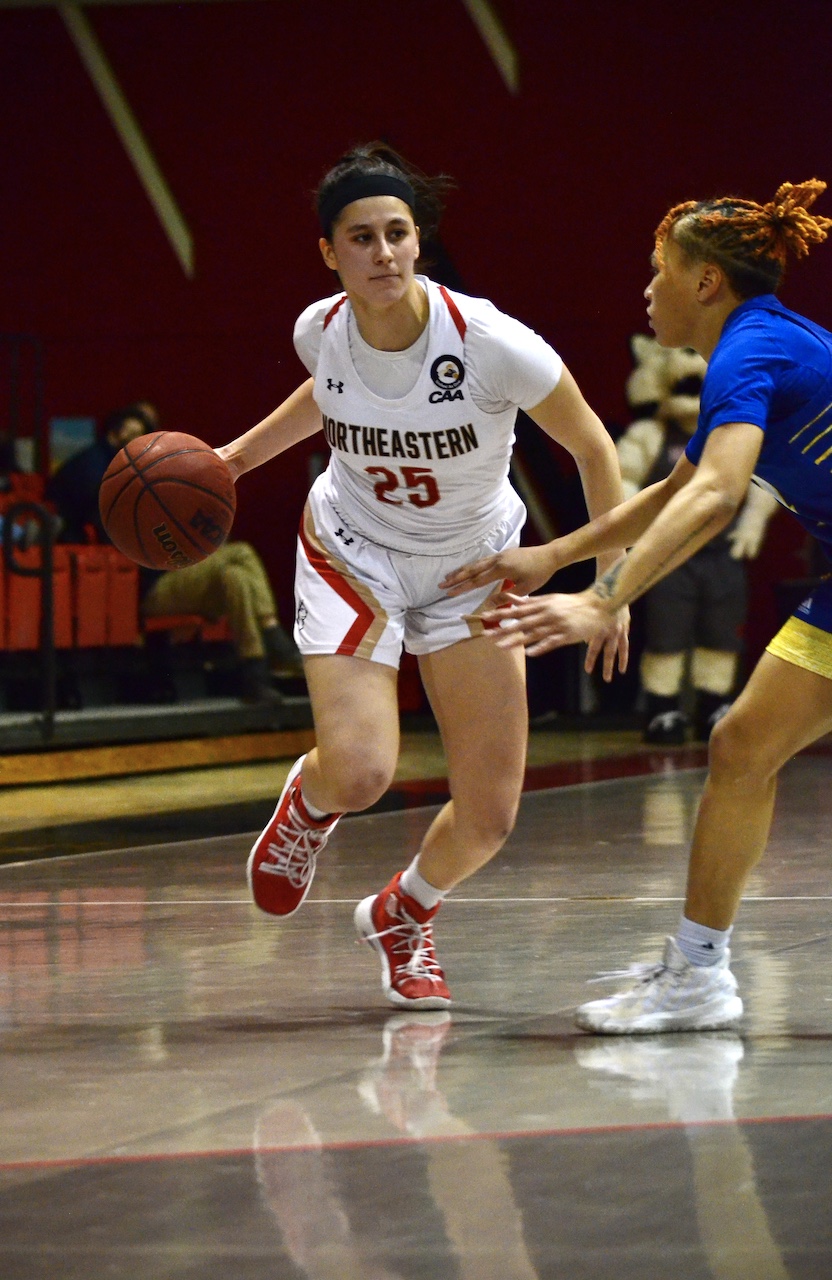 "Really proud of the effort from my team," Mitchell said. "I thought we had effort and energy and hustle for all 40 minutes. We stayed together for 40 minutes, and that's the kind of basketball that we want to play."
Coming off of their lowest offensive output of CAA play in their most recent game, Mitchell said her team wasn't scared by Delaware's position in the standings.
"We were focused," Mitchell said. "It takes a team effort. Everybody who got in there was able to contribute, and it's never about the opponent for us. It hasn't been all season, and it'll continue to not be that way. It's about us and the areas that we want to get better in. And we always want to come out the next time better than we were, and that's going to continue to be our focus."
Mitchell attributed Soriano's blistering second-half start, as well as her performance throughout the entire game, to the players surrounding her.
"It's a team effort," Mitchell said. "Claudia was able to find her shots because they were paying so much attention to Kendall, playing off of each other and getting opportunities for everyone. I thought we did a good job and [had a] solid effort in the rebound category. We were fighting, and so I thought it was a solid team effort, and we're going to continue to grow from that."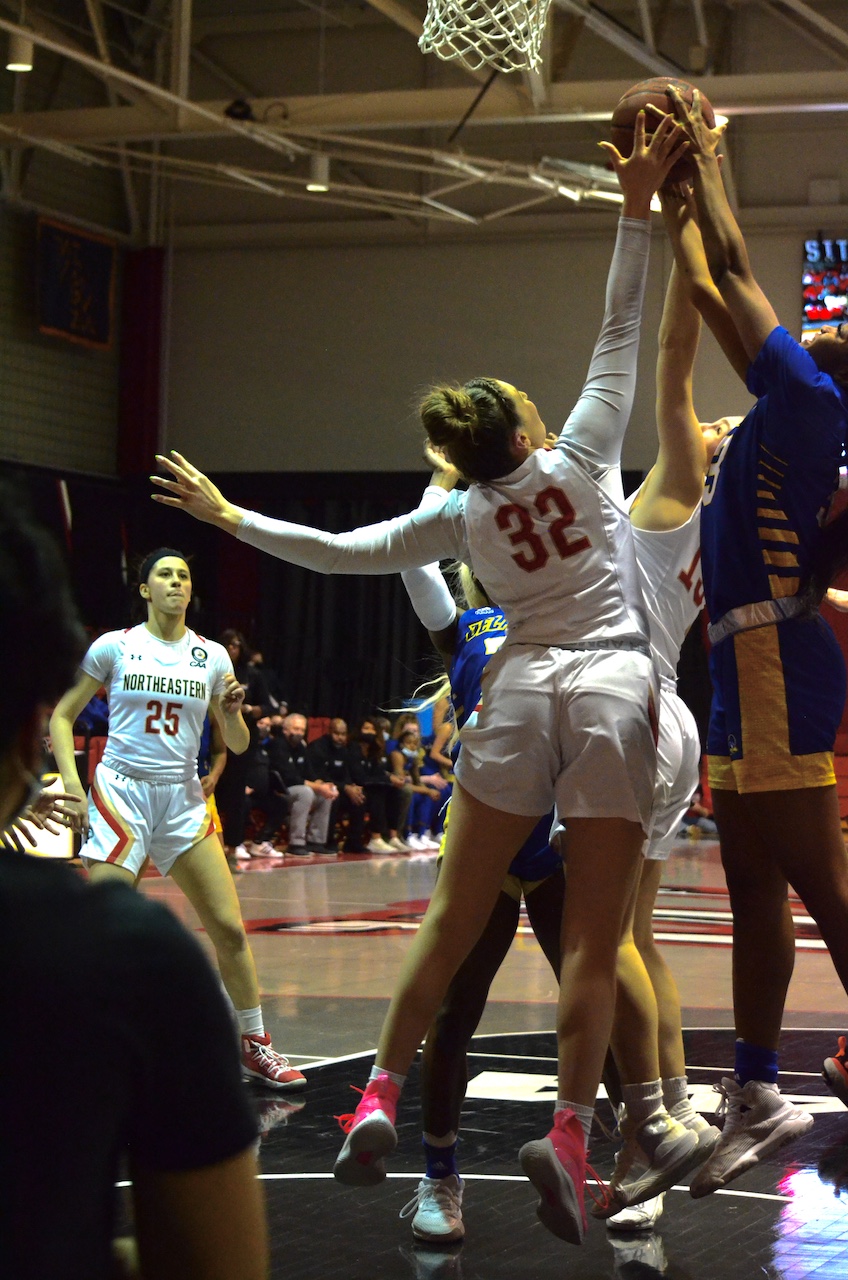 Heading into a matchup Sunday afternoon against Drexel while sitting second in the conference standings, Mitchell stated that her team's approach doesn't change.
"We don't make predictions, right? Predictions had us 10th in the conference," she said, referring to the CAA preseason poll. "We don't do that. We do our daily, and we get after it. We try to get 2% better every single time we get a chance on the court, and that's what we're going to continue to focus on. Very proud of my team, we're going to get back into the gym, we're going to work. We got Drexel coming up, they're a talented team, and it's on Sunday so we only have a day to prep for that. And so that's what we're going to focus on, maintaining our strength, our physicality, and our mindset."
When asked what it would take to get a win Sunday, Mitchell said her team was "definitely going to have to be solid on the defensive end."
WRBB will be broadcasting that game against Drexel on Mixlr, with Peyton Doyle, Jordan Walsh, and Rae Deer on the call. Tip-off is at noon from the Cabot Center.