Story and photos by Kayla Shiao
STORRS, CT — In the battle of the Huskies Friday night, Northeastern tied University of Connecticut 4-4, but won the shootout 2-0 to pick up the extra point. Frequent penalty calls forced Northeastern to work harder on defense, but their speed and skill kept them in the game. Despite losing the majority of the faceoffs, 42-17, they managed to regain possession of the puck and keep the score even.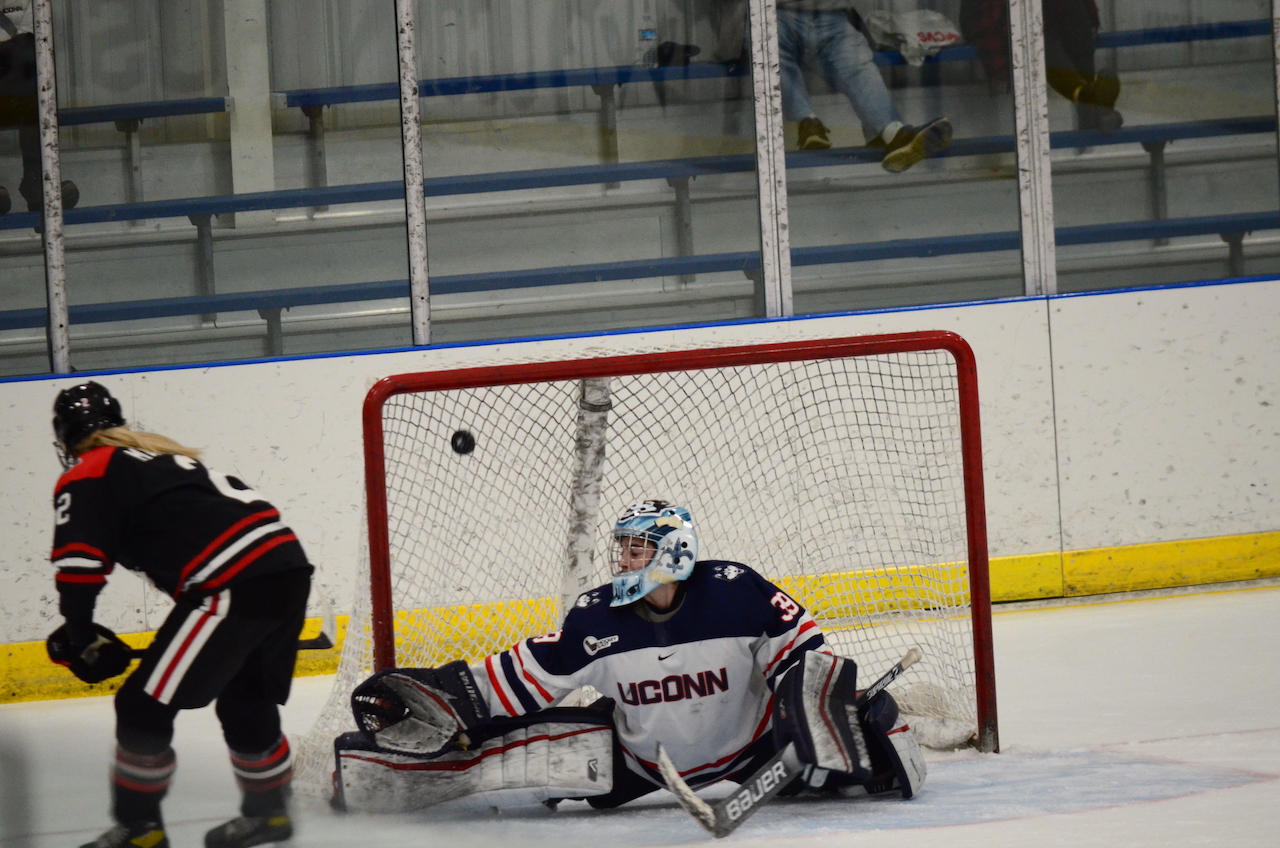 Forward Katie Cipra took the puck down ice to put Northeastern on the board with a backhanded shot 11:57 into the first period with a feed from Megan Carter.
Two penalties were called on UConn three minutes apart: first defender Taylor Wabick for cross checking at 11:36 remaining in the period, then forward Jada Habisch for tripping with 8:46 left. Nothing resulted for Northeastern on either power play.
"I felt like we were forcing some pucks, and they were doing a good job of blocking shots and playing up tempo," said Northeastern head coach Dave Flint. "Our power play has been our strength this year, and we have to score on our opportunities."
But with 3:11 minutes left in the first period, forward Maureen Murphy scored her 24th goal of the season, shooting from the edge of the right faceoff circle. She was assisted by defender Skylar Fontaine and forward Katy Knoll.
The second came with even scoring for each team. UConn graduate student forward Summer-Rae Dobson started it off with a goal three minutes into the period. She was assisted by forwards Morgan Wabick and Danielle Fox.
Northeastern forward Mia Brown gave Northeastern the 3-1 lead with her fifth goal of the season. She was assisted by Fontaine and defender Brooke Hobson, who fed her from a rebound off of a blocked Fontaine shot.
Three minutes later, forward Chloé Aurard was called for roughing. UConn graduate student forward Morgan Wabick took advantage of the power play, scoring with assists from defender Taylor Wabick, her twin, and forward Natalie Snodgrass with 11:25 remaining in the period.
"We took too many penalties, that's what it came down to," Flint said. "We got tired, and it's our fifth game in 10 days."
Aurard came back for vengeance, though, scoring on the power play that resulted from a tripping call on UConn defender Kaitlyn Yearwood. She tipped the puck into the net after a pass from Hobson giving Northeastern the 4-2 lead with 2:29 remaining in the period. Forward Maddie Mills also assisted on the play.
Aurard then had her second penalty of the period, only 1:14before it ended, for tripping. Three seconds before the end of the second, Fontaine tripped up a UConn skater, giving UConn a five-on-three start for the first minute of the third period.
The UConn Huskies started the third utilizing this time with a goal from Taylor Wabick, leaving them trailing by one at 4-3. Morgan Wabick and Dobson assisted on the play. Jada Habisch evened the score at 4 with seven minutes left in the period. She was assisted by Claire Peterson and Snodgrass. 
"Their power play was really good," Flint said. "They played hard, and they went to the net hard. … That's why they got four goals."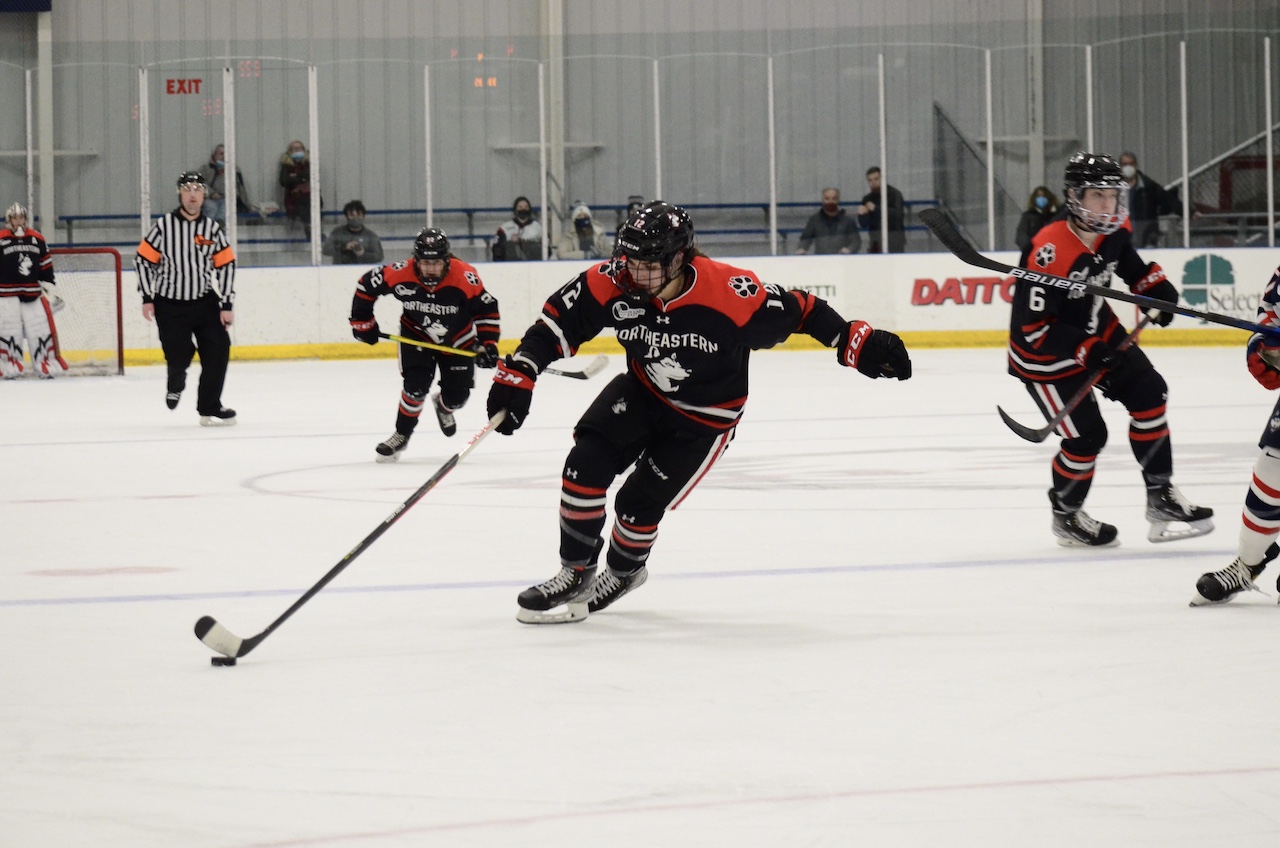 Knoll took a body checking penalty near the end of the third, but Northeastern killed it off. The five minutes of overtime that followed went without penalties or scores. Northeastern had possession of the puck for most of the time, but they couldn't capitalize on their scoring opportunities.
"We had chances in overtime to win," Flint said. "Credit to UConn: they came out hard. It was a big game for them, it's their senior day."
After overtime, the game technically ended in a tie, but the teams went into a shootout after the five minutes of overtime to help determine their Hockey East standings.
Aurard started the shootout for Northeastern, slipping the puck past UConn netminder Samantha Carpentier-Yelle. The first and second rounds came goalless for UConn, as Dobson and Snodgrass were no match for Northeastern's Aerin Frankel. Lauren MacInnis finished up the shootout in the third round with a goal.
The two Husky squads will meet again Saturday afternoon at Matthews Arena for Northeastern's senior night and last game of the regular season. Emma Sullivan, Khalin Kapoor, and Alexis Spring will have the call for WRBB with puck drop at 3 p.m.