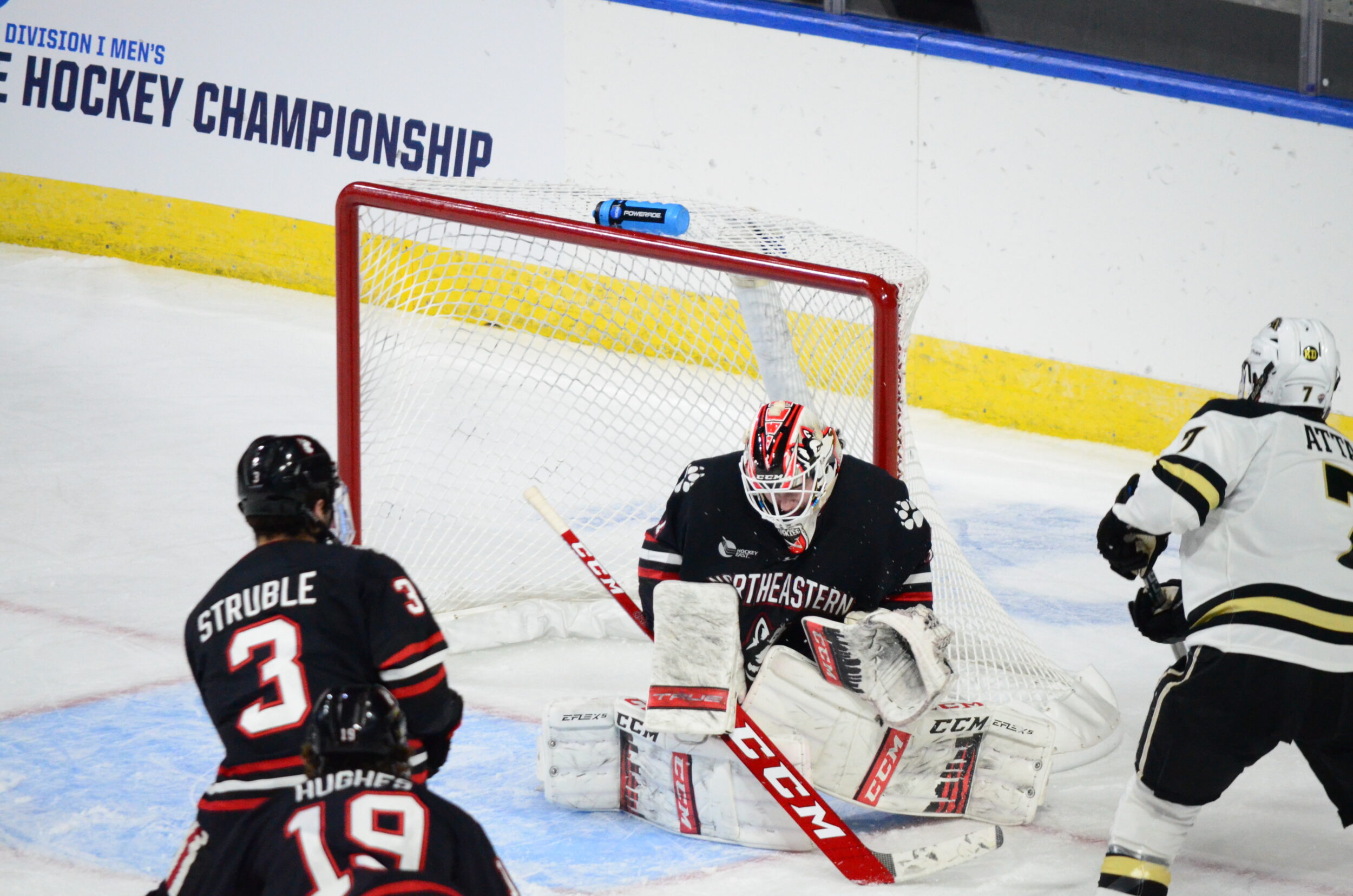 WORCESTER — Jordan Harris soaked in his final seconds on the ice.
One last hug with fellow senior Julian Kislin. One last salute to the fans. And one last look around at the DCU Center, where he'd played his heart out for the final time in a Northeastern uniform.
Harris, and each of Northeastern's five seniors, can take some solace in knowing they went out fighting. When it mattered most on Friday, the Huskies played some of their best hockey of the season.
But it wasn't quite enough.
Western Michigan outlasted Northeastern in the NCAA tournament's first round, squeaking out a 2-1 victory behind Luke Grainger's game-winning score just one minute into overtime. With the victory, the Broncos advance to the NCAA Quarterfinals on Sunday, just one win away from program's first ever Frozen Four appearance. For the Huskies, the defeat concludes a rollercoaster, whirlwind of a season, but one that will be remembered by its triumphant peaks more than its devastating finish.
"These guys won 25 games, won a Hockey East regular season championship, and they'll always be champions winning that trophy," Northeastern head coach Jerry Keefe said after the loss. "Any season there's gonna be some ups and downs… but you saw today, with the pushback we had, I felt like we kept growing."
Headed into Friday's matchup, Keefe stressed the importance of Northeastern playing to win, rather than not to lose. In the Huskies 4-1 loss to UConn last week in the Hockey East Semifinals, they were out-muscled in their defensive zone and sloppy in the open ice. Against Western Michigan, they showed not only grit and toughness, but the unwavering resiliency that stems from senior leadership and big-game experience.
"You're not happy because you didn't find a way to win the hockey game, but when you go in the locker room after the game and you look at your players, they left it on the line," Keefe said. "It was a battle between two good hockey teams, and they got a bounce in overtime."
The Huskies, who entered Friday's matchup as heavy underdogs, came close to unraveling late in the first period. Western Michigan forward Cole Gallant, the oft-forgotten third member of the Broncos elite top line, put WMU on the board with an incredible bar-down snipe with 5:59 left in the opening frame. It's not often Devon Levi gets beat with a clean sightline in front of him, but Gallant found space in the open ice and rifled a laser beyond the star netminder's reach.
The Huskies were outshot 11-5 in the first period, and killed off two penalties. The 1-0 deficit put Keefe's team in a hole — but one they could still dig themselves out of.
"We were not happy after the first period. At all. We didn't play well, so we talked about it, and we responded," Keefe said.
Northeastern played a phenomenal second period, owning Western Michigan physically and flooding the offensive zone with quality chances and rebounds. The Huskies put a combined 10 shots on goal from the inside circles and slot in the period, and were knocking right on the doorstep of tying the game up.
"To be completely honest, I thought we dominated the second period," Northeastern's star forward Aidan McDonough said. "I thought it was just a matter of time before we were about to score. I think you can tell when we are about to score, we usually have three or four lines that are rolling, setting each other up."
And it was McDonough who ultimately broke through for the Huskies with just 3:20 left in regulation, because of course it was. Whether it was the overtime winner against BU in November, the hat-trick against UConn in February, or the league-title winner with nine seconds left against Merrimack in the final regular season game, it's been McDonough who's consistently delivered in Northeastern's biggest moments all season long.
"I'd gotten a few shots blocked there in the same spot, so I tried to pump and [Joyaux] fell. I kinda went around him and wacked at it a few times and left enough on it," McDonough said.
Northeastern's surging momentum towards the end of regulation seemed to give the team the upper hand headed into overtime. But Levi — who was once again brilliant on Friday— misplayed the puck behind his net, and Grainger pried it loose and shuffled it on goal in one fell swoop. Levi initially appeared to have pulled off an all-time miraculous diving save, but on replay the overhead camera angle clearly showed the puck crossed the goal line before Levi stopped it.
For every possible outcome or means that could've sent Northeastern home, a Levi miscue is just about the cruelest ending imaginable.
"We're not in this game without [Levi]. He's an unbelievable goaltender, an unbelievable person, and that's a bounce, that's hockey, that's the way it goes," McDonough said. "I just feel bad for him because I know how much he cares about the boys. And he's the most selfless kid I've ever met, so I know he's probably beating himself up about it. But it's on all of us, it's just a bounce, and there's no need for him to hang his head."
Levi has had one of the greatest goaltending seasons in NCAA history, and finishes the 2021-22 season with a .952 save percentage, tied for second all-time. He will almost certainly be rewarded with a Mark Richter award in the coming weeks, and a Hobey Baker award could follow suit. The pressure he faced to not only fill his role, but uplift those around him, was impossibly high. Yet he managed to reach it again on Friday, right until the very end.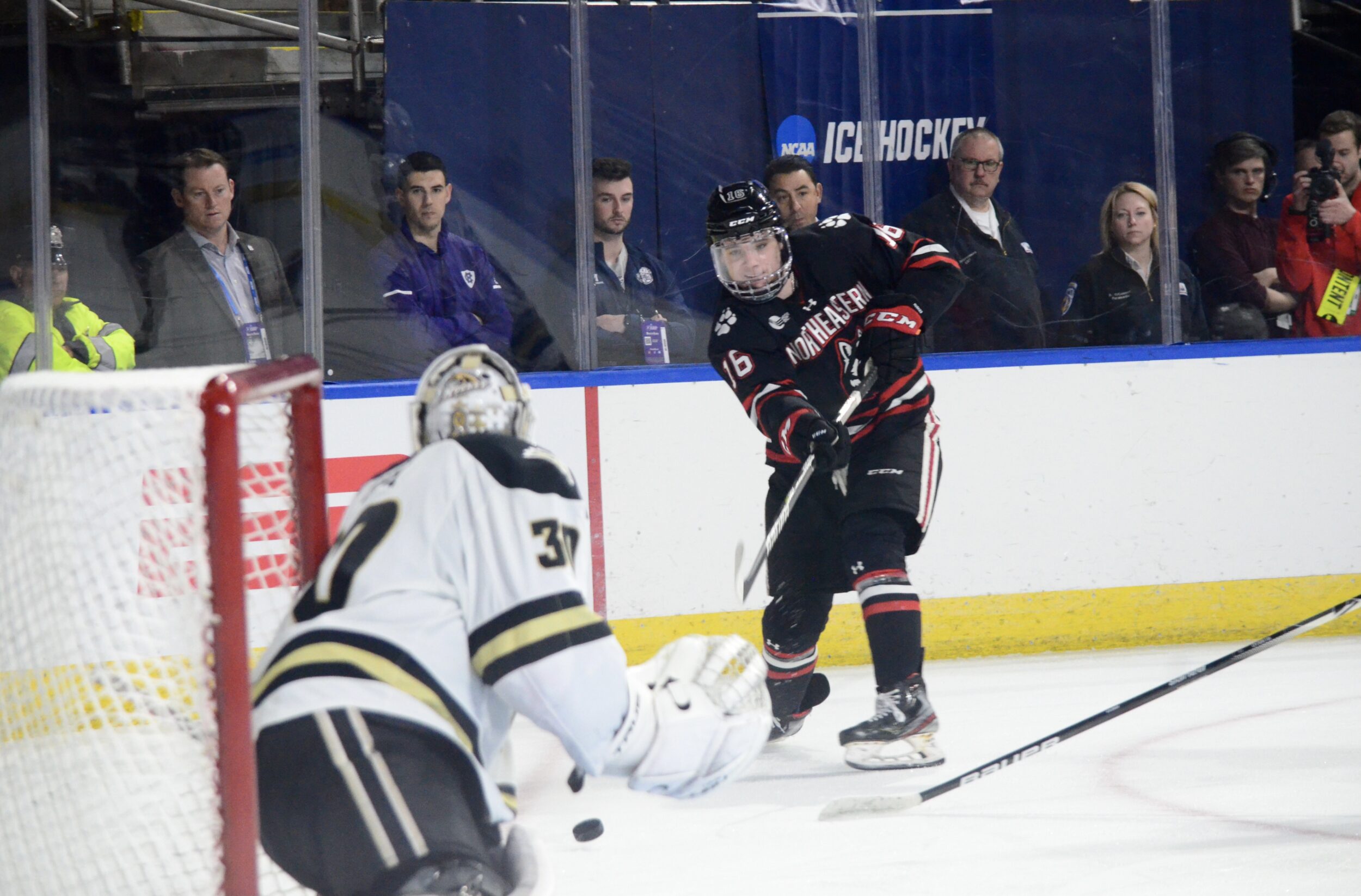 Northeastern's senior leadership group will be sorely missed inside the walls of Matthews Arena. While every team faces obstacles over the course of the season, Northeastern encountered a ton of them — from a head coaching change in late June, to a barrage forward injuries in the first semester, to losing a superstar goaltender for a month down the stretch. But through all of it, Harris and Northeastern's leadership has stuck together and shepherded the Huskies to a place Northeastern hockey has rarely been.
"There's no one that puts in more time and effort into his game," Keefe said of Harris. "When you have your captain working that hard, everyone else falls in line. It's actually amazing to watch the effort he puts in. All of our seniors are like that, they put in the extra time and what I like is we have younger guys that look up to them, and they will pull those guys aside and they'll talk to them about what it took to be a player and what it took to win at this level, all of the preparation that goes into it."
The end of the line is devastating, as is true for every team except the one who finishes on top. The roster will look much different come next season, with the graduation of key seniors Harris, Tommy Miller, Julian Kislin, and Jakov Novak, and the college futures of McDonough and Levi still up in the air as NHL futures await them.
But the culture and foundation this team laid will reverberate for years to come, as Jerry Keefe builds the program to further fit his vision.
"We can walk out of here saying that not only did we compete, but we played a really good game," Keefe said.
Northeastern's 90th team went out with their best on Friday. They came up just a bit short, but they grinded until the bitter end. And that's all Jordan Harris and the Huskies senior leadership could've ever asked for.