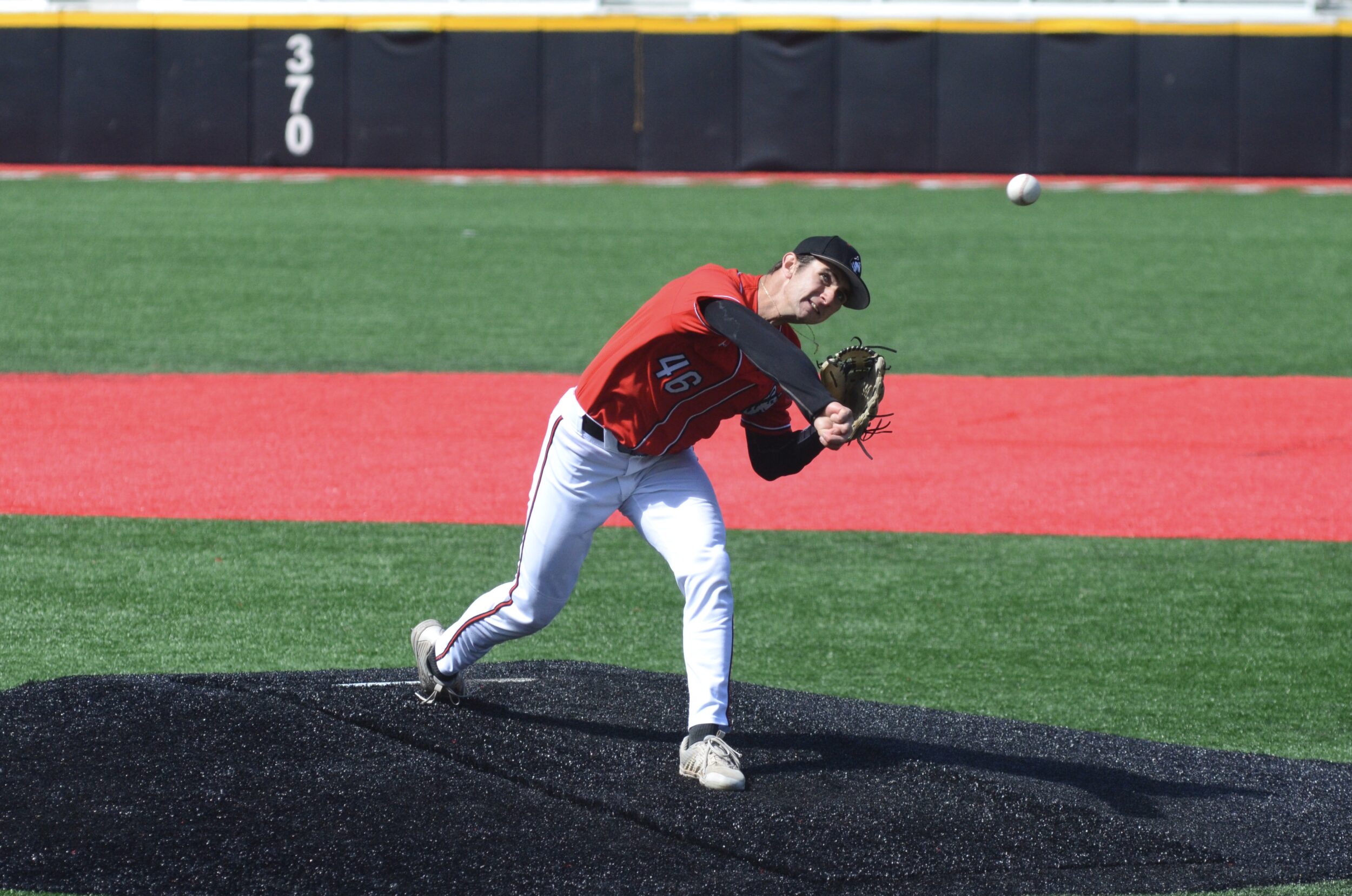 Wednesday marks the first day of the 2022 CAA Baseball Championship Tournament in Elon, North Carolina. The top six teams in the conference (excluding James Madison, as their departure from the CAA at the end of the year makes them ineligible to compete) will face off in the four-day event, with the winner cementing a bid to the NCAA Division I Baseball Championship. An unpredictable season from start to finish, the 2022 tournament should be an exciting one. Here is a look into the teams competing for conference champion.
No. 1: College of Charleston
The College of Charleston exceeded everyone's expectations. They ranked third in the CAA preseason poll, receiving no first place votes, and yet they enter the tournament as the top seed. They went 19-5 in conference play, losing twice to Hofstra, once to UNCW, and dropping their last two to Towson, which didn't make the tournament after finishing at the bottom of the CAA. Losing two in a row to the worst team in the conference may not be the way CofC envisioned themselves heading into the tournament, but it's hard to ignore the results they've tallied in the regular season overall.
The Cougars' biggest asset is easily their contact hitting. They topped the conference in batting average, with a combined .281 over the season as a team. All-CAA first team junior catcher JT Marr has been the primary leader of the offense, holding team highs in batting average (.310), slugging (.488), on-base plus slugging (.847), hits (66), and home runs (7). Marr's hit total also leads the conference. He is joined by two All-CAA second team members, senior infielder Cam Dean and graduate student outfielder Sam Cochrane, at the heart of CofC's contact-heavy lineup, with both veterans hitting .304 this year. Other offensive highlights include three other second team players in junior infielder Joseph Mershon, who ranks second in the conference with a .455 on-base percentage; junior infielder Trotter Harlan, who leads the CAA in walks and is second in stolen bases; and CAA Co-Rookie of the Year outfielder Tyler Sorrentino, who made his case for the award with 59 hits and 31 walks in 202 at-bats.
One of the Cougars biggest assets has been their quantity of stolen bases, as the team successfully took 83 bags out of their 114 attempts this year. Especially for a team that hits for contact over power, CofC has demonstrated a great ability over the season to generate runners in scoring position that may not have been possible without aggressive baserunning.
CofC's dominance extends to their pitching staff as well. Their closer, CAA Pitcher of the Year sophomore right-hander William Privette has been stellar on all fronts, leading the conference in ERA (0.95), opposing batting average (.153), and walks and hits per innings pitched (.81). He has only allowed six earned runs and racked up 12 saves, establishing himself as one of the conference's best pitchers. Up there with him is first team junior starter Ty Good, who is tied for the most strikeouts in the conference, racking up 83 Ks in 78.2 innings, putting him third in the CAA in that regard. The Cougars have a few other pitchers who they have used for longer outings in consistent starters including junior righty Trey Pooser and left-handed senior Connor Campbell. Freshman Daniel Brooks also has the capability to pitch for length if needed. This flexibility will be an asset in the tournament, as pitching length will be incredibly important throughout the week. Overall, Charleston is an incredibly strong veteran team that will pose a huge threat to anyone who crosses their path. Their path to the title begins on Thursday after their first-round bye.
No. 2: UNCW
One word to describe this UNCW lineup? Power. As a team, the Seahawks lead the CAA in home runs and slugging percentage. Leading the charge was CAA Player of the Year, redshirt junior utility man Brooks Baldwin. With a conference-leading OPS of 1.036 and a total of 11 home runs, Baldwin is tied for third in the conference in dingers with fellow utility player, graduate student Ethan Baucom. Both Baucom and Baldwin were named to the All-CAA first team on Tuesday. The home run league leader is none other than redshirt junior catcher Matt Suggs, who tallied 13 this season alongside a .520 slugging percentage. Other power-hitting Seahawks include redshirt sophomore Dillon Lifrieri and first team redshirt junior infielder Taber Mongero, with averages of .273 and .307, respectively, to go with their .495 and .475 slugging.
On the basepaths, UNCW gets a bit less aggressive. Baldwin and redshirt senior outfielder Noah Bridges are the main base stealers for the Seahawks. Baldwin leads the team with 16 stolen bases in 18 attempts and Bridges went an impressive 10-for-10. Aside from that, runners tend to play it safe. The team is tied for the lowest number of stolen base attempts in the conference, only trying to nab 60 in their 53 games and successfully stealing 47 of them. On the flipside, though, UNCW's defense against opposing runners is near the top of the conference. They rank second in the CAA in stolen base attempt percentage, with runners successfully taking an extra base just 68.7% of the time. In general, the Seahawks are the best defensive team in the conference: their .975 fielding percentage tops the CAA.
Pitching-wise, UNCW found themselves in an interesting situation this season, with all three of their starting pitchers being freshmen. Two of them, RJ Sales and Cyle Phelan, made the CAA All-Rookie Team for their performances this season. Righties Sales and Zane Taylor, who rounds out the rookie trio, and southpaw Phelan have pitched the bulk of the innings for the Seahawks. Each starter excels in their own categories, with Sales posting a staff-low ERA of 3.30, Taylor with a solid WHIP of 1.16, mostly due to his great walk rate of 11 free bases in 60.1 innings, and Phelan being practically unhittable, ending the season with a .187 opposing batting average. While all three rookies have had outstanding seasons, it'll be interesting to see how they navigate their first CAA tournament and take pressure off a shaky bullpen. They will get an extra day of rest, as their first-round bye means their first game takes place on Thursday.
No. 3: Hofstra
If there's one team in the conference whose expectations of them were just plain wrong, it's Hofstra. The Pride ranked last in the preseason poll and only one player, junior outfielder Will Kennedy, was picked to the All-CAA preseason team. Kennedy then unfortunately went down with an injury in mid-March and missed a month of playing time. But a couple of transfer players and veterans stepped up in Kennedy's absence, leading the Pride to their best season since 2012.
As a team, the Pride had the third highest batting average in the conference at .274. This was spearheaded by All-CAA first team senior outfielder Brian Morrell. Morrell transferred to Hofstra after playing for St. John's for two years. He originally started his collegiate career at Notre Dame back in 2019. A new environment seemed to really benefit him, as his numbers improved dramatically from his most recent season at St. John's. His average increased from .284 to second in the CAA at .341, his OBP grew from .360 to .415, seventh in the conference, and his slugging jumped up from .299 to .542, putting him sixth in the CAA. Joining Morrell as a transfer spark was graduate student infielder Jake Liberatore, who ranked fourth and fifth in the conference in OBP (.433) and batting average (.317), respectively. Also posting high batting clips this season were All-CAA second team junior catcher Kevin Bruggeman (.304) and senior infielder Ryan Morash (.276). However, it was the two transfers in Morrell and Liberatore who led Hofstra at the plate this season.
Hofstra's pitching poses an interesting challenge. Their top two starters, senior and All-CAA first team member Brad Camarda and fellow senior Mark Faello both pitched over 70 innings this season, placing them both in the top 10 in the conference. Camarda was the real star out of the two, with his .228 opposing batting average and 62 strikeouts paired with a 3.55 ERA making for a difficult matchup for any batter. Faello was also solid, posting an ERA of 4.67 and opposing batters hitting .240 against him. Behind Camarda and Faello, though, the Pride doesn't really have another starter that has been able to consistently pitch longer outings. With so many games in a four day stretch, this could be a challenge for them come the tournament. They do, however, have one of the best closers in the conference in All-CAA first team sophomore Michael O'Hanlon. O'Hanlon's ERA was 2.97 and he tallied six saves this season, tying him for third in the CAA. Hofstra will need their two starters to have lengthy outings with good run support, as their bullpen may not be able to sustain them through the tournament. This is a team that has defied expectations all season, though, so counting them out again may very well be a mistake. The Pride will face No. 6 seed Elon in the first round Wednesday. Expect them to pull through against an arguably easier matchup.
No. 4: William & Mary
The Tribe are riding a swing of momentum to enter the tournament after ending the regular season on an eight-game winning streak. Seven of the eight games were conference games, leaving their conference record at 14-10. As a team, they haven't truly stood out in anything. The only major category they lead the conference in is OBP. New head coach Mike McRae, however, took the team ranked sixth in the preseason poll to the upper half of the conference.
William & Mary's batting has centered around senior utility player Matt Thomas, another All-CAA first team member. Thomas has been the epitome of a contact hitter this season. He finished the season ranked third in the conference in batting average (.326), fifth in OBP (.426), sixth in OPS (.944), and tied for third in hits (63). His experience at the plate has been a huge asset for the Tribe, and as their typical leadoff man Thomas provides a great spark to the offense. First team junior infielder and CAA Defensive Player of the Year Ben Williamson joins Thomas as one of the CAA's more consistent hitters. His .310 average and 53 hits are second on the team, and his .413 OBP puts him among the top 10 in the conference. There is power to be found in the Tribe lineup as well, mainly from senior infielder Cole Ragone, also given first team honors this season. Ragone is tied for seventh in the CAA in home runs (9) and OPS (.541), and his 45 RBIs lead the Tribe. Junior outfielder Joe Delossantos trails not too far behind with eight homers of his own, averaging .301 and slugging .529, putting him in the CAA top-10 in the latter category.
One main struggle that William & Mary has faced this season is finding length from their pitchers. Eight have tallied over 30 innings of work this season, and there have only been four instances all season when a Tribe pitcher has lasted five or more innings. Despite that, William & Mary have found an incredibly solid option in CAA All-Rookie reliever Carter Lovasz. Lovasz ranks first on his team and fifth in the CAA in ERA (2.63), as well as second in the conference in opposing batting average (.171). He tallied just 14 earned runs all season and allowed 28 hits in his 48.0 innings; when combined with his 12 walks, his WHIP stands at .83. Lovasz has worked both as a closer and a long reliever. His five saves put him sixth in the CAA, however five of his 15 outings have been four innings or longer. His versatility can provide comfort for McRae, knowing that if something goes wrong, he has an elite player in his arsenal who is comfortable going into a game late. The other main pitching asset is senior Zach Tsakounis, and although he posted a 4.29 ERA and .271 opposing batting average, the team relies on his veteran presence on the mound as a consistent, dependable option. The Tribe will most likely look to a combination of these two to get them past their first round matchup, and hope that consistency will remain key as their tournament push progresses. Their first hurdle will be the Northeastern Huskies, who they face Wednesday in the first round.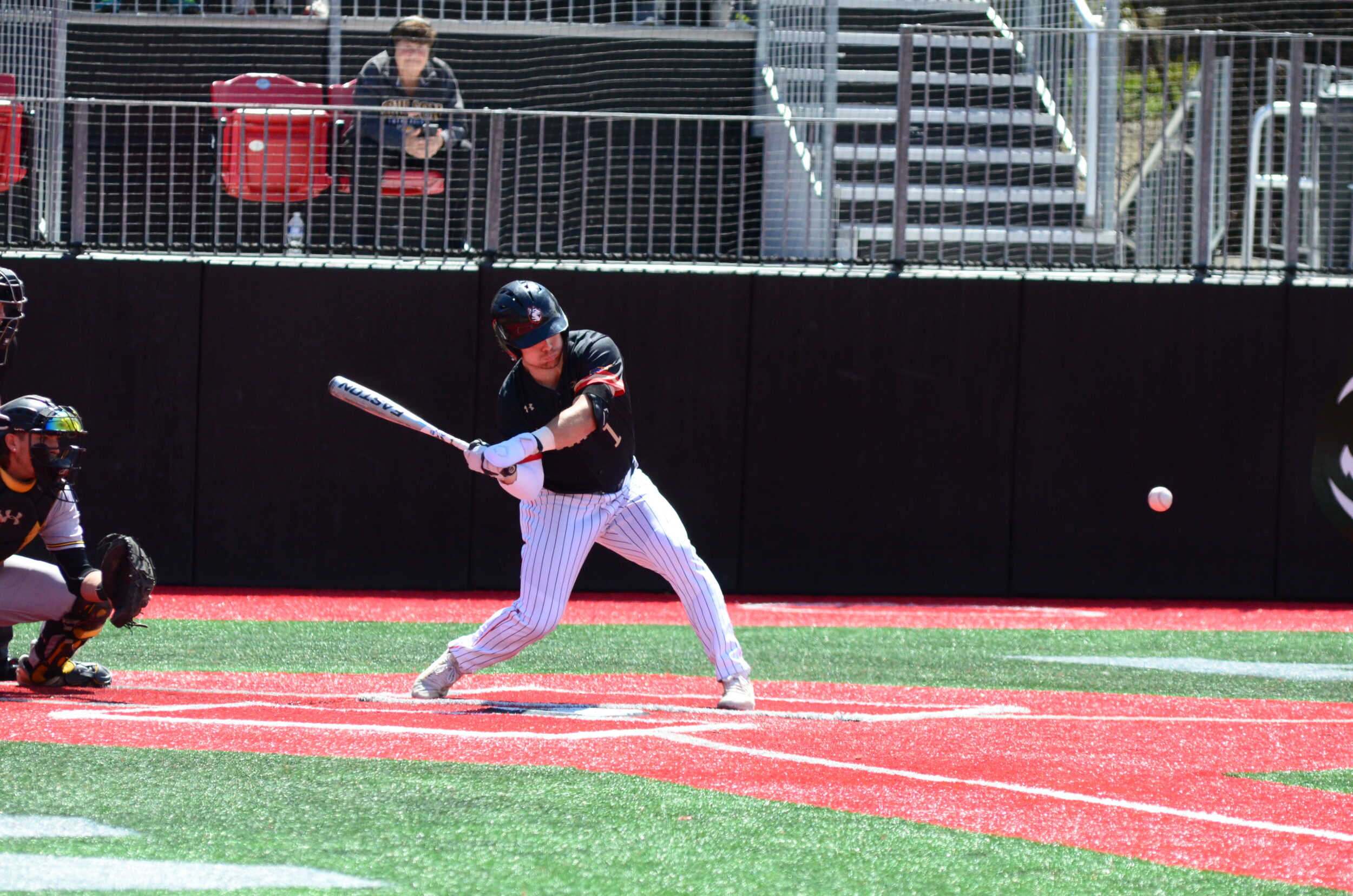 No. 5: Northeastern
The Huskies had high hopes going into the season. They received six of nine first place votes in CAA preseason predictions and ranked first overall. Five Huskies were named to the All-CAA preseason team, tied for the most in the conference. Redshirt sophomore pitcher Cam Schlittler was named CAA Co-Preseason Player of the Year. However, the reigning champions' season can be summarized as various hot and cold streaks, winning and losing games in large sets. They ultimately finished with a 10-14 record in conference play, dropping them to the fifth slot.
Despite the team's struggles, Northeastern has remained consistent with the quality and depth of their starting rotation. With the transition from the bullpen to a starting role for sophomore Eric Yost, the Huskies have found themselves with four bona fide starting pitchers in Yost, Schlittler, redshirt sophomore Sebastian Keane, and sophomore Wyatt Scotti. Yost posts the best ERA of these four at 1.84, which alongside his 1.02 WHIP has made him an incredibly solid option on the mound. Named to the All-CAA second team, Scotti's numbers are nearly as good, with a 2.57 ERA and 0.95 WHIP. Schlittler's 3.51 ERA this year is a jump from his 2021 average of 1.88, but he has still been productive. He ended the regular season with an opposing batting average of .235 and led the CAA in innings pitched with 84.2. Keane struggled in the latter half of the season — his ERA ended at 6.03 — regardless he proved his quality on the bump in past outings. In his best start of the season March 18, he threw six innings, tallying five strikeouts and only allowing three hits and one walk. As a whole, the pitching staff has been the best in the conference, leading the CAA in ERA, opposing batting average, and WHIP. Plus, having an extra starter on the roster can give the Huskies a leg up in the tournament, as the ability to rely on a pitcher throwing for extended innings takes a lot of stress off the bullpen.
On the offensive side, Northeastern ranked seventh in the conference, with a team batting average of .239. An outlier in this regard was CAA All-Rookie phenom outfielder Mike Sirota, who hit .326 this season alongside a staggering .922 OPS. Unfortunately, due to a knee injury he has not played since April 22. It's unclear whether or not Sirota will be available for the tournament. Some other standouts this season have been the team's catchers, redshirt sophomore JP Olson and redshirt senior Teddy Beaudet, both posting a .267 average at the plate. Head coach Mike Glavine likes to rotate his catchers, although Olson got more starts towards the end of the season, as he does have a bit more power in his bat and excels defensively as well. Redshirt junior utility man Corey DiLoreto also stepped up for the Huskies as the season went on, powering the Huskies with the team's second highest OPS at .726.
Power has been a huge disadvantage for Northeastern, who had the lowest slugging percentage in the conference at .336. For comparison, the Huskies' first-round matchup William & Mary is slugging .419. Aside from Sirota, the next best power bat on the Huskies is senior outfielder Jeff Costello, and even still, he's only slugging .386. The lack of power in the Huskies' bats could prove to be an issue in the tournament. Northeastern is still the reigning CAA champion; this team knows how to win ball games. They most certainly cannot be counted out for the title this year.
No. 6: Elon
As the lowest seed in the tournament, Elon has underperformed compared to preseason predictions, particularly at the plate. They were ranked fourth in the preseason poll and had five players named to the All-CAA preseason team. However, the team ended the season with the worst batting average in the conference (.226). What kept the Phoenix in the running this year was their pitching staff, who posted the CAA's third-best ERA (4.07). Overall an underwhelming season seems to be leading them towards an early tournament exit.
At the plate, the clear leader for the Phoenix was redshirt sophomore outfielder Alex Iadisernia, who was named to the All-CAA first team. Iadisernia led his team with a .293 batting average and an .872 OPS. He nabbed 14 bases out of his 17 attempts and ranked sixth in the CAA in RBIs with 42. The power in the Phoenix lineup came mainly from redshirt junior outfielder Luke Stephenson, who led the team with a slugging percentage of .489. Stephenson's 11 home runs tie him for third in the conference, and although his bat does have pop, his batting average of .242 isn't enough contact for his strength to be dominant. Other notable players at the plate are CAA All-Rookie outfielder Charlie Granatell, and redshirt sophomore infielder Connor Coolahan. Granatell hit .280 and stole 10 bases on the year while Coolahan led the CAA with 36 walks to bring his OBP up for third best in the conference to .438.
On the mound, Elon struggled to find players who could go for length. Redshirt senior and All-CAA second team starter Brian Edgington pitched 80.0 innings over the course of the season, second in the conference and by far the most on his team; the next highest innings total came from CAA Co-Rookie of the Year freshman Shea Sprague with 56.0. Edgington posted a strong 3.38 ERA and opposing batters hit .247 against him, making him a dependable option all season long. However, the real star of the Elon pitching staff was Sprague, whose 1.77 ERA was second in the CAA. Alongside a 1.00 WHIP and .217 opposing batting average, his 11 total earned runs over 56.0 innings proved that he was a gem on the mound, and it would not be a surprise to see him take the bump for Elon's first outing Wednesday against Hofstra. Sprague's stuff may be what could keep Elon's tournament hopes alive past the first game as the Phoenix look to pull out a net positive from their mostly mediocre season.