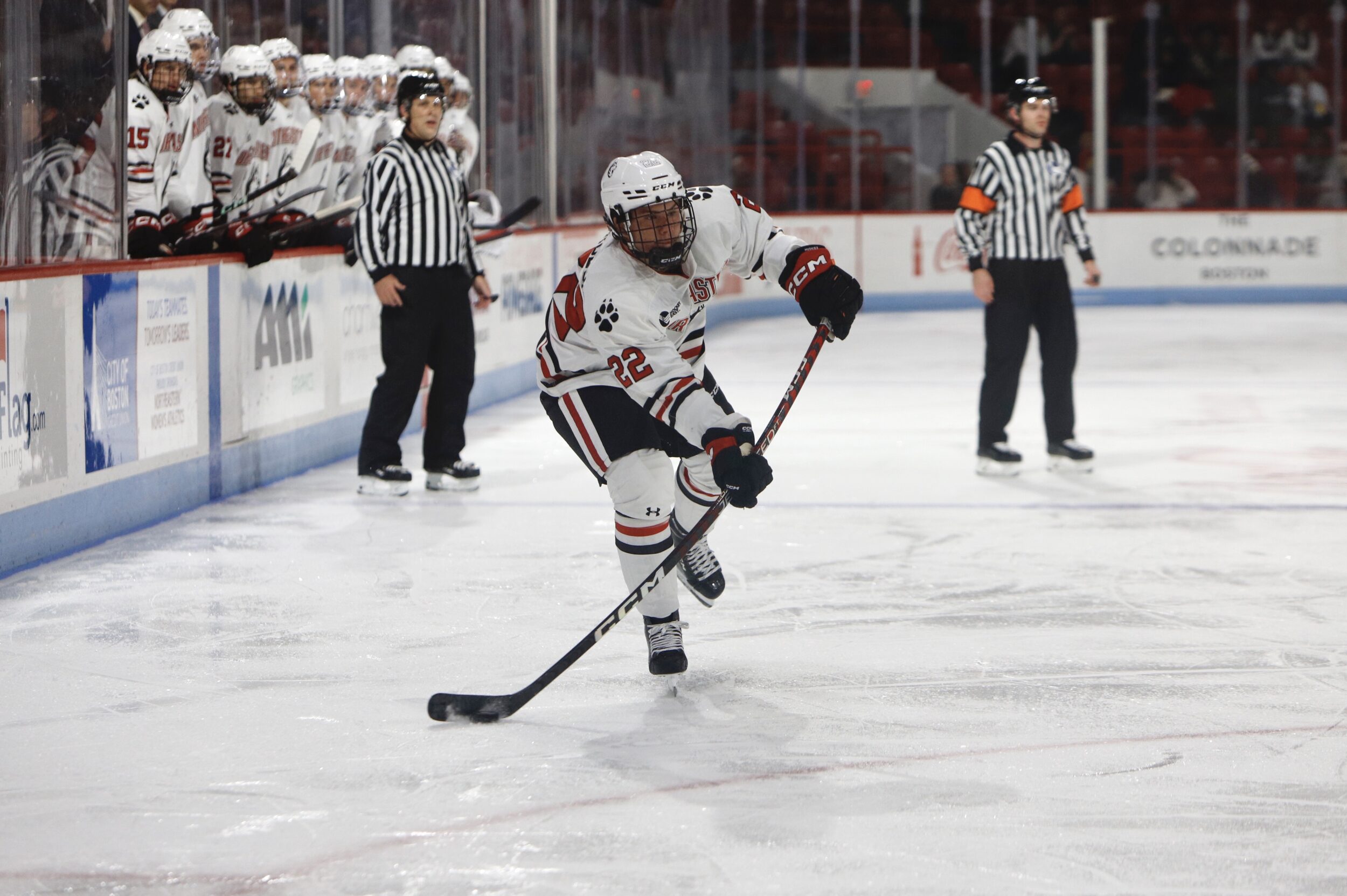 BOSTON — Vinny Borgesi is a self-described "pass-first guy."
But as a 2-on-1 rush developed with Borgesi and teammate Justin Hyrckowian just one minute into overtime, Borgesi seized his opportunity to score his first collegiate goal and secure a 3-2 win over Long Island in a scintillating season opener.
"I really don't shoot much, but I saw [the LIU defender] taking the lane there, so I just took it to myself and kind of ripped it," Borgesi said. The Huskies' freshman defender scored just seven goals in 106 career USHL games before arriving at Northeastern.
Borgesi's dramatic winner enthralled the 2,579 fans in attendance at Matthews Arena on Saturday, as his teammates piled onto the ice to celebrate the victory.
"I kind of blacked out, not going to lie," Borgesi said. "It was an amazing feeling."
But while Borgesi's game-winner may have sent the Huskies' fans home happy, there was also the reality of the 61 minutes of hockey that preceded it. Northeastern still allowed two goals, 33 shots, and took five penalties against an LIU team that's far inferior on paper.
"It wasn't what we were looking for in our first game, for sure," said Northeastern head coach Jerry Keefe. "I need to look at the video on this one. We were expecting to put together a better 60-minute effort than we did."
Borgesi, playing in his first game as a Husky, said that while his heroics made for the memory of a lifetime, Northeastern's team performance wasn't up to par on Saturday.
"It's my first college game, you know, kind of a rough start for us. Not our best. But for me, that goal, it's a dream come true," Borgesi said.
It's no secret Northeastern enters the season with high expectations — a preseason No. 8 national ranking, the favorites in Hockey East, and even some Frozen Four buzz. But long before the Huskies can look ahead to their aspirations six months from now, they must reflect upon their very first game of the year.
"The score doesn't even bother me, it's just a couple of the ways that it happened," Keefe said. "So first game, hopefully we can learn from this and make us a better team moving forward."
Here's five takeaways from our first look at Northeastern this season.
The special teams have plenty to work on
The loss of captain and star defender Jordan Harris was felt most on special teams Saturday, as the power play and penalty kill — both units Harris excelled on — struggled to get their feet under them.
"We got a lot of work to do on special teams, and we'll hit that hard this week," Keefe said.
Keefe said the Huskies only started practicing their power play on Wednesday, just three days before the game. The biggest change Keefe made this season to the man-advantage unit was not even bothering to replace Harris' role as the lone defender patrolling the top of the offensive zone. Instead, he rolled out five forwards — Aidan McDonough, Sam Colangelo, Jack Hughes, Justin Hryckowian, and Gunnarwolfe Fontaine — all of whom already have experience on the man advantage.
"It's a similar look to what we had last year. We just have forwards playing maybe in a D spot, right? Gunnar's playing where we had [Harris] play. All five of those guys have been on our power plays, so that's why we're starting with that, because it's familiar," Keefe said.
Especially on Northeastern's two first-period power plays, pristine cycling and some good cross-ice passing set up multiple good looks for McDonough in the right circle and low slot. Whether it's whipping it across the ice for a one-timer, or overloading the right side of the ice and getting playmakers like Hyrckowian the puck down low with space to find a stick, the Huskies will deploy some similar tactics as last year, but in some different roles.
"It's a little different," McDonough said of the new-look power play. "Some similar spots, similar looks for myself, but there's obviously a couple of different plays and positions that I'm not used to playing all the time. So I think it'll just take time."
Meanwhile, the Northeastern penalty kill, which was one of the best units in the country last year, suffered the loss of not just Harris, but also puck-blocking machine Tommy Miller. The team also suffered the loss of assistant coach Mike McLaughlin, who Keefe so often credited as the mastermind behind the unit last season.
The Sharks' power-play goal with 19:11 left in third period was an unfortunate sequence of events — a long rebound spilled out to LIU forward Adam Goodsir, who just flicked it over the sprawling reach of Devon Levi. Even if Northeastern can't quite match the level of last season's kill, improvement over the season will need to happen.
Yes, Cam Lund is that good
Lund's 34th overall selection by the San Jose Sharks this past July made him the Huskies' highest NHL draft pick in 10 years, so expectations were naturally quite high for the freshman. And Keefe placing Lund on the Huskies' top line in his first college game, opposite Aidan McDonough, did nothing to quell the mounting buzz surrounding him.
It didn't take long for Lund to show that the hype is warranted.
In the second period, Lund sent an absolute missile from above the right circle beyond the reach of stunned LIU goaltender Vinnie Purpura. It was Lund's first career score, and one of Northeastern's bright spots on Saturday.
But even beyond the goal, Lund's fingerprints were all over this game. It's one thing to read scouting reports lauding Lund's elite speed with the puck, but it's another to see the electric skating and flow live against a D-1 hockey team. His 6'2" frame helped stamp his presence in the neutral zone and on the forecheck. But what Northeastern coaches and fans alike must be salivating most over is the Lund-McDonough combination on the top line, and what it can mean for both players.
Playing in their first game together, Lund and McDonough fed off each other with multiple give-and-go and backdoor taps, and each helped to create space for each other at 5-on-5. The two wingers, paired with the savvy distributor Hryckowian in the center, have huge potential this season.
"He's obviously a super skilled player," McDonough said of Lund. "Easy to play with, he's big, he skates really well, and he can shoot the puck as you guys saw. I think our chemistry over the year will just get even better."
Sure, it's just one game. But the expectations for Lund will remain high, and thus far he passed them with flying colors.
A junior leap for Fontaine?
Despite playing top-six minutes for most of last season, junior Gunnarwolfe Fontaine has continued to fly under the radar for the Huskies. Still, he was third on the team in points last season, and also third in shot attempts.
He's starting the season as the second-line left wing alongside Hughes and Colangelo, and his high-end speed and agility on the forecheck and with the puck will be essential to powering that trio.
"I thought Gunnar made some big time plays tonight," Keefe said unprompted after the game.
Fontaine's shift at roughly the 9:00 mark remaining in the third period was one of the best he's had in a Husky uniform, as he set up his teammates for three good looks all within the span of just over a minute. His importance to the Huskies can be overlooked with the starpower around him, but if he keeps playing like this, he'll turn some more heads.
Highs and lows from the young defense
While Northeastern returned 13 of last season's top 15 forwards, the defense was another story. Mainstays Harris, Miller, and Julian Kislin each left huge holes to fill on the backend, and meant newcomers would be thrown right into the fire.
On Saturday, that meant freshmen Hunter McDonald, Jackson Dorrington, and aforementioned-Borgesi played big time minutes, and all performed reasonably well for their first game of college hockey.
In addition to them, Braden Doyle, who appeared in seven games for BU last season before dropping back down to juniors and transferring to Northeastern, played an impressive first game as a Husky — highlighted by his first career goal in just the second minute of game action.
"I thought our young D did a really good job, all four of them that were first-year guys," Keefe said.
In particular McDonald, who's listed at 6'4" and 207 pounds, showed impressive flashes throughout the night. He was selected 165th overall by the Philadelphia Flyers at 20 years old as an overager, but plays a heavy, physical game Northeastern sorely needs, and wasn't afraid to get scrappy and physical in the low slot.
How much can we learn from this one game?
While there was some urgency in Keefe's voice after the game, there was certainly no panic. Nor should there be — Saturday was just the first of roughly 40 games the Huskies hope to play this year, and despite a performance not up to Keefe's standards, the team still won the game.
Northeastern still put 46 shots on Purpura's net, and while the special teams are a work in progress, it's easy to see the potential with overwhelming offensive talent. The young defenseman are going to improve and adjust, and will look far different in the second semester than they look now. And though reigning Richter Award winner Devon Levi had an ordinary night by his lofty standards, he still made a handful of impressive saves in net.
So while winning in overtime does sting a little in Pairwise (it's never too early to be thinking about the NCAA tournament) this is a game the Huskies can learn from without it costing too much.
"We've got a good team. We've got a lot of good hockey players. So now it's just putting it all together and really kind of figuring out our team identity and stick to that game-in and game-out," Keefe said. "That's step one tonight, and now we've gotta be way better on Friday night.
That Friday night game is against Vermont, who Northeastern will face on both Friday and Saturday night from Matthews Arena. Vermont is not one of Hockey East's better programs, but can't be discounted — especially after pulling off a shocking upset of Northeastern late last season.
Mike Puzzanghera and Emma Sullivan will have the call of both games of the Huskies' weekend series against Vermont on WRBB, starting with the Friday night game at 7 p.m.