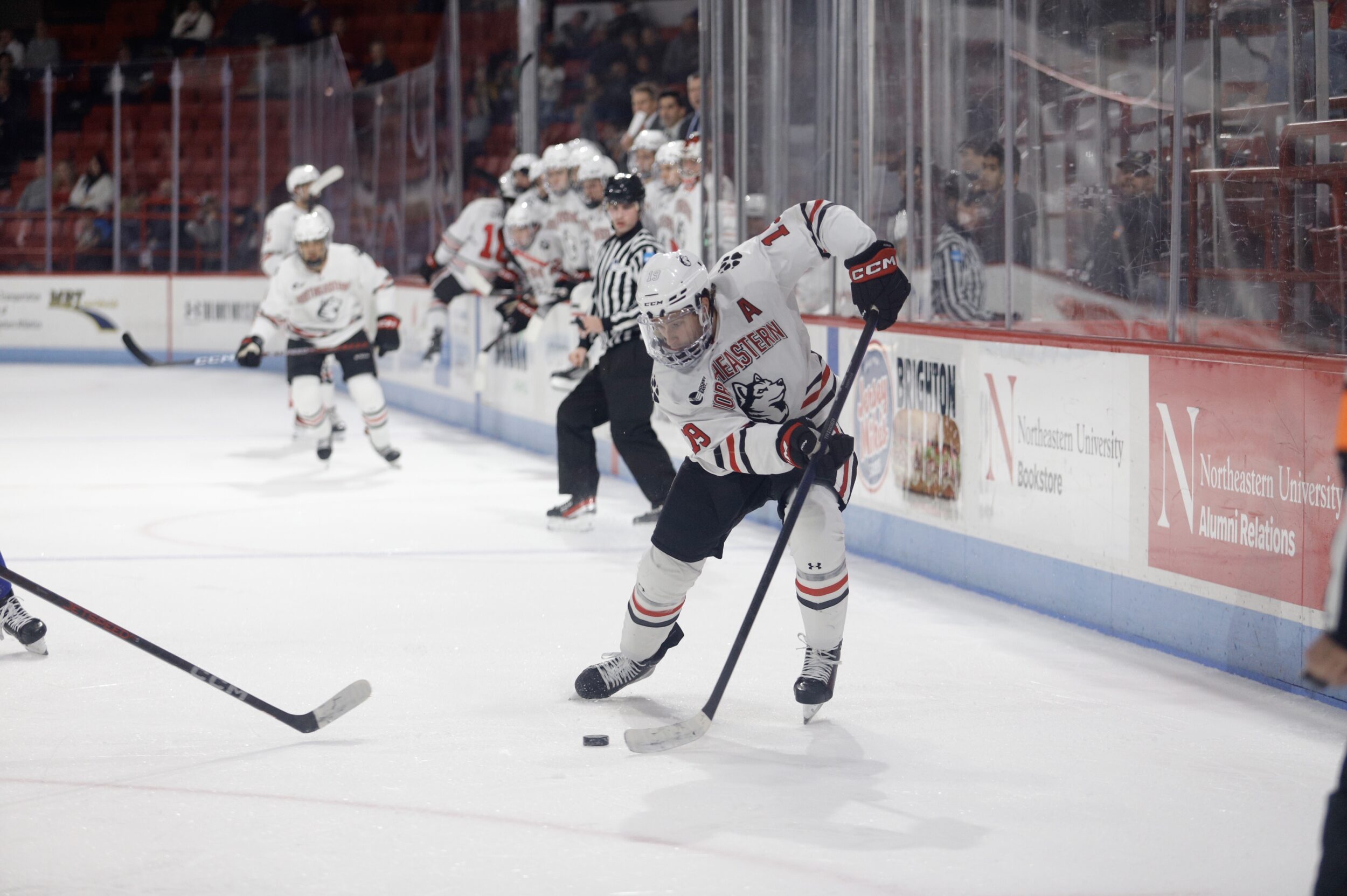 ORONO, Maine — Remember just 28 days ago, when Northeastern opened its season against Long Island with a No. 7 ranking, Frozen Four buzz, and the billing as preseason league favorites?
Yeah, it's been a long four weeks.
Northeastern tied Maine 2-2 on Friday, with the Black Bears earning the extra league standings point via shootout victory. The result extends the Huskies' winless streak to four games, and lowers their record to 3-2-2 on the season.
After suffering close losses to stiff competition over the past two weeks, a weekend road trip to face Maine — widely projected as one of Hockey East's weakest teams — seemed like a golden opportunity for the Huskies to get back on track. 
But instead, Northeastern struggled to generate consistent puck possession at 5-on-5, failed to capitalize on five power plays, and took six penalties. After showing some signs of improvement in last Saturday's loss to UMass Lowell, the Huskies' poor showing against Maine was a step back for Jerry Keefe's squad. And with another game 24 hours later in the same building, the Huskies are in need of answers in a hurry.
Northeastern got off to a solid start, controlling puck possession and imposing their physicality early in the game. The shot total was 14-6 in favor of Northeastern after one period, with many of the Huskies' looks coming in close to the net.
But Maine didn't give in, negating Northeastern's physicality and speed with quick passing and sharp breakouts. Much of the game played out on special teams, with a combined 11 penalties whistled between the two sides. The Huskies mustered just four shots on goal in 10 minutes on the man advantage, and each of their five power plays were unsuccessful.
After an ugly second period, the Huskies finally broke the scoreless tie two minutes into the third period, when senior forward Riley Hughes scored his first goal of the year on a chip-shot in front of the net. Two minutes later, forward Jakov Novak capitalized on a sloppy Maine turnover behind their net, turning an aggressive forecheck into a crafty goal. With a two goal lead, the Huskies looked firmly in control over an inferior opponent and quieting crowd.
But just when the Huskies looked like they'd successfully righted the ship, it all began to fall apart.
After killing Maine's first five power plays with relative ease, the Black Bears finally got a power play score on a snipe from freshman forward Killian Kiecker-Olson with 7:05 remaining in the third period. The goal cut the Huskies' lead down to 2-1, and got the buzzing crowd at the Alfond back into it.
Sporting a one goal lead, Northeastern had two power plays in the final six minutes — yet not only would they come up unsuccessful, but a 2-on-2 breakout for Maine junior forward Donovan Houle led to a shorthanded goal for the Black Bears to even the score at 2-2.
On the back of Houle's score, the Black Bears sent the game to overtime. It was the Huskies' third time this season playing a 3-on-3 overtime period and the Black Bears' first, but Maine was the team in command for much of the extra frame. Maine's senior defender Jakub Sirota came closest to a score with a crossbar-and-out miss, and Devon Levi was forced to make two other acrobatic, sprawling saves to keep the game alive.
Maine won the shootout 2-0, claiming the extra Hockey East standings point. Given the two-goal lead in the third period, it's a particularly difficult result for the Huskies to grapple with.
Maine head coach Ben Barr's young team deserves credit, but it's also three points Northeastern needed to earn in the Hockey East standings. The Black Bears play with pace, hard effort, and sound fundamentals, but their talent is nowhere near the Huskies level. Maine doesn't have a single NHL draft pick on their roster; Northeastern has 12, including four second-rounders. 
The Huskies' play in the early season hasn't lived up to the team's lofty preseason expectations, but it's important to remember why those expectations existed to begin with. On paper, this team is absolutely loaded, from senior goal-scoring machine Aidan McDonough, to promising sophomore centers Justin Hyrckowian and Jack Hughes, to freshman phenom Cam Lund. It's backstopped by a young, talented defense with veteran leadership, and the reigning Richter Award winner in net.
But aside from a two-game sweep over Hockey East bottomfeeder Vermont in the second week of the season, Northeastern's play on the ice hasn't resembled the same team that looked so promising headed into the season. There's still more than enough time to get there — Northeastern is just 20% through its season schedule, and has played only five of 24 Hockey East games.
But right now, Keefe is searching for answers. He tinkered with the Huskies' top two forward lines ahead of Friday's matchup, hoping to light a spark under the team and generate better scoring chances. Instead, the Huskies top forwards struggled all night. Gunnarwolfe Fontaine, Sam Colangelo, McDonough, and Hughes combined for six shots on goal.
The two points Northeastern lost out on won't make or break the season, but with the strong teams across Hockey East this season, the schedule isn't getting any easier. They'll have one night to sleep on the disappointment before needing to rebound tomorrow.
For Northeastern, adversity is striking far earlier that anyone expected. But it's time to show what they are made of.
Northeastern will face Maine in the second game of the weekend series on Saturday at 7:05 p.m. from Alfond Arena. Matty Wasserman and Mike Puzzanghera will be on the call on WRBB Sports 104.9 FM.