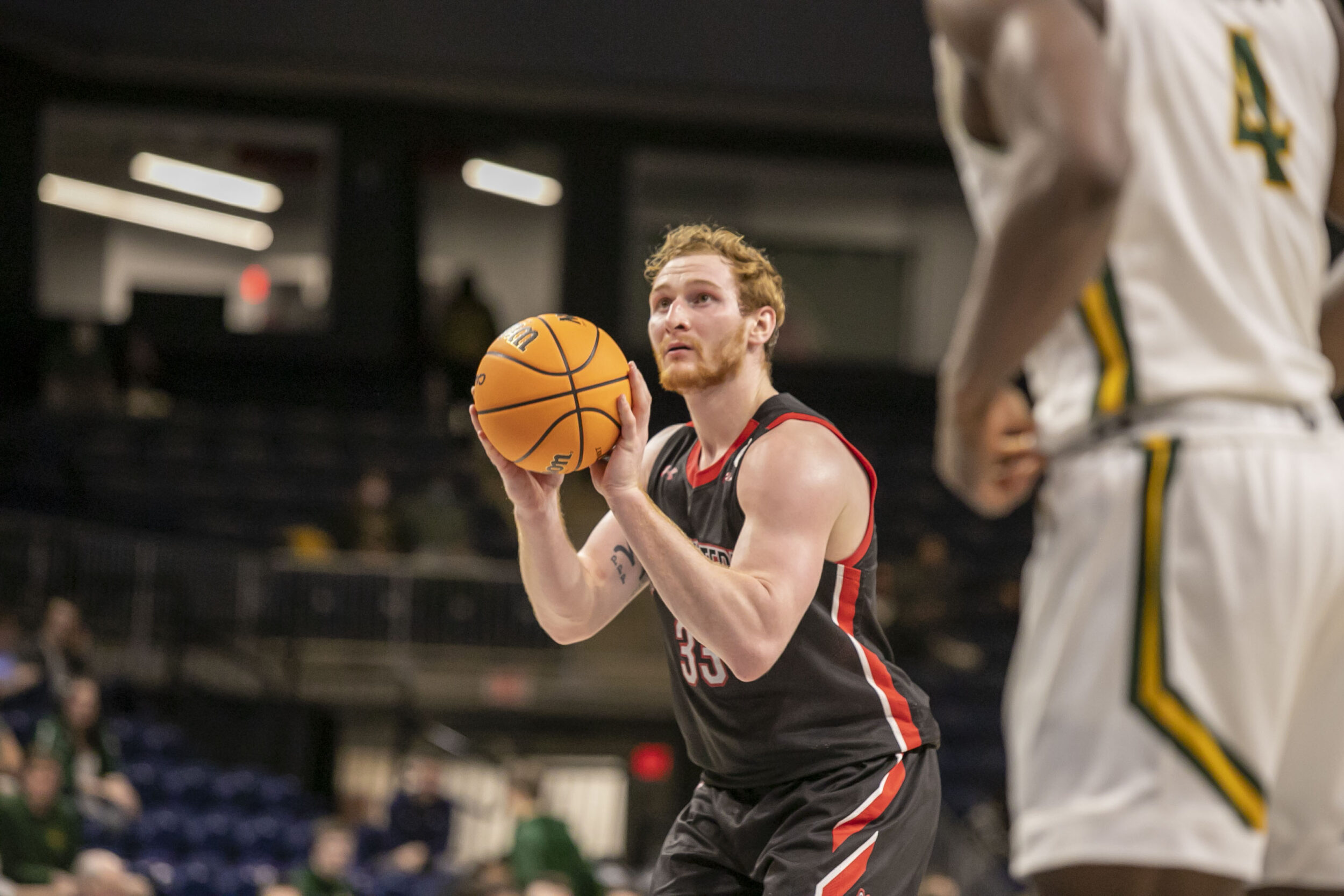 PROVIDENCE, RI — Northeastern knew what they were getting into when they traveled to Providence to face the reigning Big East regular season champions.
Despite losing all five starters in the offseason, the Friars were picked to finish in the upper half of the Big East this year in the conference's preseason coaches' poll. Head coach Ed Cooley filled his starting lineup with three high major transfers and last season's Big East sixth man of the year, making Providence one of the most formidable opponents on the Huskies' schedule this season.
Northeastern gave the talented Friars a run for their money, and even took a lead early in the second half, before eventually falling by a final score of 89-65.
Providence started slow against the Huskies Saturday night, who went into halftime with just a two-point deficit. Junior forward Coleman Stucke, who got the starting nod again for Northeastern after being a non-factor in their season opener, scored the first five points of the game for the Huskies. He would end up going 5-for-9 from beyond the arc, which included sinking a three just as time expired to put Northeastern within one possession going into the break. At halftime, Stucke was the only player on either team with double-digit scoring.
"We challenge Coleman; he's one of our more experienced players," said Coen. "He wasn't satisfied with his effort against BU. He wanted to make sure he came out and established himself. … I knew he would respond and he wanted to be a part of the leadership with this group. He led by example today in the first half."
Two other bright spots for the Huskies were their two most highly-touted freshmen, guard Chase Cormier and guard/forward Jared Turner. After playing just six minutes in the season opener, Cormier again came off the bench, this time going 3-for-4 from the field and being one of three Northeastern players to score in double-digits. Cormier relieved guard Glen McClintock at the point for a nearly 10-minute stretch in the second half, and may have played himself into the starting lineup, a role he was expected to have at some point this season.
Turner, who was sidelined with a wrist injury for the opener and seemed likely to miss multiple games, surprisingly suited up for this contest and saw action for a few stretches of play. He was subbed in for a five-minute shift late in the first half, hitting a three on his first shot as a Husky. Turner fist-pumped and clapped emphatically after the bucket, trying to spark his team. It seemed to work, as the Huskies stayed within single-digits for the rest of the half.
"He's got great range and a quick release," Coen said of Turner. "As you can see, he's got a ton of confidence. He wasn't intimidated at all by this type of environment. He stepped up and made plays. Great for a guy who has been out for the last couple of weeks and hasn't been able to practice until recently."
And it certainly was a tough environment for Northeastern to play in, with the announced attendance of 11,018 being the largest crowd the Huskies have played in front of since the 2019 NCAA Tournament, and the largest regular season audience since a 2018 game at Syracuse. Fans in the student sections behind each basket were encouraged to wear white, and they were incredibly rowdy for a non-conference game in November.
One Northeastern player who struggled Saturday night was redshirt senior forward Chris Doherty, who was neutralized by Providence's size inside. Doherty's 6-foot-7 frame gave the 6-foot-8 redshirt senior forward Ed Croswell the advantage, and he was no match for backup forwards graduate student Clifton Moore and redshirt freshman Rafael Castro, who each stand at 6-foot-11.
"He missed a couple layups that just kind of rimmed out, so he couldn't get going early on," Coen said of Doherty's play. "I thought he gave us a great effort early on and he gave us great effort on the boards. They're a tough, physical bunch and they post up in the paint and it's a tough cover for him. He's going to be a really good player for this year, I have no doubt about that."
Early in the second half, Stucke knocked down his fourth three of the night, giving the Huskies a 41-40 lead. It would be the only time the Huskies led all game, as the Friars responded with a 13-0 run immediately after.
Just as they did in their season opener, Providence played the second half with a new energy, being physical and attacking the basket with purpose. They also caught fire from three, going 5-for-8 as a team from deep in the second half.
"I was proud of our effort in the first half and our execution was there and we shared the ball," Coen said. "In the second half, I thought we gave into the physicality and the pressure. They forced us into way too many rushed shots and way too many turnovers. This building is a tough place to play. The crowd got behind them and inspired them. They turned up the intensity and we didn't handle it well."
Freshman guard Harold Woods again struggled from the field (going 0-for-5) but contributed in other areas, grabbing a team-high six rebounds. Junior guard Jahmyl Telfort was not as efficient from the field as he was against BU, but scored in double-digits once more. Coen said that the return of redshirt junior guard Joe Pridgen, who suffered an ankle injury in his Northeastern debut on Monday, is a "day-to-day thing."
WRBB will have live coverage of the Huskies' home opener against Harvard on Wednesday night. Justin Diament and Jordan Walsh will be on the call for the 7 p.m. tip from Matthews Arena.