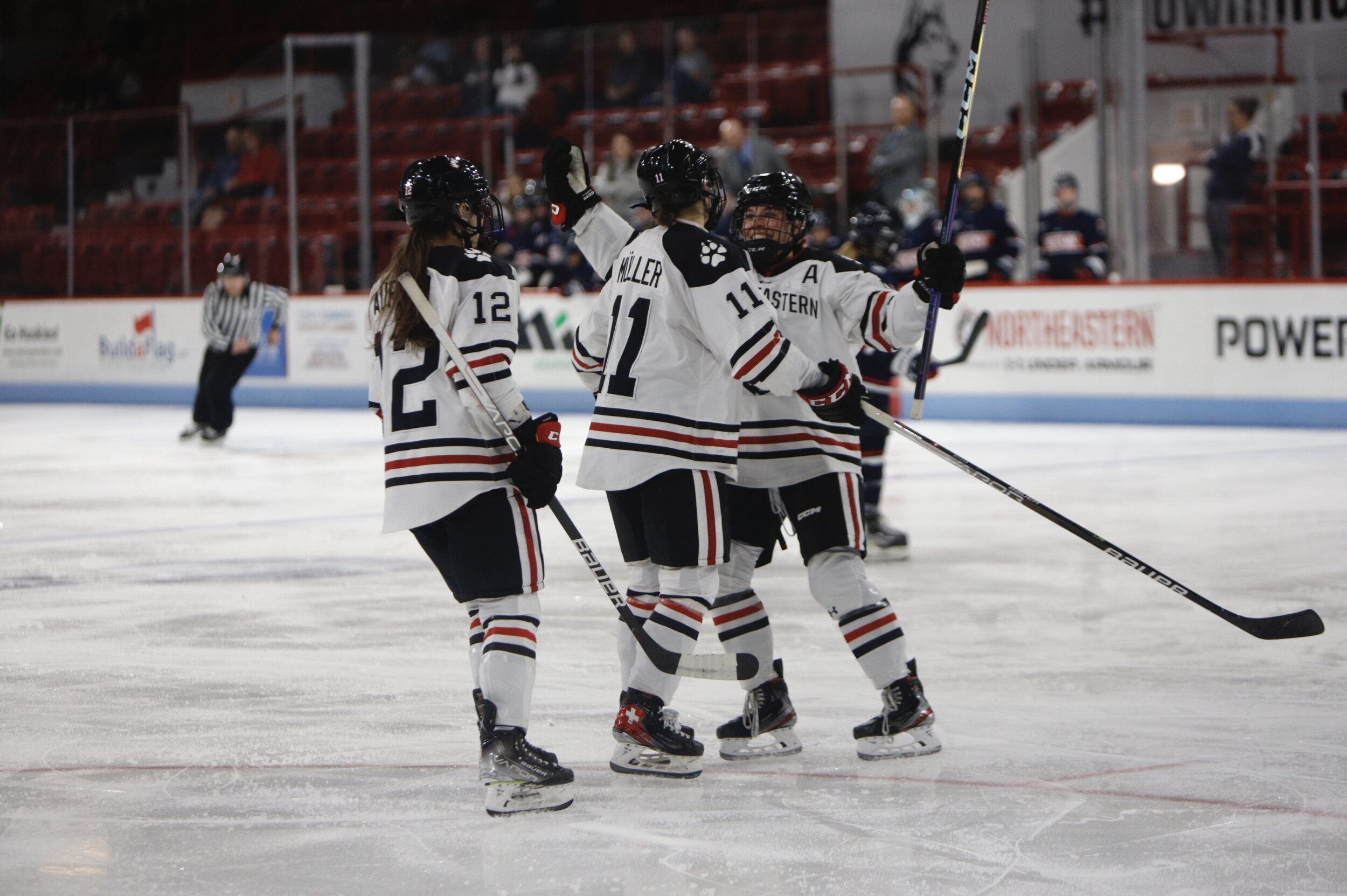 American Thanksgiving festivities didn't slow down Northeastern as they opened the 2022 Smashville Showcase with a win over Princeton on Friday afternoon.
Coming into the game, both the Huskies and Tigers were ranked in the top-15 nationally, Northeastern at No. 8 while Princeton sits at No. 14. It was the teams first matchup since Thanksgiving weekend last year, where Northeastern swept Princeton in Hobey Baker Rink thanks to 2-0 and 3-1 victories.
At the start of this matchup, the Huskies got caught on their heels slightly as they struggled to keep Princeton out of the offensive zone and couldn't get many shots on net themselves.
For nearly four straight minutes, Northeastern found themselves on the disadvantage thanks to back-to-back penalty calls. First, senior Kate Holmes was called for slashing, followed by graduate student Alina Müller who went off for tripping. Luckily for both forwards, their infractions were killed off with little trouble.
Despite the scoreless first period, neither team was defensively sound. The Tigers had multiple breakaway opportunities in the final 10 minutes of the frame, however all 13 shots in the first frame were stopped by senior netminder Gwyneth Philips.
Princeton's junior defender Stef Wallace put her team on their first penalty kill with 25 seconds to go in the first period. Northeastern was unable to convert before the buzzer and instead carried the remaining 1:35 of the power play into the second.
The Huskies were again unable to score on the remaining time on the advantage or on their second power play of the game, which came after senior defender Chole Harvey received an interference call.
Overall in the middle frame, the Huskies were able to keep the puck in their offensive zone more than they were in the first. However they put up their lowest shot counter in a period so far this season, with only five reaching sophomore goaltender Jennifer Olnowich's net.
Forward Maureen Murphy returned to the Huskies lineup on Friday after she missed the last five games. The graduate student played in the extra skater for team USA against Canada in the 2022 Rivalry Series. Murphy didn't look as though she missed a step in collegiate play as she slotted back into her top line spot.
"It was really great," Murphy said on her return. "Obviously I watched the games when I was away, but it's a lot different physically being here. I'm just really grateful to be back, especially here in a new place with all my best friends."
Murphy got the scoring going for the Huskies as she buried her eighth goal of the season with 12:39 left in the second period. Müller and freshman defender Jules Constantinople added assists on the play.
"It's great to have her back," said Northeastern's associate head coach Nick Carpenito. "You always know when Murph's around but you always can kinda feel when Murph's not around, so we're happy that she's back, stepping in right away and doing what she does."
Sophomore defender Tory Mariano got into some penalty trouble with 8:52 left in the period as she went off for cross-checking. Northeastern dictated a lot of the play however, highlighted by graduate student forward Chloé Aurard almost managing a breakaway chance while on the penalty kill. Aurard, who currently leads the NCAA in career shorthanded goals thanks in part to scoring two so far this season, had the puck sticked away from her to negate the rush.
However graduate student defender Maude Poulin-Labelle fed Murphy for the forward's second goal of the game soon after the Aurard opportunity for the short handed tally. It gave the Huskies the two-goal lead with exactly seven minutes to go in the period.
"I think Maude really set me up with a perfect pass," Murphy said. "If that pass ended up behind me or up on the boards it doesn't happen, so I think it was just the right place at the right time."
The remaining time on the clock was mainly dictated by the Huskies, and they headed back to the locker room with a two-goal cushion.
Princeton was not to be deterred as they started the third period, turning away Northeastern chances and trying to hem the Huskies in their own zone. Junior forward Sarah Fillier managed to get the puck up ice to forward Issy Wunder who skated right to Philips on her own breakaway. Wunder fired the puck into the back of Philips' net to cut the lead in half, the freshman's second goal in her young NCAA career.
The Huskies rebounded after giving up the goal, drawing a power play after sophomore forward Mia Coene received a body checking penalty. Northeastern set up the cycle with their top power play unit, allowing Aurard to feed senior forward Peyton Anderson from the faceoff circle to Olnowick's left. Anderson put the puck between the goaltenders legs into the net for her third goal of the season.
"She's got an elite shot," Carpenito said. "One of the things we talked about last week with her was shooting low, and it paid off today."
Following the Anderson goal, the Tigers put a lot more pressure on the Huskies. They once again kept the puck in their offensive zone, however the Northeastern defense limited them to just four shots in the final 20 minutes.
Senior forward Maggie Connors put Princeton on their fourth penalty kill of the afternoon thanks to a tripping penalty with 4:43 left in regulation, and it did not take long for the Huskies power play to strike for a second time.
A scramble in front of Olnowich's net allowed for the puck to rebound off sticks in front before finding its way back to Murphy in the slot. She fired it home past a sprawling Olnowich to complete the hat trick with 3:46 left on the clock. Anderson and Aurard both picked up their second points of the day with the assists.
The hat trick, Murphy's second in as many games, gives her 10 goals on the season. After Friday's contest she's now up to 22 points in just 13 games played, which is two back of the team lead — currently held in a tie by Müller and Aurard.
Carpenito did note that the Huskies got surprised slightly by their opponents in the first period.
"They just came out with a lot of pressure," he said. "They're a fast team. In our league we've got a pretty decent amount of speed, but I think they may have caught us off guard a little bit. … Once we got our legs under us I thought we played a lot better."
Coming into this game Northeastern hadn't played a non conference opponent since their opening weekend set against Long Island. While this win won't count for conference points, playing against two nationally ranked opponents is a great opportunity for the Huskies to show their strength.
"It's huge to get a non conference win," Carpenito said. "Especially in a conference like the ECAC."
Northeastern closes out their weekend in Nashville with a second ranked opponent, this time against Cornell, another tough opponent
"They're going to be a team we're going to definitely need to be ready for," Carpenito said. "They haven't played in two weeks, so they're gonna be fresh but they might be a little rusty, so we want to make sure that we jump on them early and let them know we're there."
The Huskies are right back at it Saturday afternoon with their second game of the Smashville Showcase. Mike Puzzanghera and Matty Wasserman have full coverage from the Ford Center on WRBB Sports+ of Northeastern versus Cornell live when the puck drops at 4 p.m. EST.