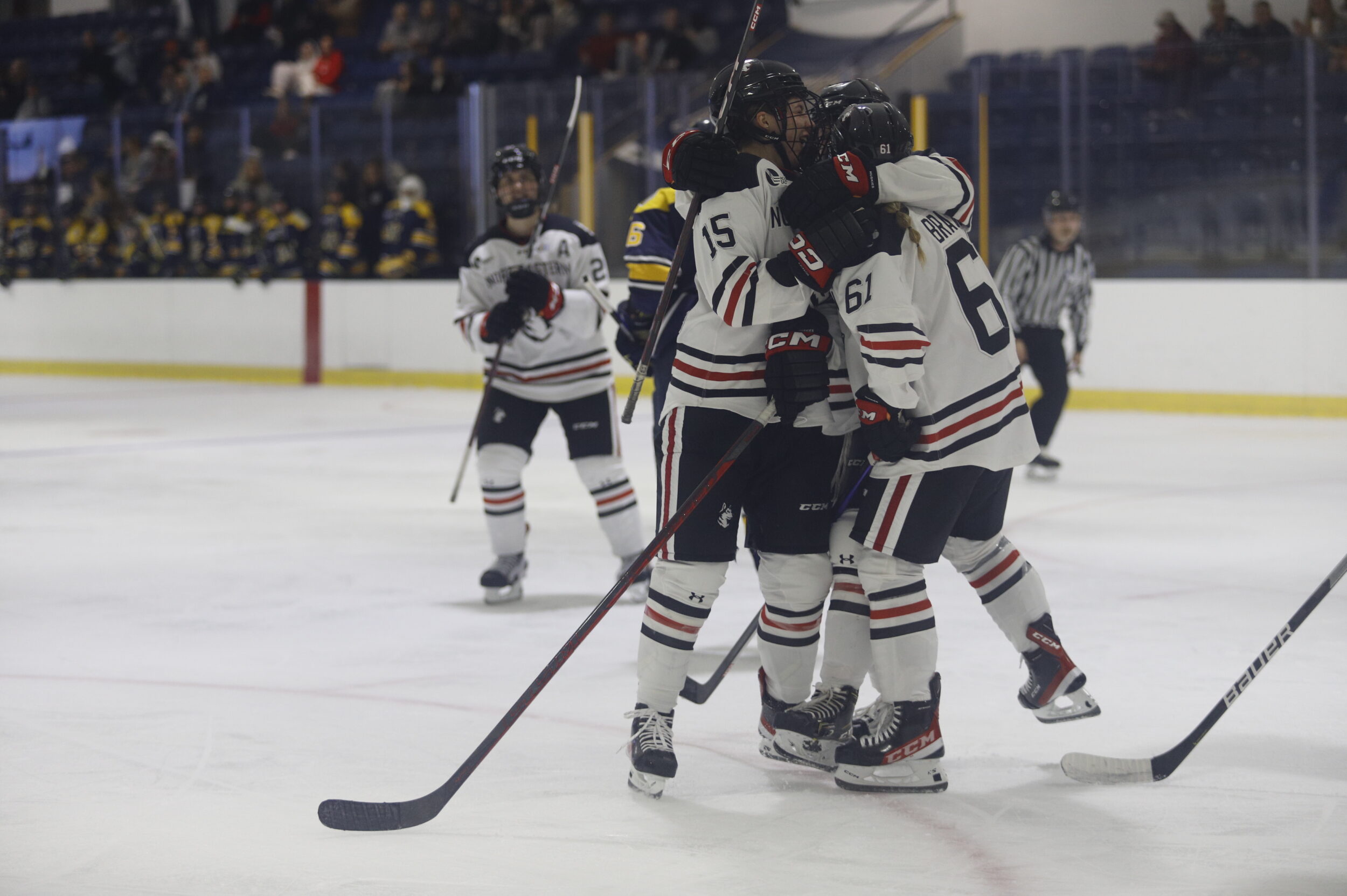 A 10-year-old Mia Langlois took to the ice at Rodman Arena in Foxborough, Massachusetts for yet another hockey tournament. Playing for her New Hampshire-based team, the Windham native was no stranger to competition. But one girl from the opposing team would not leave Langlois alone. The two players were getting testy, physical, and on each other's nerves.
"She was clearly their best player," Langlois recalled. "Everyone knows you go for their best players, so we were getting each other mad during the game."
The final buzzer of their matchup would sound. In the back of her mind, Langlois continued to think, "Who is this girl, No. 16, who is she? Never heard of her." As she walked up the stairs into the lobby of Rodman, she saw the exact girl who had bugged her for the whole game, only to see their fathers having a conversation.
"We were already heated at each other because we just spent a whole game going after each other," Langlois said.
That other girl was Lily Brazis – who would later become Langlois' club, high school, and now collegiate teammate. From that moment on, in Langlois' own words, they "became inseparable."
Brazis and Langlois would go on to play most of their hockey careers together, and now are freshman teammates on Northeastern's women's hockey team. Their junior hockey paths would cross at Cushing Academy, a prep school in Ashburnham, Mass., with Cam Lund and Jackson Dorrington, who are also thriving in their freshmen season on Northeastern's men's hockey team.
"It's really cool that all four of us ended up here at Northeastern after going to Cushing," Lund said. "Cushing was a great school, look where it got us."
Where it all began
Langlois and Brazis first took the ice together for the North Shore Vipers, a club team based out of Tewksbury, Massachusetts, then shortly after with the Boston Lady Whalers Elite 2004 team. On March 10, 2018, both future Huskies received their official acceptances to Cushing Academy, and just one month later, April 9, 2018, they would win the USA Hockey U14 Tier II National Championship with the Vipers together.
Before they even started their high school careers at Cushing together, Brazis and Langlois spent the summer of 2018 going through the college recruitment process. Brazis, from nearby Saugus, Massachusetts, had always had Northeastern in the back of her mind, ever since she was a little girl.
"Jerry [Keefe], the men's coach, knew my family pretty well," Brazis said. "I was always hearing good things, like walking into my homeroom in elementary school and all of a sudden the men's team walks in to give autographs. Those things, you never forget, and maybe that could be you one day, giving back to your community, knowing that you're a Husky."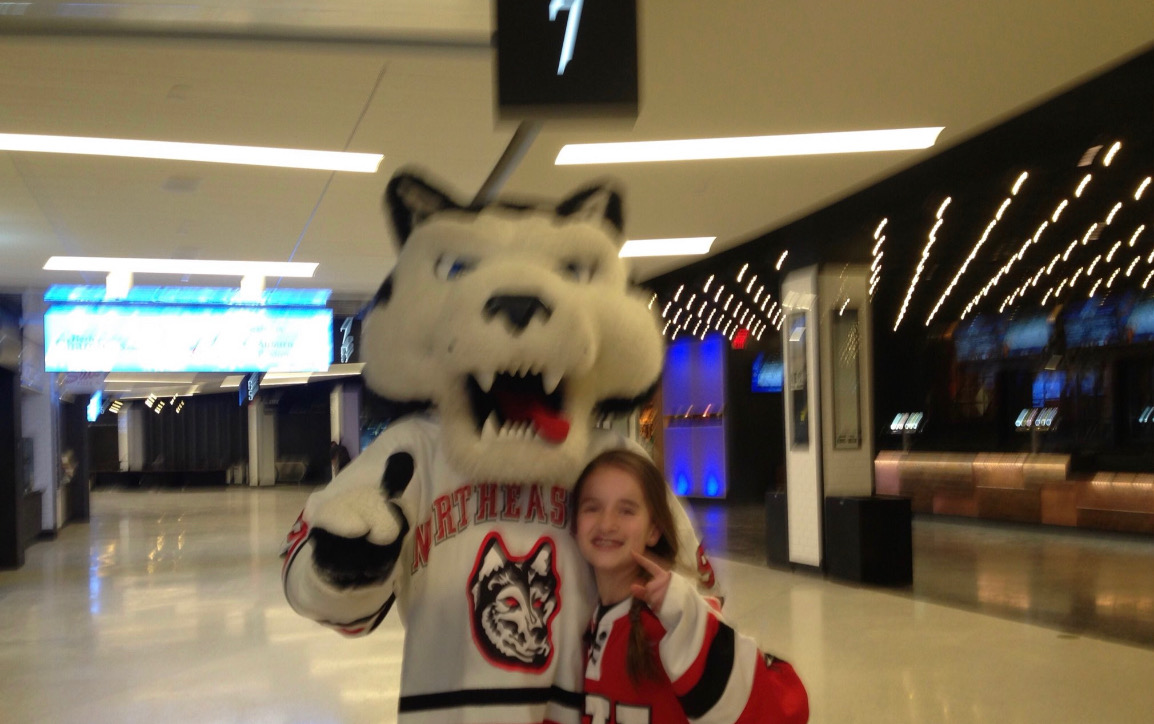 Brazis verbally committed to Northeastern July 30, 2018. And less than a month later, on August 19, 2018, Langlois announced she would be joining her longtime friend and teammate with the Huskies.
Though they had been playing together for so long, Langlois and Brazis kept their recruiting processes fairly separate. However, they always kept playing college hockey together in mind before making their decisions.
"The only time we talked about it was the night before Lily committed," Langlois said. "She texted and was like 'Hey, I just want you to be the first to know, I'm committing to Northeastern.' It took me a couple of weeks later to do that, she obviously was the first to know from my end, too, because she did the same thing for me. We went out to lunch one day, and I was like, 'This is it, I'm going to be committing here too.'"
Both players felt that after their years-long journey together, they owed an advance warning to one another.
"We thought it was only right for each other to know before the whole world knew, other than your family," Brazis said.
After committing to Northeastern ahead of their freshman year of high school, the two would go on to have fantastic high school careers at Cushing Academy. Langlois and Brazis each starred, tallying 115 points and 103 points, respectively. The two would lead Cushing to a NEPSAC Small School championship in 2020, Langlois notching the game-winner in just her sophomore season.
Cushing connection
In the years after Langlois and Brazis' commitments, Northeastern would find itself with two more Penguins joining them in future years, Dorrington and Lund.
Dorrington announced his commitment to the Huskies Oct. 1, 2020, over two years after Brazis and Langlois. Lund followed shortly after, making his announcement Nov. 25, 2020. Neither of the women's players spoke with the men's players before the commitments, with Langlois citing the COVID-19 pandemic as a reason for their distance.
"Fall of 2020 was a weird year for all of us," Langlois said. "That was our COVID year, so the boys had actually moved out of school before we did. [Lily and I] moved out three weeks into junior year, and the boys left maybe a week and a half in. They went to juniors, … they committed when they were away, so I don't think we talked to them until after. I know I didn't talk to Jackson or Cam after until it was like a 'Hey, congratulations, I'm so excited for you.'"
Dorrington and Lund have a substantial history of their own, playing together at age 10 and competing in the 2014 Brick Cup together for the Boston Jr. Bruins.
"I feel like we got to know each other there, and we're at college together now, so it's kind of cool to see how it all ended up," Lund said.
Lund's path overlapped with Dorrington's multiple times before linking up as Huskies together. Lund played at Cushing from 2018-20, while Dorrington joined him in 2019 and remained a Penguin until 2021. During their respective recruitment processes, Dorrington made sure that his teammate and long-time friend had Northeastern at the forefront of his mind.
"When I committed to Northeastern, Cam ended up reclassing so he could actually commit," Dorrington said. "I definitely was in his ear, telling him, 'Come to Northeastern, you've got to, we're going to load it up.'"
Lund agreed, confirming how Dorrington's influence helped to play a role in his eventual decision to commit.
"He committed before me, and I remember asking him about it, because I was talking to Northeastern, and he said all good things about it," Lund said. "Knowing he was going there, it definitely helped, getting more info from Jackson after already committing there."
After their commitments, the duo would play together once again for the Jr. Bruins in the 2020-21 NCDC season, as well as rooming together when the team made its way to Florida in January 2021.
"It was super fun," Dorrington said of their time living together. "Neither of us knew how to cook, so one time, I put the pesto on the electric stove, and it burnt all over the place, silly things with cooking when we were 16 that we didn't know how to do."
When Brazis and Langlois found out that there would be two more Cushing graduates joining them as Huskies, they were pleasantly surprised. Initial expectations were high for the men's players, and Langlois remembered her reaction when she found out about their decisions.
"We kind of waited for them to commit," Langlois said. "They were the kids where it was like, 'I can't wait to see where he goes.' To see that it was at Northeastern, we were like, 'Wow, we're probably going to be friends with them for a while now.' We were really excited."
Transitioning to college
Having each other as a support system gave each athlete a sense of comfort as the transition from high school to college began. As the time came for them to leave Cushing, Brazis mentioned how much having Langlois at her side eased her into the team.
"It's comfortable, walking in and I have someone I played hockey with for six years," Brazis said. "Knowing that if there's someone you need to go to ask, 'Does this look right to you?' or 'Is this a mistake,' that mentality helps as well, having that comfortableness."
Langlois agreed with Brazis' sentiment, noting that their long-time friendship helped with the emotional change of becoming a collegiate athlete.
"For me, it was so easy coming in because not only do we have a whole team of friends right away, but I already knew I had someone who I grew up with," Langlois said. "I had her at any time I needed, so it was easy. … Especially this summer, the heartbreak summer, where everyone was leaving for college, it was always like, 'Oh, I'm staying with Lily, there's nothing better than that.'"
Lund also noted how knowing that he had two familiar faces from high school in Brazis and Langlois, beyond Dorrington as his teammate, made the transition to college easier.
"Knowing that they're going here too, it was just two more people that I knew coming in," Lund said. "I knew that if I needed to ask them about anything, I could. It was a good resource to have if I needed it."
Now, each pair hopes to carry their experience playing together into their collegiate careers in Boston. In high school, Brazis and Langlois frequently played on the same lines, and that chemistry is something they know they'll have in their back pocket as their season progresses.
"We played together for freshman year, then sophomore and junior year we weren't together, then senior year we came back together," Langlois said. "Our coaches obviously know we have that good chemistry together, so I think if they need to resort to that, they could. They know that we could handle that and we could have our chemistry lock[ed] in right away."
The two have made a few appearances on the same line this season, with Langlois knocking in her first career goal November 5 versus New Hampshire. Brazis has tallied three assists of her own, and she made sure to recognize how having Langlois by her side in practice has motivated her when preparing for games.
"If you're not pushing each other then you're doing something wrong," Brazis said. "Obviously, you want to keep improving, so having that outlet to always make sure you're improving is what you want."
Lund and Dorrington also aim to utilize their longtime career together as an asset this season. Lund, who was selected by the San Jose Sharks with the 34th pick in the 2022 NHL draft, has proven to be one of Northeastern's best players in his freshman season, highlighted by his hat trick against Boston College. Dorrington believes their positional play gives the two of them an early advantage.
"We've had some good chemistry," Dorrington said. "He's a forward, I'm a [defender], so I'll be moving pucks to him all the time."
Penguin pride
The legacy she left behind at Cushing was something Langlois felt strongly about, reminiscing on the uphill battle that she foresaw her high school career to be. She entered Cushing knowing expectations for the team were low in her freshman season. When the Penguins exceeded that forecast and won the 2020 NEPSAC championship the following season and sustained that success throughout the rest of her career, it left her feeling satisfied that she had made a lasting impact on the program.
"It's definitely very exciting," Langlois said. "It's an honor for us, … I think we left Cushing in a good spot, and the girls that are there now are going to continue to bring that up. Cushing has a really good name for themselves, and it's an awesome feeling to be here knowing that we spent our four years of high school at Cushing."
Though she's no longer part of the program, Brazis hopes that the current team achieves the same level of accomplishment that she was able to experience.
"We always want to keep that name up and have them shoot for what we had, winning a championship, all that," Brazis said. "We came up from Cushing hockey to here now, the boys as well, we were both in the Elite Eight, all that. I don't think you can put it into words, having that."
And especially inside the locker room, filled with players following a similar high school to pre-professional to collegiate pathway, Dorrington has a lot of pride in the program that set him on his path.
"We're the Cushing guys," Dorrington said. "It's really cool especially since a lot of the guys on the team went to prep school too. … We've got to represent well."
Brazis, Dorrington, Langlois, and Lund will look to carry the legacy of their time as Penguins forward into their Huskies careers, and it already seems to be working. Three more Cushing products, men's players Billy Norcross and Nolan Hayes and women's player Rylie Jones will join their fellow former Penguins at Northeastern next season.
The future thus far looks bright for Northeastern's hockey programs, and the four former Cushing players are more than ready to make their mark on a collegiate level, never forgetting the high school that made them the athletes they are today.