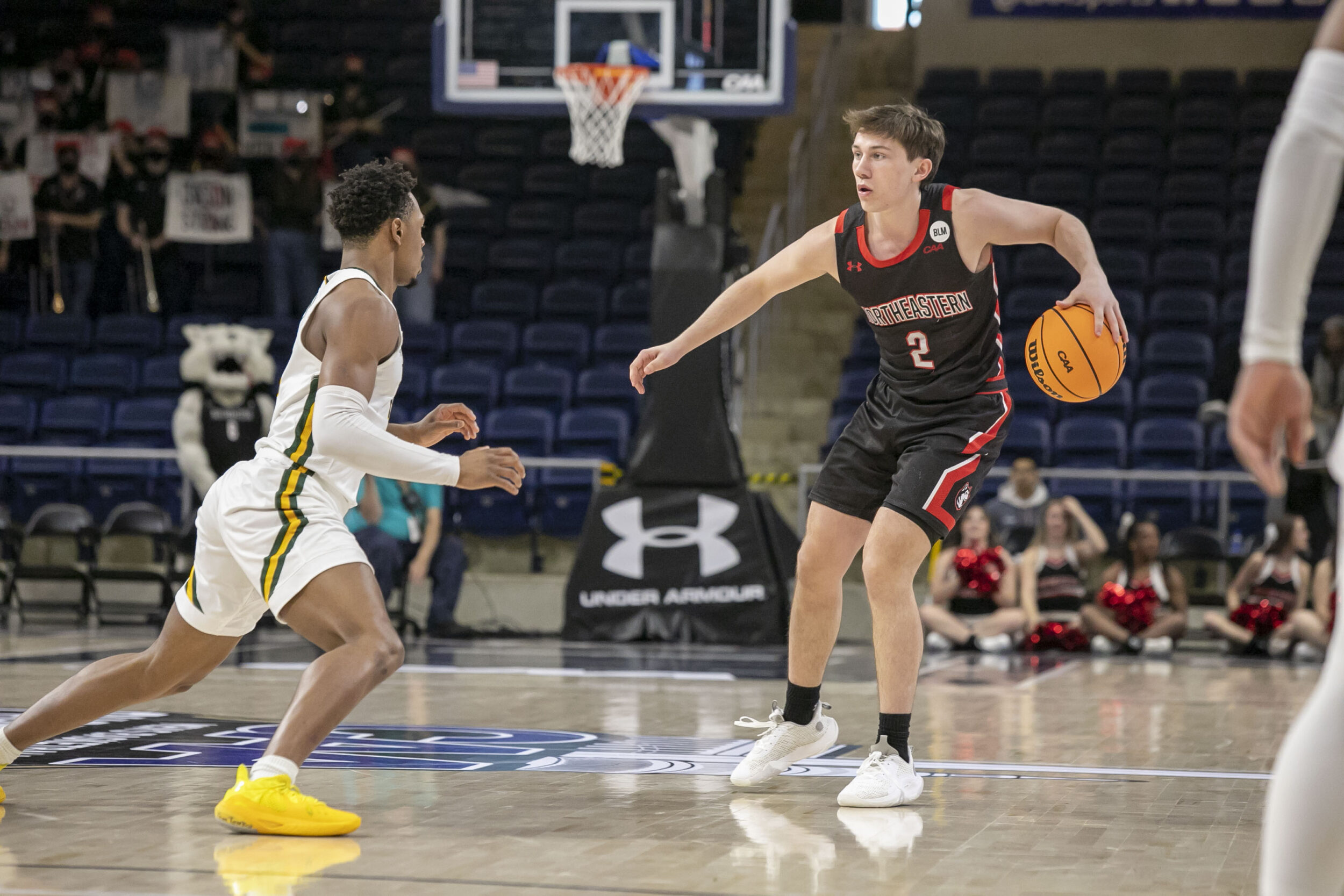 Friday was another night of missed shots and disappointment for the Northeastern Huskies.
After Northeastern made some positive strides at the London Basketball Classic over Thanksgiving break, grabbing their first win of the year against Manhattan and nearly earning another one against an impressive Princeton squad, the Huskies flew to Georgia for their final game of the year against a high-major team. Their two previous high-major games, against Providence and Syracuse, ended in blowouts. While Georgia Tech's lack of a dominant size advantage gave Northeastern some hope, ultimately, the result was the same. The Huskies fell 81-63 in a game that was never close after the first eight minutes.
For Northeastern, the box score tells a familiar story. The Huskies shot just 36% from the floor and 20% from beyond the arc, missing 20 threes on the evening. Sharpshooter Coleman Stucke, who came into the night as the Huskies lone shooter connecting on over 35% of his threes, hit none and finished 1-7 for two points overall. A slew of other Huskies ended with multiple threes attempted and none made, including guards Harold Woods, Jahmyl Telfort, Masai Troutman, and To Randriasalama. Northeastern has been incredibly reliant on the three ball all season, but they've struggled with consistency. The Huskies are averaging 25 attempts from beyond the arc per game, but hitting only seven of them, a rate of under 30%.
Attempting to penetrate the paint hasn't gone much better for Northeastern. As has been the trend for the Huskies, slashing to the basket resulted in turnovers and sloppy kickouts more often than not against the Yellow Jackets. Northeastern also once again struggled to get anything offensive out of their big men, as starting center Chris Doherty missed a third-straight game with injury. Junior Alexander Nwagha finished with eight points on 3-5 shooting, but he also turned the ball over twice and committed four fouls. Freshman Collin Metcalf played primarily in garbage time and scored only a single basket to go with one turnover and two fouls of his own.
There were at least a few bright spots for the Huskies on offense, however. Telfort scored 10 points on an efficient 5-9 shooting and added three assists in the first half to help the Huskies keep the game close in the opening minutes. However, he failed to contribute after the break, ending his night at 11 points. The junior continues to increase his efficiency compared to last season, but he still must be more assertive on offense to help Northeastern score. Freshman Jared Turner continued to show signs of being the best shooter the Huskies have to offer, going 3-5 from deep and scoring 10 total points. He completed a four-point play in one of the highlights of the evening. Turner also tallied five rebounds.
Fellow freshman Troutman, who had fallen out of favor in head coach Bill Coen's rotations as of late, played primarily in the second half when the game was out of reach, but he did something no Husky has managed to do consistently yet this season: get to the free throw line. Troutman took 12 shots at the charity stripe, hitting eight of them. His lone points on the floor came in the form of an and-one dunk, reminding Huskies fans about his prodigious athleticism.
On defense, the Huskies played fairly well. No Georgia Tech player had a night to remember, but talented sophomore guard Miles Kelly did manage to score 16 points on an efficient 5-9 line, while sophomore forward Jalon Moore took advantage of the depleted Northeastern frontcourt to score 16 points of his own, albeit on a 3-10 line from the floor. Moore did his damage on the boards, grabbing nine rebounds, and by getting to the line often, where he shot 10-10.
But the story of the Northeastern's season continues to be their struggling offense. The Huskies have not reached 70 points in a game this season. Against Georgia Tech, they exhibited all of the issues that have plagued their offensive attack. Preseason all-conference selection Telfort showed flashes of brilliance, but also stretches where he disappeared and a penchant for being bottled up by zone defense. Stucke has also appeared to take a big step forward in some games, but tonight he was invisible. None of the freshmen have injected consistent offense; their top two freshmen against Tech, Turner and Troutman, scored zero combined points against Princeton last weekend. Scoring and passing from the center position remains a struggle behind the injured Doherty.
And perhaps most glaring of all, it is clear Northeastern is still without a reliable point guard, their biggest issue from last season. Freshman and Georgia native Chase Cormier, who was inserted into the starting lineup for the first time of his young career, salvaged three assists in the final minutes, but scored only three points. Usual starter Glen McClintock scored only three points himself with just one assist.
Northeastern will soon enter a softer stretch of their schedule, featuring struggling teams such as Holy Cross, Illinois-Chicago, plus NC A&T, Stony Brook, William & Mary, and Hampton to start conference play. If the Huskies continues to struggle in this stretch, the questions about some of Coen's unique strategies this season — bringing in six freshmen and zero transfers, not courting a true point guard, beginning the young team's season with a demoralizing nonconference slate, and relying on the three for a team that isn't elite at shooting — will grow louder.
Before that stretch begins, Northeastern faces another challenge Sunday against a strong Georgia State squad. They will return to Matthews Arena for just the second time this season at 2 p.m. Justin Diament, Daisy Roberts, and Reece Calvin will be on the call for WRBB 104.9 FM.