Schenectady, NY — In a non-conference meeting billed as a must-win, Northeastern instead fell flat on Saturday, suffering a backbreaking 3-2 defeat to Union. Former Husky netminder Connor Murphy, now in his second season with the Dutchmen, dominated in his first meeting against his old team.
For Northeastern, a middling Union squad presented a golden chance to get their season back on track. Instead, the Huskies suffered another deflating setback, and one of their worst losses of the season.
Union had not played a game in three weeks, and their rust was evident from the jump. It took them until the halfway point in the opening frame to notch a shot on goal. Northeastern wasn't much better however, getting their first shot against Murphy nine minutes in.
The Huskies did score first, on a beautiful give-and-go by freshman Jack WIlliams and sophomore Jack Hughes off a blue line turnover. Williams punched the pass in from the doorstep for his fourth goal of the year, and his seventh point in as many games.
The first period would end with the ice tilted in Northeastern's favor: They doubled up the Dutchmen in shots 10-5 and were driving play for the entire 20 minutes. The second started out the same way, but a failed power play opportunity gave Union some momentum and they didn't look back from there.
With just over seven minutes to go in the second, a splendid seam pass from Union's freshman defender John Prokop sprung senior captain Owen Farris on a breakaway and he executed to tie the game up at one.
Sophomore Justin Hryckowian would lead the response for the Huskies, scoring his tenth goal of the season from in close after a nifty move to switch the puck to his backhand just four minutes later.
But after that, Northeastern collapsed.
The Huskies allowed a power play goal to tie the game with a minute left in the second, and played one of their worst 20-minute stretches of the season to close out the game in the third. Northeastern looked sluggish, and gave up the lead midway through the frame off a snipe from Union's senior forward Chris Theodore.
The final horn sounded on a disappointing 3-2 loss, and what followed was an embarrassing display. Three separate brawls broke out, resulting in game misconducts for Union's Owen Farris and Liam Robertson, and roughing minors for Sam Colangelo and Cam Lund.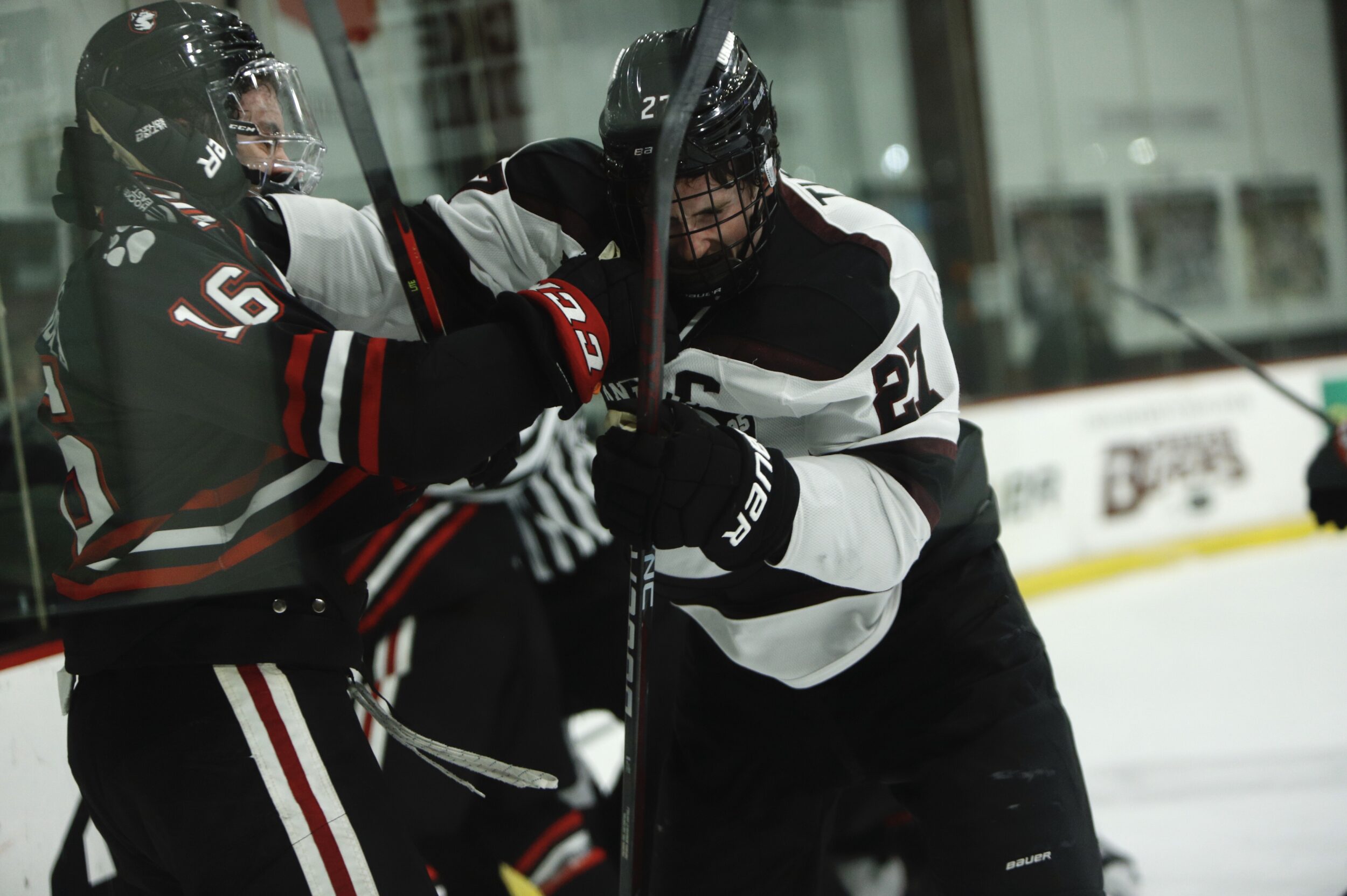 Northeastern's December schedule features all non-conference games against opponents ranked lower than them in Pairwise. Entering the matchup against Union, the Huskies had lost 3-of-4 and needed to get back on track against a weaker opponent. They did just the opposite.
If Northeastern can't beat Union, who can they beat? This team has been streaky of late, beating an impressive BU squad only two weeks ago, but losing to Maine in a shootout last month.
Once they get through this non-conference slate in December, Northeastern has to go through a gauntlet in the second half. They play UMass, UMass Lowell, and Merrimack twice apiece, and UConn three times. That's not even to mention the Beanpot, a new year's day meeting with Harvard, and a one-off against Providence in February.
This loss dropped Northeastern spots in the pairwise down to 23. They won't have a chance to move up over the next 4 games, as all their opponents are in the bottom third.
Next up is a date with Sacred Heart on Tuesday. Two of WRBB's finest, Matty Wasserman and Khalin Kapoor, will be on the call from Bridgeport starting at 7 p.m. on WRBB Sports+.