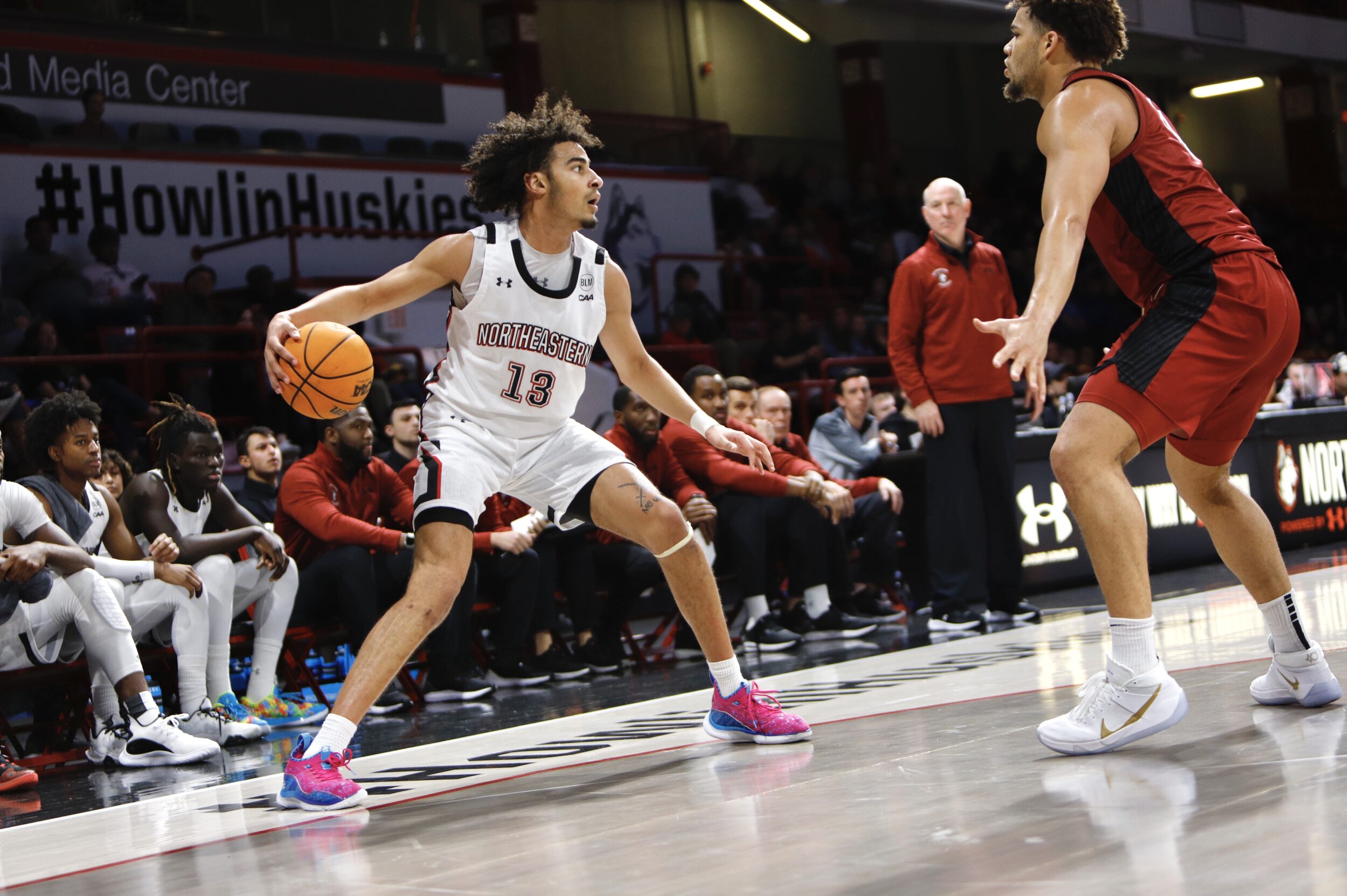 BOSTON — After losing yet another game to Georgia Tech, the Huskies were desperate to get back in the win column. Back in Matthews Arena after a four-game road trip, Northeastern faced Georgia State, a Sun Belt team that had gone 5-3 entering Sunday's game. The Huskies got off to an early nine-point run and up 11-2 and never looked back, coasting to a 66-44 victory. The game felt over just minutes after the opening tip, as Huskies' defense was simply too much for Georgia State.
The high energy brought on by Northeastern head coach Bill Coen's squad left Georgia State without answers, as they struggled to get any shots to fall, including a 1-20 shooting mark from three. Meanwhile, Northeastern's Jared Turner was perfect from beyond the arc, hitting all three of his shots from deep and letting the visitors know it. Hitting the Michael Jordan shrug twice this game, his confidence was not in question.
"[Turner] is a young man that plays with tremendous energy," Coen said. "He's a terrific shooter, and I think as the other parts of his game evolve, he's going to be a really good player for us."
One of the most surprising results of the game was the disappearance from Georgia State's lethal sophomore duo of forward Ja'Heim Hudson and guard Dwon Odom. Entering Sunday's game, the two had yet to be held to under 24 combined points in any game this year, but the Huskies seemed to have their numbers. It took a garbage-time basket from Hudson to become the lone Panther in double-digits with 11 points despite his abysmal 5-13 shooting, while Odom scored eight points on as many shots.
With one of the hardest nonconference schedules in the CAA, Northeastern is used to playing as scrappy underdogs, and they kept that attitude as their aggressive defense allowed them to hold their opponents to just 28% from the floor. They also out-rebounded the Panthers 50 to 24.
Though Sunday's victory was just Northeastern's second of the season, more wins appear to be on the horizon as the Huskies outplayed their opponents in just about every meaningful statistical category. Junior guard Jahmyl Telfort led the way in scoring, logging 20 points for the home side as center Alexander Nwagha held down the paint, scoring 15 with 14 rebounds while securing himself as an in-house favorite.
"Really, really proud of [Nwagha] and the hard work he put in," Coen said. "It started in the spring of last year, had a really tremendous summer for us, and continued to work. … I think he's really stepped up his play."
Despite the scoreline, this home team's showing was far from flawless. The offense continued to look confused at times, and being one of the lowest scoring teams in the nation, they have yet to surpass the 70-point mark in a game this season. Their 16 assists were dwarfed by the 18 turnovers, many unforced errors, which only amplified their need to find a consistent point guard.
"The way I view the nonconference schedule is to get guys ready for conference play," Coen said. "We're trying to get those guys as much seasoning and get as much experience at that position as we can. Working [Chase Cormier, Rashad King, and Glen McClintock] into the rotation is a little bit tough, but I think it's worthwhile over the next three nonconference games, where we can get guys ready so our point guard play gets to the point where we can compete in the CAA."
Despite the steller output from Nwagha and slasher Telfort, the Huskies struggled to find other consistent paint threats, and it showed on the box score as they were responsible for all but one of trips to the free throw line. For a team that ranks in the bottom 25 of FTA per game, it is an ever increasing weakness Coen has yet to solve. With hope for  the eventual return of Chris Doherty, the Huskies will be able to create a more prevalent paint presence to complement their optimistic guard play.
After traveling the globe, Northeastern will stay at Matthews for a little longer with their matchup against the Holy Cross Crusaders Dec. 10. The Huskies should expect a high scoring affair as the Crusaders are one of the fastest paced teams in the nation. Daisy Roberts, Justin Diament, and Justin Chen will have the call on WRBB Sports+ for the 2 p.m. tipoff. Until then, Northeastern can hope Sunday's win will mark the start of a new beginning entering the final slate of nonconference play.