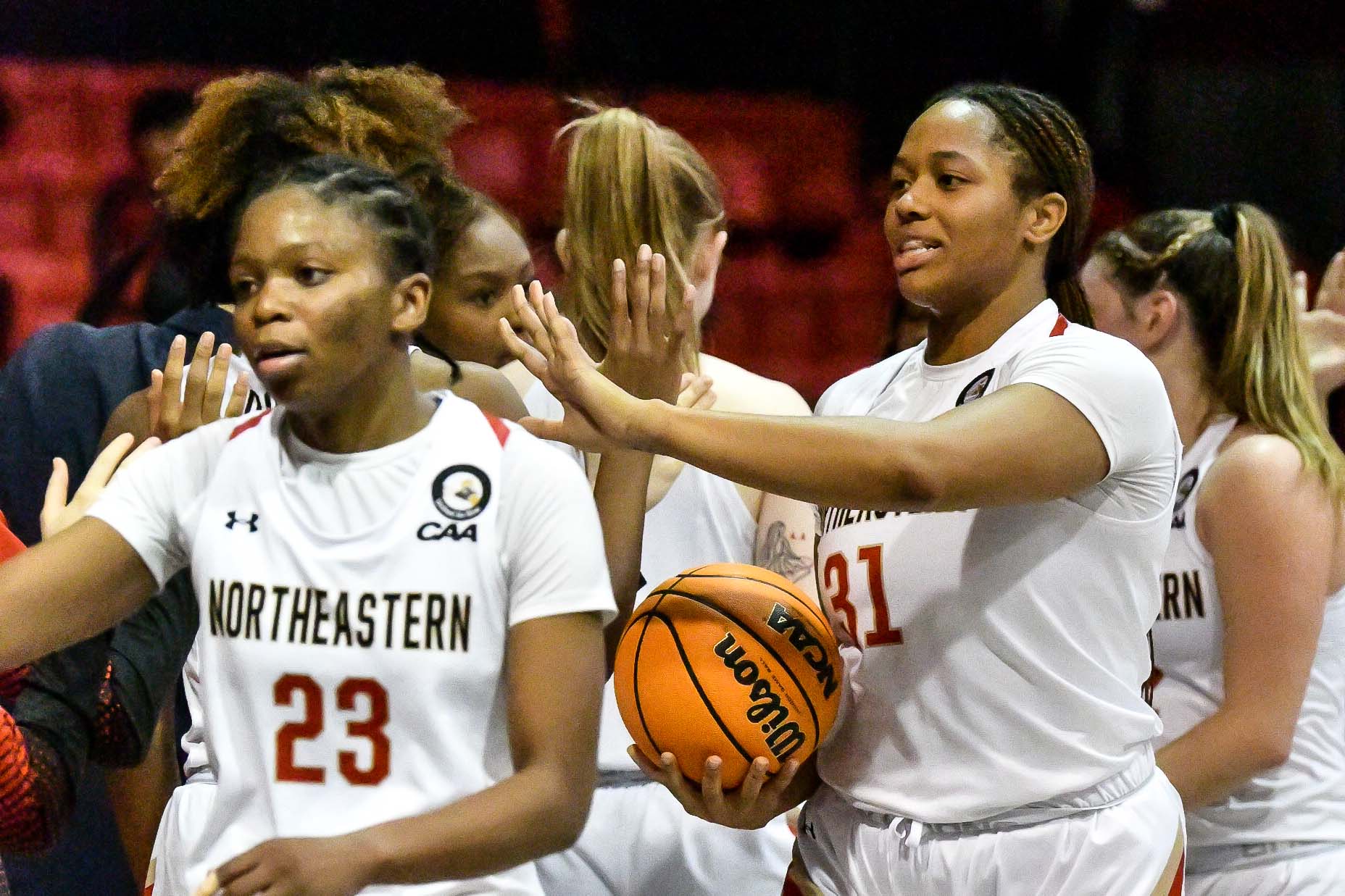 Northeastern may have been playing Harvard on Monday night, but it was the Huskies who were red hot in the 73-64 win over the Crimson. From start to finish, Northeastern essentially couldn't miss, shooting 64.4% from the field in the game, including 67% in the first and third quarters.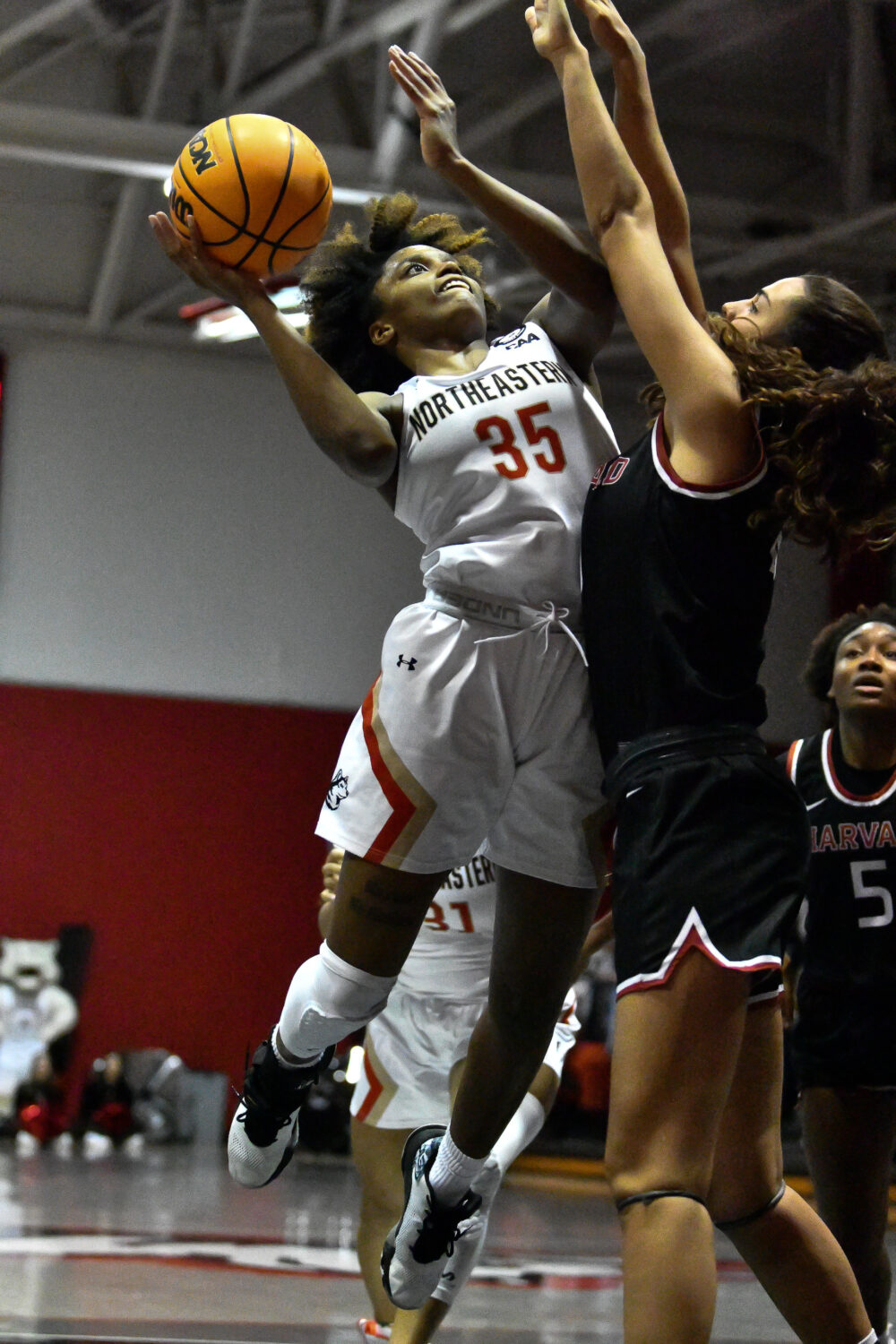 On the other side, Harvard shot 36% for the game. Their star sophomore guard Harmoni Turner finished with just five points on 2-15 shooting. Turner entered the game scoring 19.3 ppg, good for 36th in the country, and was shooting 44% from both the field and beyond the three-point line. Against the Huskies, she was muted offensively, tossing out five turnovers to go along with her poor shooting.
From the get go, the game appeared to be an offensive onslaught as the Huskies held a 19-17 lead after the first quarter of play. Six Northeastern players scored in the first quarter, while senior guard McKenzie Forbes was the center of the Crimson offense with nine points in the opening frame.
Forbes' three first-quarter triples were indicative of the defensive challenges Northeastern opened with. Its 2-3 zone was initially picked apart as Harvard flung 11 shots from deep and just five inside the arch, connecting on five of their triples and one of their twos.
In the second quarter the Huskies moved to a man-to-man look that allowed them to break the game open. The defense began to force tougher shots and Northeastern's star scorers got hot. Sophomore guard Gemima Motema built on a solid opening period by tallying eight points, and her backcourt partner Derin Erdgoan poured in 11 of her own. Motema and Erdogan each flexed their playmaking abilities as well, combining for 11 assists in the game.
Ball movement was something that head coach Bridgette Mitchell was proud of Monday night.
"After our Holy Cross game, we went back and talked about our post touches and our ability to play inside and out," Mitchell said. "We got our post touches, if they didn't have anything they kicked it out, which we were happy to see and we just played a really solid all around team effort game on the offensive end."
In the second quarter Northeastern also turned their solid defense into more offensive opportunities, forcing seven turnovers and scoring 10 points off of them. After entering the second quarter up by two points, an Erdogan buzzer beating triple gave the Huskies a 15 point lead entering the half.
The second half was more of the same as the Huskies continued to ride their hot shooting. Erdogan added 10 more points while sophomore guard Camille Clement had nine of her career high 12 points in the second half.
Junior forward Halle Idowu also continued to dominate, blocking two shots in the second half and finishing with double-digit rebounds for the second game in a row.
"Halle was everywhere," Mitchell said. "I was really impressed with Halle and her ability to come out and get those rebounds. She's becoming that person we can rely on [to get rebounds]. It's nice to have an identity as a player, when you go in you're like 'I'm going to get you those rebounds, Coach,' and that feels great."
Entering the fourth quarter, Northeastern held an 18 point lead, and while Harvard did cut it to nine in the end, it never got all that close. Some late pressure from the Crimson may have shown potential weaknesses for the Huskies down the road but as far as Wednesday's game was concerned, no amount of Northeastern turnovers could rain on their shooting parade.
Northeastern moves on to face Stonehill Dec. 20. The Huskies will be in North Easton for the 6 p.m. tipoff.