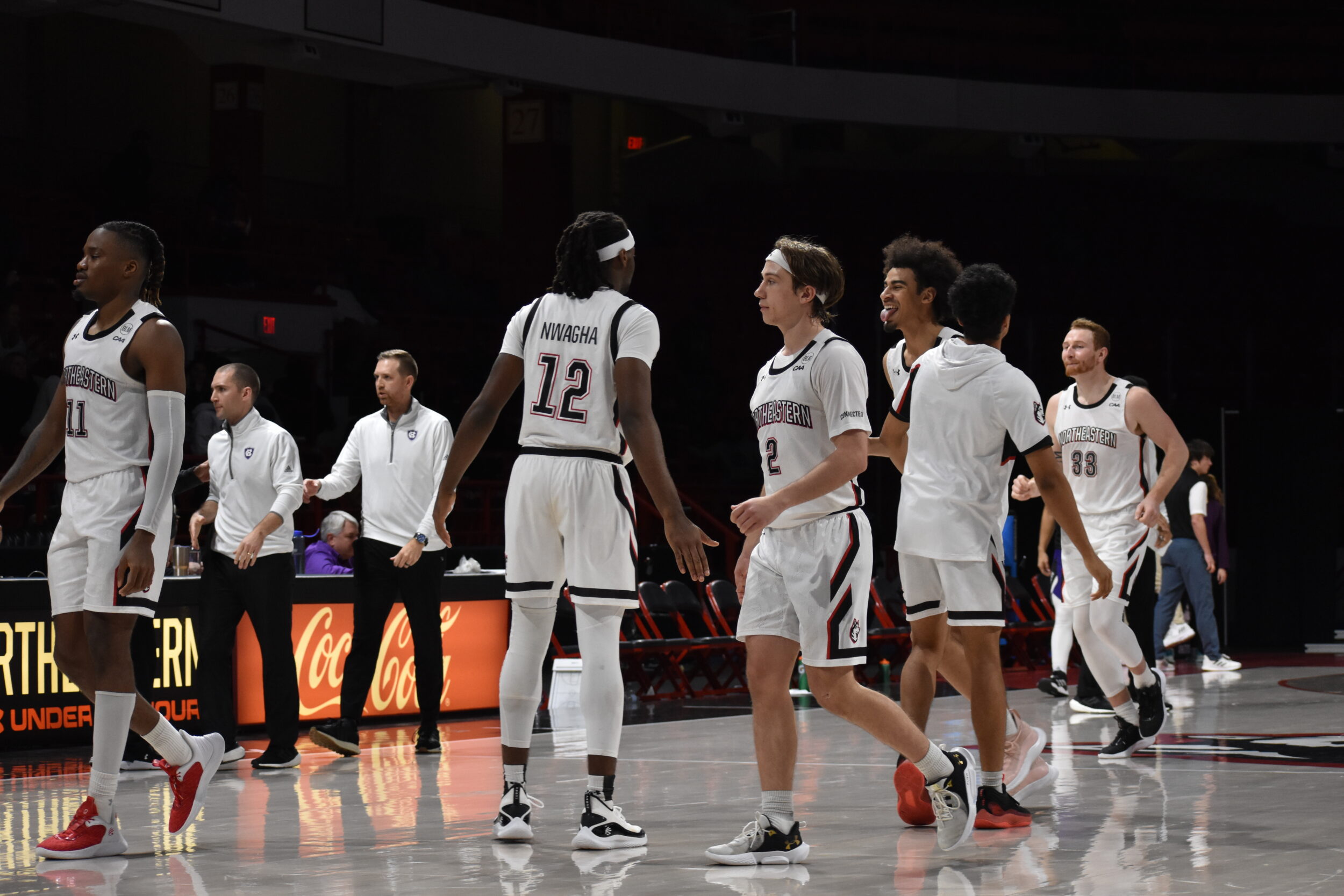 It hasn't been the smoothest ride through nonconference play, but Northeastern (4-7) is still afloat after a brutal stretch in which they only conjured up one double-digit win — a 66-46 victory over Georgia State.
The Huskies just flat out haven't put together a complete 40 minutes of play in any of their games so far, and it needs to change.
But after closing out their 11-game nonconference slate with a 73-70 win over 7-4 Davidson (hey, they only lost to No. 1 Purdue by 8!), there are signs of life that head coach Bill Coen should be able to work his magic and build upon.
In order to succeed in the restructured CAA (hello Stony Brook, NC A&T, Monmouth and Hampton), here are five things that the Huskies absolutely have to do.
1. A solid, everyday starting point guard needs to emerge
Coen is a guard whisperer. He just plucks kids out of seemingly nowhere and turns them into stars. Over the years, Tyson Walker, Vasa Pusica, Jordan Roland, TJ Williams, and David Walker have come through and the Huskies have run the offense almost entirely through them.
Through 11 games this season, no comparable players have risen to the top. Between junior Glen McClintock and freshmen Chase Cormier, Rashad King, and Masai Troutman, the point guard race seems wide open.
When Coen signed the three freshmen guards, it was clear he was making a statement to take the road of recruiting versus the shiny allure of the transfer portal. But now they must show up for conference play.
If you want to compare the four options, there's pluses and minuses for each. McClintock looks much better off the ball as a catch-and-shoot option. Cormier has the most assists of all of them, but is shooting just 30.8 percent from the floor. Troutman is explosive but much more of a slasher than distributor. And King had a great start against Davidson (seven boards, five assists), but hasn't scored more than five points.
So maybe Coen didn't find the next Tyson Walker in this year's freshman class, but a serviceable option must be in there somewhere.
2. Feed Jahmyl Telfort whenever you can
Telfort looks like the scoring threat he was poised to be after his breakout rookie campaign in 2020-21, where he averaged 11.8 points per game. Now in his junior season, he's at 16 points per game and has been the Huskies' best offensive threat, getting to the hoop any way he can.
Last year his three-point percentage fell to 24.8% , however it's up to 35.7% this season on a little under four attempts per game. His shot selection has also clearly improved, as he's now up to 48.9% and has made an effort to get shots up from the paint, like this winner in the Huskies' victory over Davidson.
Telfort has also been great off the ball so far and has shown he can find gaps in the defense for easier buckets. In this one, he seals off his defender and takes a beautiful entry pass from senior forward Chris Doherty for two.
He's got five 20-point games and should be the go-to guy going forward. Just feed it to him!
3. Limit turnovers and respond better to pressure
Coen always says that around 10-12 turnovers is not a bad thing; it shows you take chances and aren't too scared to run your offense the right way. He certainly makes a point.
But, uh, being the 314th-ranked team in assist-turnover ratio in Division I just looks careless.
The Huskies have to limit turnovers and respond when their opponent brings pressure. In the London Classic semifinal game against Manhattan (ranked 335 in NET), the Huskies were up by seven with over six minutes to play. The Jaspers pressed and forced some bad turnovers and quick, ill-advised shots that broke up any momentum Northeastern might have had. The Huskies ended up winning in overtime, but it was ugly.
And against Davidson, the Huskies opened with the best four minutes of the year – they were going up 16-9 on a solid A-10 team before the Wildcats pressed and forced the Huskies to cough up the ball again. Northeastern was able to close out a tough victory on the road in their best win of the year, but man was it a grind.
4. Keep Chris Doherty healthy for the tournament
This man is simply a beast. He's one of the best rebounders in the CAA and is phenomenal on the offensive glass. Last year he played almost a full season and averaged over three offensive boards a game. This year is a different story as he's only seen six games of action.
Doherty's health has always been somewhat of an issue, but if he's managed well and junior Alexander Nwagha can help fill in some minutes, Doherty should hold up and help this team make a deep tournament run.
Doherty's scoring can also change a game. In the last three contests, Doherty has averaged 12.7 points and seven rebounds. If he can emerge and give 20-25 solid minutes a night, the Huskies will benefit greatly. Just look at plays like this, where he absolutely bulldozes his way to the paint:
Doherty can dance with the best bigs in the conference and run through them if he can stay on the floor. Besides his injuries, Doherty has had trouble with fouls. Against UIC, he fouled out of the game after only playing 20 minutes, and he had to walk on eggshells in the win over Davidson as he played with four fouls for the last four minutes of the game.
Maybe then his minutes can go up even more, and that would certainly benefit the Huskies.
5. Beat the newbies
There are four new faces in the conference, and none of them have seen the full wrath of Bill Coen just yet. NC A&T (282 NET), Stony Brook (331 NET), Hampton (342 NET), and Monmouth (358 NET) are all statistically worse than the Huskies so far this year.In order to grab a higher seed in the 13-team conference tournament in March, Northeastern has to find some wins here.
This is the best the CAA has looked in a couple of years. Charleston (53 NET) has two quadrant 1 wins and has won 11 in a row. UNCW (73 NET) has won nine straight and has a quad 1 win. Towson (155 NET) is deep again, and Hofstra (125 NET) is always a threat.
Those are probably the top four seeds unless a team like Northeastern, Delaware, or Drexel can make a move up. Hopefully a difficult nonconference schedule with some adversity — a Coen classic — has hardened Northeastern, but they need to take care of their new friends before playing with the big boys.
The Huskies will start their journey to Washington, D.C. on Thursday night at home in a matchup with NC A&T.
WRBB will return to on-air coverage of Huskies' basketball for their matchup against Stony Brook on Dec. 31. Eamonn Ryan and Khalin Kapoor have the call from Matthews Arena, with tipoff scheduled for noon.