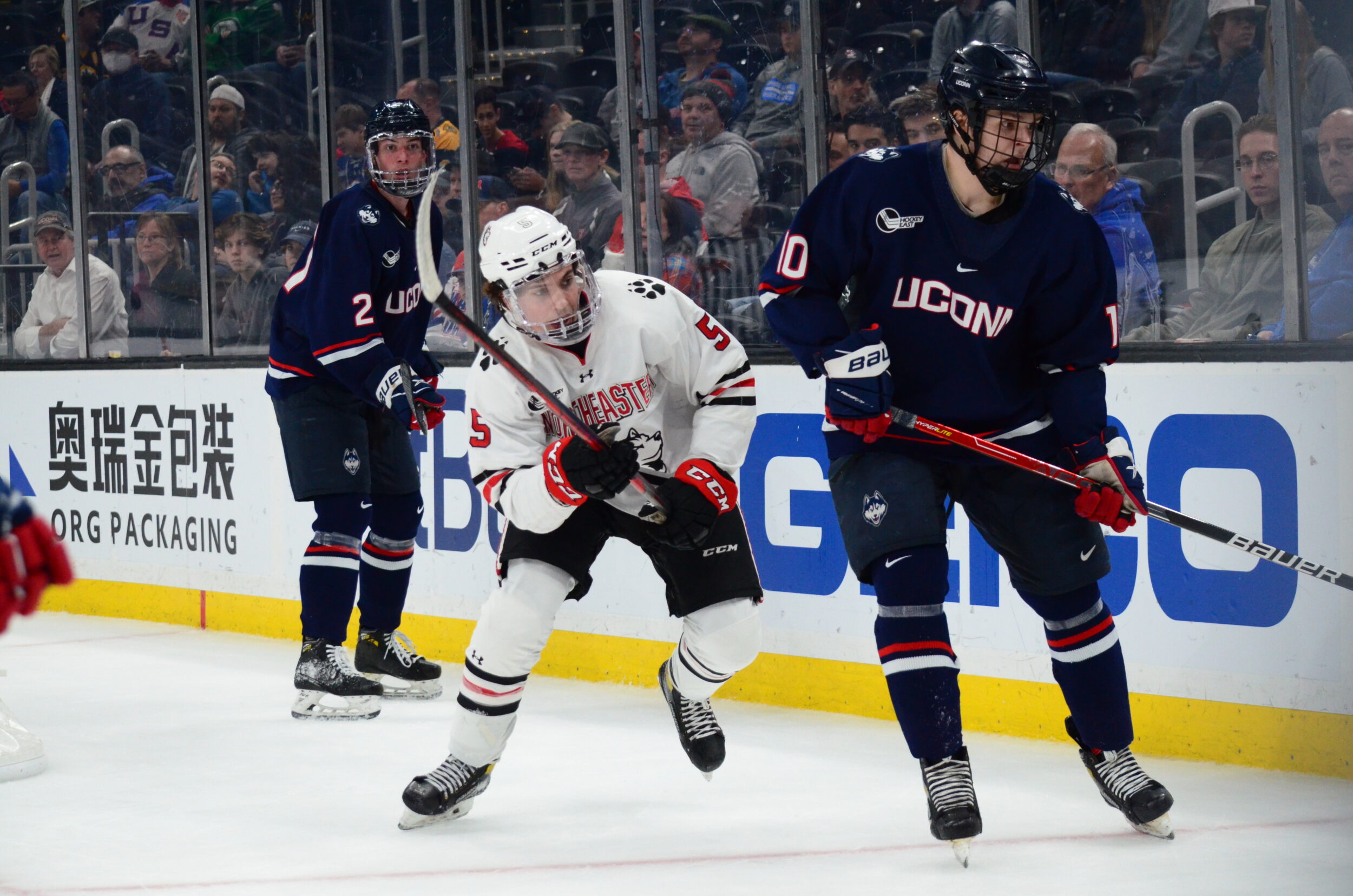 In their last matchup, Northeastern suffered a 4-1 loss against UConn in the Hockey East Semifinal game at TD Garden. Now, in one of the most anticipated games of the year, Northeastern looks for revenge at Fenway Park.
This isn't the first appearance outdoors for Northeastern. At the last Frozen Fenway event held in 2017, the Huskies skated to a 2-2 tie against UNH.
Northeastern is 1-6 in their last 7 games, with their only win coming in overtime against LIU on December 18th.
"We are not hiding from our record and where we are," said Northeastern head coach Jerry Keefe at Friday's Frozen Fenway media availability. "We can't do anything about the last four or five games other than learn from it. We've lacked that swagger and that confidence… it hasn't been an effort thing."
"We know we haven't played our best hockey yet," added Northeastern's captain, senior forward Aidan McDonough.
Even with their struggles, Northeastern's second line of Gunnarwolfe Fontaine, Jack Hughes, and Sam Colangelo has been buzzing of late, with each forward riding their own point streak entering this game.
"With Jack's line with Fontaine and Colangelo we can have one of the best 1-2 punches in the country," said Keefe. "They feel good about where they are right now… Their second effort has been off the charts."
Star netminder Devon Levi will be in the cage for Northeastern, looking to rebound after giving up eight goals to Harvard in his last start. Since his 41-save shutout against BU on November 18th, Levi is 1-6 with a save percentage of.863, although the defense in front of him has not done him any favors.
"Everyone here has confidence in him, we dont worry about him getting his game going," said Keefe. "He comes out the next day and works his butt off… He's still the best goalie in the country."
UConn enters the matchup tied for first in Hockey East and ranked 11th in the Pairwise. They just swept a home-and-home series against LIU this past weekend.
Northeastern played UConn four times last year, finishing with a 2-2 record overall, however UConn has rebuilt their team with a mix of 10 new freshmen and transfers after losing many of their top scoring threats from last season. For context, 34 of UConn's 66 goals this season have been scored by new additions to the lineup.
Junior forward Ryan Tverberg leads UConn in scoring with 10 goals and 10 assists in 21 games, and junior defender Andrew Lucas has two goals and 16 assists in his first season on the Ice Bus after transferring from UVM.
One of the bigger names in this matchup is freshman Matthew Wood, who is the youngest player in the NCAA and is projected to be a top-10 pick in this year's NHL draft. Wood is third on the team in goals with seven, but first in shots on goal (60) and total shots attempted (135).
In the crease, UConn lost last year's starter Darion Hansen and has turned to sophomore Logan Terness and freshman Arsenii Sergeev to share starting duties. Both have played 11 games, but Sergeev projects to be between the posts on Saturday.
Sergeev, a Russian native and 7th-round pick of the Calgary Flames in 2021, is 7-2-1 this year with a 2.41 GAA and .923 SV%. Most recently, he made 29 saves in an overtime victory at LIU.
The X-factor for Northeastern in this matchup will be their defense, which is a unit that has hung Levi out to dry this season many times. If freshmen defenders Hunter McDonald, Vinny Borgesi, and Jackson Dorrington can limit their mistakes in the neutral and defensive zones, Northeastern should be in good shape.
This will not be a standard matchup however, as the outdoor ice sheet could cause issues for both teams as the game goes on. Temperatures are predicted to be in the low 40s for Saturday's action, so the ice surface will not be as reliable as it would be in an indoor rink.
"One thing that we do have to take into account is that the ice is going to get chippy," said UConn head coach Mike Cavanaugh in Thursday's media availability. "You might have to just dump pucks instead of trying to make a play that's tough to make on bad ice."
For Northeastern, all eyes will be on McDonough, who eviscerated UConn last year to the tune of six goals and four assists in their four matchups. It will be a personal affair for McDonough as well, as he'll have many family members in attendance at Fenway.
"I'll have around 20 family members there… it's going to be really special for everyone," said McDonough. "I've been a Red Sox fan my whole life, I went to all the previous Frozen Fenway games, I watched the Bruins play against Philly there, I'm just really fortunate and grateful to be playing out there."
It's no secret that Northeastern has struggled in the first half of the season, with a disappointing 8-9-3 record and a 39th pairwise ranking. But with only Hockey East games against higher ranked teams on their schedule for the rest of the season, they have the opportunity to climb up the rankings in the second half.
It all starts Saturday, at Fenway Park.
WRBB Sports will have live coverage from Fenway Park beginning at 2:30 p.m., with Khalin Kapoor and Emma Sullivan on the call. Tune in on 104.9 FM in Boston, or online at wrbbsports.com/listen-live.