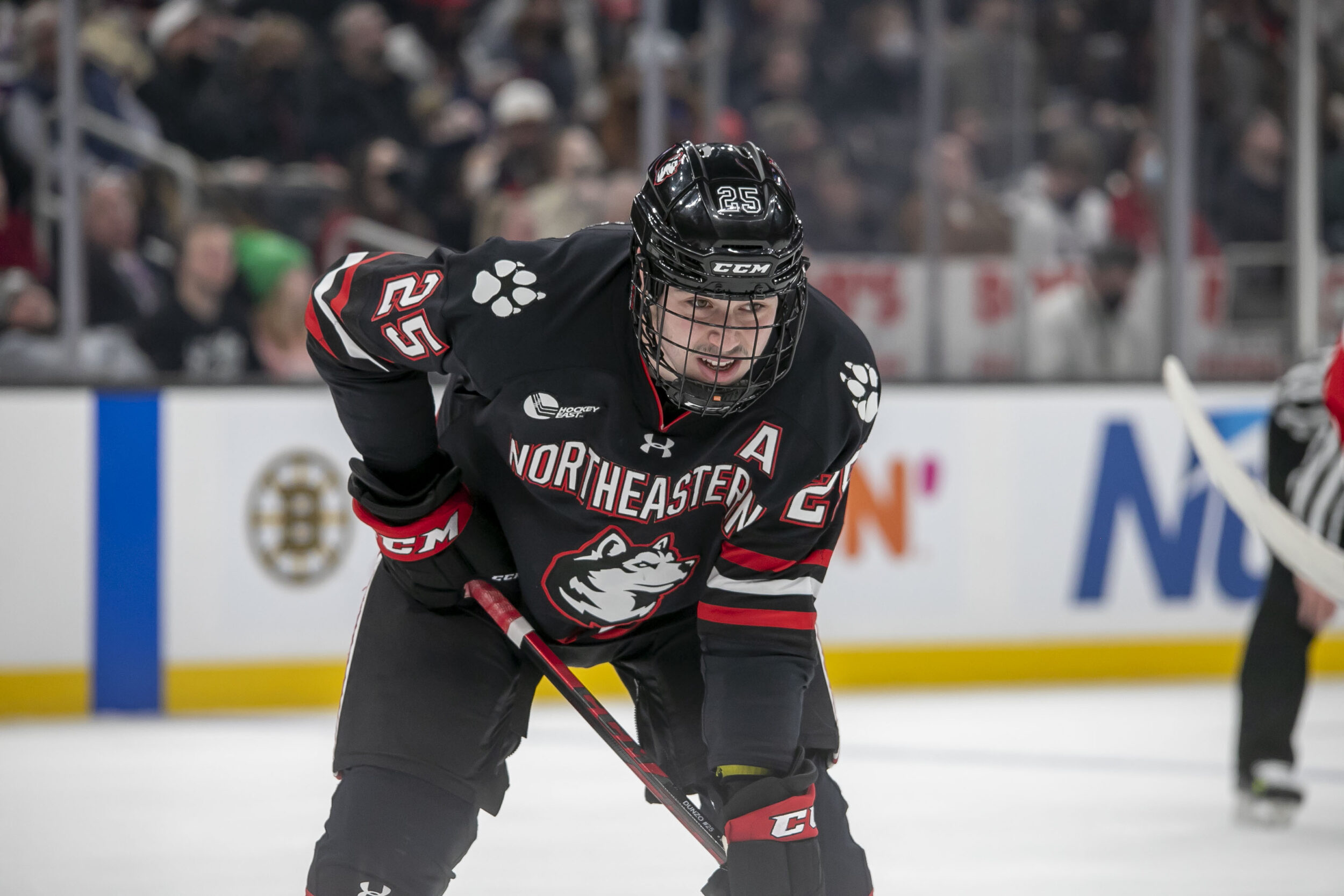 The script was unfolding in an all-too-familiar fashion for Northeastern. 
As UConn took a 2-0 lead on Roman Kinal's deflection goal midway through the second period, the blank stares underneath the Huskies' facemasks spoke volumes. UConn was dominating virtually every facet of the game, and the sloppy mistakes and stagnant play that had plagued Northeastern all season were once again proving costly. Though the deficit was just two goals, it felt like Northeastern was staring up a mountain.
After all, why should anyone have believed in Hockey East's biggest underperformer, who'd lost seven of its last nine games entering Saturday? Why should anyone have believed this team could deliver back-to-back quality performances, when it had last won two consecutive games Nov. 4 and Nov. 5? Why should anyone have believed in a team with an 0-5-1 record when trailing through two periods this season, who'd succumbed to adversity time and time again?
On Saturday, the Huskies proved those questions didn't matter. All that outside noise was exactly that — noise. And when his team needed it most, captain Aidan McDonough delivered two clutch third-period goals to lift Northeastern to a 4-3 comeback win over UConn. It's the type of character-defining victory that could reshape the Huskies' season.
"That was a gutsy win for us tonight," said Northeastern coach Jerry Keefe. "This is not an easy place to play. I give our guys a lot of credit."
On the much-anticipated grand opening of UConn's new $70 million arena, Northeastern played spoiler in a way it desperately needed, and showed the resilience and grit it had long been searching for.
Last week's victory at Frozen Fenway over this same UConn squad was a crucial first step towards turning the corner on a disappointing first semester, but there was still plenty more to prove. On Saturday, Northeastern delivered the type of performance required on a nightly basis to succeed in a deep league, and in doing so improved its record to 10-9-3 and Pairwise ranking to No. 27.
McDonough was the driving force behind Northeastern's comeback, because of course he was. Whether at Matthews Arena, the XL Center, TD Garden, Fenway Park, or Toscano Family Ice Forum, the career-long trend remained true on Saturday: Aidan McDonough is a UConn-killer. He's now registered nine goals and 15 points in nine career games against UConn, and Northeastern needed every last bit of it on Saturday.
His two goals in the third period — a deadly wrister on the power play to tie the game with 7:07 remaining, and an intercepted pass and backhand floater to take the lead with 4:52 remaining — were the end result of his unrelenting motor and attention to detail, even when trailing late. McDonough was far from the only reason Northeastern pulled off a comeback, but when the captain and best offensive player refuses to give in, everyone else follows suit.
"Going into the third period down one goal on the road, we got to be comfortable in those types of games, and we were," Keefe said. "We needed a couple of players to step up and make some big plays in the third, and they did."
How McDonough's 2022-23 season is viewed all lies in expectations. On an individual level, he's been everything Northeastern could've hoped for. His 15 goals and 29 points both lead Hockey East, and his consistent scoring and proficiency for delivering in clutch moments has been the Huskies' best weapon all year long.
But having already led Hockey East in goals last season, individual accolades have always been of secondary concern for McDonough in his senior year. He turned down a pro contract offer from the Vancouver Canucks this past offseason, opting to return to lead a Northeastern team he believed was good enough to contend for a championship. He's a relentless worker and true professional, and has remained a steadying presence even while that goal has slipped further and further from his reach.
But with performances like this, Northeastern could climb back to relevance in the second half. While no one is packing their bags for the Frozen Four in Tampa just yet, the elite talent remains in place much like it was when Northeastern was picked to win the league when the season began. And the players behind established stars McDonough, sophomore center Justin Hryckowian, and junior goaltender Devon Levi, are also showing encouraging signs of growth.
Sophomore center Jack Hughes, who entered the season with huge expectations yet only scored two goals in the first semester, sealed the game with a late power-play insurance goal. Senior transfer Liam Walsh, who craftily set up Jakov Novak's late second-period score in transition, continues to gain confidence and look more like himself. Freshman defender Hunter McDonald is turning into a flat-out star, and has been arguably the Huskies best defender over the past month.
"Three points on the road against a good team, and hopefully we can continue to keep building on these back-to-back [successful] weekends, one game at a time."
Though "one game at a time" is a tired cliche, it applies to this Northeastern team more than most. The team dug itself a deep hole, but still has enough time and enough talent to fix it. By stringing together back-to-back victories against UConn, the Huskies' proved they could preform consistently against legitimate competition. So before you write off Northeastern, just remember one thing:
Aidan McDonough isn't going down easily. And he won't let his team, either.
Northeastern will return to action next Friday, as they travel to Lawler Rink to face Merrimack. Khalin Kapoor, Daisy Roberts, and Amelia Ballingall will be on the call for WRBB Sports beginning at 7 p.m.