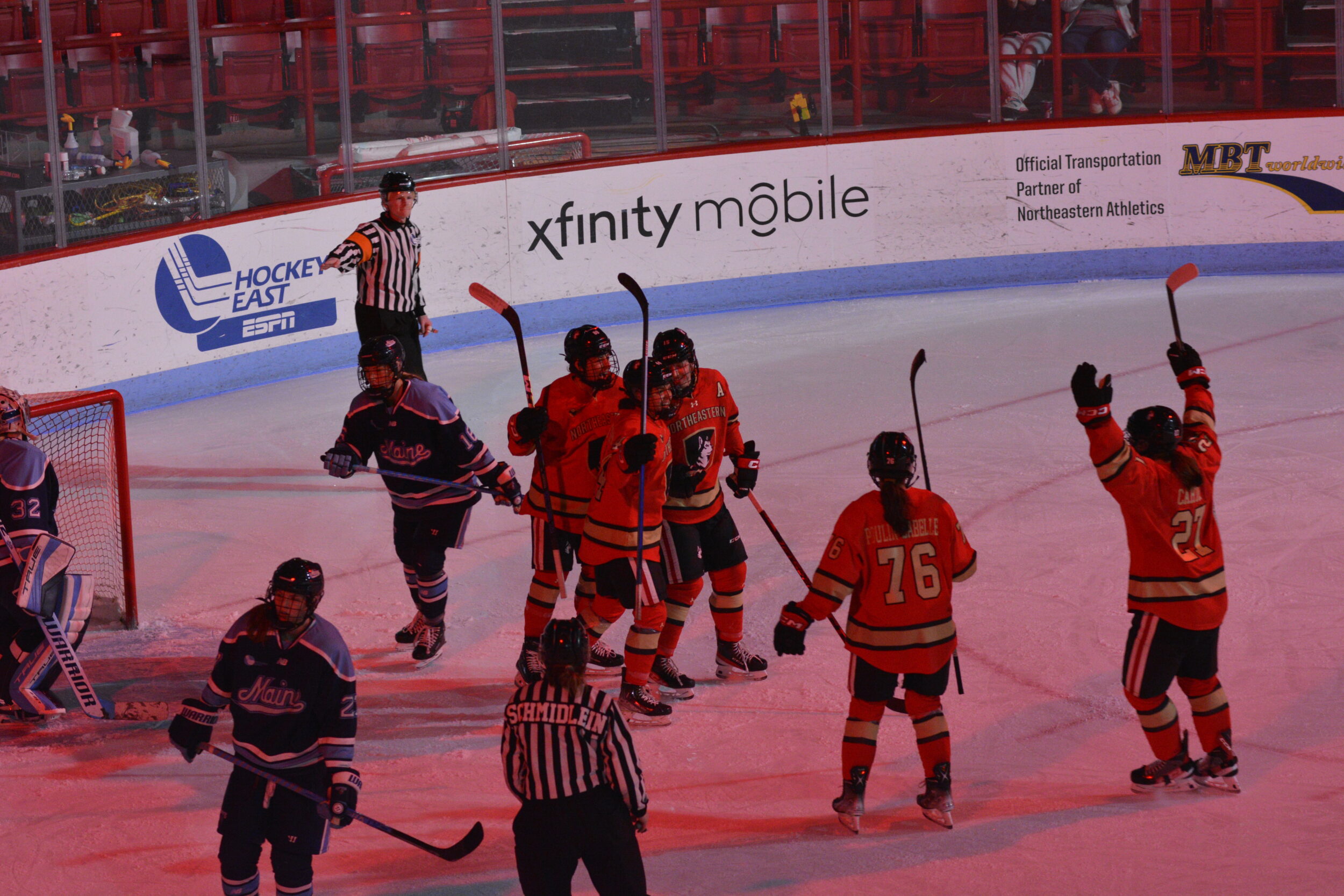 BOSTON — Northeastern faced off against Maine in a dramatic showdown at Historic Matthews Arena on Saturday night. The Huskies, riding an eight-game winning streak and coming off a gritty overtime win over Boston College Friday night, were looking to continue their dominance on home ice, while the Black Bears were looking to break out of their three-game skid and turn their season around.

The Huskies came out of the gates aggressive, controlling the pace and dominating possession time. Though it was a promising start, the Huskies were unable to convert on their early chances on Maine's junior goaltender Anna LaRose. LaRose opened the season third on Maines depth chart, but has found herself starting in net over the last few games.
Senior forward Katy Knoll had a point-blank shot saved by LaRose, and despite outshooting the Black Bears 13-4, the game remained scoreless heading into the second period.
The Black Bears' defense was able to hold off the Huskies for a little while, but it was only a matter of time before Northeastern broke through. Just 42 seconds into the second period, Northeastern senior defender Megan Carter scored the opening goal of the game. A rocket from just in front of the blue line, LaRose was never able to give herself a chance.
The Huskies continued to capitalize on their lead with graduate student forward Mia Brown scoring on a power play, thanks to a tripping minor by Maine junior defender Kennedy Little.
The Black Bears tried to mount a comeback, but the Huskies defense was too strong, and they were unable to get any shots past senior netminder Gwyneth Philips on 21 attempts.
"[I have] a little chip on my shoulder," Philips said on avenging the early season loss to Maine. "The team's as well. Maine plays us well and they pack it in. We do sometimes have trouble scoring on them historically. So to be able to put up points like that was awesome."
The highlight of the period came with just seconds remaining, as Northeastern graduate student forward Maureen Murphy scored her 99th career goal on a buzzer-beating slap shot. The crowd at Matthews went wild as Murphy's shot flew past LaRose and into the back of the net.
The third period began with the Huskies firmly in control, with freshman forward Lily Shannon netting a fourth goal just five minutes in. The Black Bears continued to fight, but it was too little too late as the Huskies continued to dominate the game. The focus then shifted from whether the Huskies would secure a three-point win to if they could earn a shutout.
The Huskies remained in control of the game, and with 6:06 left of regulation, a milestone was surpassed as Murphy scored her 100th career goal, extending the Huskies' lead to five to none. The crowd erupted as Murphy's shot found the back of the net, and Murphy was greeted by her teammates as they celebrated the moment. With an assist on Murphy's goal, defender Maude Poulin-Labelle reached her 100th career point.
"It is a career that I couldn't have dreamed of, not individually, but playing with everyone," Murphy said on her achievement. "I'm super fortunate and a lot of those [goals] don't come without passes from Alina [Müller], Chloé [Aurard], Abbey [Marohn]. I could go down the whole roster. If you had told me when I was in high school it would have happened, I would have said, 'No way.'"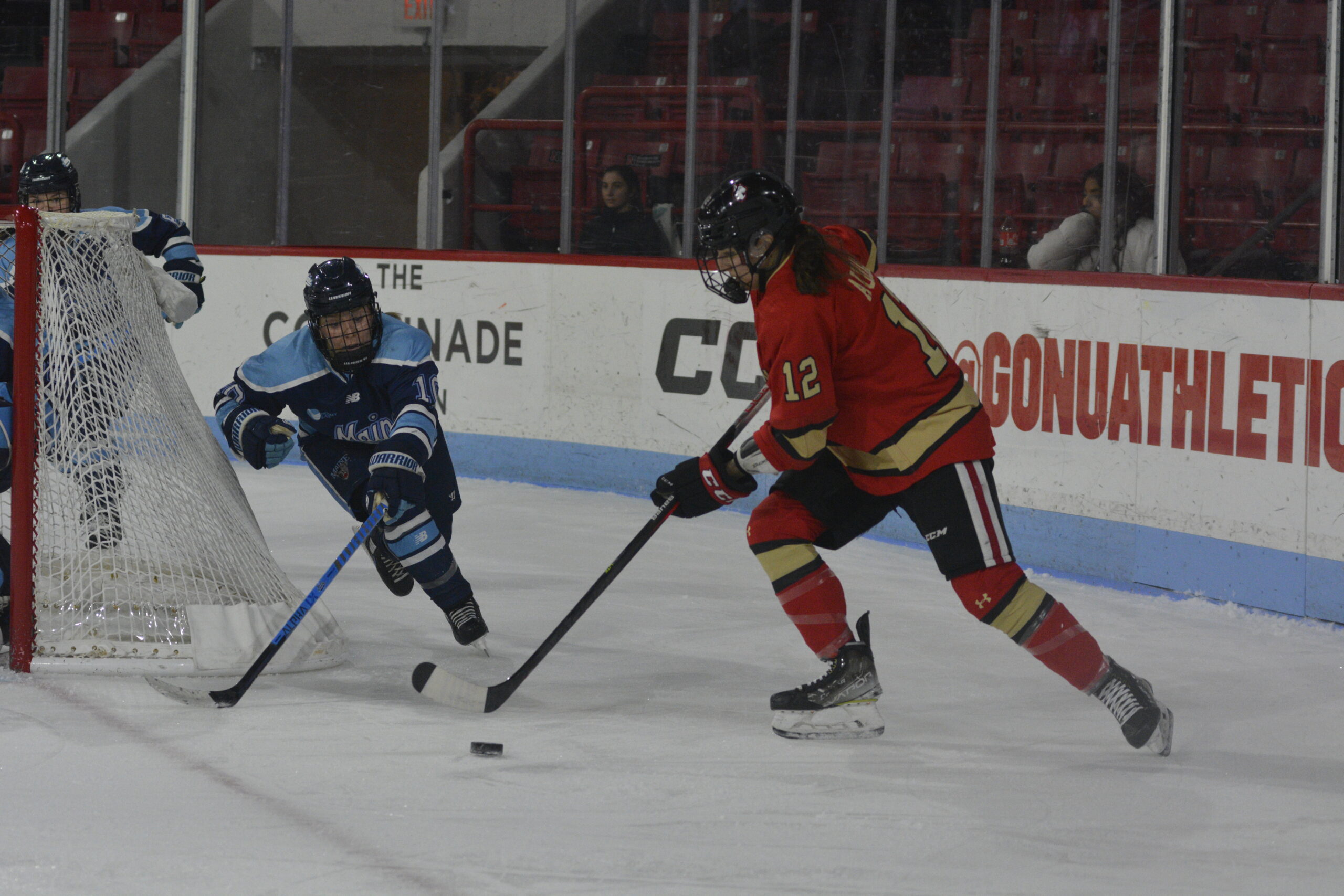 The final buzzer sounded with the scoreline reading 5-0, as the Huskies skated to a win. The Northeastern defense was as tight as a bear trap and their offense was just as dominant as they outshot Maine 39-21.
With her two goals, Murphy received first star honors. Linemate Alina Müller, who had three assists throughout tonight's game was named the second star. The graduate student continues to creep up on the all-time scoring record for Northeastern program history, currently held by Kendall Coyne Schofield. Müller now only needs 18 points in the Huskies remaining games to reach 250 for her NCAA career. Finally Philips, with her eighth shutout of the season, received the third star for her performance.
"I thought it was a great game from start to finish, " said head coach Dave Flint. "Credit to Maine, they played hard, worked till the end. Just happy to come out of the weekend with two wins."
For Philips, tonight's win marks the eighth shutout of the season, which is tied for first in the NCAA alongside Clarkson junior goaltender Michelle Pasiechynk.
"[Philips] has been rock solid," Flint said. "It all starts with the goaltending, and if we can have good goaltending, the team plays a lot looser. She's been rock solid all year. She's getting better and better each game."
The Huskies' win streak now extends to nine games, and they look to continue their winning ways as they face Merrimack Jan. 20. Daisy Roberts, Khalin Kapoor, and Amelia Ballingall will have the call for WRBB live on air from Lawler Rink when the puck drops at 2 p.m.