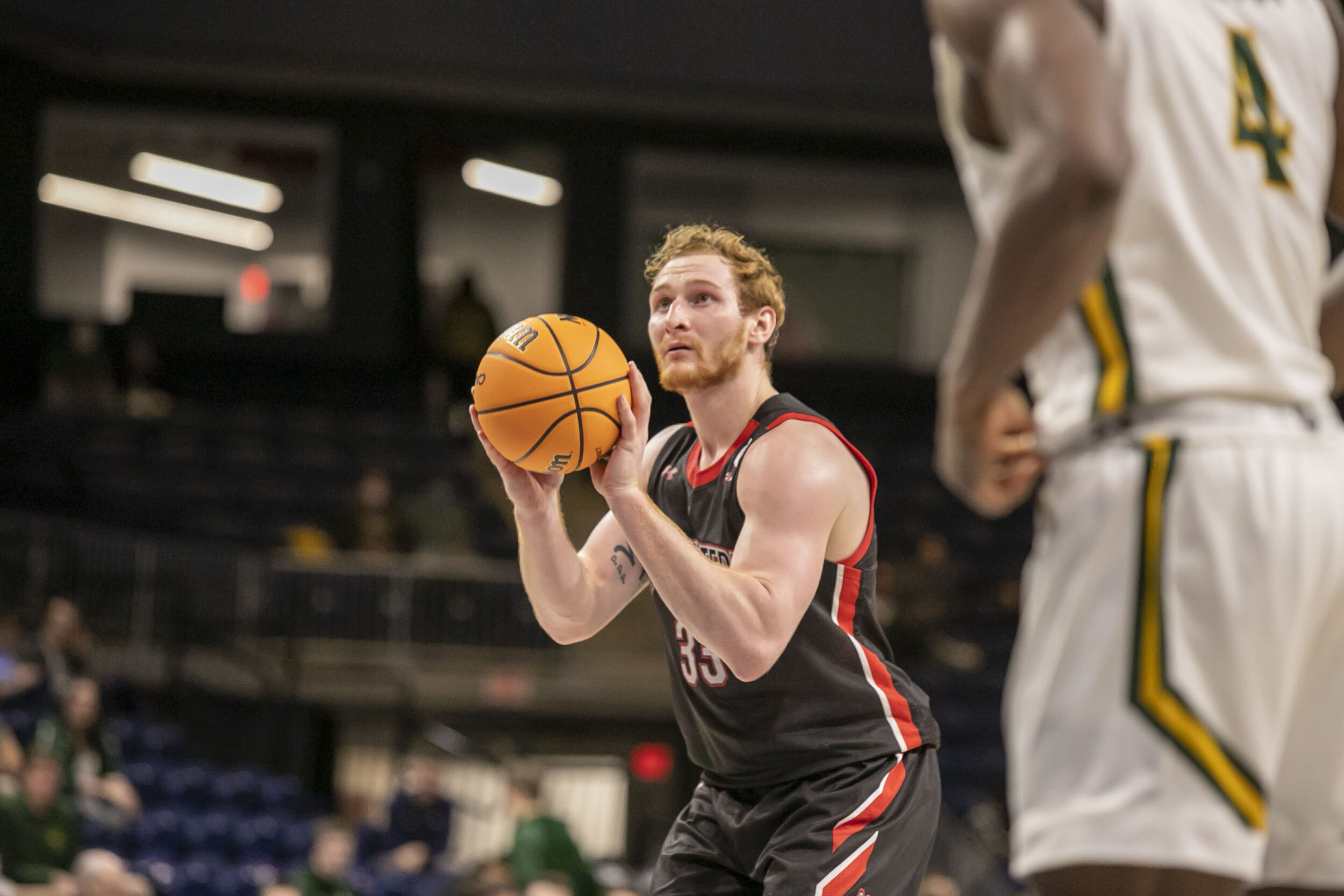 Close but no cigar is a phrase Northeastern is getting pretty tired of.
After a miracle finish in the Huskies first meeting with Delaware earlier this season at Matthews Arena gave Northeastern a one point victory, they appeared to be on the verge of a similar comeback win this time around in Newark. But it was just barely too little too late, as junior guard Jahmyl Telfort's desperation three at the buzzer clanked off the rim and the Huskies fell to the Blue Hens 81-78.
The star of the show for Northeastern was junior forward Coleman Stucke. Stucke has alternated between great shooting performance and pedestrian outings all season long, but put up the best performance of his Husky career on Saturday, leading all scorers with 34 points on 12-19 shooting and 6-13 from beyond the arc. After Northeastern was forced to play from behind for most of the afternoon due to a 14-0 run by Delaware midway through the first half, it was Stucke who dragged Northeastern back into contention.
Both teams were heavily hampered by injury. Delaware, who got star junior Jameer Nelson Jr. back from an injury that forced him to miss the Blue Hens' first matchup with Northeastern, lost reigning CAA Rookie of the Year Jyare Davis to a lower body injury during warmups. Delaware was also missing graduate student starter L.J. Owens.
Northeastern started the game healthy, but the Huskies lost one of their own stars in junior Joe Pridgen. The guard reaggravated an ankle injury late in the first half that had forced him to miss the Huskies last game against Towson. Pridgen had been Northeastern's star of the game in their first matchup with Delaware and was on pace for a similar performance today, grabbing nine rebounds in just 15 minutes.
The Huskies' lead scorer Telfort made it through the game, but was roughed up fighting for rebounds, injuring his back. He also had to miss a stretch in the second half after getting poked in the eye. Telfort has been on a bit of a cold stretch lately and Saturday was no different, shooting 0-5 from deep and not taking advantage of smaller Delaware defenders in the paint and in the post as much as the Huskies hoped. Five assists in 37 minutes on the court helped salvage the day for Telfort, who continues to play titanic minutes.
Northeastern went into halftime trailing by six, but things could have been much worse. The Huskies held Nelson to just five first half points, including an 0-4 mark at the line, out of character for Nelson, who has shot 76% on free throws this season. Foul trouble was also brewing for both sides, with senior forward Chris Doherty picking up three first half fouls for Northeastern, plus junior guard Gianmarco Arletti being charged with three for Delaware, and an armada of Blue Hens, including Nelson, sat at two.
Across the late first half and early second half, Northeastern treaded water, sticking around thanks to some buckets from Stucke and a 3-4 shooting line from beyond the arc for freshman guard Masai Troutman. Doherty continued to be a non-factor for Northeastern, picking up yet another foul, forcing him to wait out the bulk of the half on the bench. Delaware flirted with disaster as well, with Nelson sitting at three fouls and others in the three to four foul range.
As the minutes began to tick away and Delaware continued to snuff out the Huskies' comeback attempts, Stucke took over. He rained down four threes, the expected piece of his game as a sharpshooter, but he surprised Delaware with drives to the paint, going 5-5 inside the arc in the second half.
With 4:43 remaining, a 9-0 Northeastern run (with all nine points coming from Stucke) drew the game even at 68 for the first time since early in the first half. But unfortunately for the Huskies, a Blue Hen rose to the occasion to match Stucke's greatness. Arletti scored seven points down the stretch to pull Delaware back ahead, though he did foul out (to his surprise) with a minute to go.
Stucke stayed on fire when he put in a three to bring the game back within one with 15 seconds to go, but clutch free throw shooting from Delaware prevented Northeastern from ever clawing any closer. Telfort had a chance to tie it at the buzzer that barely missed off the rim, sending the Huskies home heartbroken.
Northeastern will be haunted by their 13-22 mark at the free throw line, including numerous misses at the front end of one-and-ones and a rare Stucke miss at the line with under a minute remaining, preventing his three from tying the game late.
Though Stucke's late heroics made for an interesting finish, close but no cigar does not help your seeding come conference tournament time. The loss drops the Huskies f to 4-6 in conference play. Perhaps a return to Matthews Arena will put Northeastern back in the win column, but the clock is ticking.
The Huskies return home for a CAA matchup against Elon on Feb. 4. Justin Diament and Jordan Walsh will be on the call live for WRBB Sports from Matthews Arena with tip off at 2 p.m.