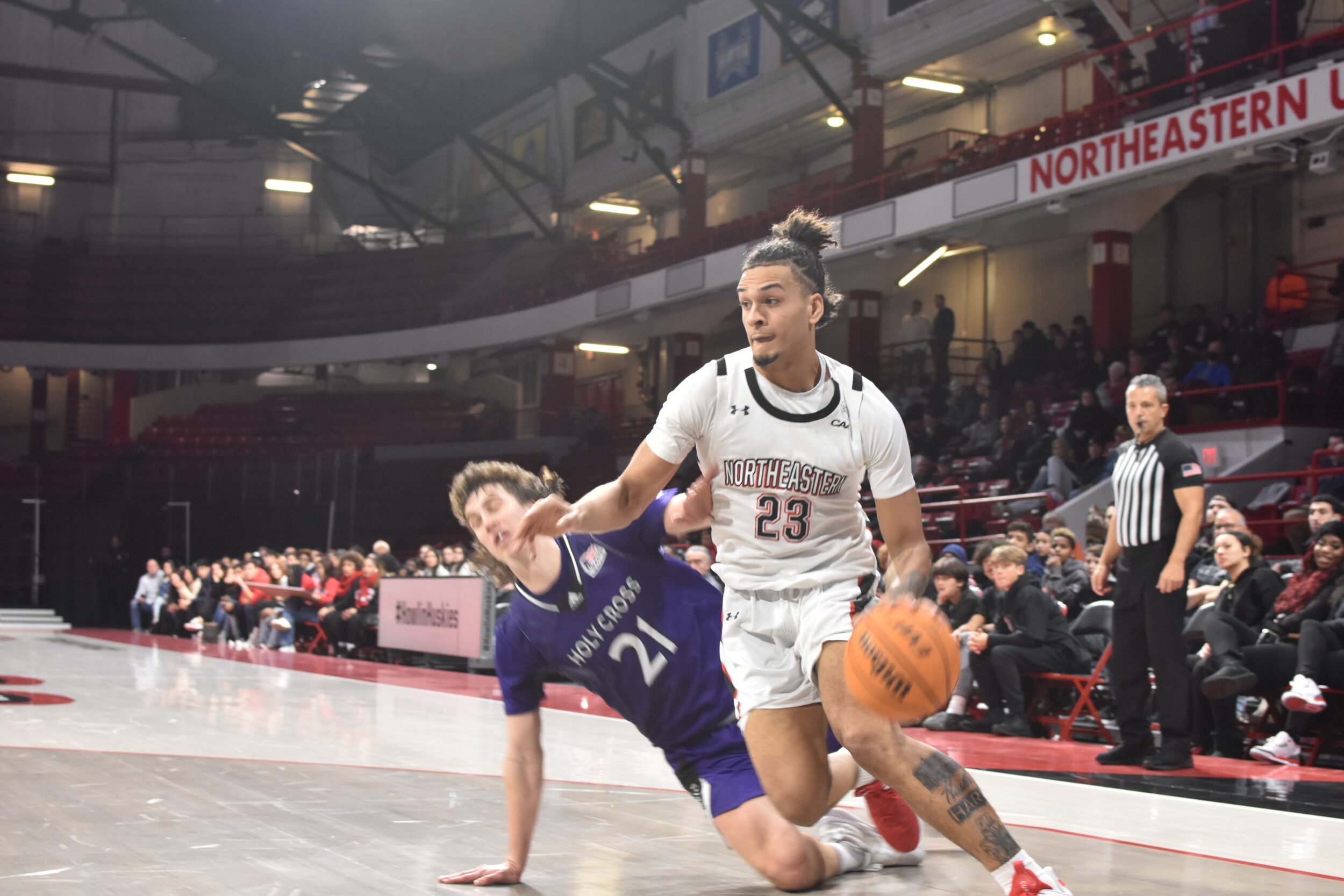 BOSTON — Northeastern played Hofstra evenly through much of the first half Wednesday night, taking advantage of an uncharacteristically poor start from star guard Aaron Estrada, but the Pride ultimately found their form and pulled out a comfortable 72-53 victory.
The Huskies got off to a slow start on offense, missing their first three field goal attempts and allowing Hofstra to jump out to a 7-0 lead. Junior guard Jahmyl Telfort broke the ice for Northeastern with a layup, and freshman guard Chase Cormier hit the first three of the night for the Huskies just under five minutes into the game. While junior guard Glen McClintock started at point guard for the seventh game in a row, it was Cormier who would end up getting the most time at the position, playing a season-high 27 minutes. Northeastern used Cormier's speed to push it in transition when he was on the floor, and played at a slower pace when McClintock was the ballhandler.
"We were trying to beat their defense down the court, and [Cormier] is the best we have at pushing the tempo," said Northeastern head coach Bill Coen.
Much of the first half was a duel between Telfort and Hofstra senior guard Tyler Thomas, as Telfort scored 14 of Northeastern's first 27 points and Thomas accounted for 14 of the Pride's first 26 points.
Thomas picked up the slack early on for Estrada, who was held scoreless for the first 17 minutes after averaging 31 points per game in his previous three appearances. Estrada missed Hofstra's last game with food poisoning, so rust may have been a factor out of the gate, but he finished the half by scoring eight points in the final three minutes.
That spurt gave the Pride an eight-point lead going into halftime, but both teams struggled from the field at the start of the second frame, combining to miss their first seven shots. The Huskieswere able to generate good looks, but just could not get them to fall.
"You're not going to beat a team like Hofstra without playing well at both ends and scoring the ball efficiently," Coen said. "On the offensive side of the ball, we just didn't get much of a rhythm all night long. We had some shots that were clean, and just for whatever reason, didn't make them."
Another unfortunate development for Northeastern was senior forward Chris Doherty getting into foul trouble again, failing to build on his disciplined play from the Huskies' most recent game which saw him pick up just one foul in 38 minutes of action. Doherty's third and fourth fouls came less than two minutes apart early in the second half, and while there have been some whistles against him this season that could have gone either way, the fourth foul Wednesday night was a clear arm grab that will almost always be called.
Hofstra was able to pull away in the second half thanks to an all-around effort, with five different players scoring at least four points in the half. Sophomore guard Jaquan Carlos scored all 10 of his points in the second half, joining Thomas (18 points) and Estrada (13 points) as the Pride's double-digit scorers.
"Obviously, we had a very difficult task for us," Coen said. "Hofstra is a terrific offensive team. They have a lot of maturity as far as guard play and some physicality up front. It's an older, experienced group with arguably the best player in the league in Aaron Estrada. I thought we did half the job … We played hard enough defensively to give us a chance, but our offense wasn't there tonight. We had some open, makeable shots; we had some missed layups and left some points on the free-throw line."
When the game had been decided, Coen emptied the bench, giving the freshmen reserves some playing time. That included guard Harold Woods, who started the game but was subbed out after three minutes and did not appear in the game again until the final three minutes, where he made a nice play in stealing the ball from Estrada.
"[Woods] is still one of our best on-ball defenders and one-on-one defenders," Coen said. "In this game, there was a lot of that. The way [Hofstra] plays, their style of play, is they go at matchups, and then they play one-on-one basketball. And they have some terrific guards in Thomas and Estrada that can do that. So, we tried to give Harold a chance to contribute a little bit, and that's something that he does well."
The loss extends Northeastern's losing streak to five games as they head down to the Carolinas to face UNCW and Charleston, both near the top of the CAA standings.
The Huskies will be back in action Saturday night at 7 p.m. as they meet UNCW for the first time this season.