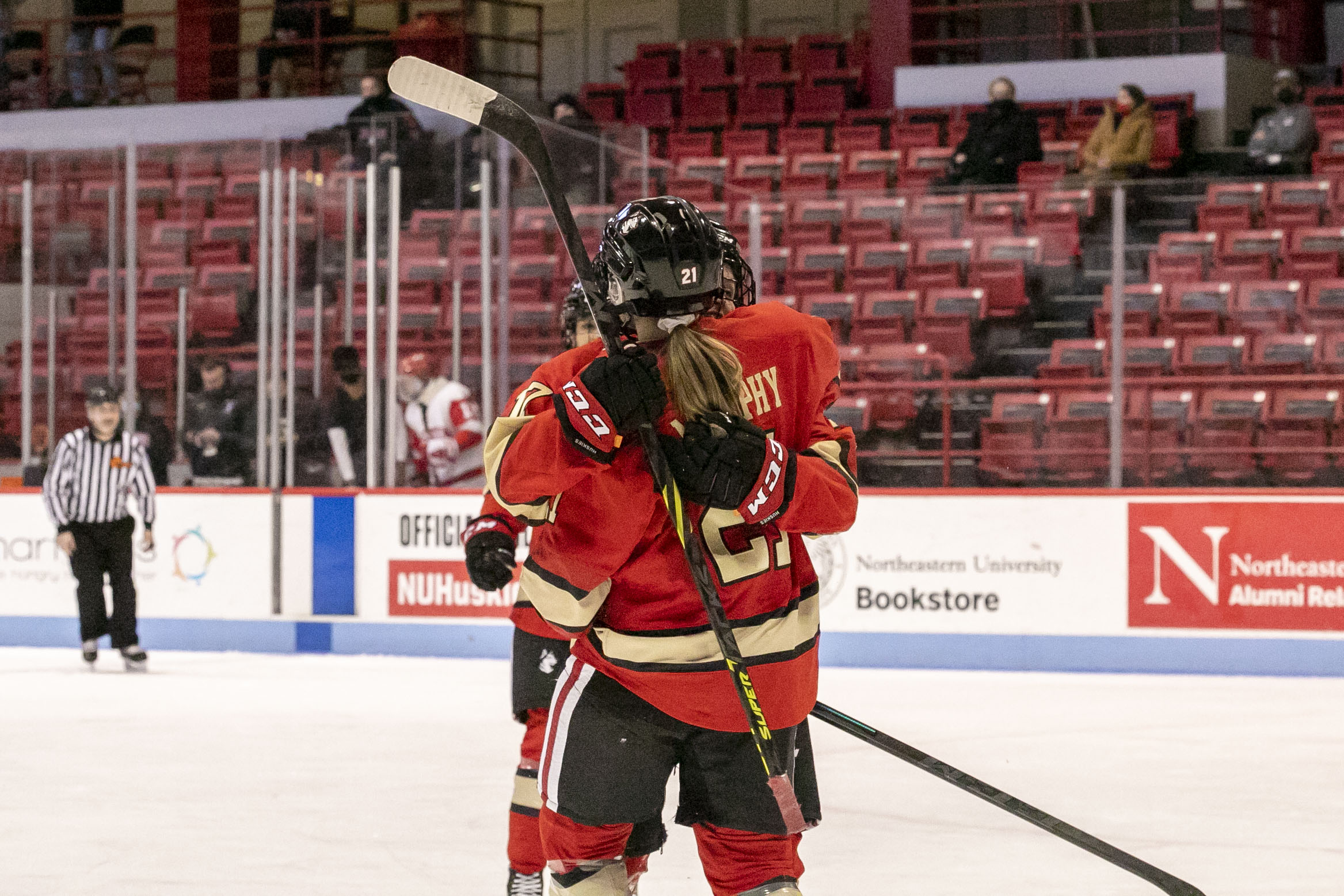 Playing for the first-time at newly-opened Toscano Family Ice Forum, Northeastern traveled to Storrs, CT to play No. 15 UConn. UConn put up a fight, but after a late-third-period equalizer, the visiting Huskies were able to squeak out a 3-2 overtime victory.
Northeastern did not start the game off nearly as strong as they would have liked. They had trouble connecting on passes and made some sloppy turnovers that allowed UConn to gain the upper hand throughout the first 20 minutes of play. After killing off a roughing penalty on senior defender Claire Peterson midway through the first period, UConn's momentum continued to build.
After another Northeastern turnover in the neutral zone, freshman forward Kyla Josifovic skated into her offensive zone. She sent in a feed towards senior netminder Gwyneth Philips' back post, where senior forward Amy Landry was open in the slot. Landry tipped it above the shoulder of Philips to kick off the scoring and put UConn in front.
As the second period began, Northeastern continued to face an uphill battle. Junior forward Molly Griffin took a penalty for tripping and forced Northeastern to flash their penalty kill just two minutes into the frame.
They would not be held back for long, though, as a clearance from senior defender Megan Carter sprung graduate student forward Chloé Aurard on the breakaway. As she approached sophomore goalie Tia Chan, Aurard deked around her to knock in her fourth shorthanded goal of the year and tie the game at 1.
"[Aurard] is so clutch," said Northeastern assistant coach Lindsay Berman. "We call that move 'the Aurard' because it's hers. … She's a complete player, she's so fast, she's such a threat on the penalty kill, and she probably had the best game out of everybody here tonight. It's nice we can rely on her all the time, four-on-five, five-on-five, five-on-four, she's unbelievable."
The second period would come to a close at a deadlock, and the third began with some very back-and-forth play. Just under two minutes into the period, senior forward Peyton Anderson was knocked for a tripping call, forcing the visitors to kill off their third straight penalty. Throughout a night with some shaky moments for Northeastern, their penalty kill remained as stalwart as it has been all year, retaining a perfect percentage on the evening.
But UConn was determined to give Northeastern trouble. Junior forward Jada Habisch picked up the puck behind Philips' goal and skated all the way around her offensive zone. She made a pass to senior forward Kate Thurman, who fired a shot toward Philips' net. The puck ricocheted off of Philips' shoulder, and the veteran netminder lost sight of it as it bounced just past her and into the back of the goal, giving UConn a 2-1 lead.
It became do-or-die for Northeastern as the clock ticked down in the final period of play. With their 14-game win streak on the line, they regained some pep in their step after Thurman's goal and came onto the ice with a fire lit under them.
With four minutes remaining in regulation, the visitors were preparing to pull Philips and send out an extra skater. Graduate student defender Maude Poulin-Labelle sent in a wrist shot from the blue line and with players screening her in front, Chan was barely able to make the save and unable to corral the rebound. Sophomore forward Taze Thompson was waiting at the doorstep, and she stuck the puck into the back of the net to once again even the score.
"We were getting ready for the six-on-five, we had our numbers ready," said Berman. "We had a great shot on net by Maude, and Taze was there for the rebound. Taze won the shootout in practice yesterday, so we were hoping she would come up with a big goal, and she came up huge."
Thompson's late-game equalizer was just enough for Northeastern to hold on to, as regulation came to a close with the score still even. The overtime period began in the same back-and-forth manner that the previous three frames had upheld.
However, Northeastern's overwhelming pressure ended up being too much for the home team to bear. With the puck on her stick, Aurard skated around the offensive zone, spying a waiting Tory Mariano at the edge of Chan's crease. Aurard sent in a feed, and the sophomore defender tipped in the clean look to give the visiting Huskies a much-needed overtime victory.
"I saw it in slo-mo," said Mariano. "[Aurard] just passed me the puck and next thing I know, it's in the net."
Mariano's clutch goal keeps Northeastern riding high, as they'll carry a 15-game win streak into Tuesday's Beanpot finals matchup with Boston College. With the red-hot Eagles as hosts this year, the matchup will prove to be a difficult one for Northeastern, but Mariano knows they're ready.
"We're all definitely really excited," said Mariano. "We're playing BC at their home rink at seven o'clock at night in the Beanpot final. … We needed this win. It'll feel good going into the Beanpot game knowing that we came back from a 2-1 deficit and won in overtime."
Next up, Northeastern will travel to Conte Forum to take on Boston College in the Beanpot finals. Catherine Morrison, Daisy Roberts, and Emma Sullivan will provide coverage of the game for WRBB Sports with puck drop at 7 p.m.