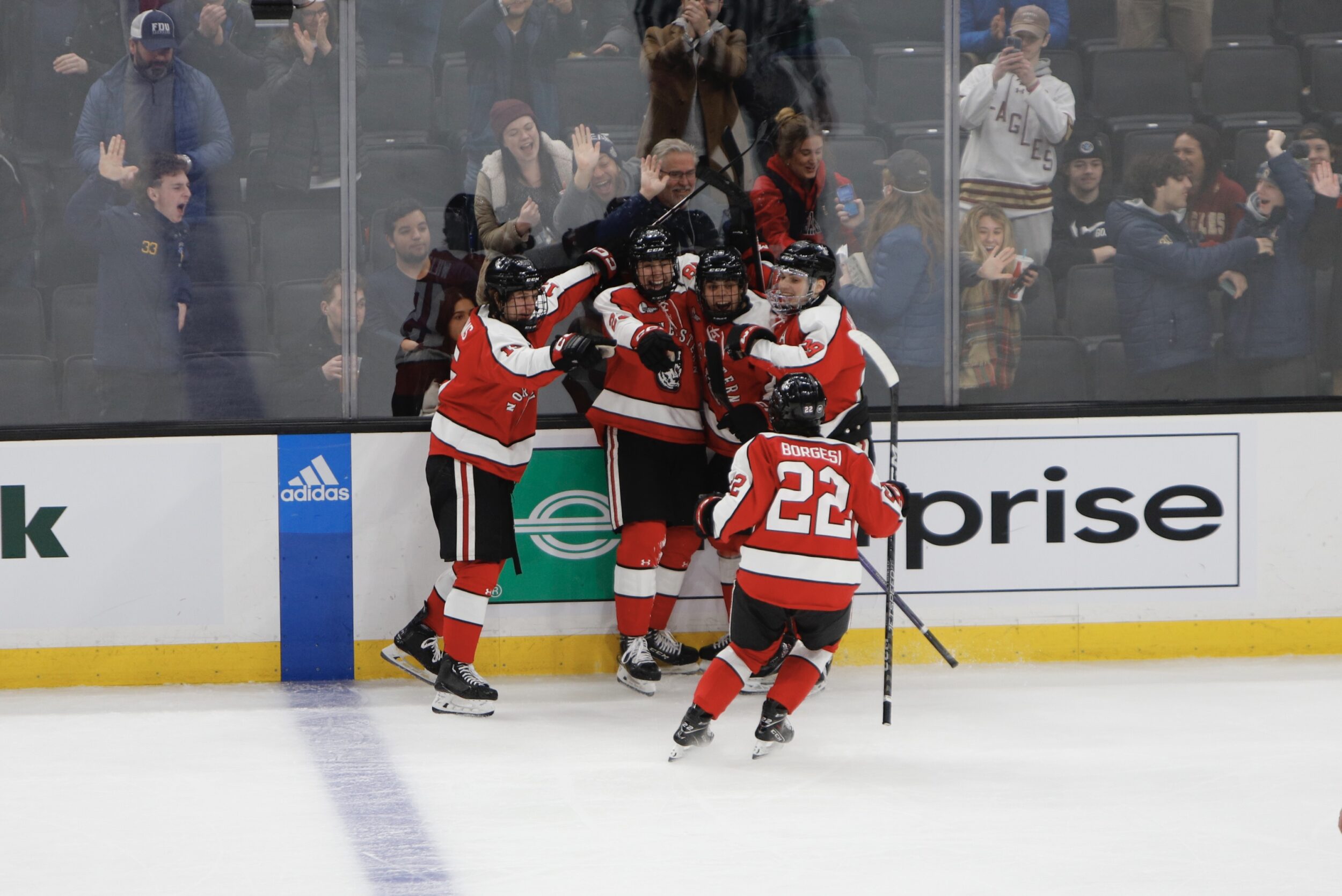 To capture their fourth Beanpot title in the past five tournaments, Northeastern will have to defeat the same opponent they played arguably their worst defensive game all season against.
Back on New Year's Day, Harvard bludgeoned the Huskies in an 8-4 laugher that was every bit as ugly as the final score would indicate. The blowout loss was the culmination of Northeastern's disastrous 1-6 stretch to close out the first half of the year, and seemingly marked the end of their chance for postseason contention in 2023.
But in the six weeks since, the Huskies have revived their season behind an impressive 6-1-1 stretch of play, and lifted their Pairwise ranking from No. 44 all the way up to No. 15. Of late, Northeastern took down No. 3 Boston University in last week's Beanpot semifinal, and stole a 3-3 tie against Providence on Friday behind an incredible 54-save effort from Devon Levi.
Now riding a hot streak, Northeastern will have a chance to exact revenge on No. 10 Harvard in Monday's Beanpot Championship game at TD Garden. Somehow, this will be the first time in the Beanpot's 70-year history that Northeastern and Harvard will square off in the finals, and the game carries enormous implications both for the Beanpot trophy and NCAA tournament qualification down the road.
Much like last week's semifinal matchup with BU, Northeastern will need to play a fundamentally sound, top-to-bottom game to emerge victorious against a really strong opponent, and they can absolutely win should that go according to plan.
"You play in the Beanpot finals, you're going to be playing a really good team," said Northeastern head coach Jerry Keefe. "Harvard's got a lot of skill, they've got great goaltending, they are well coached. It's going to be just like [the BU matchup], where it's going to be a tough game."
Harvard is 8-3 since the two sides' aforementioned New Year's Day meeting, with two of those three losses coming against No. 2 Quinnipiac. The Crimson are 17-6-1, and should comfortably make the NCAA tournament barring a late season downturn. They blew a late two-goal lead against Boston College in the Beanpot semifinals, but prevailed in overtime to advance to the championship game for the first time since 2017.
Like all Ivy League schools, Harvard's 2020-21 season was canceled due to COVID-19, but longtime head coach Ted Donato has kept the Crimson's pre-pandemic momentum rolling by bringing in back-to-back outstanding recruiting classes in 2020 and 2021.
The Crimson are the NCAA's sixth highest-scoring offense at 3.7 goals per game, and are paced by junior forward Sean Farrell, who enters Monday second in the nation with 41 points. Complimenting Farrell in the forward group are sophomore Matthew Coronato (16 goals) and junior Alex Lafferiere (14 goals) who are also both in the top-30 nationally in goals scored. Freshman Joe Miller (12 goals) pairs nicely with Farrell and Coronato on the top line, and has been among the ECAC's top rookies this season.
Farrell, Coronato, and Laferriere are all considered high-level NHL prospects, and the Harvard top-six boasts elite speed in open ice, but also nifty playmaking and creativity that can make the Huskies pay for sloppy miscues on breakouts or at their offensive blue line.
Levi had statistically the worst performance of his college career in the New Years Day defeat, allowing eight goals on 34 shots. Though the statline wasn't pretty, Levi never stood much of a chance in saving many of those shots because of how consistently Harvard generated high-quality looks right in front of his crease.
The Huskies' ability to block shots, cut off passing angles in the defensive zone, and check along the half-wall played perfectly against all of BU's strengths in the Beanpot semifinal, culminating in one of Northeastern's best defensive showings of the year. Harvard's offense poses a much different challenge than BU, or frankly most other Hockey East teams.
Whereas the Terriers' look to drive offense through the blue line and send pucks into the slot at high volumes to create traffic, Harvard's offense takes a slightly different approach: Their agile and speedy stable of forwards love to push the puck in transition, and are lethal at capitalizing on turnovers, poor angles to the puck, or any other miscue. In the offensive end, they utilize quick, sharp-angle passes from the goal line and low offensive zone to set up open looks close to the net.
Quite simply, this game will come down to how well Northeastern can defend in transition. The Huskies' defense has proven adept in recent weeks at stopping the more commonly-seen Hockey East style of play like BU runs, but they just don't see many teams that have forward talent like Harvard, or that break out as aggressively and effectively. When they have encountered speedier, tempo-based opponents this season, they've struggled — in addition to the first Harvard game itself, Western Michigan hung six goals on the Huskies in November, and Providence, who perhaps best mirrors that style within Hockey East, caused them major issues as recently as Friday.
Here's an example of how Harvard's offense was so effective against Northeastern in their first meeting. This first-period score is set up because Lafferiere just flat-out blows by defender Hunter McDonald on the incoming rush, then wraps the puck all the way behind the goal and makes a beautiful feed to Alex Gaffney for the easy score.
Levi can track the puck and consistently make high-danger saves better than almost any goalie in college hockey, but contrary to popular belief, he's not actually a superhero.
Harvard's 32.8 shots on goal per game is 10th best nationally, and their 56.0% Corsi-For is the NCAA's eighth-best mark, both numbers indicative of a team that controls the possession and shot volume battle on a nightly basis. Northeastern has ceded an absurd average of 37.8 shots on goal over their recent 6-1-1 stretch, and Levi has somehow posted a .958 save percentage during the same time frame. But no matter how good he's been, if Northeastern gets dominated in transition like their last game against Harvard, there's only so much Levi can do.
"We got to make a commitment to check, be really good in the neutral zone," Keefe said. "We know they are dangerous."
On the other side of the ice, Northeastern's offense found real success against Harvard in their first meeting. Their 41 shots on goal against the Crimson remains the high-water mark of the season, albeit with many of those attempts coming in garbage time.
Beyond the obvious need for forwards Aidan McDonough or Justin Hryckowian to find a way into the scoring column, it'll be interesting to see how the Huskies attack a Crimson defense that's given up three goals or more in five of their last six games, and power play scores in each of the past three games.
Senior captain Henry Thrun was a second-team All-American last season, and he's one of the most complete, reliable all-around defenders in the country. His play style and career arc is somewhat reminiscent of Jordan Harris' impact at Northeastern, though Thrun's offensive production has always been slightly better. He left the Beanpot semifinal with an upper body injury and didn't play in Harvard's game against Dartmouth on Friday, but he's expected to return to the lineup against Northeastern per Mark Divver of the New England Hockey Journal. That's a much-needed boost for the Crimson, who have some talent around him in sophomore Ian Moore and senior Ryan Siedim, but not quite at the level of their forward group.
Harvard's defense is big across the board, with no defender listed below 6-feet tall. But Northeastern can absolutely find soft spots and string together consistent offensive zone time if they execute on passes and win forechecking battles in the corners, as they did against BU and in the late third period against Providence.
Senior goaltender Mitchell Gibson has been the Crimson's starting goalie since his freshman season in 2019-20, and his .918 save percentage this year is right on par with his career numbers. He let in just three goals on 48 shots against BC, but rarely dominates games single-handedly — he's given up at least two goals in each of his past 10 starts.
McDonough's power-play magic returned in the third period against Providence, snapping Northeastern's streak of 15-straight power plays without a score. If the Huskies can find a way to draw penalties, it's another area where they can potentially string together some positive momentum against a Crimson unit that's been vulnerable of late.
The Huskies have proven they can find plenty of different ways to win games, but the Beanpot final will be a test perhaps greater than anything they've faced since, well, their last meeting with Harvard. It's a tall task, but with an emphasis on transition defense, cutting down on turnovers, and staying out of the box, Northeastern has a roadmap to hoist another Beanpot crown on Monday.
WRBB Sports will have live coverage of the Beanpot championship on Monday night, with Matty Wasserman and Khalin Kapoor on the call beginning at 7:30 p.m. Listen on 104.9 FM in Boston, or anywhere at wrbbsports.com/listen-live.