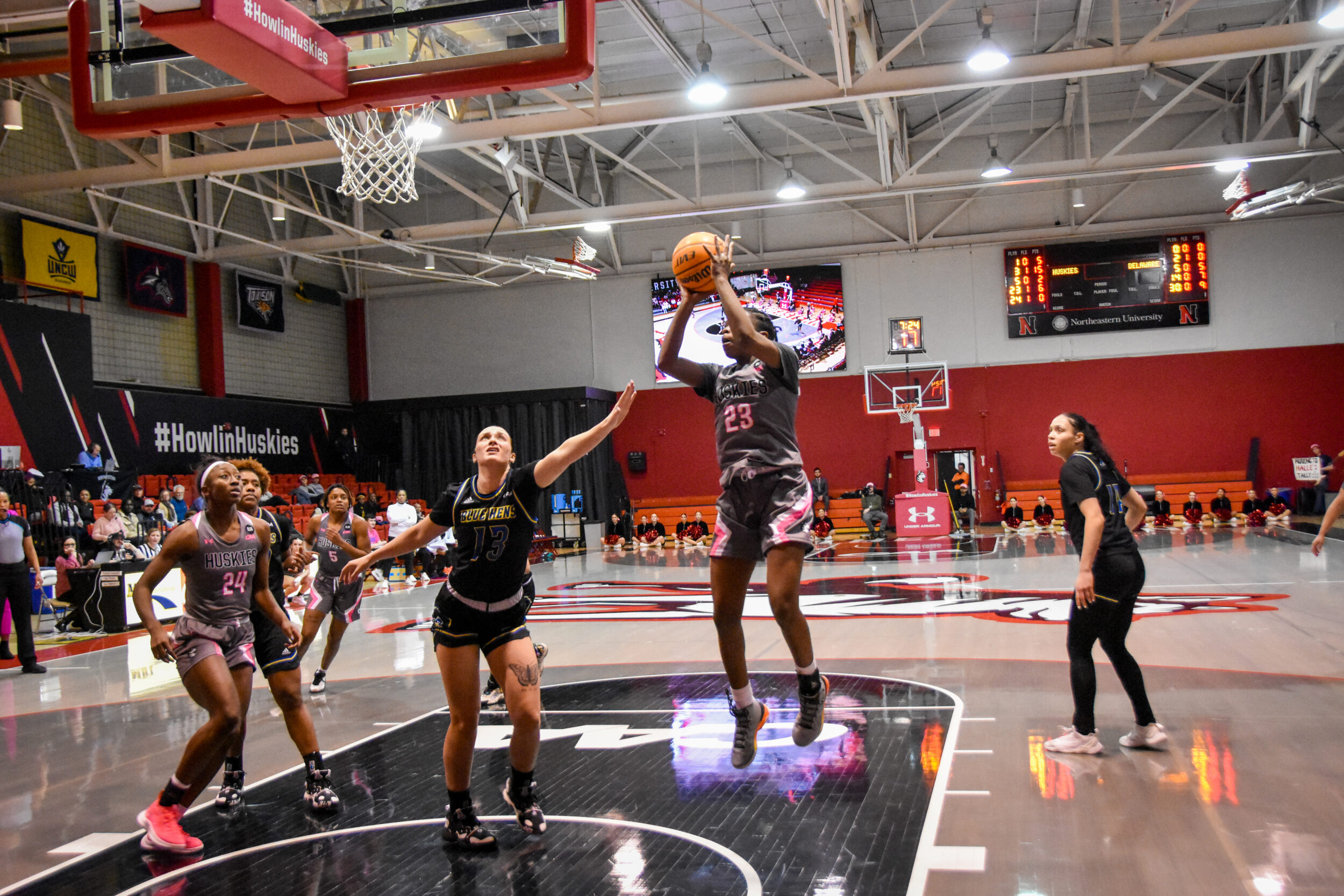 BOSTON — As Northeastern trailed by 14 points early in the third quarter Friday night, it appeared as if their run of four-straight victories was coming to an end on their home floor. Instead, the Huskies rattled off 22 unanswered points in an astounding turn of events, and held the lead for the rest of the game, pulling out a 70-61 win over Delaware.
Junior guard Derin Erdogan got the night's scoring started with a quick three-pointer, but both teams struggled mightily to put points on the board in the following minutes. The two sides went a combined 0-for-16 from the field in the five minutes following Erdogan's make, leaving the Huskies with a 3-0 lead at the first media timeout, more than halfway through the quarter.
The Blue Hens used the timeout to draw up a play and break the drought, with senior center Klarke Sconiers converting an and-one play to level the score at three. That would be the start of an 11-0 Delaware run, with Northeastern unable to find their form until late in the quarter. A long two-pointer from graduate student guard JaMiya Braxton broke a Huskies scoring drought of nearly eight minutes, and Northeastern played the Blue Hens relatively even for the rest of the quarter, trailing by seven after 10 minutes.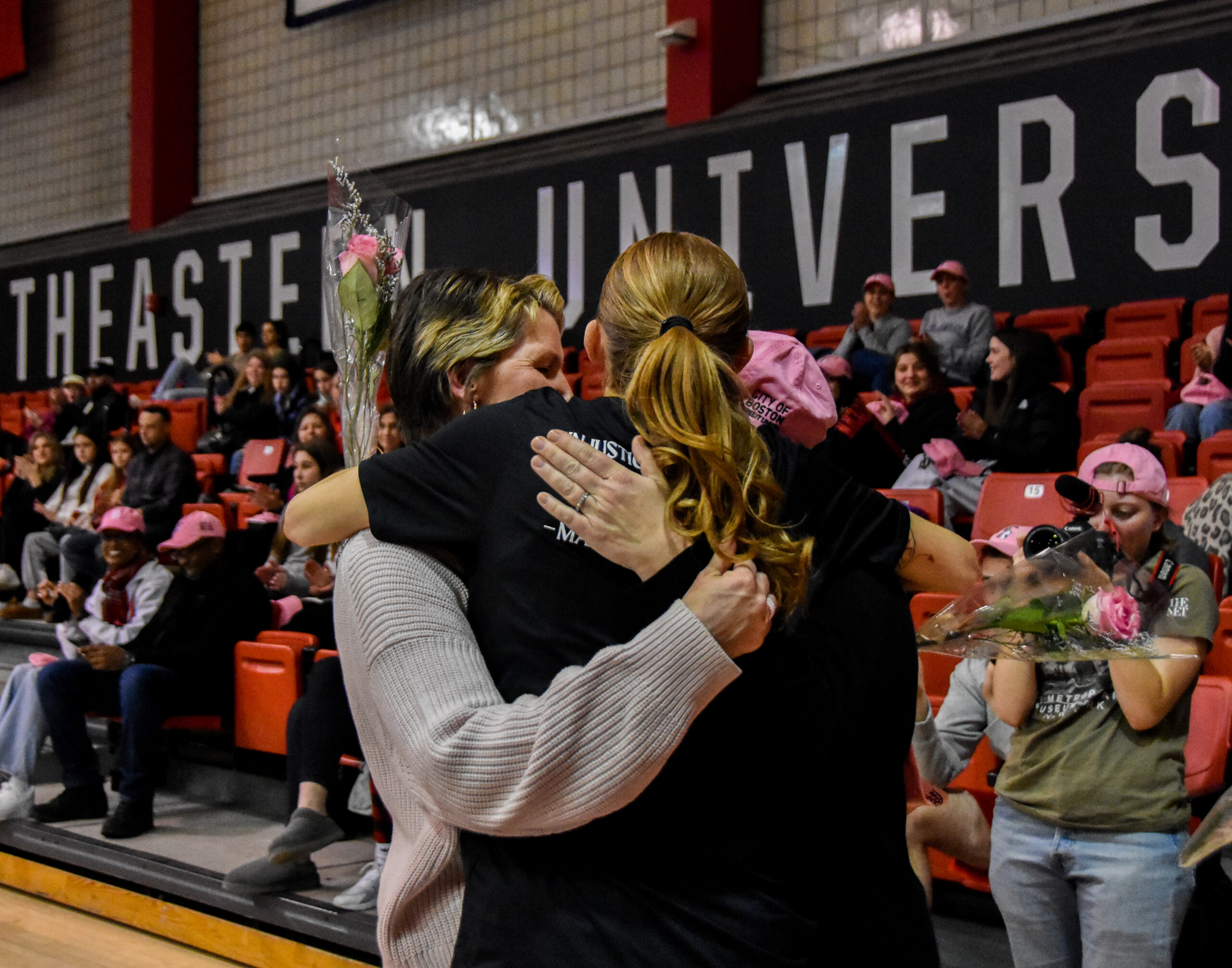 Braxton's first make of the night was significant in ending the dry spell, but it was also a sign of things to come for her in the game. Braxton is known as a three-point specialist on offense, as more than two-thirds of her field goal attempts on the season have come from beyond the arc, but she showed a different element of her game Friday night, with eight of her 12 shots coming from two-point range. She finished the contest with a career-high 22 points despite only making two threes.
"Miya's a three-level scorer," said Northeastern head coach Bridgette Mitchell. "We say that all the time, she's categorized as a shooter, but she's been effective all season with, when her three is taken away, what else can you do off the ball? And she really demonstrated that tonight. … Her teammates found her, she created her own shot for a lot of those opportunities. Really impressed with Miya and how she's been playing these last few games, and all of conference [play], really."
Braxton continued her strong play in the second quarter, scoring eight points without attempting a three. However, Delaware was able to move the ball and get hot from beyond the arc in the second frame, sinking five three-pointers, with three of those coming from fifth-year guard Jewel Smalls.
"I saw red, I was fuming," Mitchell said. "I was really upset with how we were defending them. We didn't impede, we didn't impose our will on them. We're a team that doesn't want anybody to go to the middle, [and] we allowed them free middle drives the whole second quarter."
The Huskies went into halftime trailing 37-27, and the Blue Hens expanded their advantage early in the third quarter with four quick points from fifth-year forward Makayla Pippin. That would be the last time Delaware extended a lead, as Northeastern completely took over the game, scoring 22 consecutive points.
Everything seemed to go right for the Huskies as they stepped up their defensive pressure. The Blue Hens committed 14 turnovers in the final nine minutes of the quarter, some of those generated by Northeastern's press, and some just unforced errors, like traveling violations with no Huskies defenders in the area. The turnaround was fueled by the halftime adjustments and a clear message from Mitchell in the locker room.
"I challenged our young women to really come in and lock in on each other," Mitchell said. "I thought that in that first half, a lot of people were with the referees, some people were with their teammates that were on the bench, some people were with their fans that were in the stands. I challenged everyone to all be on the court, at the same time, locked in for the next 20 minutes, and I thought that we came out and responded. I thought that everyone was present and living in the moment, and I think that's why that run went so effectively."
Four different players contributed to the scoring during the run: Erdogan and sophomore guard Gemima Motema each had six points, while Braxton and junior forward Deja Bristol chipped in five apiece. Braxton also made a three to close the quarter after Delaware broke their drought, as part of a larger 25-2 run.
Those four players were also the Huskies to finish the game with double-digit scoring totals, making up a balanced offensive attack. It was a tale of two halves for Erdogan, who went 1-for-10 from the field in the first 20 minutes but shot 5-for-8 the rest of the way.
"I think that, with Derin's maturity, she realizes that her team goes as she goes," Mitchell said. "And she was a little cold in that first half and then she just started distributing the ball, taking care of it and finding her teammates and then let the game come to her. She was really mature in that tonight."
Bristol also got going after halftime, scoring 11 of her 13 points in the second half as Northeastern looked more to the inside.
"We've been saying all year to Deja that she's our post-scoring offense presence," Mitchell said. "For Deja to be finishing the way that she has been as of late, it really speaks volumes for our team. So many different people can score. We have so many different scoring threats, so that's a really good thing for our team in terms of our versatility and ability to create some offense for ourselves."
The Huskies stood strong in the fourth quarter, never letting Delaware's deficit get lower than six points, holding on for a crucial win as Northeastern aims for a top-four CAA finish and double bye in the conference tournament.
"I think a lot of people are focused on the seeds; we're focused game-by-game," Mitchell said. "This game, our whole focus and drive was that we wanted to get payback. We went down there to Delaware and we did not perform very well. We performed like our first half tonight for the whole 40 minutes down there. So we were able to put together 20 minutes and kind of get after it, and so that's really what we've been focused on, not necessarily our seed, we've just been competing each game."
The victory secured the first winning season in CAA play for the Huskies in five years, and brought Northeastern into a four-way tie for third place in the conference.
The Huskies next take to the court Sunday afternoon as they host Hampton for their Senior Day game. Eamonn Ryan and Reece Calvin will have the call at 2 p.m. for WRBB Sports+.