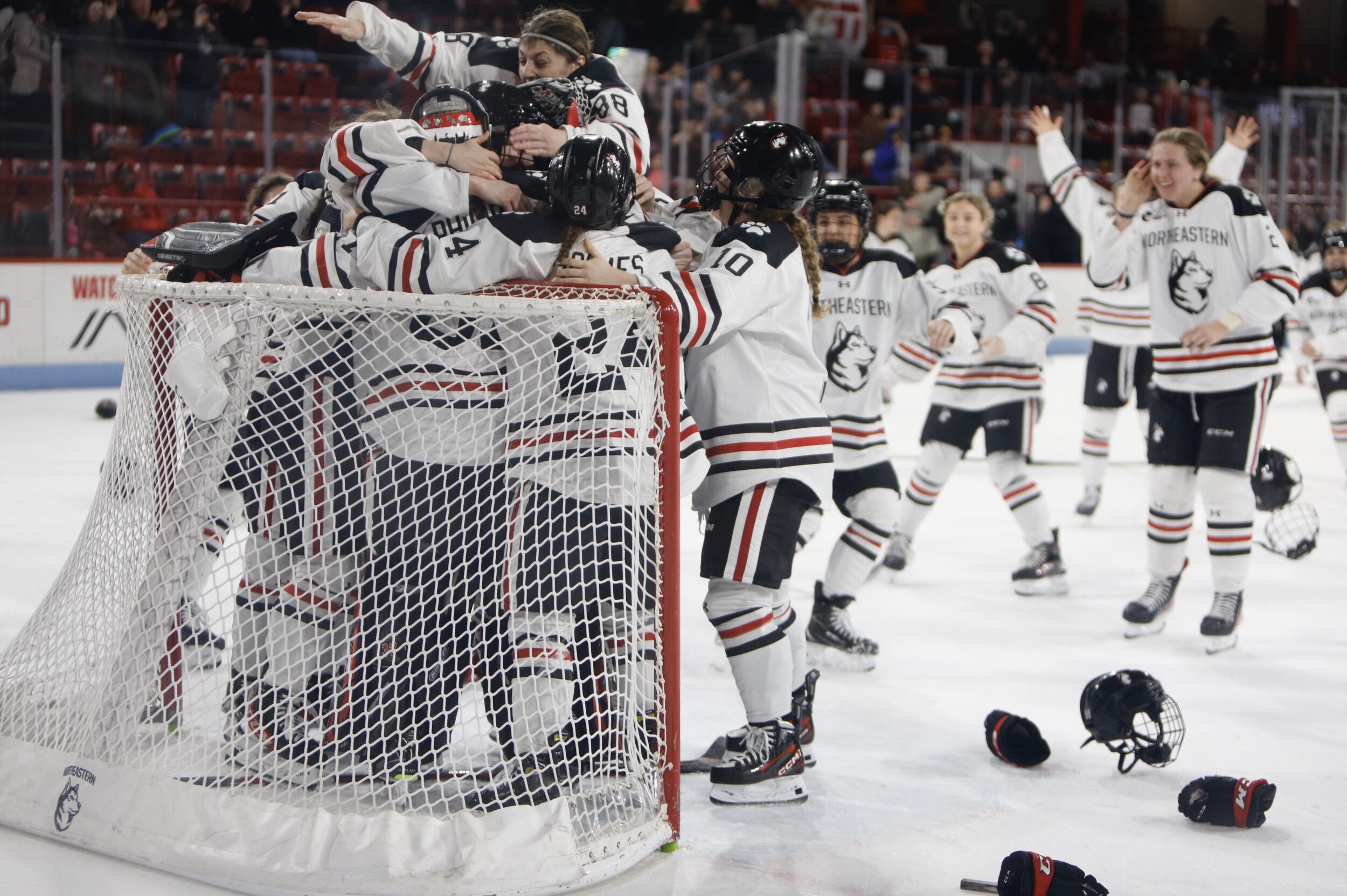 By Emma Sullivan and Khalin Kapoor 
At last, the dance has begun.
For the sixth straight season, Northeastern is looking to make a deep run in the NCAA tournament. This year's bracket is stacked, and the No. 5 Huskies will travel down to New Haven, Connecticut, to face off against No. 4 Yale on Saturday.
Last year, the Huskies hosted a quarterfinal game against Wisconsin, where they won 4-2 before losing in the Frozen Four against Minnesota Duluth 2-1 in a double overtime thriller. Northeastern has made the Frozen Four in their past two tournament appearances, but have yet to capture their first national championship trophy.
The winner of this game will travel to Minnesota-Duluth to play the victor of the Quinnipiac-Ohio State quarterfinal. But for Northeastern to get there, they'll have to knock down Yale. Let's take a deeper look into what could be in store for these teams as they head into this matchup.
By the numbers:
Statistically, Yale and Northeastern are very similar. Yale averages 35.94 shots per game, which is eighth in the nation. Northeastern has a slight edge, with an average of 39.75, ranking fourth. The Huskies also allow an average of 20.25 shots against, compared to Yale's mark of 21.56. While the Bulldogs edge out Northeastern in goals, scoring 4.09 per game to Northeastern's 3.89, the Huskies have allowed an NCAA-low 0.86 goals on average, with Yale ranked third at 1.4.
The Huskies also have the third best Corsi For Percentage in the country, standing at 64.5%, compared to Yale's sixth-best number of 62%. It is clear that both teams are adept at hemming their opponents in the offensive zone for long stretches, moving the puck and finding open space to shoot, and creating serious traffic in front of the net at the same time.
Northeastern may look better in some key categories, but it's important to contextualize that they have played many games against bottom feeding teams like BU, Holy Cross, UNH, and Merrimack.
This is not to diminish any of Northeastern's victories this year, only to put into perspective how impressive Yale's run has been. Yes, Northeastern has played some high-caliber teams this season too, but they have 16 wins against teams in the bottom half of the Pairwise rankings, outscoring opponents in those matchups 74-14.
The Bulldogs meanwhile are putting up these numbers while running through the ECAC, a much stronger conference than Hockey East. This season's ECAC has four NCAA tournament teams, while Hockey East just has one. Yale finished the regular season 19-2-1 in their conference, effectively dismantling some of the top teams in the country on a regular basis.
Northeastern has played no games this year against teams that are currently in the NCAA tournament field, compared to Yale who's played 10. The Bulldogs went 7-3 in those games, including a 4-3 win over second-seeded Minnesota in late November. They did lose to Clarkson in the ECAC semifinal round, and fell in both of their regular season matchups against Colgate.
There is a blueprint to defeat this Yale team. In their three losses, they went 0-7 on the power play while allowing three total power-play goals to their opponents. This special teams disparity plays well into Northeastern's hands, as they boast the nation's best penalty kill at 91.7%, and a top-10 power play at 24.8%.
Furthermore, Northeastern grappled with two ECAC teams during the Smashville Showcase back in November, where they defeated Princeton 4-1 and Cornell 5-1. Those dominant wins showed that the Huskies can adjust to and thrive against a higher-powered ECAC style of play.
Cornell, much like Yale and the other teams at the top of the ECAC, played a harsh, physical brand of hockey that Northeastern matched immediately. They scored three goals in the first period and didn't look back from there. For Northeastern to come away victorious against Yale, they need to do the same thing: adapt to that different play style early and capitalize on special teams opportunities.
"Our goal is to jump out early, but if it doesn't happen, we know to stay the course," said Northeastern head coach Dave Flint in Friday's media availability. "We've taken a pretty deep dive into how they play. … They play pretty similarly to how we do."
The way this game is officiated will also be a factor, as Northeastern had 48 more power-play opportunities than Yale did this season. ECAC referees have historically been stingier with penalty calls than Hockey East crews, but the officiating crew for this game will either be from an entirely separate conference or a mix of the two. Still, Northeastern is used to getting around four power plays per game, and that probably won't happen.
Offensive weapons:
It's hard to find a higher-powered top line in the NCAA than the trio Northeastern ices every game. Müller, Murphy, and Aurard have a combined 163 points between them this season alone.
In particular, Müller closed out the season on a heater, with 13 points in her last five games including two hat tricks. Up until 2022-23, she hadn't recorded a three-goal game in her NCAA career — now she has three, including two in the last month. Her 58 total points are fourth-best in the NCAA, and are the second highest mark she's had in her five seasons with the Huskies.
Not to be outdone are Murphy and Aurard, who have 53 and 52 points respectively this season. Murphy, after scoring 30 goals last season, followed it up with 19 so far in 2022-23, and had three assists against Providence in the Hockey East title game. Aurard leads Northeastern in goals on both special team units, with seven on the power play and four shorthanded.
Senior forward Katy Knoll is fourth for the Huskies in scoring, with a career high 18 goals and 34 points. While her production has dialed back in the second half of the season (she has just one goal since Jan. 27), she's still averaging over three shots on goal per game in her last nine games and has continued to generate high-leverage scoring chances. It is crucial for Northeastern's middle-six forwards to click in this matchup, and Knoll returning to the scoresheet is a big part of that.
However, the Bulldogs are as talented up front as any team remaining in the bracket.
Forward Elle Hartje broke the program assist record for a single season in back-to-back years. The junior's 38 helpers this year pushed her to 51 total points over her 32 appearances, and she leads the NCAA with 1.19 assists per game. She is top-five in scoring among players from the ECAC and is second in points per game with 1.59, only trailing Colgate superstar Danielle Serdachny.
It also doesn't hurt that her defensive metrics are just as solid as the offensive ones. Hartje is first on the team with a +41 rating, has won 59.6% of the faceoffs that she's taken, and leads the team in blocked shots with 43.
Second to Hartje in the point totals is Jordan Ray, who has 41 points in her first year. The forward leads the Bulldogs with 17 goals, and was named ECAC co-rookie of the year alongside Brown's Jade Iginla.
Rounding out the top three in scoring is senior forward Charlotte Welch, with 12 goals and 28 assists on the season. Welch has scored a point in six straight games entering Saturday's contest, and has been held off the score sheet just once in her last 18 appearances. Over that stretch she has 30 of her 40 points overall, highlighted by a five-point night against Harvard Feb. 18.
Yale head coach Mark Bolding is aware of just how challenging offensively this contest is going to be, however he's confident in his team's ability to match Northeastern just as well on the ice.
"[Northeastern's] got the best record in the country, not a surprise," he said. "They play fast, they're very creative, so we're going to have to defend well at the end of the day. If you're going to beat Northeastern, you have to have your A-game in defending. Hopefully, that's going to be the case for us. We've had good numbers, we've shut down and played hard against a lot of good teams this season. They're a little bit of an unknown, so that's a good thing."
On the back end:
The similarities between these teams continue on defense. Both Yale's Emma Seitz and Northeastern's Megan Carter received their respective conference defender of the year honors, and have been key contributors on both ends of the ice.
What might swing in the favor of Northeastern is the youth of the Yale blueline, as Seitz is the only regular of the defensive core to have played more than two complete NCAA seasons.
Even with that youth, this is a Yale team that made it just as far as Northeastern last season. Four of their sophomore defenders dressed for the Bulldogs' Frozen Four semifinal against Ohio State. On the opposite side, only three of Northeastern's regular blue liners this season were in the lineup for their contest against Minnesota-Duluth. And while graduate student Maude Poulin-Labelle has five years of NCAA experience under her belt, Saturday will be her first game in the tournament.
But even with all the starpower on the ice, ultimately the highlight of this matchup is the goaltenders.
Senior Gwyneth Philips for Northeastern and Yale sophomore Pia Dukaric are two of the three finalists for National Goaltender of the Year. While Philips leads the nation in almost every individual category for a netminder, Dukaric is not far behind.
"It's kind of rare you get two top goalies going at it this early in the NCAAs," Bolding said. "Unfortunately, one goalie is not going to advance, one team is not going to advance. … Goaltending is everything to advance, so we expect it to be really critical again."
Philips will start Saturday's contest with a national best .960 save percentage and 0.81 goals against average, and a second-best 10 shutouts. Dukaric is fourth, with eight on the season. Her goals against average of 1.34 is second best, while her .936 save percentage ranks fourth.
The kicker? Philips has played over 300 more minutes than Dukaric over the course of the season.
And while win percentage is a team statistic, these two have been close the entire year. Dukaric is third, now at a 89.1% win rate. Philips is at 93.1% on her win rate, however her 33 victories is five more than the next closest — Dukaric, with 28.
It's easy to see why these two are dueling it out with UMD's Emma Söderberg for National Goaltender of the Year, as they've been the most consistent netminders all season. However Philips has seemingly had the better season, with 13 less goals allowed than her Yale counterpart on 65 more shots against.
"[Yale is] very disciplined and they're opportunistic," Flint said. "They're good on the rush. … They're good defensively. We have to find ways to get inside and get to their net. We've got to make things difficult for their goalie, because she's good."
If Northeastern can take advantage of Dukaric, who allowed four goals against Clarkson her last time out, they have a high chance to secure their spot in the Frozen Four.
What to take away:
Overall this has all the markings of an incredible quarterfinal. For the Huskies, it's one of the only times this season they'll play a team that matches up to them evenly both offensively and defensively, with two of the top goaltenders in the NCAA between the pipes to boot.
This is the most difficult team Northeastern has seen since they played Minnesota-Duluth last season, but this team has proven time and time again that they are one of the best teams in the country. It's a tough task, but with special teams execution and an emphasis on shot volume through traffic, the Huskies have a roadmap to punching their ticket to the Frozen Four again.
It all starts Saturday in New Haven.
Here at WRBB we've made a tradition of asking our contributors for their predictions in big time matchups such as these. Here's what they're expecting to see heading into Saturday's contest.
Daisy Roberts: 2-1 NU victory. Seitz scores in the first however a Müller tally in the second ties things up. Anderson converts on a late third-period power play to win the game.
Jackson Goodman: 3-2 Northeastern win in OT. Top line gets stuffed, so Thompson and a defender score in regulation. Knoll wins it for the Huskies in extra time.
Sarah Popeck: 3-1 Northeastern. Either Aurard or Müller scores the Frozen Four berth securing goal.
Eamonn Ryan: 2-0 Northeastern. 40 saves from Philips and Murphy and Müller each score once.
Zach Lyons: 4-2 Huskies, with a short-handed goal.
Xinyun (Jessie) Wang: 5-0 Northeastern with 37 saves from Philips. Two goals from Müller and one each from Murphy, Aurard, and Thomson.
Amelia Ballingall: 2-1 Northeastern in overtime. One apiece from Aurard and Irving with Müller assisting on both.
Matty Wasserman: 3-2 Yale in OT.
Julia Yohe: 4-3 Huskies in overtime.
Emma Sullivan: 2-1 Yale. Squeak out the win thanks to a late goal from Hartje.
Khalin Kapoor: 4-1 Northeastern. Yale has the deeper offense, but Phillips carries and the Huskies advance. Knoll scores the GWG.
WRBB will have live, on-air coverage for all the action of Northeastern versus Yale from New Haven. Join Catherine Morrison and Daisy Roberts on 104.9 FM when the puck drops at 3 p.m.