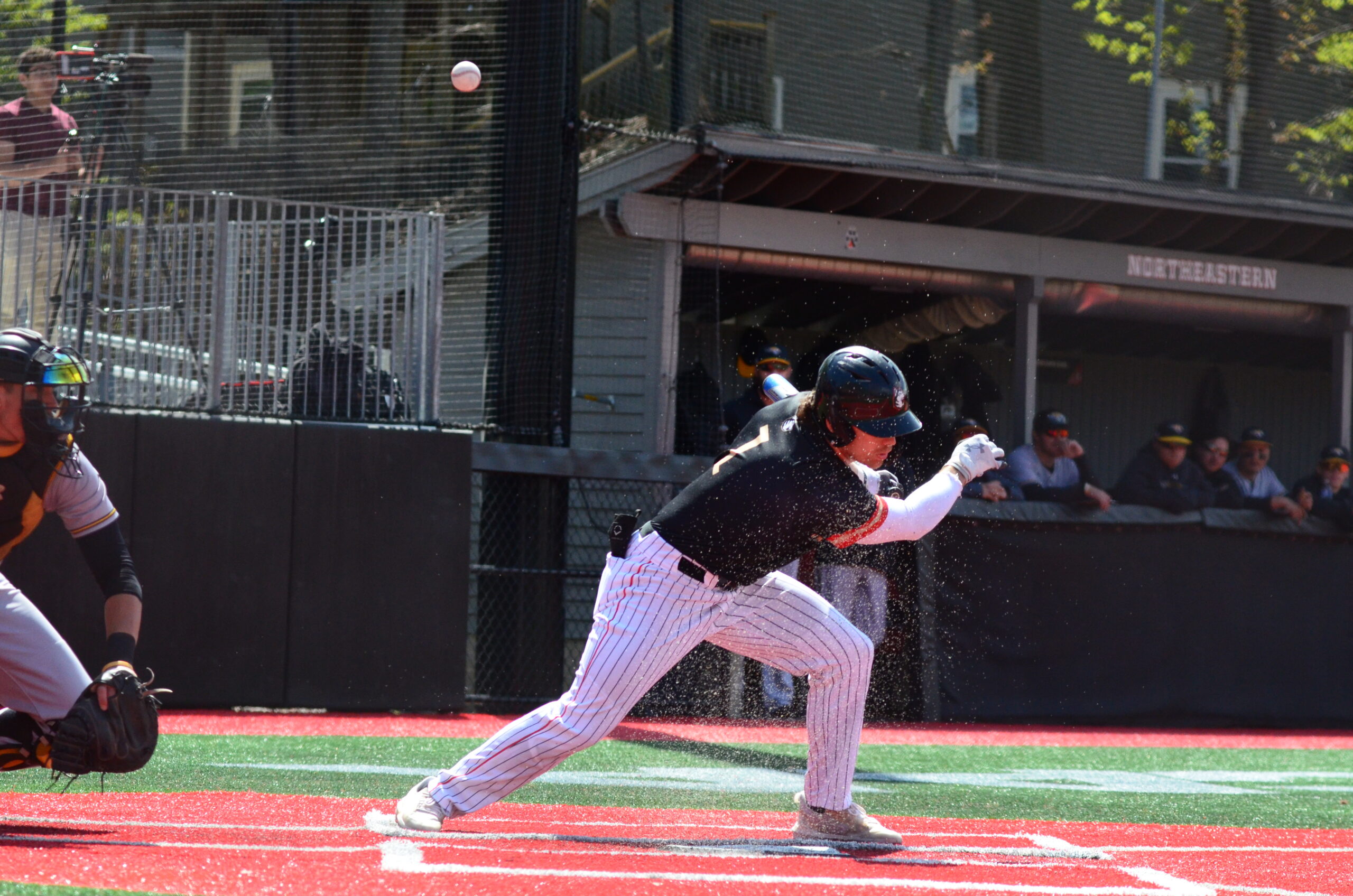 After a series win against NC A&T last weekend, the Huskies enthusiastically came to Friedman Diamond to face their first ranked opponent, which sits at No. 16, Boston College.
Ready they were — Northeastern walked away with a 6-2 win, turning the tides after losing to them last season in Beanpot and in the past four years.
"What you want from your own players is that when you're the underdog, you want to see your guys go out there and compete," said head coach Mike Glavine.
Right-handed redshirt junior Jake Gigliotti started the top of the game with a 1-2-3 inning and set a firm tone with his pitches. Gigliotti smoothly got his way through five scoreless innings, preventing the Eagles from scoring.
Boston College brought A.J. Colarusso, a left-handed freshman, to start at the mound, and he stayed strong during the first inning. The Eagles switched him out for sophomore right-hander Eric Schroeder during the second period, which was costly.
At the bottom of the second, redshirt senior third baseman Danny Crossen hit a double, loading the bases. He ran home off a hit from Carmelo Musacchia, earning the freshman infielder an RBI.
Their first run of the game gave the Huskies momentum when freshman outfielder Cam Maldonado hit an RBI double that was mere feet from being a home run. A hit by Crossen ended up allowing another run for the Huskies and brought the score to 3-0.
Sophomore outfielder Mike Sirota, during the second, stole first base. He proceeded to try to steal the bases two more times throughout the game — with one successful attempt in the eighth and the other resulting in an out in the fifth.
The Eagles saw that they needed a change at the mound, especially since Gigliotti's pitching continuously left runners on the bases. In order to win, they would have to make a change to their defense.
Junior right-handed pitcher Joey Ryan stepped up to the plate and struck out junior Gregory Bozzo and sophomore Justin Bosland in the bottom of the fourth, seeming to have a successful start. The fifth inning, however, was brutal for the Eagles and secured their defeat.
Ryan seemingly took more time in preparation for his pitches, but when senior designated hitter Alex Lane came to bat, he hit the ball out of the park for his seventh home run of this season. Bouncing it off the scoreboard and allowing the two other players on base to make their way home, he walked away with three RBI and doubled the Huskies' score to 6-0.
After a great inning, the Huskies rotated out Gigliotti for right-handed graduate transfer Patrick Harrington. His first pitch was the first out of the inning, except it fell apart soon after. Harrington hit junior outfielder Cameron Leary with a pitch and allowed three walks in a row, and the Eagles ended up on the scoreboard.
BC has previously come back from a deficit, so Northeastern switched Harrington out mid-inning for redshirt senior and right-hander Nick Davis to prevent a rebound.
Yet, his first pitch also hit freshman first-baseman Kyle Wolff, allowing yet another run when Leary was able to walk home on loaded bases and give them a 6-2 entryway to make a potential comeback.
Davis shut the Eagles down and avoided further damage, locking down the inning and leaving runners on base.
In the top of the seventh, the Eagles continued to try and flip their deficit. Freshman outfielder Cohl Mercado walked and seemed like a dangerous runner to be on the bases, especially having multiple stolen bases this season. Davis did not let up, continuously striking players for a scoreless inning with no hits.
The Eagles changed their pitcher to sophomore left-hander Matthew Nunan. He was able to strike out Maldonado and followed with Lane and Crossen getting out on their hits. Giving up no runs, he remained in the game as their closer.
Griffin Young, a right-handed graduate transfer, came to finish out the game, and BC could sense their defeat was only a few innings away. Young struck out his batters, challenging them with fastballs and completely changing up his pitches.
In the bottom of the eighth, Sirota hit a double to right field and his stolen base brought him to third. Outfielder redshirt freshman Harrison Feinberg had an RBI opportunity when he came to bat, but Sirota got out on his way home. Feinberg reached first on a fielder's choice, but Bosland struck out, leaving him on base. At this point, gameplay stopped for 20 minutes and the referees gave warnings to both sides for an altercation on the field. Feinberg stayed on first after.
Northeastern's win was sealed when Feinberg made a final catch in left field to shut down their opponent for the day.
"Today wasn't easy to hit. To turn the wind around and hit a home run, it does get the guys feeling good and contagious, and it gets a lot of energy," Glavine said. "It was important for us to get off to a good start today."