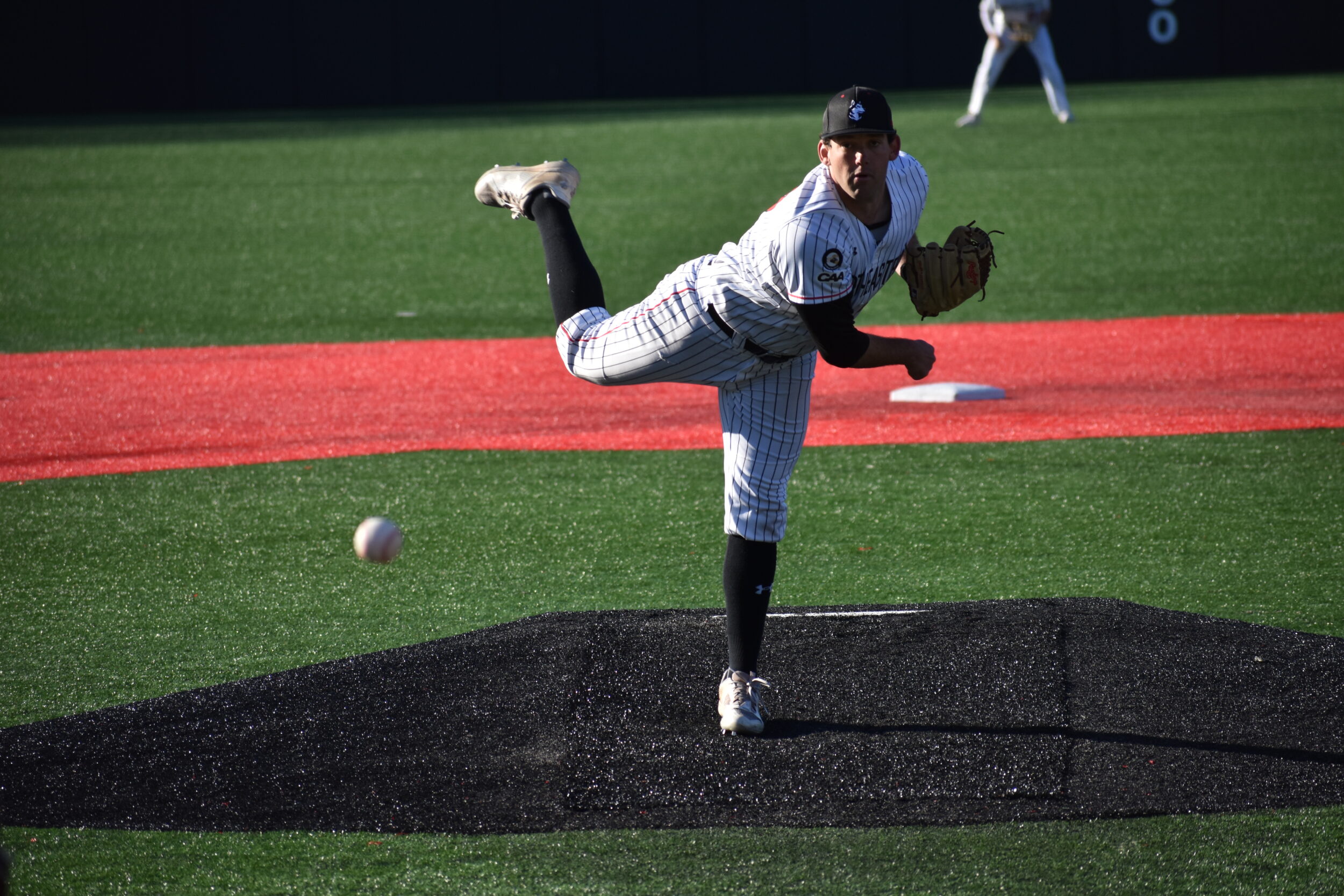 BROOKLINE — When the postscript of Northeastern's 2023 season is written — a tale they hope will include a CAA title and deep NCAA Tournament run — Sunday's doubleheader against Hartford will likely be among the many games that go forgotten in a long season.
Hartford, playing their last season of Division I baseball before transitioning to Division III, entered Sunday with a 1-10 record and RPI ranking of 302 of 305 Division I programs. Bad losses are inevitable in a 55-game regular season, but dropping a game to the Hawks would have been easily the worst loss on Northeastern's resume come NCAA Tournament time.
After winning a 14-0 laugher Friday, the Huskies notched two nail-biting victories against Hartford Sunday to complete the series sweep. In Game 1, Northeastern entered the bottom of the 9th inning down 6-3, before launching a dramatic seven-run comeback to win 10-6 on a walk-off grand slam. In Game 2, Hartford got the tying run to third base with one out in the ninth inning, only for graduate closer Griffin Young to strand him to seal a 3-2 victory.
Whether Northeastern won both games of the doubleheader by 15 runs or sequaked by as they did, beating up on lowly Hartford was never going to earn style points. But by grinding out resilient victories in both contests, Northeastern can move past this weekend dissatisfied with their performance, but without doing any long-term damage that will haunt them come NCAA Tournament selection time two months from now.
"We got to clean a lot of things up," said Northeastern head coach Mike Glavine. "I'm very happy with the wins, but frustrated overall with the performance this weekend."
The Huskies were hampered by suspensions across the series, stemming from an altercation during Tuesday's game against Boston College. Most notably, they were without star sophomore center fielder Mike Sirota all weekend long, and various other key pieces for one game apiece staggered across multiple games — since otherwise, Northeastern would have had too many suspended players to fill a roster.
In both games of the doubleheader, the Huskies' bats were mostly neutralized by Hartford's excellent starting pitching. The Hawks' Game 1 starter, senior Robert Chaney, entered Sunday with an ERA above 9, but limited NU to only three runs (one earned) and four hits across his five innings of work. Behind him, freshman Joe Dooley delivered three scoreless innings of long-relief. 
Likewise, Hartford's Game 2 starter, sophomore Edwin Almanzar Jr.'s ERA was above 7 headed into Sunday, but tossed a rare eight-inning complete-game loss, throwing 114 pitches and giving up just three runs (two earned) in an impressive outing.
"I think it's just learning, right? We shouldn't be at our best right now, at this time of year," Glavine said. "But we certainly can play a lot better."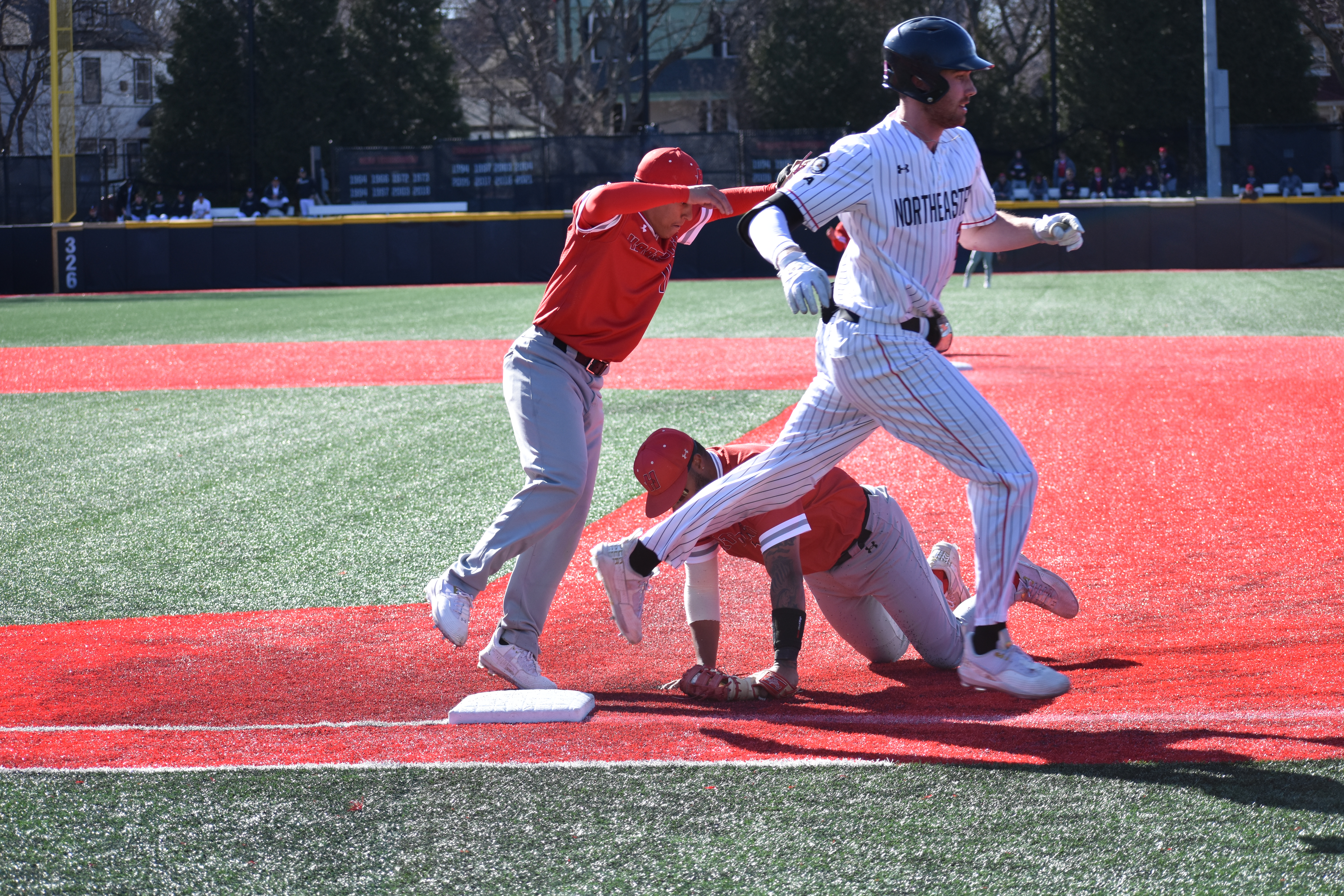 Northeastern received quality starting pitching in both games as well, beginning with five scoreless innings from junior Eric Yost in Game 1. But NU's bullpen behind Yost ran into trouble in the sixth inning, when senior Nick Davis loaded the bases on two hit batsmen and a walk before getting pulled for sophomore Jack Beauchesne — who subsequently walked in Hartford's first run, yielded a fielder's choice, and eventually a double which plated two more.
All told, Hartford somehow scored six runs in the inning with just one hit. Still trailing 6-3 entering the ninth, the Huskies strung together a hit-by-pitch, base hits, and took advantage of poor fielding by the Hawks to even the game at 6-6 off senior closer Manny Corporan. Then, sophomore Jack Thorbahn delivered a walk-off grand slam to cap the comeback in style.
"We caught a couple breaks [in the ninth inning], and then we took advantage of it," Glavine said. "It was a game where we had the lead, didn't extend the lead…but the guys battled back."
Game 2 was a similar story, with freshman Avien Cabral earning his second win of the season, giving up two runs on five hits across 6.1 innings pitched. Senior closer Griffin Young replaced Cabral, and went on to notch an eight-out save in just 31 pitches. The ninth inning was far closer than NU would have liked, but Young struck out the final two batters to prevent the potential tying run at third from scoring.
All told, Northeastern emerged unscathed from the weekend, with a 17-4 record and No. 34 RPI ranking intact. However, it was the second straight weekend series where Northeastern soared to a dominant victory in the opening game, before struggling through games two and three of the series.
"A couple times now, we've had some big blowout wins and come out pretty flat the next day. So that's kind of disappointing and something we need to work on," Glavine said. "I think the team is still trying to find a maturity to it."
Northeastern will have a quick turnaround before traveling to New Britain, Connecticut to take on Central Connecticut on Tuesday afternoon. WRBB Sports' next broadcast will be Wednesday, when the Huskies take on Rhode Island at Friedman Diamond at 3:05 p.m. Jack Sinclair will be on the call.