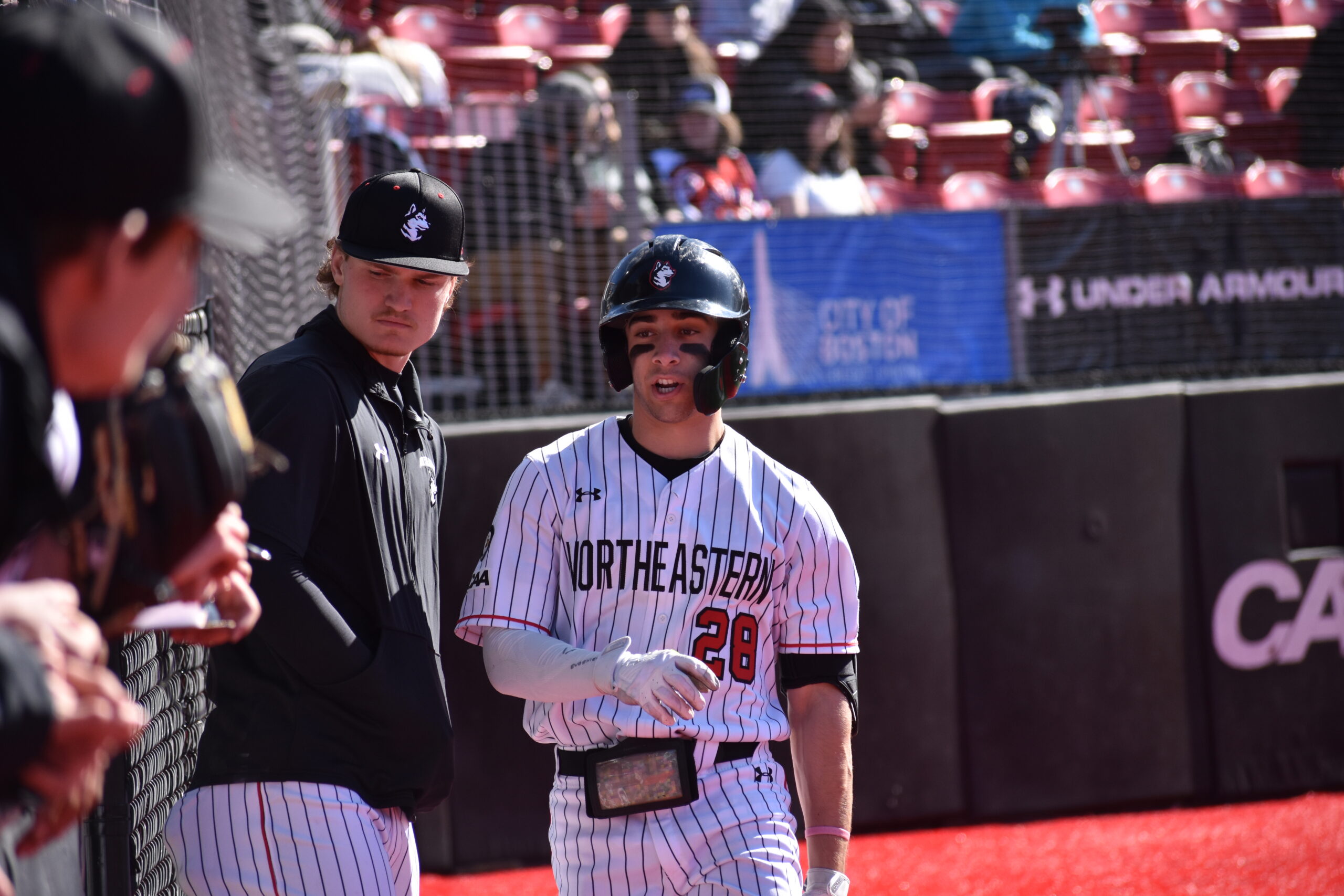 Following a three-game sweep of Hartford the past weekend, Northeastern set their sights on their next midweek opponent: Central Connecticut State. Each squad looked to extend a winning streak — Northeastern had won five in a row, white CCSU had won an impressive ten in a row, including a massive 20-2 win over Norfolk State the game prior. The two sides dueled it out in an exciting midweek matinee at the Arute Field in New Britain, CT.
Redshirt junior Jake Gigliotti started the game for the Huskies, and found his groove early. The right handed hurler worked hard through five and two thirds innings, setting season highs in innings pitched and strikeouts, with seven punch outs.
Senior Spenser Smith started the scoring early on for the Huskies, driving sophomore Mike Sirota home with a sacrifice groundout to the left side in the top of the second. Junior Gregory Bozzo doubled his team's advantage with an RBI single up the middle, scoring freshman Carmel Musacchia and making the score 2-0.
Contrary to the way things had been going the five games prior, the Huskies offense did not continue to score throughout the game, and were largely silent through the middle innings. Gigliotti was solid, until he simply ran out of gas late in the bottom of the sixth inning. The Blue Devils took advantage of the fatigued starter and chased him out of the game by plating a pair of runs through back-to-back base hits, tying the game at 2-2.
The Huskies were not set back by the Blue Devils scoring, and in the top of the seventh they regained the lead. Freshman Cam Maldonado continued to swing a hot bat, scoring Bozzo with a long sacrifice fly out. Danny Crossen extended his hitting streak to 20 games by doubling down the right field line, scoring redshirt sophomore Jack Thorbahn, making the score 4-2.
Bozzo added an insurance run an inning later by smacking a sacrifice fly to right field, scoring Sirota to extend the Huskies' lead to 5-2.
Redshirt senior Nick Davis relieved Gigliotti, and his one and a third innings pitched was enough to earn the win on the day. Graduate student Griffin Young came in to close out the game, and was stellar, shutting the door on the Blue Devils and earning his fifth save of the season. The Huskies would hang on to win by a final score of 5-2.
The Huskies will return to Friedman Diamond for another midweek game against the University of Rhode Island. Jack Sinclair will have the call live from the Diamond on WRBB Sports+ starting at 3 p.m. EST.