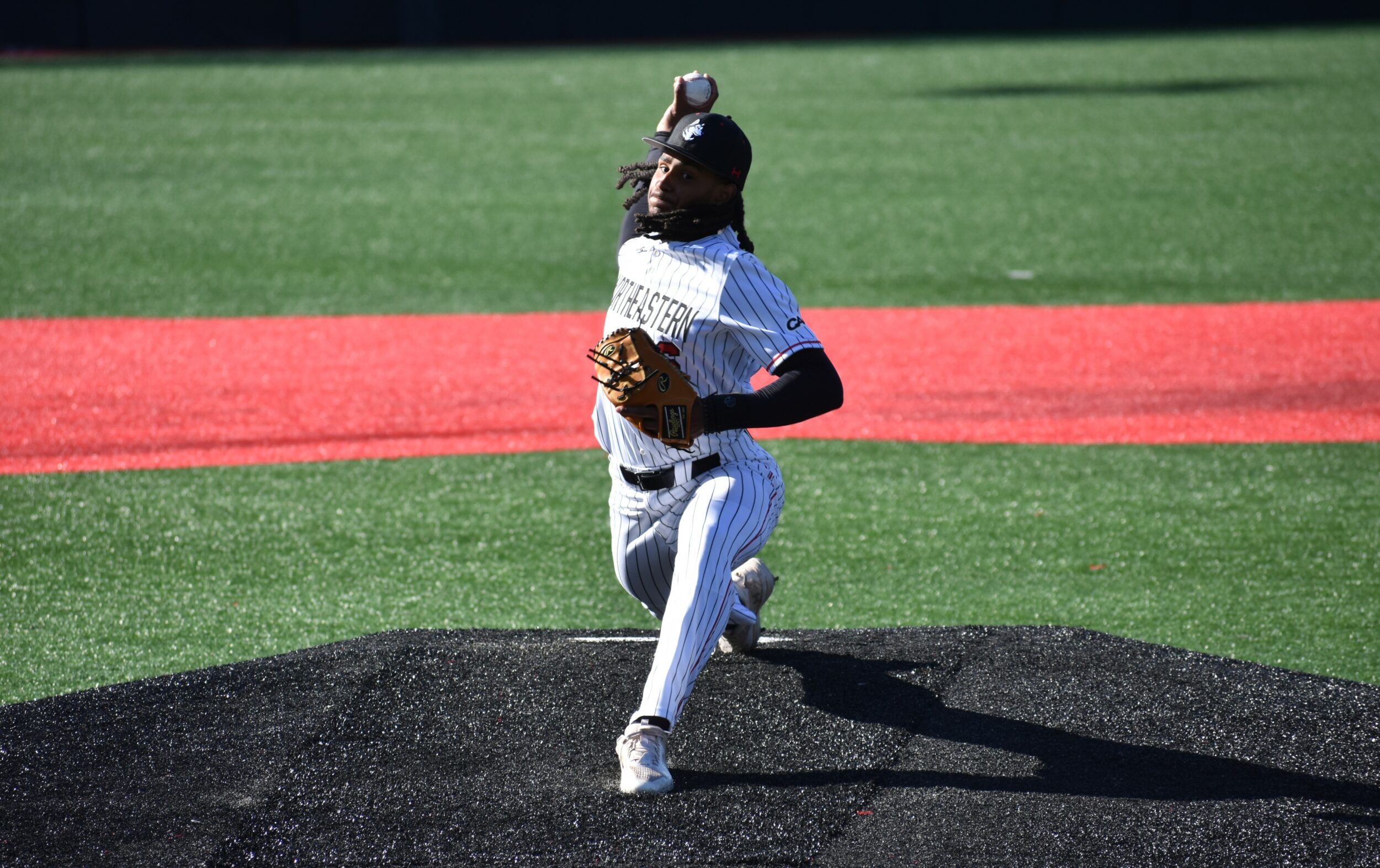 By Khalin Kapoor and Jack Sinclair
When junior infielder Luke Beckstein delivered a two-run single on Sunday afternoon against Monmouth to put the Huskies up 5-4 in the top of the eighth inning, it capped off another gritty victory for Northeastern in a season that has been full of them.
Northeastern ended up defeating the Hawks 6-4 to secure the weekend sweep and win their 10th game in a row, the longest winning streak they have maintained in over two years and second longest active streak in the nation. In short, the Huskies are playing their most inspired baseball exactly when they need to be.
"This was, I think, our biggest win of the season," said Northeastern head coach Mike Glavine after Sunday's matchup. "It was just a really, really big conference win."
During their winning streak, the Huskies have outscored their opponents 85-32 and have scored double-digit runs in a game four times. Furthermore, a Northeastern starting pitcher allowed two earned runs or less in nine of the 10 games.
The Beanpot is seen as the turning point between the first and second halves of the season, and Northeastern currently stands at 22-4 with a 6-3 conference record. At this time last year, they were 14-13-1 and 1-5 in their conference games.
The Huskies will now return home for a five-game stretch that includes the Beanpot semifinal round, a midweek game against Stonehill, and a pivotal weekend CAA series against Delaware.
With all that in mind, let's break down Northeastern's recent successes and take a deeper look at Harvard, which the Huskies will play host to in the opening round of the Baseball Beanpot.
Aiven Cabral has arrived
With the departures of key starting pitchers Sebastian Keane and Cam Schlittler, it was unknown who would take over the role of the third starter in 2023. Could it be redshirt junior Matt Downing, who got the first few opportunities this year but struggled? Or maybe graduate transfer Patrick Harrington, who made 18 starts in his four year career with Assumption?
Enter Cabral, who has burst on the scene in his freshman season and become one of Northeastern's most reliable arms so far this year. He was the game two starter against Monmouth and dominated the Hawks to the tune of six scoreless innings with just two hits allowed, five strikeouts, and no walks. In his previous outing on March 26, Cabral pitched a career-high 6.1 innings of two-run ball against Hartford, striking out eight and scattering five hits.
Cabral is second among Northeastern pitchers with 34 strikeouts, one behind Wyatt Scotti's mark of 35. The kicker is that Cabral has seven fewer innings pitched than Scotti. He also has the lowest ERA among the starters at 2.30.
The most impressive part of it all? Cabral has ceded just two walks this season. Two. That is the fewest of all starters in the CAA, and he has the fourth-best strikeout-to-walk ratio in the entire NCAA. The Huskies were searching for consistency in the rotation after Scotti, and they've found it in Cabral.
The Huskies have their closer
Similar to the unknowns at the bottom of the rotation, Northeastern also faced question marks at the back end of the bullpen after the departure of closer Thomas Balboni, who led the team with seven saves in 2022.
Conventional logic would dictate that graduate student Jordy Allard should handle the role after securing back-to-back saves in last year's CAA tournament, but he's been sidelined with injury since the season opener back on Feb. 18 against UNC Greensboro. He was called for the save in that matchup, but ended up yielding three runs and a walk-off single in the ninth.
Picking up the pieces has been graduate transfer from Wheaton College Griffin Young, who has pitched to a pristine 1.13 ERA and has notched a CAA-high six saves so far this season. Most recently, he slammed the door on Sunday against Monmouth with a scoreless ninth inning.
Young is currently riding a scoreless streak of 16.2 innings going all the way back to the beginning of March. In that span, he has converted on all four of his save opportunities and has struck out 20 batters to just two walks.
The interesting thing about Young is that he had never been used as a conventional closer until he arrived at Northeastern: With Wheaton he was a full-time starter for three seasons, recording 26 starts and only two saves in his 31 career appearances. That experience pitching multiple innings has allowed Mike Glavine to utilize him in unique situations, such as recording the final six outs against Boston College on March 21 or shutting down Hartford in the final 2.2 innings on March 26.
In Young, Northeastern has found their primary closer, but he is becoming much more than just that. His success pitching in high-leverage situations this season combined with his prior experience as a starter make him one of the most versatile bullpen weapons in the CAA.
Alex Lane continues to rake
Senior outfielder Alex Lane has been one of the leaders of the Northeastern offense, and this weekend provided even more proof of the impact the Bryant transfer has had on the team. He scorched the Monmouth pitching staff, finishing the series 6-13 with a home run, five RBIs, and four runs scored.
After going 4-5 and smoking a homer in game one, he continued to terrorize the Monmouth pitching in game two of the weekend, going 2-4 with four RBI. That drove his season RBI total to 34, a team leading tally.
Lane's nine home runs also leads the team and is tied with UNCW's Tanner Thach for tops in the CAA, and he has knocked 13 hits and two round-trippers throughout Northeastern's 10-game winning streak. He's also taken six walks over his past five games, which contributes to his .461 OBP mark.
Don't let Mike Sirota get hot
Sophomore outfielder Mike Sirota continued to heat up on the offensive side of the game after a slow start to the weekend. A five-hit weekend was enough to increase his average to .309, after seeing it dip as low as the low .240s after the Elon series that opened conference play.
He was deadly in game one, both in the batter's box and on the base paths. He smoked a single up the right side for an RBI in the top of the third. He managed to steal second on a double steal, then freshman infielder Carmelo Musacchia advanced him to third. Sirota demonstrated his aggression on the basepaths by scoring on a passed ball a few pitches later. It was a total exhibition of his skills on offense.
Game two was quiet for Sirota, on a shortened day where his work in center field was split with sophomore Justin Bosland. Game three saw him explode at the plate, going 3-3 with a walk. Each time he reached base, he came around to score. Despite the slower start to his season, Sirota leads the team in runs with 29.
At last, Beans are on the menu
Northeastern's quest for their seventh Beanpot Championship and first since 2013 will begin Tuesday when they welcome the Harvard Crimson to Friedman Diamond. The Huskies had a disappointing showing in last year's tournament, losing 4-2 in the semifinal round to BC.
Harvard holds a 7-16 record this season thus far and have struggled from the start, but they have been playing some better baseball as of late. The Crimson are 5-2 in their past seven games since they started Ivy League play. Yes, it is a small sample size, but they are getting hot at the right time.
This past weekend, they took two of three from Princeton to improve to 4-2 in the Ivy League. Their offense is highlighted by junior outfielder Ben Rounds, who leads the team with a .922 OPS and five home runs. Junior infielder Jake Berger has also driven in five runs over his past two games and projects to be a threat in the middle of the lineup.
Where the Crimson struggle the most is on the mound. They do not have any starting pitchers with an ERA below 4.88 and the entire staff has a .311 batting average against. Harvard's starter for Tuesday is still up in the air, but senior Will Jacobsen, who currently sports a 9.77 ERA, did get the start for the Crimson last Tuesday against Holy Cross and had not pitched since.
Overall, Northeastern is just on another level compared to Harvard this year. They have scored 74 more runs as a team, hit 22 more homers, and have 70 more hits. Their pitchers have allowed 103 less runs overall than Harvard pitchers.
The Crimson also had a 12 game losing streak earlier this year where they were outscored 136-69, averaging 11.23 runs allowed per game from Feb. 25 to March 24.
On paper, Northeastern is the much better team and they should run Harvard out of Brookline. In practice, it is a different story. The Crimson will play up to the competition in this tournament and the Huskies will need to be prepared.
WRBB Sports will have live coverage for the semifinal round, with first pitch scheduled for 3 p.m. Khalin Kapoor and Jack Sinclar will be on the call from Friedman Diamond.